another monday down! only 49 left this year.. and a few of those are holidays. always looking on the bright side, right?
my day was jam packed. mondays always are, but i also have a lot to get done before leaving town—both at work and at home.

after a long day at the office, i ran a few errands around town and then headed to the gym. i missed yesterday's workout since i was snowboarding, so i decided to pick up where i left off and completed the livefit workout that i missed.
my upper body is pretty weak, so pay no attention to the light weights.  here is how it went down. each set was completed three times before moving onto the next set.
shoulders/triceps/calves.
working set + active rest:
smith machine bench press: 65# x 15 reps
imaginary jump rope: 1 minute
working set + active rest:
bench dips: body weight x 15 reps
mountain climbers: body weight x 15 reps (alternating) each side
superset + active rest:
standing upright dumbbell row: 20# each hand x 12 reps
seated arnold dumbbell press: 20# each hand x 12 reps
imaginary jump rope: 1 minute
superset + active rest:
side dumbbell raise: 12# each hand x 12 reps
cable triceps pushdown (rope attachment): 30# x 12 reps
imaginary jump rope: 1 minute
superset:
medicine ball pushups (triceps focus): body weight on toes x 10 reps
narrow pushups (triceps focus): body weight on toes x 10 reps
working set + active rest:
standing calf raises: 140# x 20 reps
calf raise on leg press: 135# x 20 reps
imaginary jump rope: 1 minute
sprints:
30 second sprint (ranging from 9 MPH-10 MPH)
30 second rest
repeat for a total of 30 minutes

after the gym i headed home to whip up marshall's dinner idea: prosciutto pineapple pizza. P-cubed!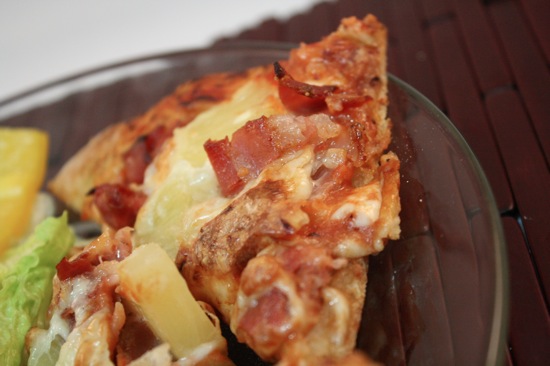 it's not really a recipe, but i thought i would share how we make our homemade pizza since we have it so often. i say "we" because this is one meal marshall loves to help out with. he doesn't like to cook very much, but when it comes to spaghetti, tacos, or pizza.. he's the man.
our favorite way to make pizza is on the grill, but since it's january and cold outside.. we use our baking stone.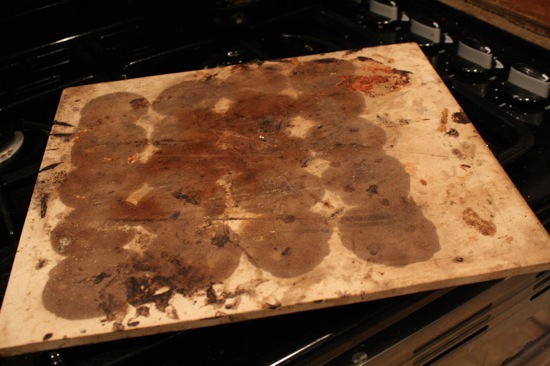 it's not pretty, but it sure has been used a lot!  this stone was a gift from marshall's mom, but they are very affordable at any kitchen store. baking stones are not just for pizza—they are great for cookies, rolls, or anything you'd use a standard baking sheet for.  the stone helps cook the food more evenly and creates a nice, brown bottom on whatever you're cooking. i definitely recommend investing in one, you won't be disappointed.
anyway.. back to cooking pizza at home. it really is super simple AND cheap compared to ordering a pizza. (not to mention a lot healthier.) the multigrain dough from whole foods is only $3 a ball. granted, i could probably make it from scratch for even cheaper, but convenience and being sure it'll turn out delicious every time is worth the $3 to me.
so, here are the ingredients that went into tonight's pizza:
one ball of whole food's multigrain dough + WW flour for dusting
6 oz (about half a can) of pizza sauce
4 oz grated low moisture, part skim mozzarella cheese
4 oz chopped prosciutto
6 oz chopped pineapple (we used canned rings and chopped them)
method:
let dough sit at room temperature for at least one hour.
place a baking stone in a cold oven, turn heat to 500° F.
roll dough in flour so it doesn't stick.
using hands, shape dough into a pizza crust. make it as thin or thick as you want.
place dough on flat surface (we use a pizza spatula but used a cutting board before we had this gadget.)
layer sauce, cheese, and toppings as desired.
once oven has preheated, pull oven tray out and slide uncooked pizza onto the pizza stone.
bake for 10-12 minutes.
remove from oven. let the pizza cool for a few minutes before slicing & eating. yes, we have had burnt mouths in our house because we are impatient!
the best part is that as the pizza cools, the bottom of the crust keeps cooking on the stone and crisps up really nicely! if you want to stop it from getting any crispier, make sure you remove it from the stone.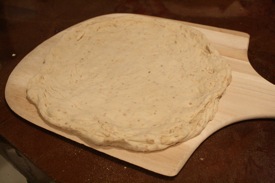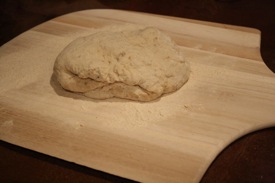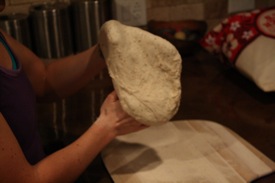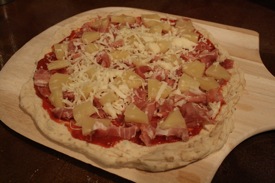 we had our pizza with salad tonight. i prepped the salad while the pizza was in the oven. this is such a quick & healthy dinner option! marshall and i got home from the gym at 7:05 and we were eating by 7:30.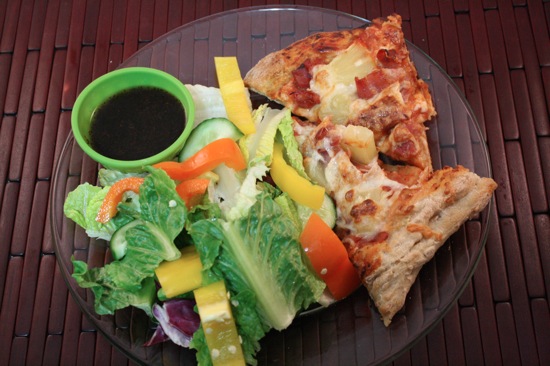 i plugged this recipe into myfitnesspal.com and a 2-slice serving (based on the pizza making 8 slices) is 465 calories, 64g carbs, 27g protein, 12g fat, and 10g fiber. good thing it's a high carb day, right? but seriously.. this pizza is healthy. it is WAY better for you than pizza hut or dominos. it tastes eight hundred fifty three times better, too.
here are a few of our other favorite pizza combos we frequently make:
shredded chicken, red onions, mozzarella, & barbecue sauce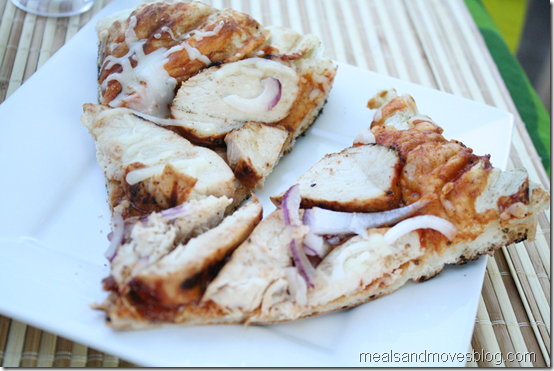 turkey pepperoni, black olives, green bell peppers, mozzarella, & marinara sauce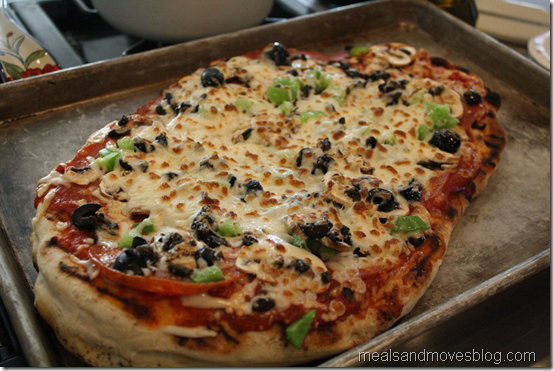 grilled chicken, artichokes, tomatoes, feta, & pesto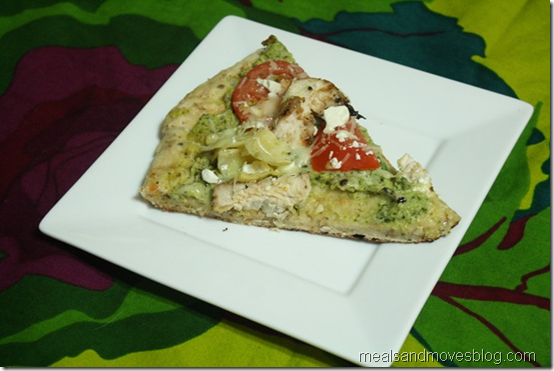 what are some of your favorite pizza combos?
****************************************************************
LINKBACK LOVE ROUND 1!
when somebody links back to one of my blog posts, i get an email notification. those notifications make me smile, because it means someone enjoyed one of my blog posts enough to blog about it and link back to it. you guys, as readers, don't know when someone links back to my blog posts.
i thought it would be fun to feature some posts from people who have linked back to my posts so you can see what THEY are saying. sometimes they mention a little bit about the same topic within their blog post, and other times they write a full post on the topic. either way, it's fun to see what THEY have to say in THEIR post.. whether it's directly related to my post or not.  nothing wrong with a little linkback love, right?
from my app happy post about iphone apps:
from my post about the zero scale:
from my body for life page:
from my pinterested post:
recipes that other bloggers have made & linked back to my recipe pages:
i love seeing what other people in blog land have to say about similar topics, and i really love to see their versions of recipes and how they turned out. hope you have a minute to check these awesome blog posts out! who knows, you may find a few new blogs to add to your reader.
xo. janetha g.