this post has been a long time coming. it's mainly for my mom, but i think anyone who wonders how the hell pinterest works will benefit from it. note: if you are already an avid pinterest addict, skip this post. it's simply a tutorial. instead of wasting your time reading it, you should probably waste more time pinning crap you want to make one day in the very far off future. or, at least, have good intentions to make…
okay! so, let's talk pinterest.

pinterest is a website that acts as a virtual bulletin board. it's great for keeping track of websites you love, recipes you want to try, products you want to buy, workouts you should probably do, beauty tips you'll never remember, and photos of really cute dogs.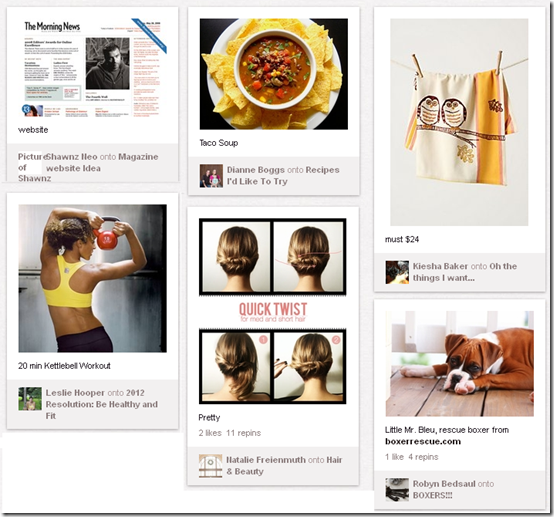 that's just the tip of the iceberg, though. pinterest is also great for finding motivation, tracking down awesome quotes, planning a vacation, having a laugh, putting together a cute outfit, and figuring out the perfect DIY project for a rainy day.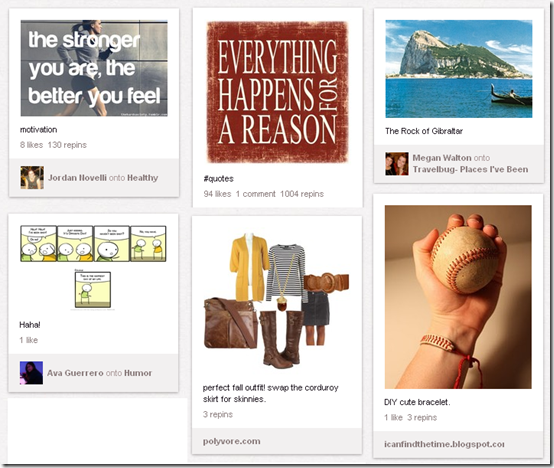 overwhelmed yet? it gets even more overwhelming. i haven't even started the tutorial yet!
here we go.
first things first.. you need to sign up for a pinterest account. you have to have an invite, like it's some sort of secret club. you can request one here, or you can ask your facebook or twitter friends to invite you.. i am sure somebody is ready and willing to send you an invite to waste YOUR time so they can feel better about the time THEY waste on pinterest.
i invited myself to pinterest using an alternate email so i could walk you through the setup steps.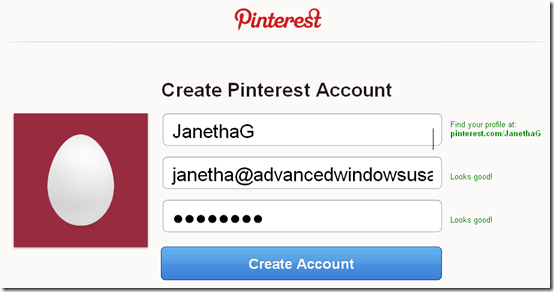 once you have an account, you will jump through a few setup hoops. you will first be asked to click on things that interest you. the kicker is you have to click on at LEAST one thing to move to the next screen, but it will also force you to automatically follow people. don't worry, you can unfollow these people in the next step. and yes, i will get to the whole "following people" thing in a bit.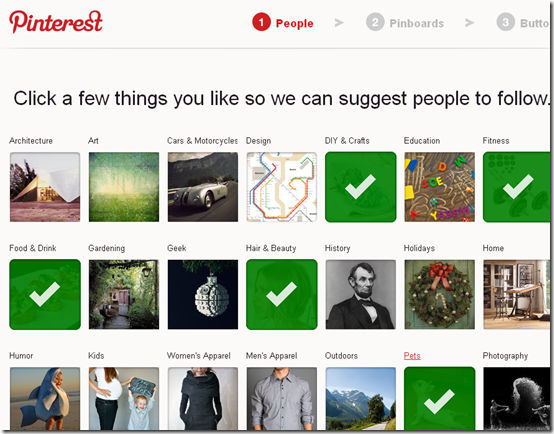 once you have selected some topics, your profile will automatically follow some preset people. if i were you, i would simply click "unfollow" to all the people it automatically followed for you. click the unfollow buttons (i've circled them in red) before moving onto the next step.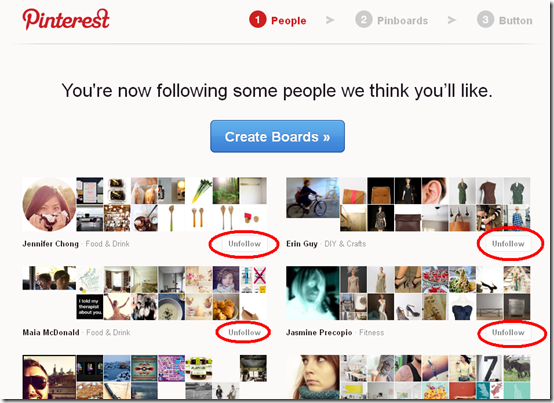 NOW click "create boards" to make your pinboards. there are five preset boards that pinterest will create for you, but feel free to personalize these, delete them, or leave them as they are.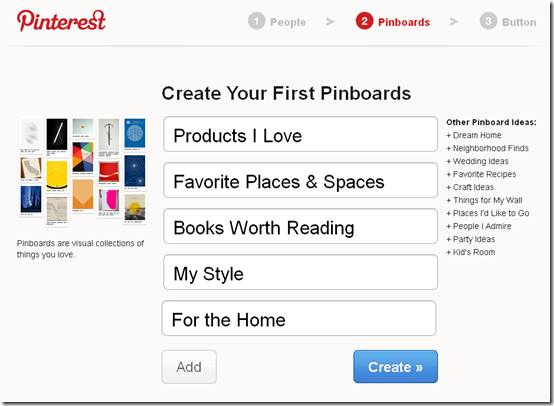 as you can see, i have changed my boards.. i went with four, but i can always add more or remove existing boards.
the next step is installing the "pin it" tab in your browser's toolbar. this is something you DEFINITELY want to do.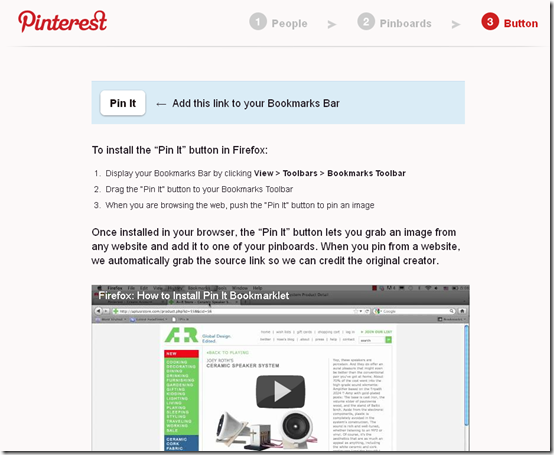 pinterest has made a great tutorial video to walk you through that step. it can be found here. that link is for firefox.. if you use IE or safari or something else, just search for that tutorial. after you do this, you will have a Pin It link in your toolbar. you will use this when you are on other websites.. NOT when you are on pinterest.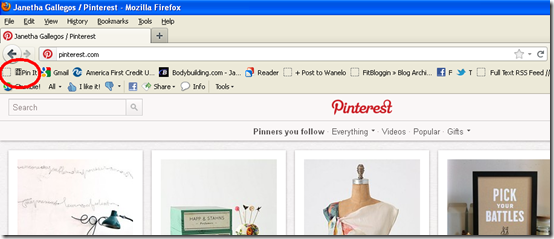 now you're ready to start pinning!
before we hop into that, let's talk profiles. all screen shots from now on will be from my actual pinterest account. follow me here!
to customize your profile, use the top right dropdown menu.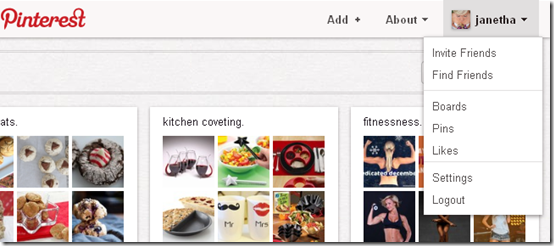 you can invite friends, find friends (using facebook and twitter), view/edit your boards, view/edit your pins, view/edit your likes, change your settings, or logout.
for the sake of time, i am not going to talk about all these features.. but i will touch on the whole friend thing.
pinterest is a lot like twitter and facebook in the sense that you have friends and you follow other people and people can follow you. basically, you can follow people and their pins will show up in your feed. once you find a friend, click on their profile to look at their boards.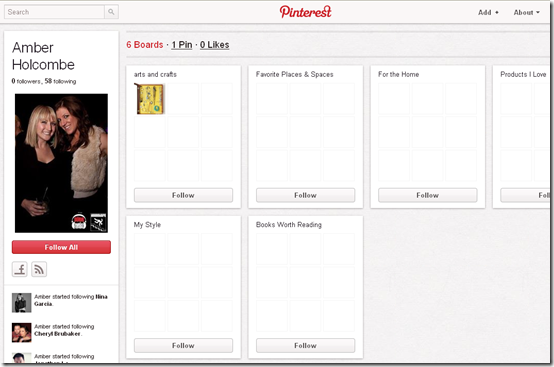 you can click "follow all" to follow everything they pin, or can opt to follow only a few of them.  let's say your friend has four boards: recipes, crafts, fitness, and babies. because i am not into babies, i would opt to follow the recipes, crafts, and fitness boards.. but wouldn't follow the babies board. as you can see in the screenshot above, you can follow the boards individually using each button. you can always change your mind and follow or unfollow a board later.
if you have more questions about following friends or boards, please ask. i don't want to go anymore into it because i think i've covered the basics.
one more thing i want to touch on before i talk about the actual pinning is how you can manage your own boards and pins.
here's my profile page: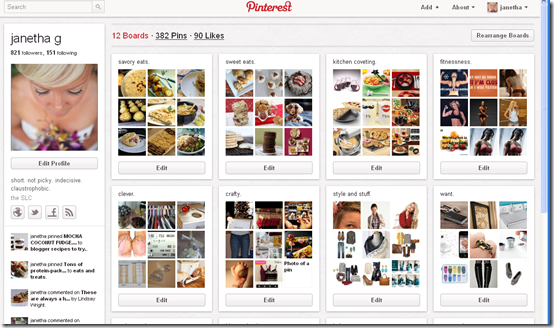 as you can see, i have 12 boards. i can rearrange the order that the boards appear using the button in the top right corner of the screen. i can view or edit any board by clicking on it.
if i want to view ALL of my pins, i would simply click the link in the top middle—which will say the number of pins you have with the word "pins" after it.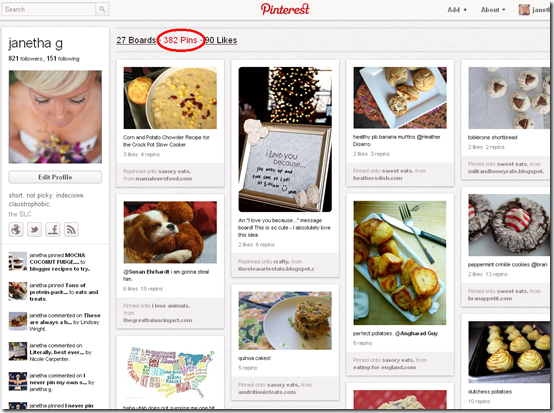 all of my pins appear in order of when i pinned them. this is EVERYTHING i have pinned. if i wanted to view the pins for a specific board only, i would click on that board.
you can also "like" various pins without actually repinning them to your own boards. you can view everything you have liked using the link at the top of your page.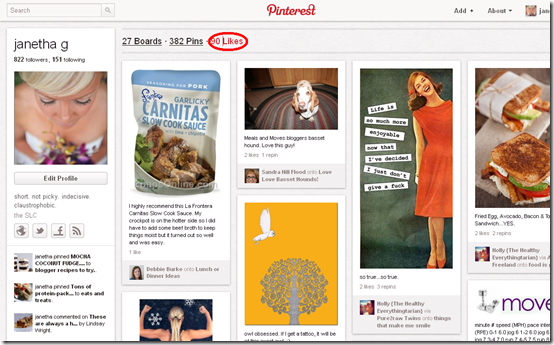 those are the basic ropes of navigating your profile. time for the good stuff.
now, there are two ways to use pinterest: repinning things that are already pinned and pinning new items from outside websites.
i am going to explain both.
first: repinning (and searching for!) pins already on pinterest.
go to the home page.

select what type of feed you want to view:
people you follow
specific categories (everything, or use the drop down menu to select a category)
videos
popular pins
gifts (there is a filter to select price range)
scroll your heart out!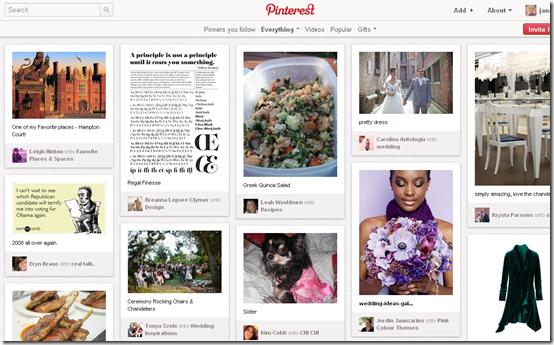 when you see something you like, you can quickly repin it, like it, or comment on it.  you can also view the pin in detail, but i will touch on that after i show you how to repin something. simply hover your mouse over the photo/pin.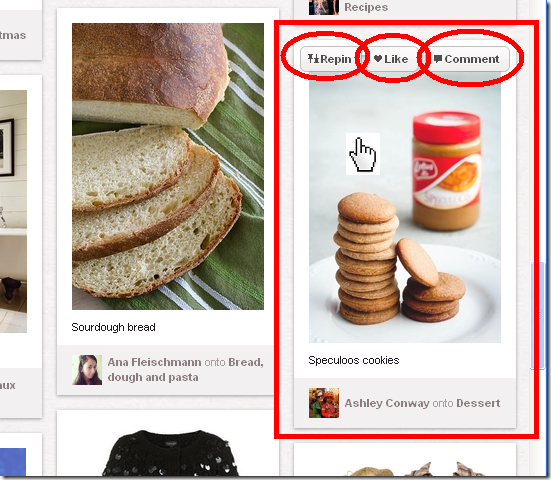 if you select to repin it, a screen will appear.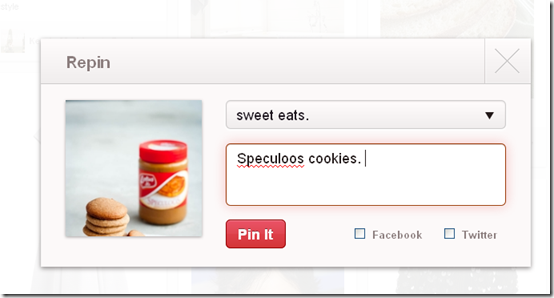 you will be able to use a drop down menu to select which of your own boards you want the pin to appear on. i have selected "sweet eats". the original description that appeared under the pin will autofill.  you can change the description, add to it, or leave it the same. you can also checkmark facebook or twitter (or both) if you want the pin to appear on your social media profiles. once you have all your options set, click "Pin It"!
you will be taken back to the screen you were previously on so you can continue browsing.. but if you want to view your pin on your board, just use the top right corner bar to check it out.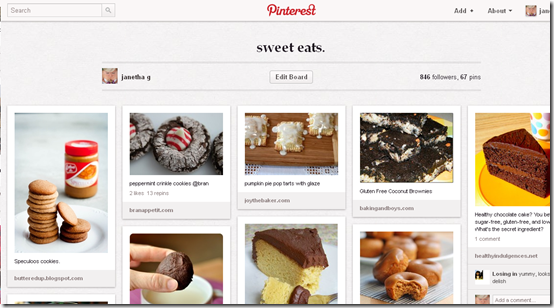 as you can see, my most recent pin on my "sweet eats" board is the cookies i just showed you how to pin.
you are probably wondering WHY you'd want to pin a photo of some cookies. whoopdeedoo, right? a photo of cookies.. what am i going to do with that?!
well.. the whole point of pinterest is to pin other websites.. meaning each photo you pin leads you to the website where the photo lives!
to do this, click on a pin. any pin. from your boards, from your friends' boards, from the main feed.. just click on any pin. it will take you to a full screen shot of the pin.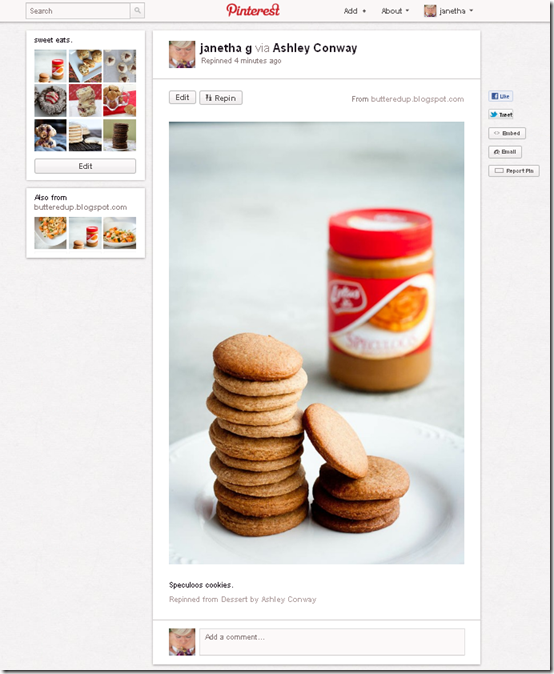 from here, you want to click on the photo again and you will be taken to the website where the photo lives!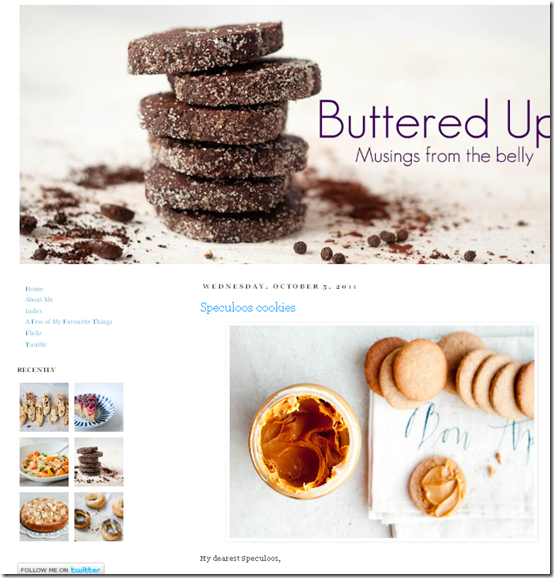 voila! there's the website that goes to the photo of the cookies we pinned.. complete with recipe.
pretty handy, right? basically pinterest is a visual bookmark folder. no more bookmarking things in your browser to forget about them for time and all eternity.. now you can actually see all the things you bookmark which will help you actually remember to make use of them.
still with me?
good.
now i am going to show you how to pin something from a website. this is why pinterest is super handy, if you ask me.
let's use my blog, for simplicity sake.
let's pretend we are reading my post about mexican manicotti.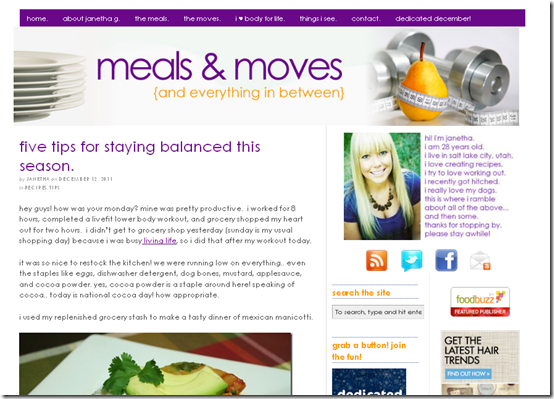 as a reader, i decide that i really like that recipe and want to make it sometime. so, instead of bookmarking it, i decide to pin it to my "savory eats" pinboard for future reference.
to do this, i click the "pin it" button that i installed in my browser when i signed up for pinterest (mentioned above.)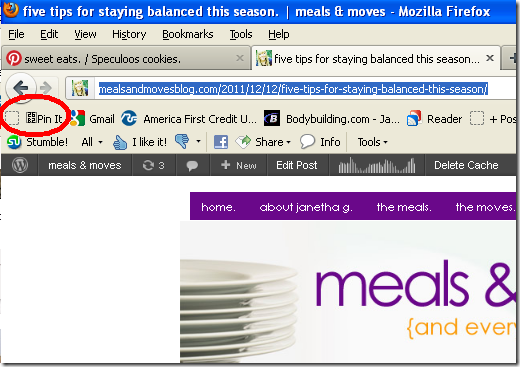 after i click this button, a screen appears that has all the photos that are on the current page (aka my blog post.)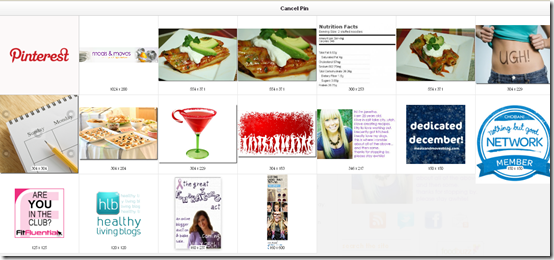 i simply select the photo i want to represent my pin. by the way—i talked about healthy holiday habits in this same post, so if i wanted to pin this post to my "tips" board, i would opt to select a photo to represent that.. like the pencil and calendar instead of the manicotti.
but, we are pinning the manicotti, so i will select the photo i want to pin. let's go with that first one.
hover over the photo and select "pin this". a popup window will appear where you can fill in details.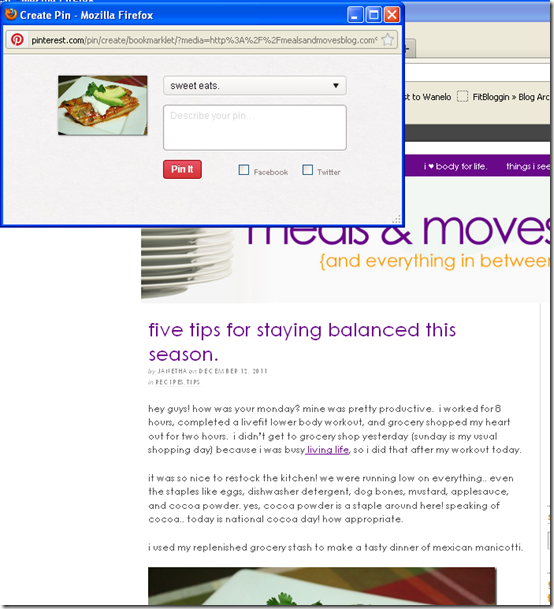 use the drop down menu to select the board you want to use, type in a description, and decide if you want to share it on facebook or twitter.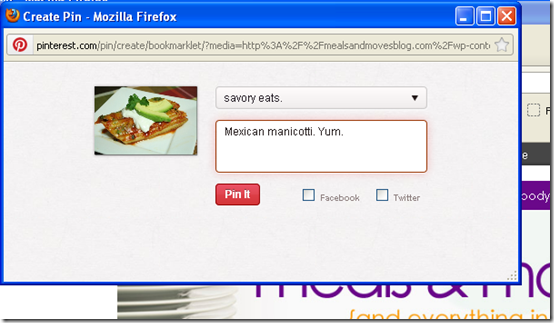 click "pin it" and it'll be on your pinboard the next time you look at it! the popup box will disappear and you can keep reading the page you pinned from—in this case, my mexican manicotti post.
pretttttty radical, right?
one more thing i want to point out that may be helpful to bloggers—you can always check to see what items were pinned from a specific website. you type "http://pinterest.com/source/INSERT WEBSITE HERE/" to see all pins from that site. for example, if i want to see what has been pinned from mealsandmovesblog.com, i would simply type: "http://pinterest.com/source/mealsandmovesblog.com/"
hit enter and all the pins anyone and everyone have pinned from my website appear!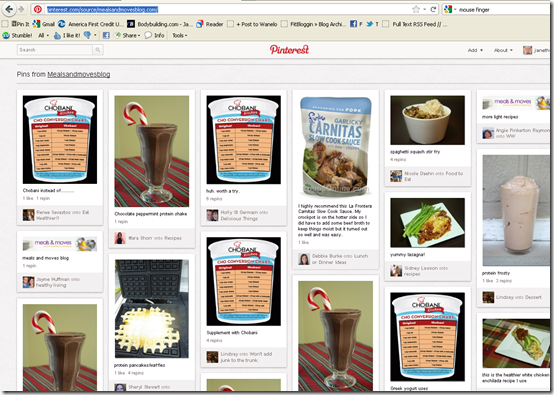 fun.
wow, that was long, right?! hope you liked this little tutorial and it helped explain just EXACTLY what pinterest is. if you have questions, ask away. i'm here to help with your future addiction.
Q~ are you a pinterest addict?
xo. janetha g.