i didn't post yesterday. i guess i could say it was because of the SOPA blackout, but i'd be lying. however, i do think that SOPA is important and if you haven't informed yourself on the issue, i suggest you do. i am glad it was brought to MY attention. i will be honest and say that before about a week ago, i'd never even heard about it. i need to do more reading of the news and less reading of the blogs. i recognize my ignorance… i am a work in progress!
one thing i did read in the news is that gold medalist freestyle skier sarah burke passed away today due to injuries resulting from a fall while training at park city mountain resort. she was only 29. it is such a tragedy that she passed away at such a young age and it is very scary to think about how quickly lives can be taken. my prayers go out to her family and friends.
so, the real reason i didn't post last night was because i had an appointment with the one and only momma b.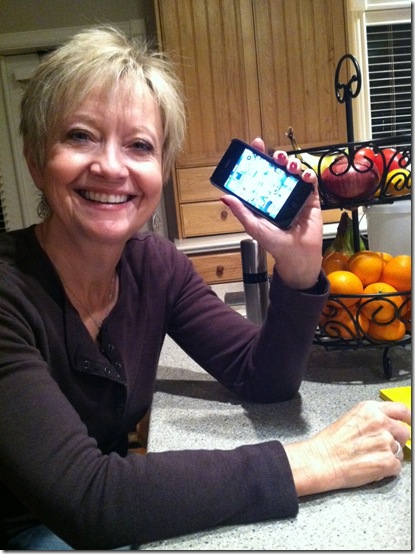 she recently got an iphone and i promised her i'd give her a tutorial on various aspects of the phone. i have to hand it to her, she is a lot better at learning to use her new phone than my bosses are. they are a tad slower to picking up on various technology tricks. i taught one of my bosses how to copy and paste the other day and he was amazed. and yeah, they are probably reading this.. so, hi, guys!
anyway, while i was teaching my mom how to use her iphone, i was showing her various apps that i love. i thought i would share a handful of my favorite iphone apps with you guys. sorry to those who have no use for a post like this, come back tomorrow!
my favorite app is probably instagram, but that's old news.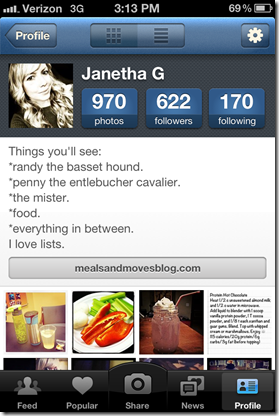 if you have instagram, though, and wanna be buddies.. my handle is @janeeetha.  for you non-iphone users, you can go to webstagram to view anyone's instagram feed, as long as you have their handle. also, instagram users can login to webstagram to view their instagram feed online—you can even like and comment on photos from your computer. just a little FYI.
aside from instagram, here are five apps i use regularly and love.
list
cost: $1.99
oh man. you had to know that this list-loving-lady would love a list app. this one is fun because you get to have a cute icon next to each list. YES, that was a selling point for me. the little things, folks.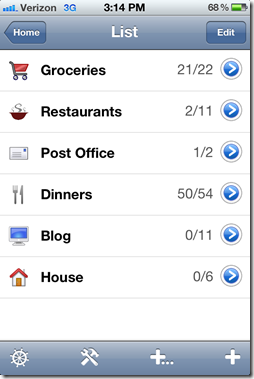 this app is pretty simple with no frills. it lets you have separate lists. within each list, you have the items. when you want to check an item off, it greys out and goes to the bottom of the list. when you uncheck it, it moves back to the top.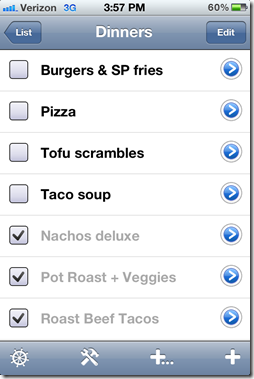 if you want to delete the item from the list entirely, you swipe right and delete it.
if you are wondering why you would want to keep something on the list after you've completed it, let me tell you. i have a "dinners" list. i have tons of dinner ideas that i have made in the past. when meal planning for the week, i scroll through all the checked off meals. if i see one i want to make for the upcoming week, i uncheck it and it brings the item back to the top of my list.
i also use this feature for grocery staples. i have my grocery list, and things like eggs, milk, bread, bananas, etc are things i buy weekly, so when i throw the item in my cart, i check it off and the item goes to the bottom of the list and is greyed out until i uncheck it again for the next week. however, if i have something on my list like soy sauce (which is something i buy every few months, if that) then i will do the swipe and totally delete it.
got it?
camera+
cost: $0.99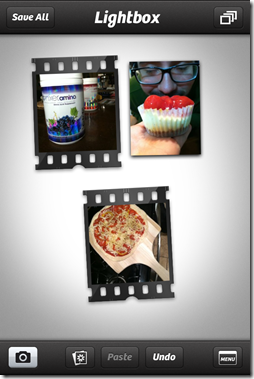 this app takes photos, but i usually don't use it to do so. i just use the camera on my phone and then use camera+ to edit. 
it has a lot of fun filters and is entertaining to play around with.
here are a few images that i made in camera+:
fun.
whole foods market recipes
cost: free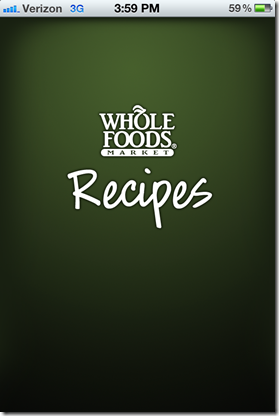 this app has a lot of features, including a shopping list page and a whole foods location search… but the real reason i like it is for the on-hand feature.
you can plug in what you have on hand at home and it will suggest recipes using those ingredients. you don't have to be shopping at whole foods to take advantage of this feature!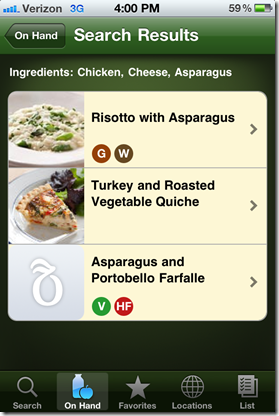 if you make a recipe and really like it, you can add it to the favorites section.
another cool feature is you can search recipes by course, category, or special diet.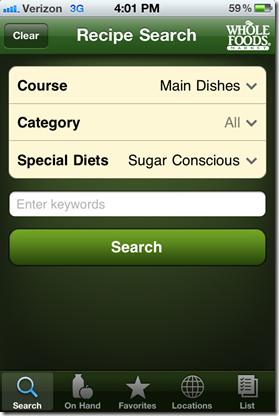 diptic
cost: $0.99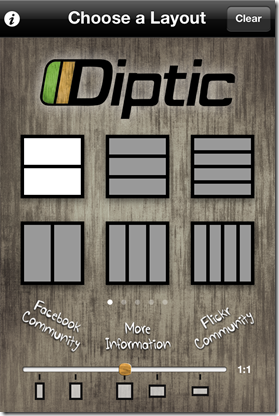 this is another photography app. it lets you put multiple photos into one shot. there are several frame options and you also get to customize the border (color, width, shape).
diptic lets you export the image directly to other apps like facebook, twitter, or insagram. it's fun to play around with.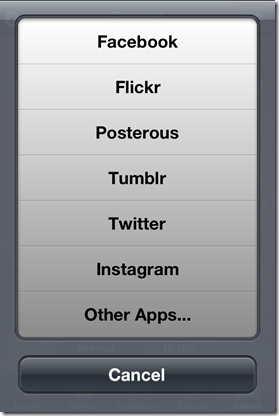 here are a few of my collages made in diptic: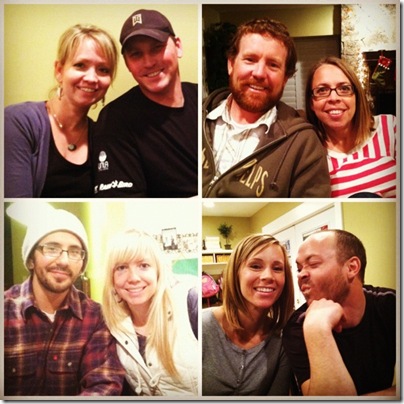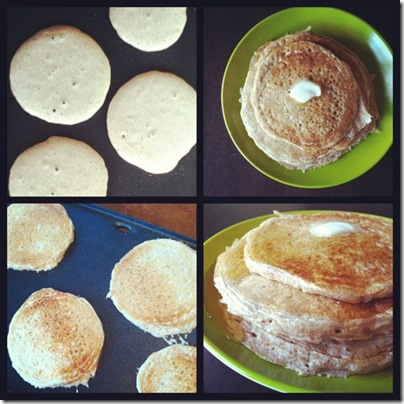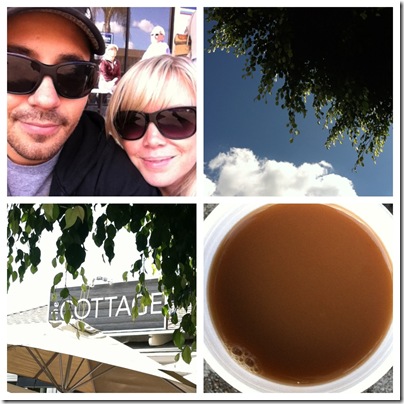 obviously i am a fan of the 4-square layout, eh?
scramble with friends
cost: free version with ads or pay $0.99 for the version without ads
everyone is already playing words with friends, which is like scrabble.. but the latest on the game front is scramble with friends, which is like boggle.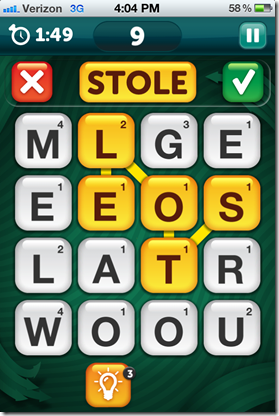 my family and i LOVE boggle, but rarely get together to play it, so this game is a dream come true for us.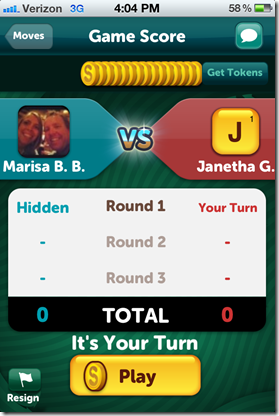 the only downfall is you have to use "coins" to play, and you can either buy coins (lame) or just wait for the clock to tick and you make more coins after a certain amount of time has gone by. i guess this is only a problem if you are playing several games at once, though.
and that's that. again, sorry for those non-iphone users who really had no use for this post. promise i will be back tomorrow with a little something for everyone.
well, i am off to the gym for legs and then i will be making garlic burgers & sweet potato fries for dinner. it's a high carb day!
Q~
as my girl holly says, sharing is caring! what are your favorite apps?
xo. janetha g.