hey guys!
how was your weekend? did it fly by for anyone else, or just me?  i bet mine went by super fast for me due to the fact that i slept until 2:30 PM on saturday. yep.
what, that's not normal for you? i guess i was just really tired. opting to sleep until the late afternoon is just one of the many reasons i have dogs instead of kids. in fact, penny and randy slept in with me and loved it.
i managed to wake up at a decent hour today–8:45 AM. i had places to be and people to see.
i had some eggs with ketchup and a couple pieces of toast with peanut butter and cherry jam, then brewed a mug of coffee for the road. i swooped by kristen's and jessica's houses to pick them up and we headed to park city for some sunday snowboarding at the canyons.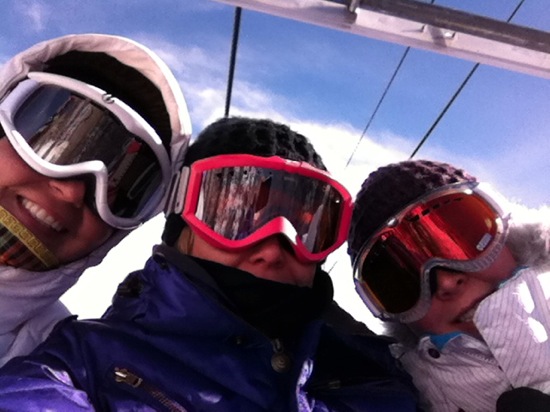 it snowed real hard here in utah yesterday, which made for excellent snowboarding conditions today. to make matters even better, the sun was shining and the air was calm.. blue skies and no wind make for a fabulous day at the resort.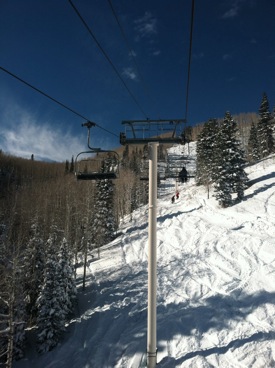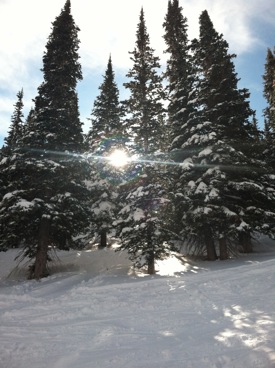 the snow was amazing! i love snowboarding under any circumstances, but i especially love snowboarding in powder. i didn't think that would be happening since it's been such a crappy winter, but mother nature proved me wrong and it was a great powder day.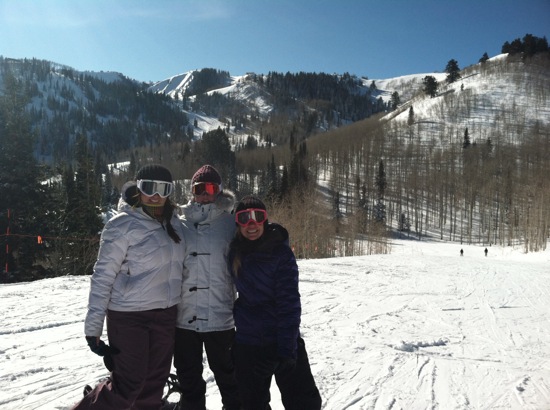 we took a pit stop to pee, eat cookies & cocoa, and post photos to various social media platforms. priorities, folks.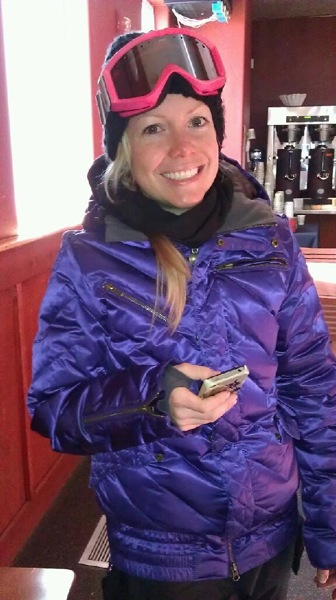 then it was back on the lifts for a couple more runs.
i couldn't have asked for better conditions.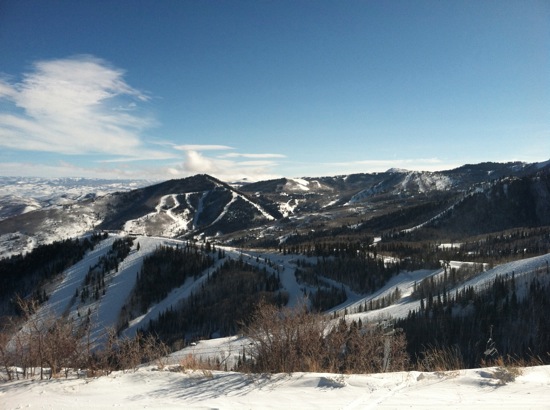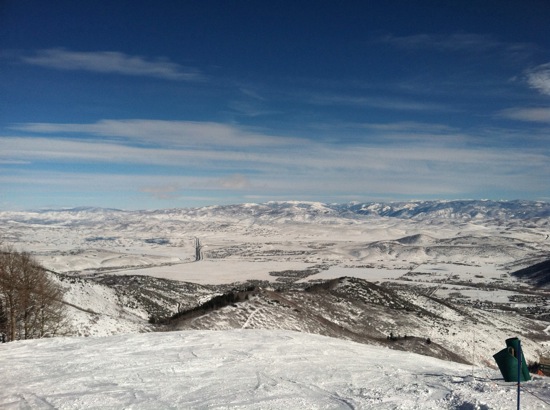 or better company, of course!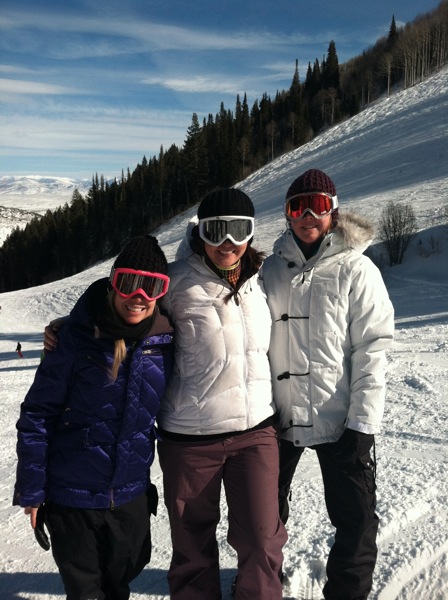 after four or five hours of riding, we headed down the mountain. we were super hungry and decided to stop at ahh sushi/o'shucks in jeremy ranch.
unfortunately, the sushi bar wasn't open for another hour so we had to order from the o'shucks menu. it looked promising.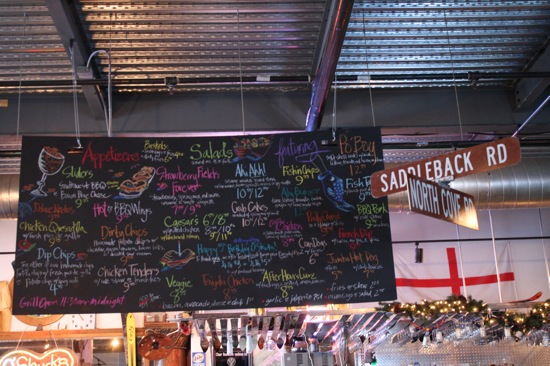 we placed our orders and snacked on peanuts while waiting for our food. i also used this time to try out a fishtail braid because kristen taught me how to do one. i need practice. a lot of it.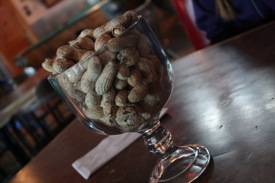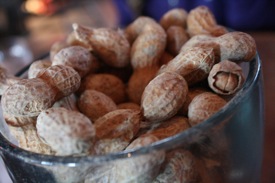 i ordered the ahí ahh! salad.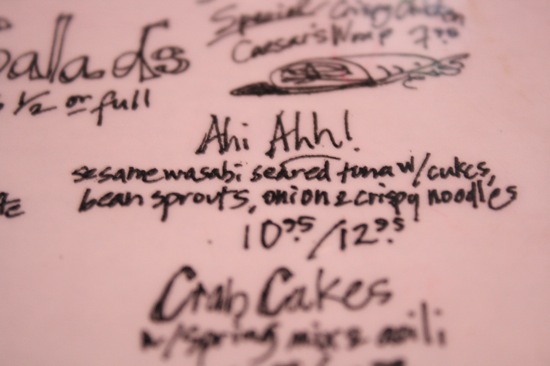 it looks way better than it was… like, WAY better. it was really bland and "meh". bummer.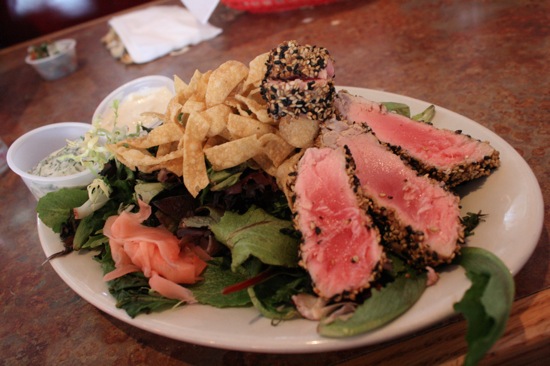 jessica got the fish & chips and kristen got the philly cheesesteak. they were both very unimpressed with their food. it wasn't just subpar.. it was bad.  we spent a good chunk of the drive home talking about how disappointed we were that we just ate some super overpriced, crappy food. i am glad that it's not just me that gets so worked up about wanting to find delicious food when eating out. oh well, lesson learned. and if you are local–learn from our mistake! don't go to o'shucks for food.. just go for beer. and peanuts. and fishtail braid lessons.
i dropped the ladies off and headed straight to whole foods to get my grocery shopping done for the week. i usually don't do my weekly shopping there because, let's face it, it's super expensive. but we want pizza this week and whole foods has the best pizza dough! plus, i was already in salt lake and whole foods was on the way home. it was probably a big mistake, because i wandered the aisles for over an hour and ended up buying a bunch of stuff i honestly didn't need. grocery shopping is definitely one of my weaknesses.. but hey, it's better than some of my old vices, right? i am addicted to buying overpriced groceries.. it could definitely be worse.
here a few of my favorite things to buy when at whole foods: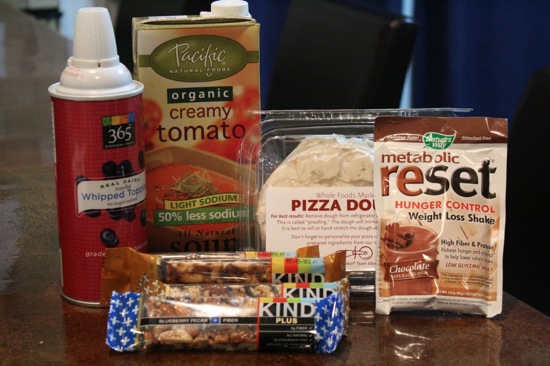 nonfat whipped cream.. no sugar added, either!
multigrain pizza dough.. like i said above, it's the best. although i probably should try making my own dough one of these days…
kind bars. they were on sale 4 for $5.
pacific low sodium creamy tomato soup. it's my favorite packaged tomato soup around.
single-serving protein powders that i have never tried and really don't need.. but somehow convince myself that i NEED to try them.
on the upside, chobani was actually on sale for a buck apiece. the money saved right there made up for all the frivolous items i bought. that's my story and i'm sticking to it.
as far as the rest of my weekend goes.. it was pretty mellow.
marshall & i stayed in with the pups on friday night. i was absolutely exhausted from the work week and i even skipped my workout on friday. sometimes you just have to listen to your body and my body was saying NO GYM TODAY.  then, like i said earlier, i slept in WAY late on saturday–i got over 12 hours of sleep! i must have needed it. despite the super late sleep in, i still got a lot done. we had the entire house deep cleaned by 4:30! the laundry folding is another story, though. worst chore ever.
after cleaning, i made it to the gym for a back/biceps/abs workout but skipped the 30 minute sprints that were on the agenda. my reason for this was that my vibram 5 fingers were in the washer, so i had to wear regular shoes to the gym. regular shoes are fine for lifting, but if i am going to sprint.. i need my vibrams. anything else makes my knees hurt. although, i was secretly happy i couldn't do the sprints. i hate cardio.
saturday night we went out for my step MIL's birthday dinner. we headed to texas roadhouse. if you've ever been there, you know it's a ridiculously dim lit restaurant so i skipped the food photography. nobody wants to see crappy, dark photos of salmon, right? of course, right. saturday night was spent trying to teach momma b to navigate pinterest. i think she's got the hang of it! if you want to follow her, click here.  oh! and i also perfected my recipe for protein cheesecakes, i'll be posting it this week sometime.
well, that's my weekend in a nutshell! i am going to go make some spaghetti & asparagus for dinner. top sirloin was on sale at whole foods so it'll be a nice change from ground turkey. the rest of the week's dinners look like this:
pineapple prosciutto pizza & green salad <–that was marshall's idea.. pretty great idea if you ask me!
tofu scrambles & potatoes o'brien
ham & cheddar panini & creamy tomato soup
should be good! what are you having?
xo. janetha g.