first things first: it's my best friend's birthday today! chances we are out celebrating right NOW. happy birthday, kristen, i love you so damn much!!!
ok.
you guys know i don't weigh myself. in fact, i don't think i weighed myself in all of 2011 (except for when i had to get anesthesia, which makes sense so they could give me the right dosage, but even then i didn't look.) i just really think the scale is a big joke. i don't care how much i weigh. yes, i care about being in shape and i care about fitting into my clothes and i care about not being overweight.
none of that has to do with the number on the scale, telling me a specific number, telling me how much i weigh.
in my late teens and early twenties, i was obsessed with the number 117. i thought i HAD to weigh 117 pounds to be happy. what the crap, janetha? why 117? eventually that number crept up to 124.. and then before i knew it i was 137 pounds—20 pounds over my beloved weight of 117.
i definitely did something about all that. i started body for life and the number on the scale started dropping.. and dropping.. and dropping.  i eventually ended up at 114—wow! lower than my ideal weight of 117!  after that, i developed an unhealthy addiction with weighing myself. i stepped on the scale morning and night. i always wondered how much i gained after eating five meals and drinking a gallon of water every day. my weight usually fluctuated about five pounds from morning to night.
i was stepping on the scale WAY too often. as i began gaining weight (and letting my healthy habits slide) i started getting pissed off every time i weighed myself. i gave up the scale—cold turkey. i hopped back into fitness, eating clean all of the time, and being diligent with my healthy habits. i know i lost weight, because my clothes started to fit again. i felt great! i didn't care about how much i weighed! and i wasn't just saying i didn't care like i had in the past. this time, i really didn't care.
then, i went to the doctor. i stepped on the scale for the first time in a long time.. and i weighed 127. what? 127? but i feel so great! my clothes fit! i was in such good shape! why was i 127 pounds? why was i 10 pounds heavier than my old "ideal" weight?
oh, wait, who cares? 127 pounds or 117 pounds—it didn't matter.
i was fit, healthy, and happy. my clothes fit. i liked my reflection in the mirror. the number on that scale did not matter a single bit.  full disclosure: i still hated the way it made me feel. knowing that number was 127 and not 117 messed with me! it was all in my head. i really just didn't like it a single bit. so i haven't weighed myself in over a year.. actually, it's almost been two years now that i think about it. life without knowing my weight is pretty great, i must admit.
HOWEVER.. yes, there is always a however!.. i think that the scale can be a useful tool.  not if you take the "i need to weigh myself day in and day out, morning and night" approach.. but if you use your weight as a gauge.  a few examples:
if you are overweight and are trying to lose a large amount of weight (read: NOT the last 10 pounds) then using a scale is a great way to check in each week to see your progress. i said each week.. not each day. weight fluctuates so much that daily weigh ins are enough to make you batty.
if you are underweight.. using the same type of guidelines as i just stated in the overweight bulletpoint and use the scale weekly to check in.
if you are in maintenance mode and you weigh yourself once a month or even once every few months to check in with yourself.
if you are not actively trying to build muscle. the scale is not going to do you any favors.
again, those bullet points are my opinions.. that's when i think the scale is a valuable tool. but that's just me. i know tons and tons of people who use the scale daily and it's a great tool for them to stay fit. they have a healthy relationship with weighing themselves and can do it without the number messing with their head.
i am not like that. even if i were to use the scale while maintaining my current figure, i wouldn't want to know the total number. it's a mental thing. i feel great with my body right now. i know i look good. shit, i have been working hard! but i still don't want to know how much i weigh. like i said before, it messes with me! and i honestly do NOT want to know my weight. i have gone nearly 2 years not caring what that total number is, and i don't want to care ever again. the only way i do care is when i see it. i am in damn good shape right now, and if i stepped on the scale and saw something like 130, i would be crushed. my self esteem would go out the window. it would. i am just being honest. and i know some of you can relate.
while i don't want to see that total number, i think it sure would be nice to be able to check in with myself once a month to make sure i haven't gained ten pounds.. or fifteen pounds.. i mean, i eat a lot of cookies. it could happen.
enter: the zero scale.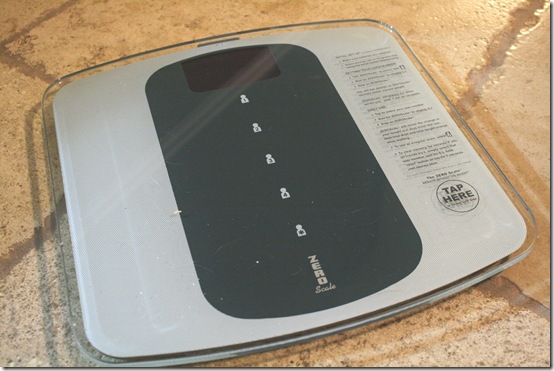 i saw this scale on monica's blog awhile back and was ridiculously intrigued. i emailed the company and asked if they would send me one to try out. they said yes. well, first they said no. and then i think maybe they looked at my blog and decided to say yes. i was happy.
i received my scale quickly and it was very easy to set up. the batteries were included and it even came with a pedometer. i don't walk very much.. but if i did, boy that sure would be handy. read: i need to walk more. my desk job is killing me slowly. i digress.
the zero scale functions just like a regular digital scale, but it has a secret: your weight. it doesn't tell you how much you weigh. ever. unless, of course, you want to know.. then it will tell you. the zero scale is your new best friend! it will tell you when you gain or lose weight, but it won't shout your total number from the rooftops, making you hang your head in shame.  because really, let's be honest, hearing a number that is not necessarily what we think is "ideal" is something that can really get us down on ourselves– FOR NO LEGITIMATE REASON.
the zero scale has enough room for four users.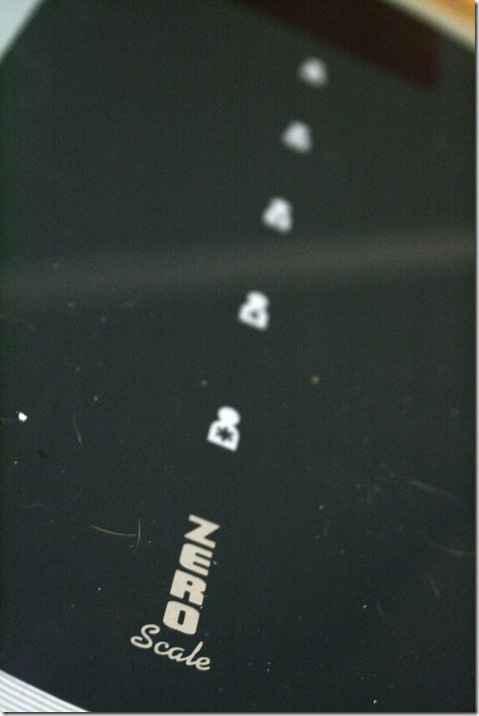 PERFECT! why is that perfect, you ask? well we have four people (okay, two people, two dogs) in our household. everyone gets to use the scale!
okay. maybe not penny. she wouldn't get on the scale. she's scared of it.
i wasn't going to tell you this, but penny is watching her weight. she's packed on the pounds and has been forced to cut back on the cookies lately. she doesn't want to know that she weighs a whole 32 pounds.. she'd rather just know that she's losing. hearing a number anything over 30 pounds makes her very self conscious.
so does the fact that her head is too small for her body.. but that's a story for another day.
the first time you hop on the scale, you select your user number (i am number one! woo!) and wait for three dashes to appear. once they have, you stand on the scale and it will secretly store your weight in the depths of the digitalness that is the zero scale. it's that easy!
the next time you step on the scale, it will tell you four things:
how many days since your last weigh in
how much you have lost/gained since you last weigh in
how many days since your first weigh in
how much you have lost/gained since you first weigh in
the scale functions in both pounds or kilograms so you can use the measurement that you prefer. the reading (gain or loss) is a number and it clearly says "gain" or "loss" on the digital reading.
i first hopped on the zero scale at the beginning of phase three of the livefit training program i am doing. this was on monday, december 5th.. so a little over a month ago.  the first week of phase three went well. i rocked it. i was very diligent with my eating. i hopped on the zero scale a week later and the scale said i had lost 1.3 pounds. yep, i was happy about it. that is what i was aiming for, because i have to strut around in a bikini at the end of january in front of all my bosses and co-workers. so yes, a loss is what i was (and am) after.  sure, my total weight is still nowhere near that pesky number 117, but it didn't matter. what did matter is that my hard work had paid off and it was working. baby steps, folks.
after seeing the reading on the scale a week later, the only thing i could say to myself was "go me!" instead of "yeah, i lost 1.3 pounds, but crap.. i still weigh way more than i want to!" the zero scale eliminated the ability to feel bad about a total number.. which i shouldn't even feel bad about in the first place. because i am fit.
fast forward.
thanks to dedicated december, i stuck with my workouts throughout the month. however, there were several occasions where i HAD to eat treats. you know.. like christmas. and new years. and when i broke my nose which required me to eat frozen custard by the pint because of self pity. i haven't been on that scale since a week after the initial weigh in. until today.
not going to lie, i was nervous to see what the scale said when hopping on this morning. even though i wasn't going to see my total weight, i still was hoping to see a loss, since i have actively been trying to drop fat. trying really, really hard to drop fat. yes, i am also trying to gain muscle, so i kept in mind the fact that my weight might be the same or even may have gone up due to all the lifting.  in the back of my mind i knew it didn't matter either way.  none of my jeans fit anymore (in the sense that they are now too big) and i just feel better about my body.. so i really was convinced that whatever the scale said would be ok. but there was still that weird, nervous feeling i get whenever i am face to face with a scale.
i hopped on and the scale told me four things:
29 days since my last weigh in
1.7 pounds lost since my last weigh in
37 days since my first weigh in
3 pounds lost since my first weigh in
of course i was happy about this. from december 5th to january 11th i lost three pounds, ate a whole bunch of crap over the holidays, was laid up briefly due to a car accident, and still managed to stay in shape.
i KNOW that had i hopped on the scale to see a total number and that total number was in the upper 120s or lower 130s, i would have been bummed. but not now. i am stoked on myself. go me. no shame.
i am going to be working hard at my fitness for three more weeks, then it's off to mexico. when i get back, i want to maintain my figure. when i had great success with body for life, i did a horrible job of maintaining. i was basically like "WOOHOO! I'M SKINNY AND FIT!" then went back to eating whatever and quickly gained weight again.
stupid.
this time around, i am going to STAY in shape. i am in better shape now than i have ever been in my life—even after body for life—and i don't want this hard work to go down the drain. i am going to use the zero scale once a month to check in with myself and make sure things don't get too out of whack. i also plan to get my body fat percentage checked as soon as i can make it up to the university, because i truly believe the healthiest way to gauge your weight is by body fat PERCENTAGE, not total weight. since i have put on a fair amount of muscle these past four months, i think knowing what my body fat percentage is would be a valuable bit of info.
if anyone is interested in the zero scale, you can purchase it on their website. the scale is $60 and includes a pedometer. here's my disclosure and thoughts: i wish i could say they are offering some super sweet discount to meals & moves readers or giving one away, but the truth is i wanted this product. i went to them. at first they said no when i asked them to send me one for review, and then i got an email a few days later saying they'd send one. i spend a lot of time and effort on my blog, so i am glad i was able to use it to get a free scale. and no, i wasn't paid for this post. i do think that $60 is a fair price for this product. i would have definitely paid for one now that i know how awesome it really is.
so, that's that. it's a cool product and a great option for those who do want to use weight as a tool to check in with their overall health goals without going too overboard with worrying about numbers.
the end.
Q~
what do you think about the zero scale & the concept behind it?
xo. janetha g.