if you have been reading my blog for awhile, you know that at one time in my life i really didn't think i would have children. it wasn't that i didn't necessarily want children.. i love kiddos, i have lots of nieces and nephews and friends with kids, but i just didn't feel like kids were right for ME. while i am really into being a dog mom, i didn't (and actually still don't) feel very maternal. BUT.. my best friend is my mom. i love our relationship. i am extremely close with my family. they are my everything. friends may come and go, but family truly is forever and there is no bond quite like that family bond. and that is how i knew i wanted to have children with marshall–we couldn't just grow old without a family of our own! it just took some time to get to the point of actually being ready to start a (human) family.
anyway, once i actually got pregnant, i realized that even though i feel ready to be a mom.. i still know NOTHING about actually BEING a mom. i am so clueless! every single thing about pregnancy and upcoming motherhood is brand new to me and, to be honest, it's a little scary! however, i know that all moms start out this way. nobody knows how things will be going into it, and that's okay! (dare i say that's part of the fun??)
one reason i love blogging is i am able to share my experiences with you all and learn as i go. i have never and will never claim to be an expert in anything (well, except procrastinating.. i should be sponsored for that!) but i will always share my experiences with you guys and let you know how it is for ME.. and you can take what you want from that. me blogging about pregnancy and being a first time mom is just like any other thing i have blogged about, such as body for life, insanity, or planning a wedding! i know nothing going in, ramble about it as i go, and come out a (hopefully) smarter person.
one thing that's great about having this blog is the comments i receive regarding the subjects i write about. in fact, that may be the greatest thing! you guys offering up your two cents about whatever topic is at hand has been so beneficial and fulfilling for me. so, thank you. and please, keep it up! thanks to the comments in my last post, i have decided to return the mamaroo that i bought (which was over $200 which is why i was on the fence about keeping it…) and buy a traditional swing instead. who knows if it's the right choice–nobody has it all figured out–but at least i can share my experience with you and let you know how it goes! so thank you for your input and for continuing to share your own experiences. we all can learn from each other in all aspects in life.
anyway.. all these rambles are leading up to something, i promise! since i am clueless and want to document this time in my life, i decided to start a little series where i share my new experiences. it drives me crazy when bloggers act like they are experts about things that they most definitely are not, or try to come off as knowing more than the next individual with no real reason other than self-proclimation. but i am all about fully disclosing that i am clueless and want to ramble about the situations at hand. so, i bring you my clueless first time mom series. yay!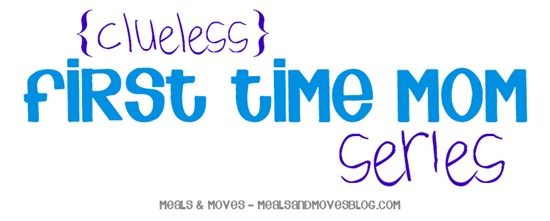 hopefully those who are equally as clueless as me can have fun reading along and those of you who have been there, done that can chime in with your two cents. don't worry, every post won't be an excerpt from my latest and greatest adventures in pregnancy and motherhood.. because, well, i know some of you don't give a shit about kids or being a mom. but since it's basically consuming me these days, i can't not talk about it.
so, today i want to talk about maternity clothes. specifically looking somewhat put together and cute in maternity clothes. i'm not gonna lie, the majority of this pregnancy has been spent in baggy gym clothes (mind you, i haven't been going to the gym), pajamas, and–most recently–my husband's t-shirts and basketball shorts. poor marshall probably thinks i am the biggest slob ever. but getting dressed when you are pregnant SUCKS! legit. it sucks.
but, i have that whole full time day job.. where i have to look presentable. ugh. i know some ladies think they are glowing and beautiful and love the way they look while pregnant.. but that's not how i have felt. i haven't felt ugly, i have just felt exhausted with the task of getting dressed for work each day. growing out of more and more clothes as the days go by is frustrating! and spending money on clothes that you will only wear for a very short while is even MORE frustrating.. and expensive! let me tell you, i have done more laundry these past five months than ever in my life, because i refuse to buy even more maternity clothes that i can only use temporarily. i have about five outfits that i rotate through. it's boring and blah and i don't love it.. but i also don't want to buy a new wardrobe every time i get bigger.
enter: functional and CUTE maternity and nursing wear. 
maternity sale sent me a few pieces of eve of eden clothing to try out, assuring me that their clothing is NOT like the rest of maternity wear out there. by this they meant that not only can i wear it now, with my ever-growing belly, but i can also wear the clothing postpartum. the pieces i received are made for maternity, but also designed for that fourth trimester where not everything is quite back the way it should be AND you need to be able to whip your boobs out to nurse your baby (if you are into that.. which i am.. which i am sure i will overshare about here on the blog when the time comes.) all the maternity pieces they sent are nursing-compatible. not only that, but they are all pieces that can be worn forever and ever, long after pregnancy and nursing. and, even better, they are all CUTE and PERFECT for the office!
the first item is the black shirt-dress.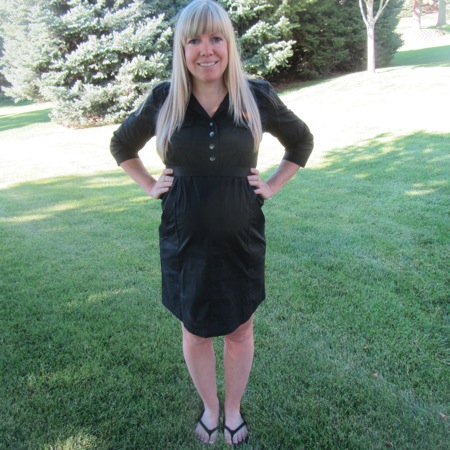 this one is great for the office!
there are snaps down the front which means great access for nursing. plus–POCKETS! everything is better with pockets.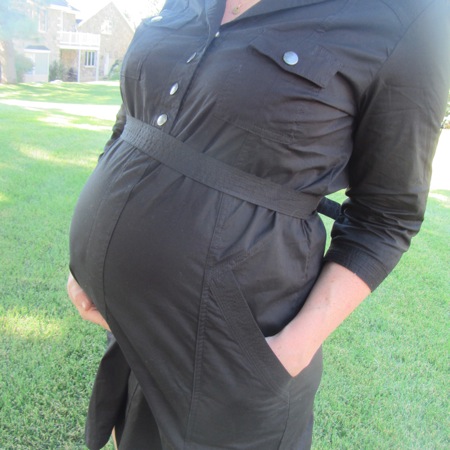 the removable tie makes this dress great for a growing belly or for wearing when not pregnant.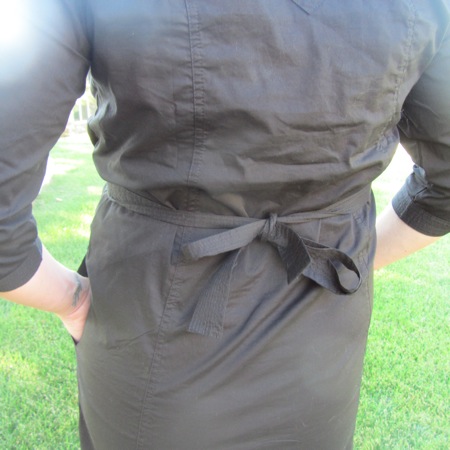 the second item is the dip hem striped dress.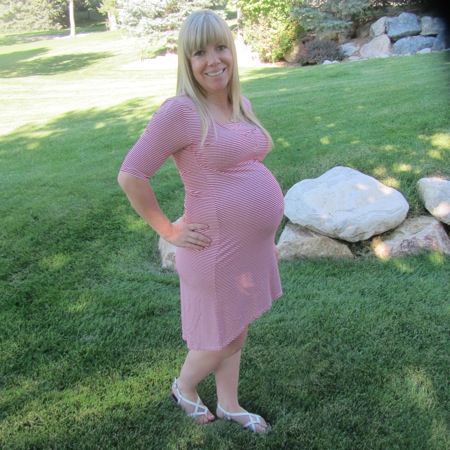 the fabric is super stretchy and soft. it will definitely adjust to your growing belly and spring back into place once your baby is on the outside. there is a hidden bandeau under the dress which makes it nursing-friendly. (i've got a nude bra on, by the way. i am not flashing you!)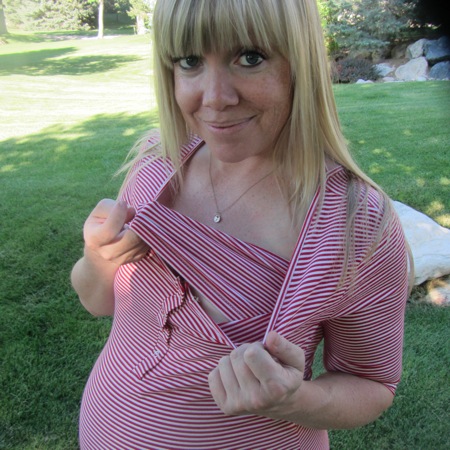 the back has a cute tie detail which also adjusts the neckline in the front.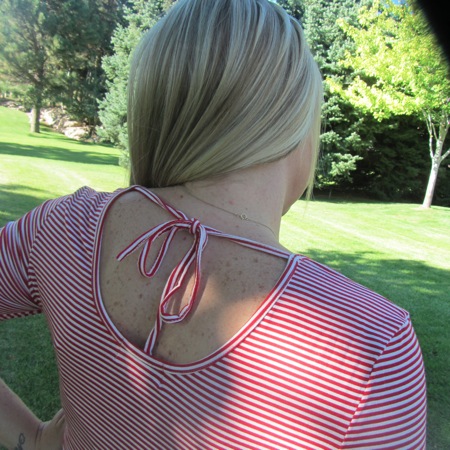 the third and final item is the grey polka dot sweater. by far my FAVORITE piece!!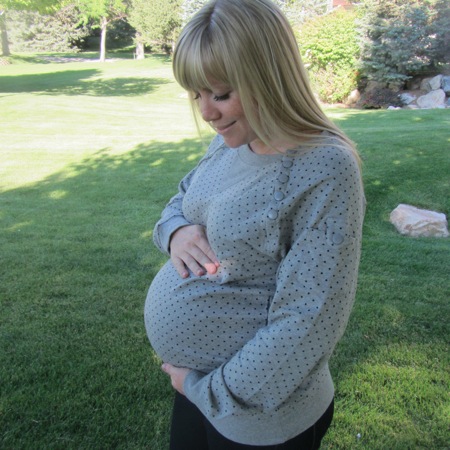 i am so excited for cooler weather so i can wear this day in and day out. no, i won't be pregnant come cooler temps.. but i WILL be nursing, and this sweater has snaps for easy access.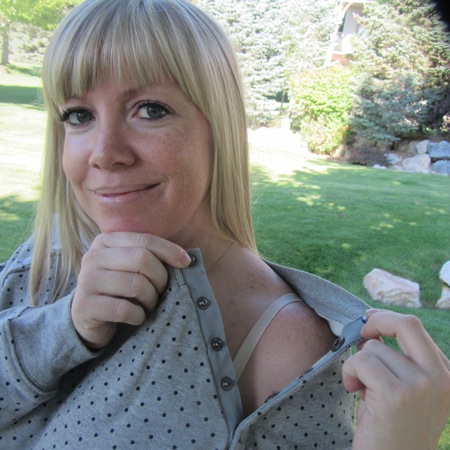 and there is a cute little pocket on the sleeve! all about the details, folks.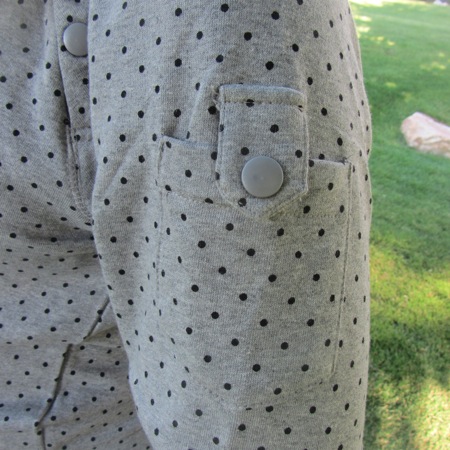 it's super baggy and roomy, so no matter what trimester you are in.. you can rock this.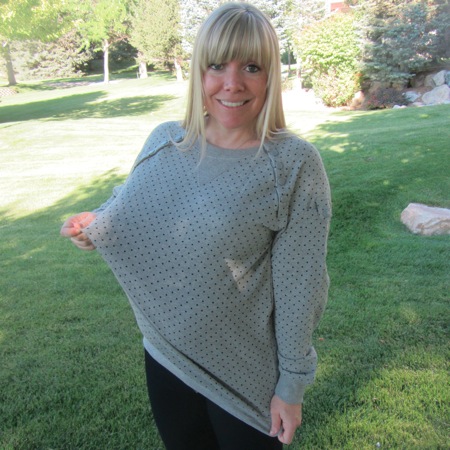 but it will also look cute after pregnancy, when there is no baby in your belly. (momma b was going to model it for you all, but she didn't have her lipstick on. don't ask.. she's weird about lipstick application and photographs.)
so.. yep.. that's the extent of my maternity modeling career. side note–why do people PAY to get maternity photos? i would not want to pay anyone to take my picture whilst pregnant. i mean, i like documenting my body as i grow, but i would rather spend photography $$$ on newborn pics over maternity pics. maybe that's just me.
anyway, back to the clothes. i feel a lot better about buying maternity clothing that can be used postpartum and that is nursing-compatible. that sweatshirt is going to be a staple in my wardrobe forever and always, i already know it. and those dresses are so functional that i won't have to store them away for my next pregnancy (if there is one..more than likely)–they can hang in my closet always and be worn year-round–pregnant or not.
and, HEY! if you decide to shop on maternity sale, you can use the code MOVES14 for $10 off your $60+ order! this expires november 30, 2014. click HERE to browse the site! they have dresses, tops, bottoms, swimwear, and lots more. happy shopping!
Qs~
1. been there done that ladies–what approach did you take with maternity clothing? did you buy a bunch, cycle through a few, live in PJs? what were your favorite brands?
2. for everyone else.. what was the last piece of clothing you bought?
xo. janetha g.
disclosure time! these three specific items were sent free of charge for review. no compensation was provided for this post. i really love the website and have spent my own dollars on their cute clothes. i think they are well worth it, especially after comparing them to my experience with other maternity clothing websites/in store purchases during my pregnancy.