i have had a particularly busy day at work today, which left me no time or energy to blog about my daily meals & moves. not to worry, you aren't missing much. although i will have a new healthy meal makeover recipe for you tomorrow.
because i have nothing else, today is the perfect day to post my insanity review. this post is going to be a whole lot of words and all about insanity. if you don't care about that, come back tomorrow!
i am not sure what the best way to put my thoughts into a post is, but i'll try my best. hope i don't lose ya!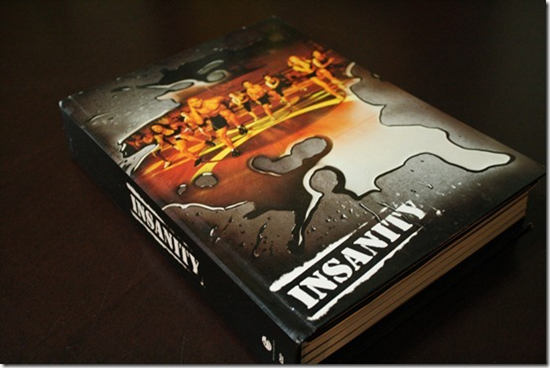 for those of you who haven't heard of insanity, let me fill you in real quick. it is a set of DVD workouts led by a muscular and slightly irritating man that goes by the name of shaun T.  i didn't think he was irritating at first, but by the end of the challenge, my tune had changed.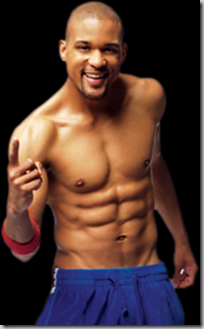 [source.]
i bought the insanity DVDs over a year ago. i purchased them off craig's list for $50 instead of the retail price of $120.  i never had my own house or my own TV/DVD player, so i was never able to commit to the insanity challenge 100%.  i did a lot of the workouts before my wedding, but never did the complete challenge.
now that i have my own home, i was able to commit to the challenge.  on april 3, marshall and i started our 60 day insanity challenge.  i made a calendar and posted it on the fridge.  turns out this 60 day challenge actually lasted 63 days, but who's counting? oh, yeah, me!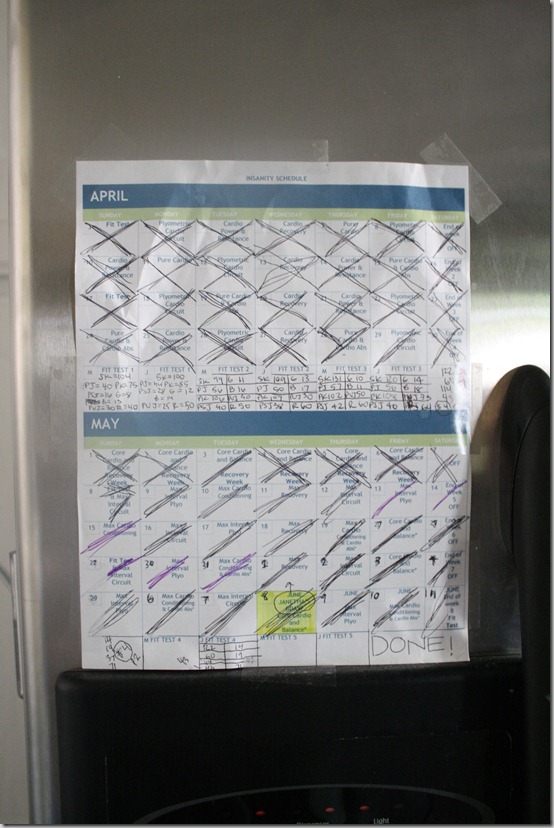 for clarity's sake, i will give you a rundown of the program, which is split into two 4-week blocks with a 1-week "rest" period between the two blocks.
the first day starts with the fit test.
the fit test starts with a quick warmup, followed by a series of eight different moves.  you see how many reps of each move you can get in one minute.  the fit test ends with a short cool down.
the point of the fit test is that it creates a way for you to monitor the progress of your physical fitness.  the fit test is scheduled for day 1, day 15, day 36, day 50 and finally on day 63.
the first fit test was tough—i put my maximum effort into it like shaun T told me to do!  i will get to my scores later in this review.
the first month of insanity consisted of several different plyometric workouts.  'plyometric' is just a fancy way to say 'lots of jumping around like a crazy person', just in case you weren't aware.  anyway, these workouts lasted around 40 minutes each.  there was always a warmup and stretch session that was about 10 minutes long, followed by the workout that lasted roughly 25 minutes, ending with a cooldown stretch that lasted about 5 minutes.  the program periodically threw in a 15 minute ab workout for good measure.
the weeks were never TOO crazy.  sunday, monday and tuesday consisted of the intense workouts, wednesdays were always a "recovery" day that was a workout focusing more on stretching and less on cardio.  thursday and friday brought two more intense workouts and saturday was always a designated rest day.
during the first month of insanity, i also did bikram yoga three times a week—every single saturday (my rest day from insanity) and then two more weekdays. 
i was doing the insanity workouts in the mornings for the first month. this was HUGE for me because i am not a morning person.  i loved getting the workout out of the way and i felt like my metabolism was on fire for the rest of the day thanks to such an intense cardio workout.
after the first 4 weeks, there was a "recovery week" that consisted of the same DVD 6 days in a row.  it was the "core cardio & balance" workout—about 35 minutes of slow, controlled and concentrated moves.  it was not intense cardio-wise, but it sure made my muscles burn! this was ideal for achieving optimal core strength.  this DVD did get really boring by the end of the week, but i did find that it got easier and easier each time.  after the recovery week, marshall decided he didn't want to do insanity anymore.
the final 4 weeks were something else! i was thrown for a loop after just the first workout.  month two's workouts were longer.  about 60 minutes instead of 40.  the warmup and cooldown times were the same as month one.. but the warmup was a bit tougher when it came to the actual warmup moves.
the workouts themselves were about 40 minutes long and they were BRUTAL.  i actually would scream out loud because i hated it so much.  hate in a good way.. if that makes sense. i dreaded every workout, but felt amazing after each and every one. the epitome of a love/hate relationship, for sure.
the second month was tough and i stopped doing the workouts in the morning. as much as i loved getting my workout done first thing, i just did NOT have the energy to get the workouts done in the morning, so i switched to after work. also, i couldn't do other workouts along with the second month.. i stopped going to bikram (my pass was up anyway) and i focused on insanity 100%.
i went to palm springs during the first week of month two.  i did my insanity workout on the saturday that i was there (with eden!), but then on sunday, i couldn't get the DVD to work. i bought them off craig's list.. they sometimes tend to be janky. BUT, they always work in my playstation.. just not in some DVD players. that's what i get for being a cheap ass. 
i did a bodyrock.tv workout that sunday to supplement my insanity workout, then on monday i was traveling and planned to make up the missed workout the following saturday.
then.. the flu hit. dangit.  i got hit HARD with the flu! i ended up taking an entire week off working out all together.
i was right back at it the following sunday.  to be honest, this SUCKED.  it was hard to physically get back into the workouts.. but even more so, it was hard mentally. i had the toughest time getting back to the intense mind set!  but i did it.
i was worried that i would do horribly when it came time for the fit test, but i ended up stomping all my scores into the ground.  apparently that week off wasn't as detrimental as i thought it would be.
during the second-to-last week of insanity, a little thing called my 28th birthday rolled around.  my social life took over and i ended up taking a few days off from insanity.  i continued the workouts as planned, but i was a few days behind.  when the last workout finally came, it was actually a tuesday.  i wanted to complete the final fit test on the weekend (not after a hard day at the office) so i did a few different workouts until saturday rolled around. i went on a bike ride on wednesday, did bikram on thursday and did the core cardio & balance insanity DVD on friday.  when saturday came, it was time for my final fit test.
how did i do?  well, here is a breakdown of all 5 fit tests! (you can see a demo of someone on youtube doing the moves here.)
| | | | | | |
| --- | --- | --- | --- | --- | --- |
| move | day 1 | day 15 | day 36 | day 50 | day 63 |
| switch kicks | 100 | 109 | 120 | 122 | 123 |
| power jacks | 44 | 50 | 56 | 60 | 62 |
| power knees | 85 | 107 | 108 | 114 | 121 |
| power jumps | 28 | 38 | 40 | 43 | 48 |
| globe jumps | 12 | 13 | 14 | 14 | 14 |
| burpees | 14 | 17 | 18 | 19 | 20 |
| pushup jacks | 25 | 30 | 33 | 37 | 40 |
| plank obliques | 50 | 60 | 64 | 71 | 75 |
as you can see, the program works.  here are the actual numbers when it comes to overall improvement:
switch kicks: 23 more, 23% improvement
power jacks: 18 more, 41% improvement
power knees: 36 more, 42% improvement
power jumps: 20 more, 71% improvement (!!!)
globe jumps: 2 more, 17% improvement
burpees: 6 more, 42% improvement
pushup jacks: 15 more, 60% improvement
plank obliques: 25 more, 50% improvement
the crazy thing is that each time i did the fit test, i worked so hard that i thought there was no possible way i could do even one more rep.  then the next time another fit test was on the schedule, i managed to beat my previous scores. i didn't feel different each day that went by, but i was slowly becoming more and more fit.
it may have taken a couple extra weeks, but i finally marked the last fit test off the calendar!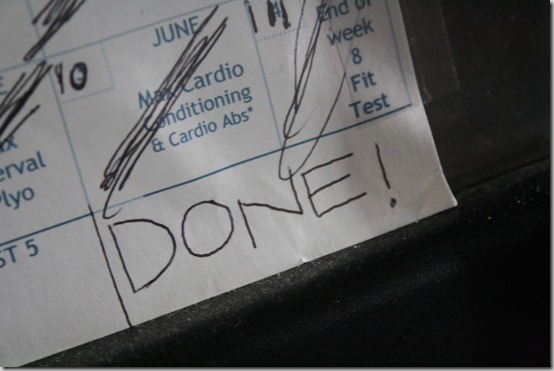 i can definitely say that i was SO glad when i was done.. but yesterday was the first day i had to actually think about my workout instead of following a DVD, so that was weird for me.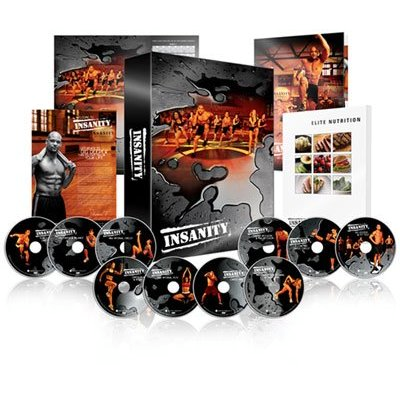 [source.]
here's a break down of the pros/cons.
overall pros:
every workout is done in the comfort of your own home.
no equipment aside from you, yourself and you is required (although a yoga mat is helpful—but not required.)
fairly inexpensive for what you get (a cookbook, nutrition plan, access to the online support site and 13 awesome workout DVDs for $120 is a really good deal.)
a set schedule never leaves room for questioning what workout to do each day.
the fit test is a healthy way to monitor progress.
this is an awesome way to improve your cardiovascular abilities.
it's a fun alternative to running or other cardio.
it WORKS!!
overall cons:
it can get monotonous at times, especially near the end.
you may want to kill someone by the very last week.
it can be hard on your ankles/knees/back, so if you have trouble with these body parts.. beware.
there is not much to offer in terms of building muscle. you will probably build some muscle and will definitely see some toning, but this is mainly a fat loss program.
as you can see, the pros outweigh the cons. i really loved the program and honestly feel like i am in the best shape i have ever been in cardiovascular-wise!
other items to note:
1. the nutrition plan. i didn't follow the insanity nutrition plan like it suggests. i only did the workout portion. however, i did read through the plan and it is just like body for life. balanced carbs and proteins with healthy fat thrown into the mix, eating every 3 hours, 5 times a day.  i know that if i had followed this plan to a T, it would have worked wonders on my fat loss.. but i am not too worried about my fat loss and i already eat really well.. so i just did the workout part of the program.
2. shoes.  i did the first month of the program with running shoes. bad idea! running shoes are meant for running, not for jumping around like a maniac.  during the recovery week i switched to bare feet and then during month two i wore my puma faas 300s.. which are super, duper light. i noticed a BIG difference when i changed my shoes.
3. visual changes. i did take before photos and measurements.. but i never did take after photos or measurements.  there was a reason for this. when i went into the program, i was very focused on how i looked and doing the program to lose inches and look better. as the program went on, it became more about physical fitness and focusing on my performance improvements rather than the visual changes. however, i definitely see a ton of changes! so does marshall, which is nice, because he has been complimenting me on how much more slender my legs are (i usually hate my legs).  my abs look awesome, too. yes, i can brag, i just completed an intense workout program. hell yes my abs look awesome.
4. confidence. whether i look better or not.. i feel better. i feel awesome! this has boosted my confidence level a ton. i feel stronger. i have more endurance. i feel good about myself. not that i didn't feel good before.. but now i really feel good. completing such a hard program is a real boost of confidence, that's for sure.
side note: i did start an insanity page where i tracked my thoughts, meals, etc for each day of the challenge.. but i got way too busy with LIFE and that fizzled out after 17 days. WOOPS. oh well.
you can also check more insanity rambles out in these posts:
what's next?
many have asked what the future holds for me in terms of workouts. 
i just signed up for a month of unlimited bikram yoga, so i will be practicing yoga 3x a week for the next month.
i want to get back to the weight room! i miss lifting weights and will be going back to either alternating upper/lower body days (body for life style) or doing specific muscle splits each day (ie: chest/back, bis/tris, shoulders, legs)
i will be doing some sort of cardio 2 or 3 times a week, probably in the form of HIIT.  yes, this means i will be back to running, hope i don't go too crazy from boredom.
i plan to stay active with hiking and biking this summer, which will play a big role in my physical fitness.
i don't have a set plan quite yet. i am going to use this week to just do whatever and see what feels right. i'm breezy. yesterday was a body for life style lower body workout and today was bikram yoga. we'll see what tomorrow brings.
well, friends, that is the end of my recap.
Qs from you?
i want to open the comments up for questions.  i have had several questions about the program via email and i think that the best way to address everything is in a group discussion in the comments below.
please ask any questions you may have. i am happy to answer any questions—just make sure you check back in the comments section to see my reply.
xo. janetha g.