hi! one thing i have not done in months is look at my wordpress dashboard. i used to check it multiple times a day.. when i used to blog daily, care about stats, and wonder about how people were finding my blog. now days.. eh.. not a priority.
however, i was bored today and decided to check it. after clearing out over 17 thousand (YEP) spam comments (guess i better get my spam filter checked out) i decided to look at the search terms. meaning, what people are typing in that little search bar to the right.
after seeing what people are searching, i decided to write this post and either help them find what i assume they were looking for, or just make a comment about the searching.
sure, that'll be fun!

i didn't do anything too crazy to announce my pregnancy, but you can read the post here.

we aren't publicly announcing our baby's name until he is born. we do have his name picked out (we have ever since we found out he would be a boy, back in april) but we are debating on the middle name.
his first name starts with an F, and we liked alexander for a middle name.. but that would have made his initials "FAG" and i just can't do that to him. so we have been bouncing middle names off each other and i am sure we will come to a mutual decision by the time he arrives!

i get "mormon" as a search allllll the time. not sure why people are so curious about mormonism, but they are. anyway, i was raised and baptized mormon but stopped practicing when i turned 18. although, my heart wasn't in the religion even prior to that, but i went because i lived at home with my parents.
i think mormonism is a great religion and definitely taught me awesome morals and values growing up. it also taught me the importance of serving others. however, organized religion is not for me. i don't know much about other religions, but i know a lot about mormonism and there are lots of parts i don't agree with, which has in turn caused me to become inactive. i believe in god, but that's the extent of my religiousness.
my family members are all active mormons and i will still go to church functions to support them.

i wonder why someone was searching what i can't live without. that's funny! but here are some things that i would say i can't live without…
marshall. duh!
my family, and especially my mom.
pen & rand.
my friends.
my job, unless i fall into a ton of cash somehow..
food! namely avocado, peaches, corn, toast, ice cream, and cereal.
you can find my old blog HERE and my instagram HERE.

lots of searching for clomid and infertility lately. i guess i didn't talk about it a ton before getting pregnant.. but people are curious.
so basically, marshall and i both had issues that had to be addressed once we decided to try to conceive. i won't go into the details of his issues because it's not his blog, but he did have his issues corrected back in february 2013.
after that, i still wasn't able to conceive, so i started tracking my ovulation. we found that i was not ovulating properly—it was super late in my cycle, which made the luteal phase (period between ovulation and menstruation) very short and nearly impossible for me to conceive.
i started clomid to hopefully move my ovulation up and make my luteal phase longer. after just one round of clomid (which was pure hell, let me tell you) i got pregnant! i definitely lucked out, as i know several women who try clomid month in and month out with no luck.
that's my story, not anything super dramatic. i am glad there are modern day resources that helped us be able to conceive!

my pre-pregnancy weight was right around 130-135.
my weight today is 157.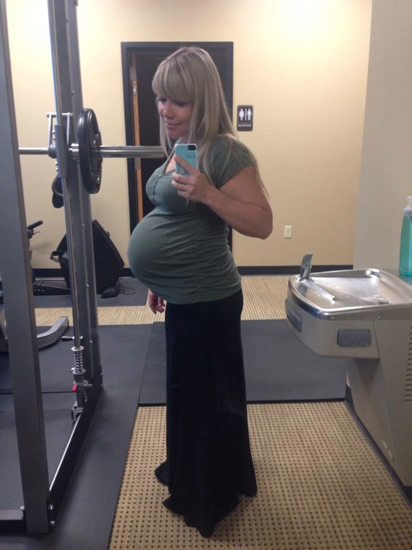 but people shouldn't care about my weight. or their own weight. it's just a number.

wow! someone is real curious about my wedding ring. my engagement ring and wedding ring are the same ring. i didn't want a separate wedding band.
you can read my engagement story here and my wedding recaps here, here, and here.
here is a photo of my ring, which no longer fits on my pregnant finger.
haha.. NOPE. you won't find pregnancy workouts here. while i do miss my friends at GPP, i am loving not working out. truth be told, i am lazy at heart and i fully embrace the slug life. people ask me if i miss working out, and i am being completely honest when i say not at all. while i do enjoy lifting weights and improving my physical fitness, i kinda enjoy my couch more.. haha. it will be a challenge to get back into the swing of things a few months from now… but i am sure it's like riding a bike, right? at least i hope so…
ok! enough search terms for now!
in other news, i am roughly two weeks away from my due date! no signs of labor yet.. but i am rooting for him to come on the 22 because that is my favorite number. seems like a good reason, right?
the nursery is basically done! marshall hung the book shelf (from ikea, fyi) this weekend…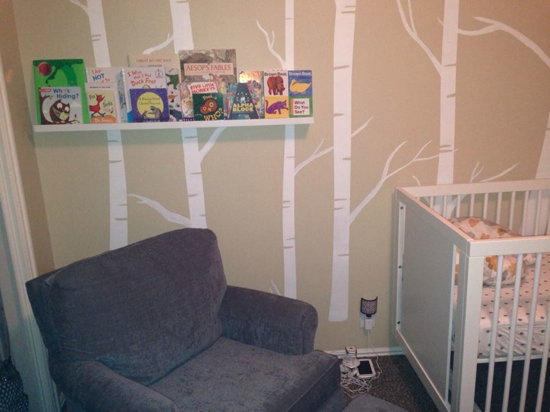 …and we also received a few other pieces, like the laundry basket (which i am in love with.)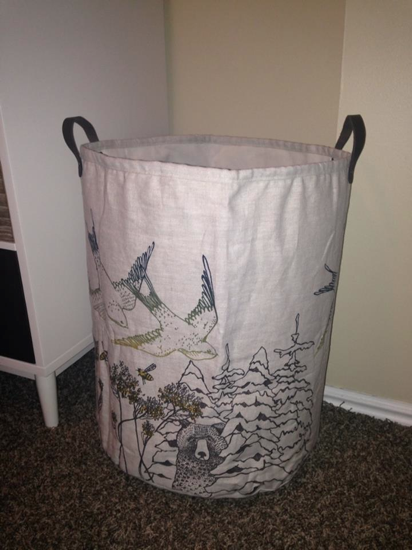 my sweet sister, suni, hemmed the curtains and is bringing them over tonight. in addition to that, we just need to wait for this super cool mobile to arrive and hang a few more piece of artwork.. then it's completely done! i will be sure to take some photos to show you guys the finished product.
my list of "need to get for the baby" is shrinking and now it only has a handful of items.
among those items are a wrap.. i am thinking we will get the solly baby wrap per katie's recommendation. anyone else have input on babywearing? we have an ergo, but i wanted a wrap as well. marshall and i will both use it, so it has to be a one size fits all type, not like the k'tan that has sizes.
one thing i am debating is if i should get a swing in addition to the mamaroo.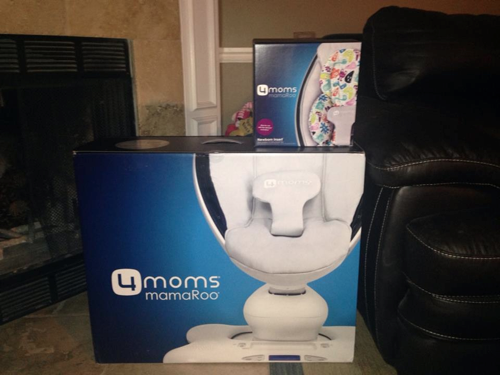 we got the mamaroo (and infant insert) for our house, but since i will have the little guy with me at work from the time he is 6 weeks until he is 6 months, i am wondering if i should get a swing for the office. this one has crazy good reviews..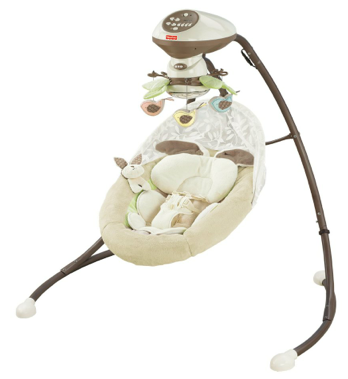 ..and hauling the mamaroo back and forth from home to the office sounds like a big pain in the butt.
if anyone has any input on swings, i am all ears! or eyes, i guess.
we also need to get boring stuff like a humidifier, air purifier, valance clips for our window valance, and new electrical outlets. and then we are DONE! feels good to say that!
my hospital bag is packed.. everyone at my office is trained.. okay, baby, you can come now :)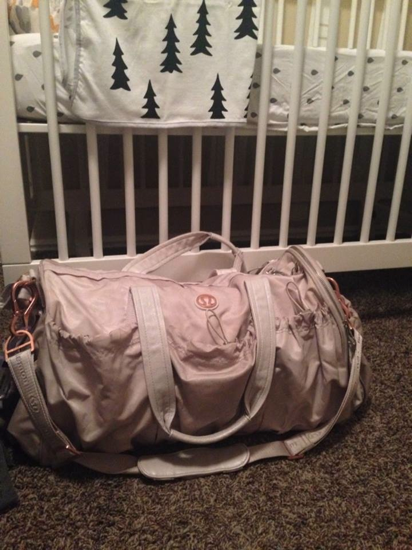 Qs~
1. what is something you can't live without?
2. what is the last search you put into google?
xo. janetha g.