hey, dudes.  how was your wednesday? i am happy to say that today was slightly less stressful than yesterday.
i started the morning out at GPP because i'd promised kerryne and candice (not body of a mother candice, but fitmixer candice.. i know, so confusing!) that i would make it to the 6:30 AM session. i stayed true to my word and went. that's the only way i get my butt up for a morning workout—if i am meeting friends. i completed today's workout in just over 16 minutes! that's the way i like my workouts—hard and short. plus it was so nice to get it over with in the morning! even though it's ridiculously hard for me to get up in the morning, i never regret it.
on the down side of the day, i had to take my car in to get new tires & an alignment today. i could think of lots of other ways i'd like to spend that huge chunk of change, but such is life. being a grown up is fun.
but on the up side, i found a $100 bill in the pocket of the dress i wore today! i hadn't worn it since last summer. what a score! it made the high price of tires a little better. just a little.
so, day three of tracking my meals went well. it's not getting any less annoying, but i'm getting more used to it. i definitely am not on calee's level–she told me she LOVES using the website and geeks out on it and even has fun tracking her meals in advance. i definitely don't possess that trait. i also can't knit awesome beanies like she can. some girls have all the luck skill.
no, but really, the calorie counting thing isn't as bad as i've made it out to be. sure, it's tedious to measure the pineapple for my pina colada shake (had that this morning, by the way, and it was delicious!) but it's not the end of the world. yes, i feel silly measuring pineapple.. but like i said, i am giving it a fair shot. and if for nothing else, at least it's putting my eyeballs back in check. i haven't weighed or measured all my portions in ages and i think my estimations got a weeee off over the years. it doesn't matter when it's pineapple, it does matter when it's haagen dazs.
anyway, dinner tonight was one of our favorites: tacos!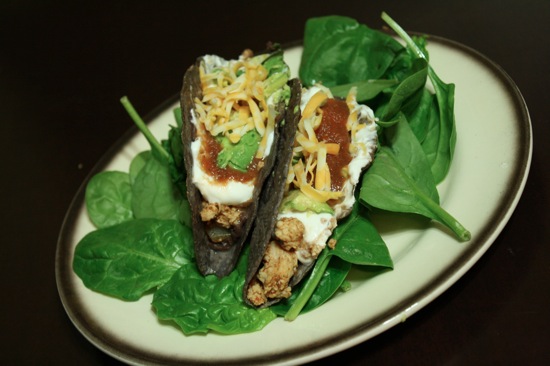 these tacos were made with ground chicken which i made from whole breasts in my food processor and then cooked with onion, green chiles, and taco seasoning. then we layered the tacos with black beans, the meat, chobani plain greek yogurt, homemade salsa (this recipe), avocado, and cheddar–all served over a bed of spinach.
we have been using refried black beans instead of whole black beans lately and it's a delicious change. we also use blue corn taco shells.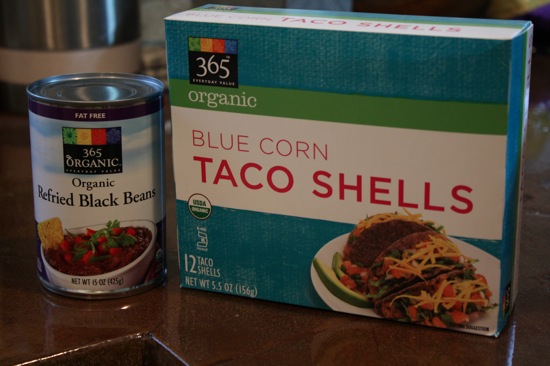 marshall came up with the idea to warm them in the oven just before we are ready to eat them. smart man! the warm shells are a nice little perk of taco night. what? it's the little things.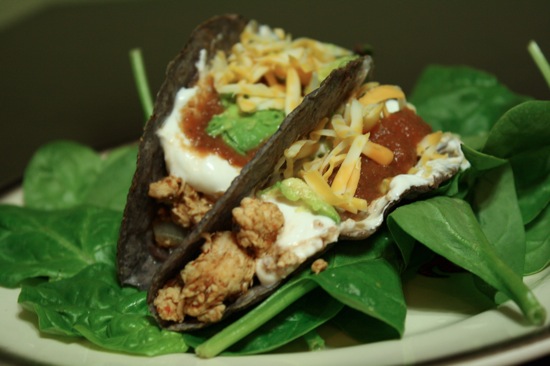 speaking of little things, miss penelope jane hasn't been on the blog in a bit. randy got some love last night, so i thought i'd snap her sweet face to share with you tonight.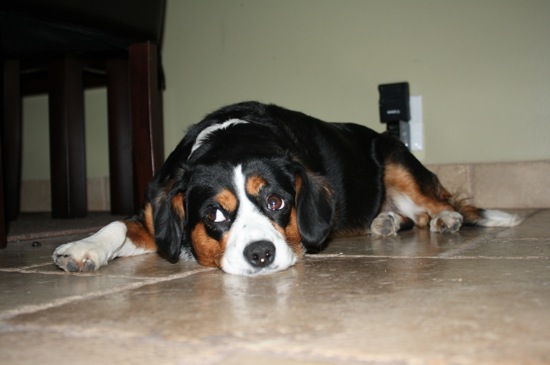 she's doing great! she's lost 3 pounds since starting daycare which is good because she'd gotten a little-um-hefty. she is definitely a participant in move more in may.
and yes, she is staring at marshall in both of those photos. she's OBSESSED with the man. don't blame her!
about the title—i have been meaning to blog about this for QUITE some time now and never got around to it! i know awhile back i blogged about my favorite bath & beauty products, which included face wash. well, since then, i have quit using face wash and eye makeup remover COMPLETELY. i now use a product that my sister turned me onto: norwex.
from norwex.com: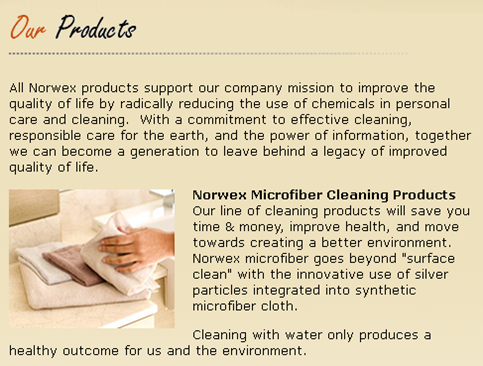 so basically, these eco-friendly rags are lined with silver particles that clean your face with just water—no soap! when marshall bought his first lululemon shirt, he noticed that the tag said the fabric was made with antibacterial silver particles (lulu calls it silverescent and you can read about it here).. there must be something to this use of silver. it just wouldn't be good if you are a vampire.
anyway, norwex has a TON of products ranging from kitchen cleaning to mops to personal care. they have you covered in a lot of departments, but i have only used two of their products personally.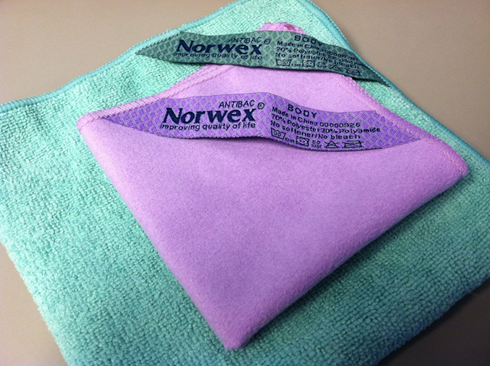 photo credit: my co-worker, amanda
i use the makeup removal cloths (first item of that link) and they literally get rid of ALL my eye makeup (well, and other makeup, which is not much) with just warm water and the rag. it is made of suede.
i use the body cloths (fifth and sixth on items on that link) to exfoliate the rest of my face. it is made of microfiber. the body cloth is AMAZING. i have never had real bad acne problems, but my pores are the worst. always clogged. since using the cloth, my blackheads and clogged pores have disappeared.
when i went to blend retreat, i didn't want to take a couple of wet rags with me, so i took face wash. after about a week of using face wash, i noticed a difference in my skin (for the worse) and just wanted my norwex rags back!
to clean them, you simply boil them in water for ten minutes. we have accidentally put them through the wash before, though, and nothing bad happened to them. i am a little lazy on the laundry front, so i did buy a set of spare towels. i have two of each.
on sunday i got a pack of the envirocloths & polish cloths so i can clean my applicances. i haven't used them yet (because i haven't cleaned once this week…) but i am excited to because we have a lot of stainless steel in our kitchen. the norwex rags just use water and leave NO streaks behind!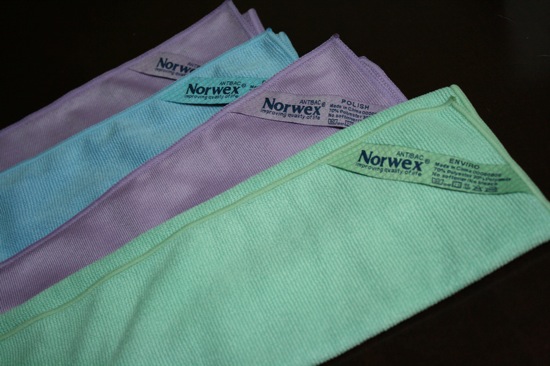 i am stoked that the rags work VERY well. i am more stoked that they only use water, which means i don't have to buy lots of products anymore including face wash and stainless steel cleaner.  i want ALL the rags so i can use them in every room of my house!
norwex has other rags that i have my eye on—like the veggie and fruit scrub cloth and mop pads. but they also have other neat products like salt scrub and dryer balls. heck, they even have a kids line! not that i care, but some of you do. now if they had a pets line, that would be dope.
now that i have raved about norwex, you are probably wondering where to buy their stuff. that's where the bad news comes in. norwex is just like tupperware or pampered chef in that you have to throw a party or go to a party to purchase it from a consultant.. my sister hosted a party once upon a time and that's how i got my first set of rags.  but i wanted extra rags and wasn't invited to a party, so i googled "buy norwex" and was able to buy some extra rags online from a consultant's website. i don't even remember which one it was. if you are wanting to check norwex out yourself, i'd suggest you head to google.  i have also seen norwex booths at various home shows and expos. they seem to be popping up everywhere!
while we are on the topic of not using soap, my good friend susan told me she has stopped using shampoo. instead, she simply combines a tablespoon of baking soda with a cup of warm water and dumps it over her hair while showering. that sounds pretty awesome (and cheap!) and i may give it a whirl!
oh, and by the way, i blogged about norwex because i found them and liked them. i've never even talked to a rep from the company.
Q~
do you use any "natural" cleaning/beauty/bath products or have a cool product like norwex or homemade household recipes you'd like to share with the class?
xo. janetha g.