wow, it's been awhile since i told you about things i use and love!
i have a bunch of topics for this feature floating around in my head, so i decided to finally put one down in writing before i forget about the feature completely. let's face it: it could happen. i forget everything.
today's installment of things i use & love has everything to do with bath & beauty. if you don't want to read about that, skip on down to my dinner.
i will be the first to admit that i am not really beauty product savvy. i am low maintenance and don't pay a lot of attention to my hair or makeup. i just can't get behind spending a ton of time to get ready. on average, i can pee, brush my teeth, shower, blow dry and style my hair and do my makeup in under 30 minutes.. and that's with a leg shave!
here are some of the products that make an appearance in my daily routine. i use them and i love them. i broke them down into categories because i love lists and can never resist a reason to make lists within lists. what?
in the shower: the only five things i need.
tigi bed head shampoo: self absorbed.
tigi bed head conditioner self absorbed. i have been using both the shampoo and conditioner on and off for 12 years. i love the smell and how soft it makes my hair, so i always gravitate back to it. it's at costco right now for $20 for both and i love the pump top.
dove body bar soap in cool moisture. not sure how "cool moisture" is considered a legit description for a scent.. but it smells fantastic and, yep, is available at costco.
estee lauder splash away face wash. i have been using this on and off since high school. my mom introduced me to it. you have to buy it at a department store and it is around $18 for a tube.. but it goes a LONG way. i only use about 1/4 of a pea-sized amount to wash my face. it's worth the money.
venus razor. this is the one razor that i manage to not cut myself 10 times while shaving. oh, and it's at costco.. go figure.
for my makeup: the only five things i need.
laura mercier tinter moisturizer in nude. my friend who did my wedding makeup suggested this to me and i have been hooked since. it blends perfectly and doesn't look caked on. if you are going for a super natural and light look, this is a great product. i buy it at sephora.
cover girl eyeliner in black. i only line the waterline of my lower lids. i wish i knew how to apply eyeliner on my upper lids, but after many-a-youtube video and several failures, i decided to stick with what i know and just not wear eyeliner up there.
sephora mascara in black. again, a favorite i always go back to. i tried an aveda one that the pioneer woman suggested and didn't love it. 
cover girl eye shadow in shimmering sands. THE best eyes hadow! i have used this for almost ten years. they better not ever discontinue it. there was a time that i got fancy and bought a bunch of MAC eyes shadow, but that's a big waste of money in my book. this cover girl trio is like $5 and is all i need.
nars bronzer in laguna. i don't always use bronzer, but when i do, this is the one. clearly it is time for a new one, but it's winter, so i probably won't buy it again until spring. i am really pale and this bronzer doesn't look fake, bronzey or orange. it just adds a nice, mellow glow.
for my hair: the only five things i need.
paddle brush. okay, as you can see from the photos, this brush is straight up haggard. i have had it for years and love it. i have tried other types of brushes, but this is the only type of brush i like.
ceramic hair dryer. once you go ceramic, you never go back. my mom gave me this once upon a time and it dries my hair SO quickly. i dread using other hair dryers because they just don't compare. it sounds weird, but really.. this hair dryer changed my life for the better. so speedy.
tigi bed head after party. i have been using this for almost 10 years. i put a little on my hair after drying it to tame any flyaways. my hair is stick-straight, so i don't worry about curl or frizz, but this product does the trick for any stragglers.
ceramic flat iron. i bought this generic brand of flat iron from sally beauty supply after an old one i loved broke. you may remember when i blogged about it. this took some getting used to, but i love it. i only use it to style my bangs to do the "swoop" since the rest of my hair is already straight.
matrix hair spray. this stuff isn't stiff and it smells nice. perfect for a finishing touch.
at the sink: the only five things i need.
sonicare toothbrush. we bought these at costco shortly after getting married (they came in a pair.) best investment ever.. i think it was $120 for both? not sure..but it doesn't matter, because we will never buy toothbrushes again. only replacement heads, which are at costco, too. 
crest toothpaste in mint. i am a crest kid, end of story.
crest glide floss. another costco find.
secret clinical strength deodorant in light and fresh scent. loooove this deodorant and, guess what, costco just started carrying it! ha.
aveeno lotion. doesn't smell like anything, really, and does a great job at moisturizing my dryyyy utah skin, especially in the winter.
i may be a creature of habit, but many of these products i have used for a decade (or more) and have no desire to change them. if it's not broke, don't fix it, right?
oh, one more thing.. i keep my mouthwash in a decanter, because it's cuter than the plastic bottle.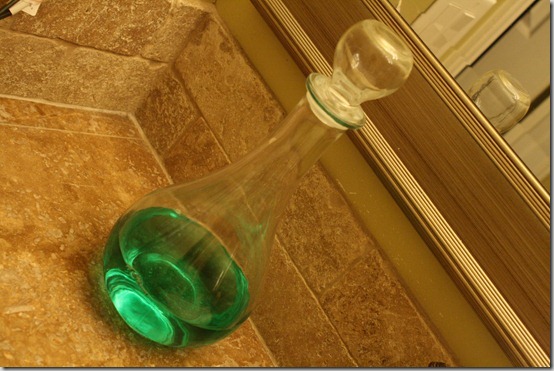 **********************************
dinner tonight was quick & easy! i wanted to share it with you because i know people are always on the lookout for fast, healthy meal ideas.
BLTAs & tomato soup.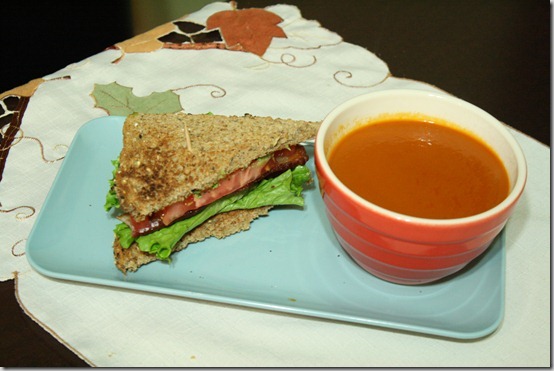 bacon, lettuce & tomato sandwiches are always better with avocado. (as are most things.) i don't like eating bacon by itself, but i do love it in things like sandwiches, salads or pasta dishes. when the bacon is alone, it is too salty for my palette. when it is paired with other ingredients, it becomes a fantastic addition to a recipe.
not that this sandwich really needs a recipe, though. it was simply toasted bread, smashed avocado, baked bacon, romaine lettuce, beefsteak tomato slices, and fresh ground pepper.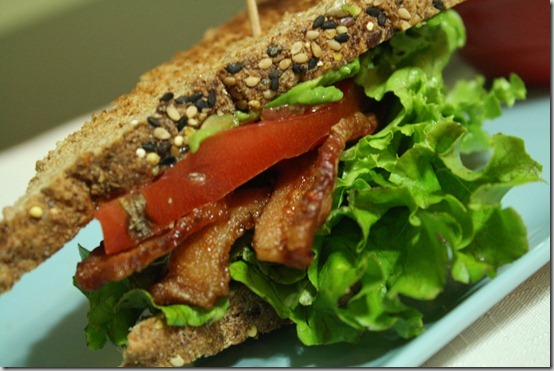 here's a tip i got from cooking light magazine.. instead of frying bacon (or microwaving it like we did when i was growing up), place the slices on a cookie sheet and bake at 400 degrees for about 20 minutes. no need to flip, no splattered mess, and it cooks the bacon perfectly every time.
the soup came from a box. this is my favorite ready-to-eat tomato soup. marshall really likes it, too, and we eat it almost weekly. it's so quick & easy!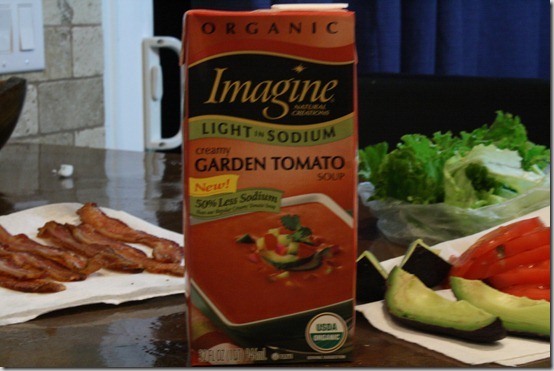 time to head to the couch and hang out with the monsters. yes, monsters.. penny & randy have been pretty bad lately. it's hard to stay mad, though, and they will probably get the leftover bacon because they are spoiled.
have a great night!
************************************
Q~
what bath or beauty products can you not live without? feel free to include brand names!
xo. janetha g.