hello!
how was your monday? mine was actually a lot better than i had expected it to be. love it when that happens. i have a lot of ridiculous issues going on at my day job at the moment, so i am under more stress than usual. because of said issues, i have just been going into work each day expecting the worst..but today was not too bad! especially for a monday.
let's talk about other stuff now. warning: long rambles ahead. feel free to skip to the food.
today was day number one of the 12-week fitmixer bootcamp i've signed up for. one of the requirements of the bootcamp is to send in your weight each monday morning. you may or may not know this, but i don't weigh myself. i haven't in over two years, believe it or not. back in the day i had a bad habit of hopping on the scale morning, noon, and night and it was stupid.. so i stopped hopping on the scale all together.
awhile back, i reviewed a device called the zero scale. the zero scale records your weight without telling you how much you weigh, then each time you hop on it tells you either how much you lost or gained since your very first weigh in and since your most recent weigh in. it's a great tool for those who are wanting to drop some pounds but don't want a specific number to mess with their brains. for the sake of reviewing, i did use the scale for awhile during livefit and i did drop some pounds (more than five, less than ten–somewhere in there. i didn't have a lot to lose.)  i hadn't hopped on that scale since my livefit days.
anyway, let me get to the point. i hopped on the zero scale today because i decided that is how i will track my weight during the fitmixer bootcamp. the zero scale told me that it had been 115 days since i last stepped on the scale, and there was a gain. not some huge, significant gain–but yeah–a gain. i figured this would be the case, because after livefit i definitely let my eating habits loosen up a bit. not a lot–just a little. i got into the habit of eating too much sunflower seed butter and mindlessly snacking after work when i was bored and not genuinely hungry. on top of that, my workouts went from the intense, nearly two-hour-long livefit routines to workouts at gold's or GPP that last around 45 minutes–tops. i also sit around all day (which is why i started up move more in may!) and i definitely have been eating more calories than needed for someone at my activity level.  because of ALL this, the reading on the scale this morning didn't surprise me a bit. the good part is that it also didn't change my mood. i didn't get sad or mad or have negative feelings about myself like the old me may have. i just though, "huh.. that's not a shocker. i have been eating way too much food lately." and then i got ready for work.
it was actually a pretty cool feeling to not care about the weight gain–i am not sure that i've ever experienced that feeling before. EVER. in all of my almost 29 years (eeek, in less than a month!) it makes me happy because it means i am at a good place mentally. sure, i may not be as slim and trim as i was 115 days ago, but i still look damn good (in my opinion.) i still fit into my clothes, i am gaining more and more muscle as i continue to go to GPP (marshall even complimented me on my hamstrings just the other day), and i am able to successfully complete any workout i try.  i feel strong, fit, and healthy.
one other requirement of the fitmixer bootcamp is before and after photos. i always dread these for some reason! i would much rather have my photo taken with all my clothes ON, thankyouverymuch. but rules are rules, so momma b and i took photos over the weekend. i uploaded mine this afternoon and, to be honest, cringed a little. i didn't bat an eye at the weight gain i saw this morning, but when i saw those before photos i got a little queasy. yes, i am being a bit dramatic, they weren't THAT bad, but they weren't that good, either. i am happy with my body and especially with my muscles! but i think i know where those extra pounds ended up, if you know what i mean.
even though i didn't love the before photos, looking at them wasn't a negative experience for me. it was more empowering and motivating than anything else. today is day one of a new challenge for me! and a LOT of people i love are doing the bootcamp with me. it's going to be a good time! i know that 12 weeks from now i will feel even more fit and strong and healthy than i already do. i'm excited.
so those are my thoughts. i know i shout from the rooftops to throw away the scale and to not get hung up on your weight–and i still think that's the best way to live. i also think that some of the extra weight could be added muscle. but the photos tell me that not ALL of it is added muscle. ha.
i just wanted to be real with you guys and let you know what's on my mind. i usually don't blog about this sort of thing because it seems to spark a lot of controversy, but you and i both know i am not shy so i figured i might as well put it out there!
i decided to document the whole day today since i have to track it myself for bootcamp. i realized two things:
logging all my meals into myfitnesspal.com is a bitch (pardon my language, but it is!)
before today, i was eating way more than i thought i was (both with portion sizes and random handfuls of this and that.)
even though it's a pain, i think this meal tracking thing will be a good thing for me. it worked well with body for life, and my meal plan/calorie goals are very similar to when i did that. i know a lot about using the fist/palm method to eat the right portion sizes, so i may opt to do that rather than meticulously tracking things each day. either way, i am definitely going to be paying more attention to what i am eating.
holy crap! i managed to say a whole lot and haven't even recapped my day yet! here we go…
breakfast @ 8 AM: strawberries & cream protein shake, coffee with almond milk.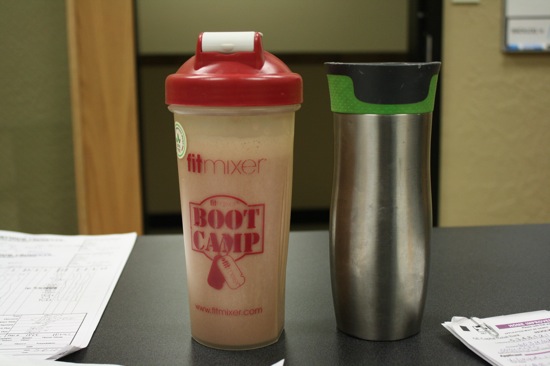 i love, love, love my new keurig! k-cups are the jam. i always knocked them but had never tried them until blend retreat.. i am sold. however, i am not a huge fan of using a new cup every day. i need to invest in the reusable basket thingamajigs.
snack @ 11 AM: raspberry fage.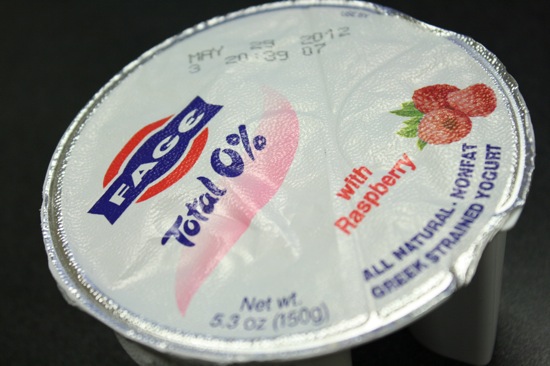 my heart lies with chobani, but my wallet sometimes gets face because it's at costco. dear chobani, please get back into costco!!
lunch @ 2 PM: 2 servings baby carrots, 1 large jazz apple, 1 TB sunflower seed butter, 1 whole egg+3 egg whites with ketchup.
wow. microwaved eggs look disgusting. now i remember why i don't photograph ALL my meals anymore. please forgive me for posting that photo, kay? moving on..
fitmixer bootcamp test @ 4:30 PM.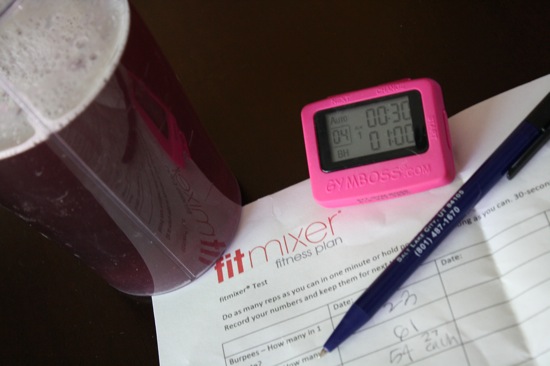 day one of the bootcamp was a quick little test to see my starting point. it reminded me of the insanity fit test. each move was done for one minute with a 30 second rest between (except for where noted.) here are my scores:
burpees: 23
supermans: 61
plyo lunges: 54 (27 each leg)
tricep pushups: 36
low plank hold: 1 minute 10 seconds
chest push ups: 37
wall sit hold: 1 minute 30 seconds
roundhouse knees: 104 right, 102 left
jumping jacks: 91
side hover dips: 46 right, 43 left
i look forward to see how my numbers improve over the course of the bootcamp!
snack @ 5 PM: nuts about granola custom blend granola + almond milk.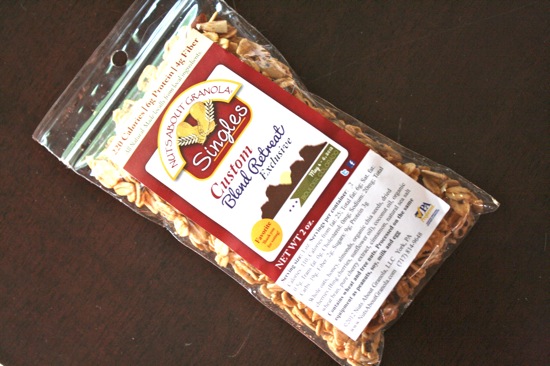 i have SOOO much of this granola! gotta eat it up! it has chia seeds, almonds, honey, and dried cherries. it's great with almond milk or even just straight up.
i went to GPP at 5:45 for this kettlebell workout.. made it through six rounds! IT WAS HARD (for me.) i am proud of myself.
dinner @8:30 PM: spaghetti squash with bison marinara & asparagus.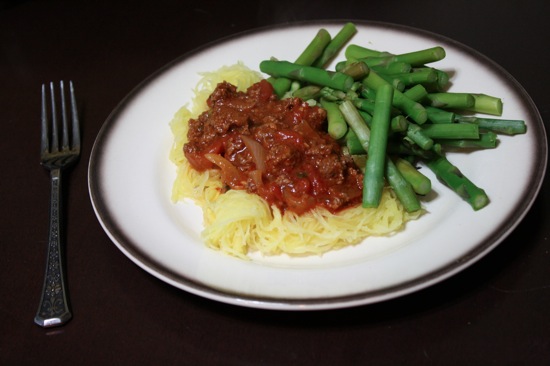 i saw bison at costco on saturday so i picked it up for a change. then marshall told me he doesn't want to eat cows or bison or anything like that anymore.. so i kind of failed. but i only bought 2 pounds so it'll be gone soon. for what it's worth, it tastes amazing and is protein packed.
snack will be at 10 PM: whole wheat toast with raspberry jam & PB2.
no photo, because it hasn't happened. but it will!
i drank a gallon of water today and also had a serving of fitmixer aminos during the test.  after the long, tedious task of plugging everything in, here are the totals i came up with for today:
1365 calories (goal is 1300-1400)
167g carbs (goal is 163 grams)
99g protein (goal is 98 grams)
37g fat (goal is 29 grams)
so, as you can see, i ended up pretty close to the outline given to me. i didn't plan ahead because life has been crazy, but i think with a little more planning and a few weeks of paying closer attention to what's going in my mouth, this whole task won't be as annoying. that's what i found with body for life.. the first few weeks were a pain, but then it became second nature.
day one down–83 to go! and i promise that i won't do these full day posts ALL the time. i know they can be a tad boring. thanks for hearing me out on those rambles up top! good talk.
i am bad at coming up with questions lately, if you haven't noticed.. just leave me your thoughts on anything and everything.. or nothing. it's up to you.
xo. janetha g.