you guys know i am slightly obsessed with national food holidays. i am not sure why i am so intrigued by them, but i am—so why fight it?
in addition to daily national food holidays, there are also weekly and monthly ones.
september is a lot of things:
national honey month
national chicken month
national biscuit month
national mushroom month
national potato month
national papaya month
september is also better breakfast month.
i eat breakfast every day. i look forward to it and rarely have gone without it.
as a kid, my mom made me and my siblings breakfast before school every day. we would rotate between french toast, wheat pancakes, cocoa and toast (my personal fave—just toast with butter dunked in cocoa made with milk and nestle quik), eggs mayonnaise toast (which is exactly what it sounds like, and you better believe the scrambled eggs were made in the microwave) and, on special mornings when there was more time, she'd make german pancakes.  even in high school, i would always eat something for breakfast… usually cereal, but sometimes cocoa and toast if i wasn't super late already.
fast forward to today. i love breakfast food! over easy eggs, french toast, omelets, waffles, breakfast burritos.. it's all so delicious. breakfast for dinner should happen more often. my favorite meal when dining out is breakfast. even if it is 4 o'clock in the afternoon, i would prefer to go to an all-day breakfast joint. the only problem is deciding if i want something sweet or something savory.  i LOVE breakfast foods.
a couple of the breakfasts i ALWAYS see on blogs are oatmeal and pancakes.  those two seem to be the most prominent and, while there is nothing wrong with eating oatmeal and pancakes (i eat both all the time!), it gets a little boring to see the same thing after awhile.  that's the main reason i stopped blogging ALL my meals—breakfasts were always the same! bo-ring.
oh, hey, let's take a time out to talk about oatmeal—also known as THE blogger breakfast.  it seems like the very most common breakfast among bloggers is oatmeal. overnight oats, oats in a jar, oatmeal breakfast cookie, oatmeal everywhere—invading my google reader! what's the latest and greatest oat concoction today?!
i actually was grossed out by oatmeal as a kid and refused to eat it. i know—ridiculous! i missed out on a quarter-century of delicious oatmeal! no idea why i never tried it previously—probably because i wasn't exposed to it. we never were an oatmeal-eating household and i don't remember my mom making it for us once. (of course, my sisters may sing a different tune, because every time i bring up a childhood memory.. they have a different one. however, they were 6 and 8 years older than me, so maybe momma b was just over oatmeal by the time i came along. who knows.)  i wouldn't even eat an oatmeal cookie! although, that probably had something to do with the raisins.. which i hated up until about two years ago.  anyway! i first tried oatmeal when i started body for life in 2008 and it was protein oatmeal.  1/3 cup oats, 1 scoop of protein powder, water and a dollop of peanut butter. that was it. i didn't even try regular oatmeal (without the protein powder) until a year or so after finishing body for life. that's when i started blogging and seeing all these oatmeal concoctions on blogs—a big bowl of oats topped with bananas, granola, peanut butter, blueberries, last night's leftovers, your neighbor's cat—you get the idea. i started doing that and it led to some serious weight gain. i did a calorie check and realized my bowls of oatmeal were clocking in upwards of 600 calories! plus, this was when i was eating every three hours, six times a day. no wonder i gained weight. once i made this realization, i scaled back and when i did enjoy oatmeal it was in the simple form of protein oats, which i still enjoy today.
that's my spill on oatmeal. i know it came out of nowhere, but this is a breakfast post.. when in rome? something like that.
okay, back to september being better breakfast month! at the beginning of the month, i pondered what a "better breakfast" meant to me. for a breakfast to be good (or better) it needs a few things:
high in protein (which in turn is satiating for me)
free from tons of added sugar
not too complicated to whip up in the morning
tasty
those guidelines aren't too strict!
so.. almost every day in the summer, i had a protein shake for breakfast. it is safe to say that i had a protein shake on 75% of the mornings in july and august.
while my protein shakes were always packed with protein, nutritionally sound, quick to make and delicious.. there was one problem: i was lacking variety.  when september rolled around and i was thinking about what makes a better breakfast, i realized that it is important to switch it up from day to day! sure, eating the same foods day in and day out might be okay with our taste buds (i get it—you like what you like!), but our bodies crave variety. switching up our meals is just as important as switching up our workouts! it is best to eat a wide variety of foods so we consume a wide variety of nutrients.
so, this month, i have challenged myself to eat better breakfasts—meaning lots of different breakfasts. some are old, some are new—but i have made a conscious effort to not have the same breakfast two days in a row.
i had big plans to announce this whole better breakfast thing at the beginning of the month, but then i blinked and it was september 20th. weird.
i have been doing the challenge on my own, and here are six different breakfasts i have enjoyed this month.
protein shakes.
i know! i just got done telling you how i had way too many shakes this summer! but you can't expect me to give them up completely, right? i have only had a shake for breakfast twice this month.. i have tried to wean myself off of them in the mornings because they are so tasty. but, a challenge is a challenge so i have started my mornings off with different things and i have made a shake for meal 5/dessert a few nights instead.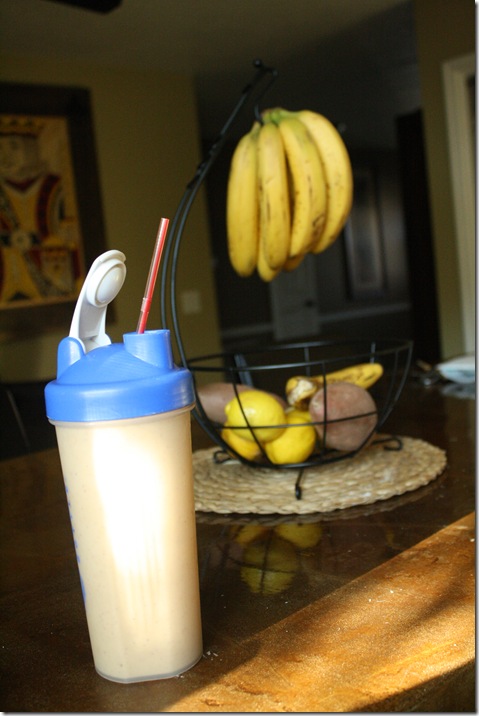 ALL of my protein shakes have the same components:
1 cup of almond milk
1 cup of ice
1 scoop of protein powder (favorites are olympian labs vanilla pea protein and teraswhey all flavors)
1 or 2 types of fruit (fresh or frozen)—a serving of each
xanthan & guar gums (thickening agents)
flax, cereal or granola sprinkled on top
i always switch up my flavors of protein shakes because the possibilities are endless. my favorite flavors are peach raspberry and chocolate banana.
scrambled egg whites + fruit.
every monday, i have a sales meeting meal at the original pancake house. i usually order oatmeal and egg whites, so i opted for fruit and egg whites. not a huge change, but a change none the less.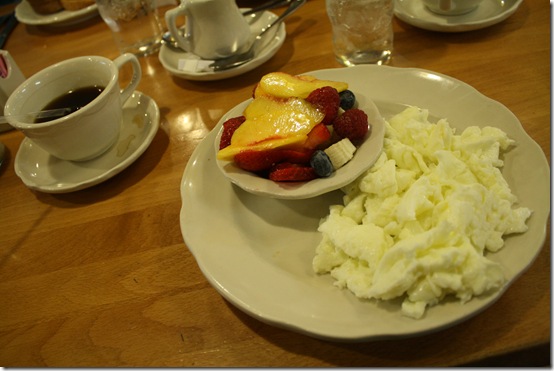 side note: i asked for TWO egg whites. pretty sure that is, like, seven. whatever.
make-it-yourself fruit on the bottom yogurt.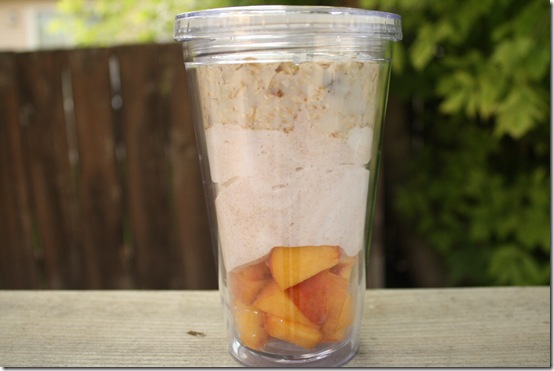 this is my FAVORITE new breakfast. i have had to make an effort NOT to eat it every day. i have had it three times so far this month—twice with peaches and once with a pear.
to make it, i simply dice a piece of fruit and put it in the bottom of a cup…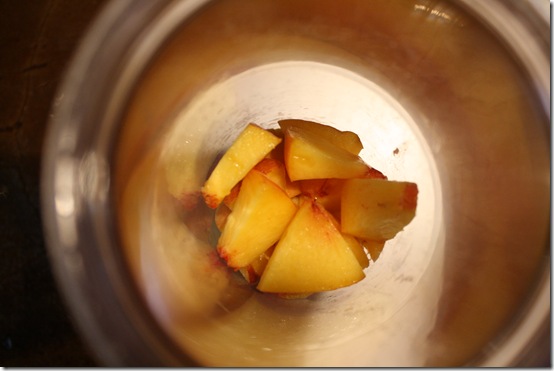 next, i mix a cup of plain nonfat greek yogurt with a hefty shake of cinnamon and a splash of vanilla/coconut/coffee/maple extract (or vanilla bean paste) and layer the yogurt over the fruit.
finally, i top the yogurt with a quarter cup of sunflower market's european cereal.. which is basically old fashioned oats, rolled dates, raisins and slivered almonds.  any muesli would be delicious here.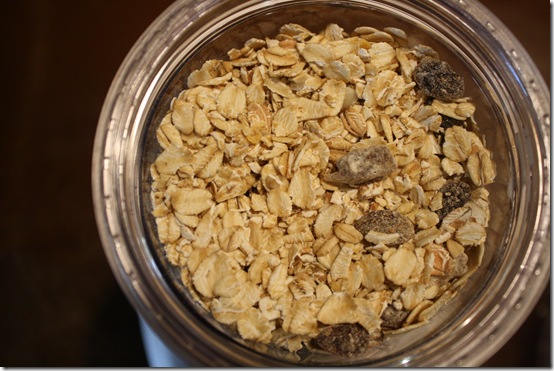 to seal the deal, i add a splash of milk.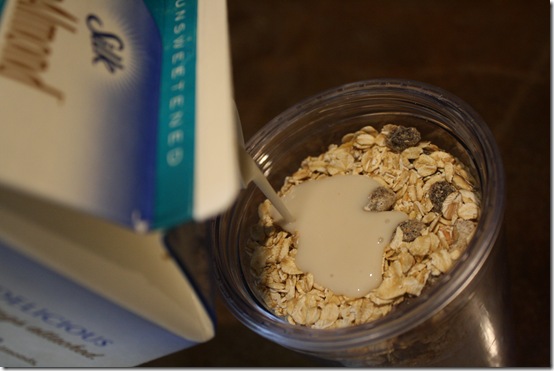 this is just as portable as my protein shakes and i take it on the road to eat once i get to work. it's awesome for mornings when i am short on time. it could even be made the night before (aside from the milk—it'd be too soggy) and then grab & go in the morning.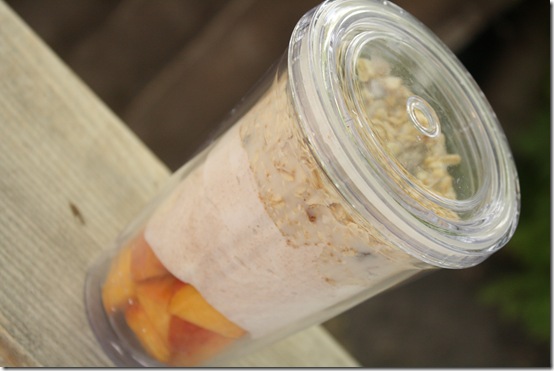 omelet with potatoes.
when dining out, i usually sub fruit for potatoes.. but let's face it: potatoes are delicious. AND it's national potato month. when i was at the eating establishment over the weekend, i ordered an omelet and potatoes even though my typical go-to brunch order is over-easy eggs, toast and fruit.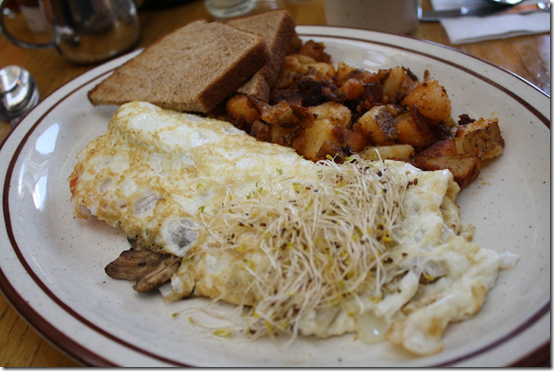 the potatoes were a very good idea! i also opted to keep the cheese in my omelet (i usually skip it) and i had never tried an omelet with sprouts—amazing. three cheers for a new and better breakfast!
peach protein muffins.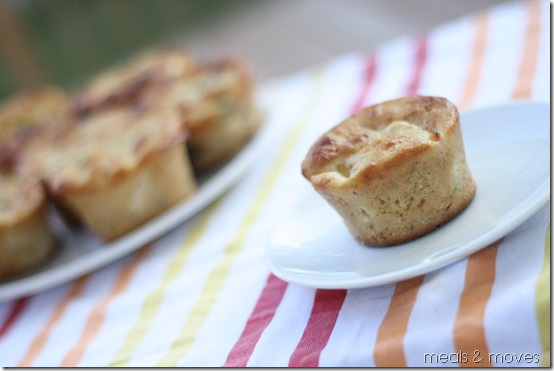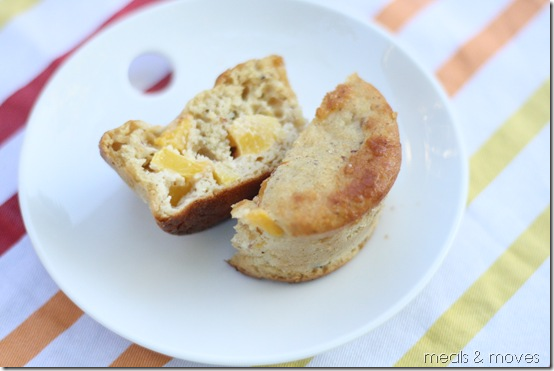 who said muffins couldn't be a filling, nutritious breakfast?
protein oatmeal.
yep, it made a comeback for better breakfast month. i can honestly say i have missed my protein oatmeal over the summer.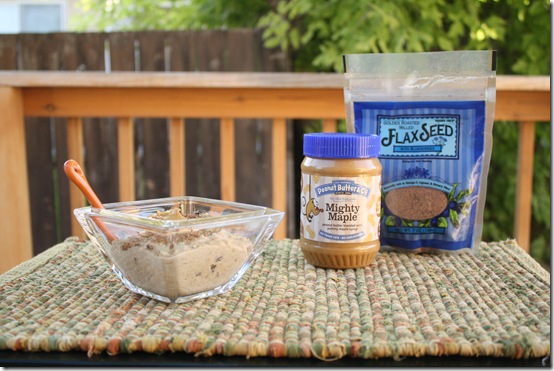 i have had protein oatmeal a couple times this month and remember why i don't have it all that often: it takes some time to prepare and i am not a morning person.
i make my protein oats on the stovetop. i combine 1/3 cup slow cooking oats with a cup of water, bring it to a boil and then turn it down to a simmer. once almost all of the water is absorbed, i stir in a scoop of protein powder. i always use vanilla and i have found the best protein powders for protein oatmeal are those that are a blend of whey, soy and casein. my favorite is EAS premium protein, but sytha6 makes a delicious vanilla protein powder that mixed well into oatmeal. that is the one marshall uses every morning.
once i add the protein powder, i turn off the heat and stir the oatmeal vigorously until all the powder is absorbed. i then transfer it to a bowl and top it with a tablespoon of peanut butter. i typically don't top my protein oatmeal with flax, but for the sake of better breakfast month, i did add some this week.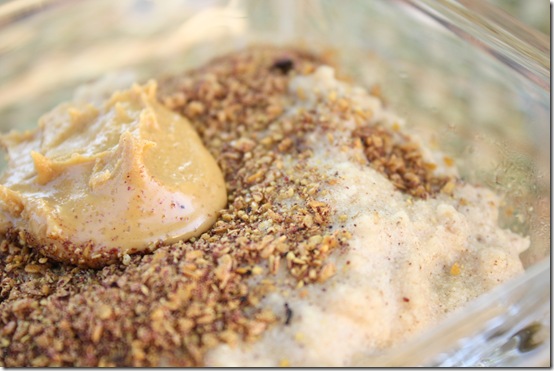 ****************************************
time for the better breakfast challenge!
there are ten days left in september and i am challenging YOU to make an effort to have a better breakfast.
i will leave the interpretation of "better breakfast" up to you.  maybe you are stuck in a breakfast rut and eating the same exact thing 7 days a week or you only have a few breakfasts you rotate through.. so your challenge may be to switch it up and have something different.
if you already eat different breakfasts every morning, then something new wouldn't be a huge challenge for you—so think outside the box and come up with a way you can make your breakfast better! add a new ingredient or put a healthier twist on an old favorite.
you might be trying to incorporate more protein or fiber into your day, or reduce the amount of added sugar you consume.. well, build a better breakfast and send it in.
or.. maybe you don't eat breakfast at all and just eating breakfast PERIOD is a better breakfast for you!
we are all different and so our interpretation of a better breakfast is going to vary.
now for the fun part:
think up your own better breakfast.
make the breakfast, take a photo of the breakfast, then EAT the breakfast.
send your photo & the description of your breakfast to me (mealsandmoves at gmail dot com) along with a short snippet of why your photo represents a better breakfast to you.
you will automatically be entered into the better breakfast drawing!
the winner of the drawing will receive this fun breakfast prize pack that i picked out and purchased myself, (hey, full disclosure):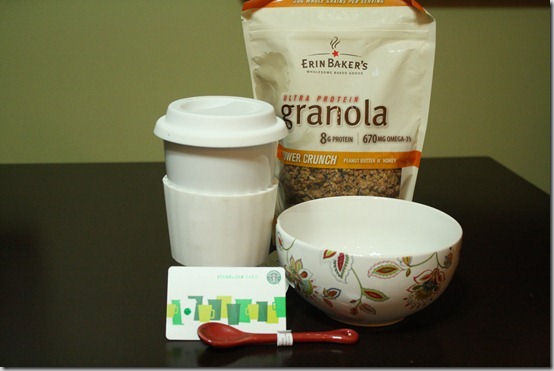 a-freaking-dorable breakfast bowl
eco ceramic mug
crate + barrel red spoon
erin baker's ultra protein peanut butter granola
$5 starbucks gift card
coupon for FREE oikos yogurt
coupon for FREE uncle sam cereal
you have until saturday, october 1st to submit your better breakfast to me! i will publish a post with all of the better breakfast submissions along with your description and reasoning behind why each one is a better breakfast for you. this will be a fun way for everyone in the community to share breakfast ideas so we can all expand our breakfast selections.
here are a the details:
submissions need to include a photo, a title/description of the photo and the reason it is your better breakfast
email all submissions to mealsandmoves (at) gmail (dot) com
please keep it short and sweet—no rambling required
you do not have to have a blog to participate!
if you would like your submission linked to a blog, please include your URL with your email
if you would like your submission linked to a specific post or recipe (on or off your blog) please include the link with your email
all submissions need to be in by saturday, october 1st
the winner of the prize pack will be selected at random
have fun!
hope you all decide to participate in the better breakfast challenge. i look forward to seeing what you come up with!
Qs~
1. what is your favorite childhood breakfast?
2. what is your favorite breakfast now?
xo. janetha g.