do you like squash?
growing up, i HATED squash. yellow, acorn, butternut and, yep, spaghetti.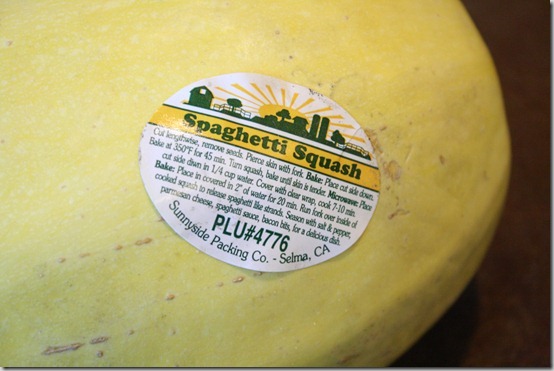 i also hated zucchini, tomatoes, mushrooms and mustard.. but that is beside the point.  i always thought spaghetti squash looked so.. so.. stringy. and, well, squashy. no thanks!
as my taste buds matured, i started eating all of the aforementioned foods and i actually grew ridiculously fond of spaghetti squash. the taste and texture combined are like no other food out there.  additionally, it is inexpensive, healthy, low calorie and easy to cook.
i am not ashamed to say that one of the reasons i love spaghetti squash so much is how much of it  i can eat for minimal calories. i am a volume eater, so when i can have 2 cups of spaghetti squash for less than 100 calories rather than a half cup of cooked whole wheat spaghetti (also around 100 calories)—it's a no brainer for me. more bang for my calorie buck. sheesh, give me four cups of squash! okay, no, that would be a tad too filling, even for me.
i have been asked several times how to cook a spaghetti squash. i have to let you in on my secret: i microwave it. yep. call me lazy, but that's just the only method i have ever known.
i know that you can boil it, steam it, bake it or roast it.. but i nuke it.  i learned this from momma b.  growing up, there were a few things she always cooked in the microwave: scrambled eggs, hot cocoa, corn on the cob, sweet and sour meatballs and spaghetti squash (am i missing anything, mom?)
today, because it is tuesday and i love alliteration, i am going to give you a step-by-step tutorial of my method to cook spaghetti squash.
first, pick out a squash. it looks like this: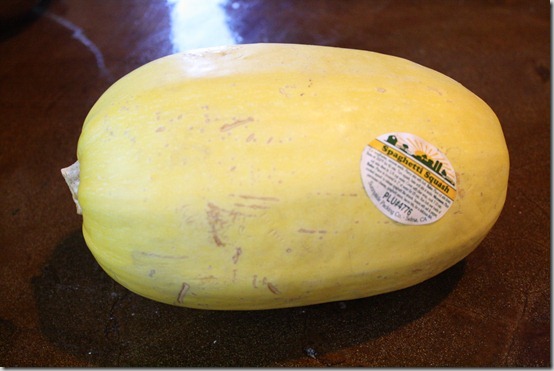 next, grab a really big knife and your muscles. or your husband's muscles. whack that bad boy in half!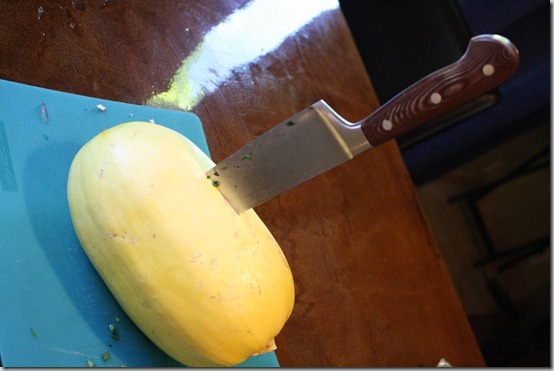 long ways or wide ways.. any way will do.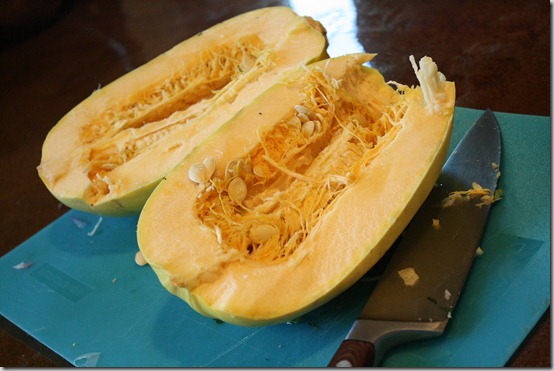 i usually do it long ways, but that's because i am a creature of habit. in all honesty, chopping it wide ways (is that even the right term? you know what i mean) is probably easier to do.
moving on.
you can opt to scrape the seeds out before cooking or after cooking. it's really up to you. i prefer to scoop them out before cooking because it's a little easier to do while the squash is hard (TWSS.) this time, i scraped the seeds out of one half before and the other half after just for kicks.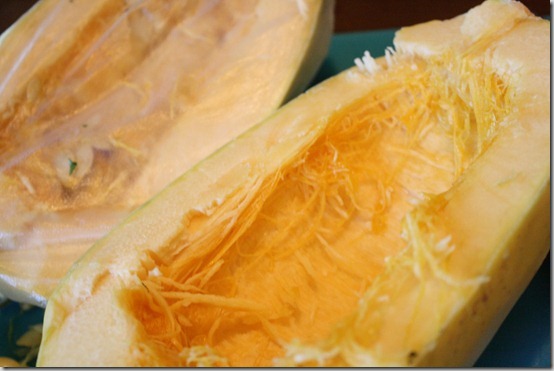 now, grab your saran wrap.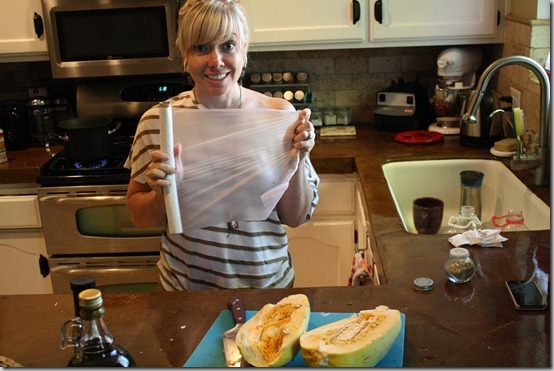 lay out a nice long sheet and put one squash inside down on the wrap.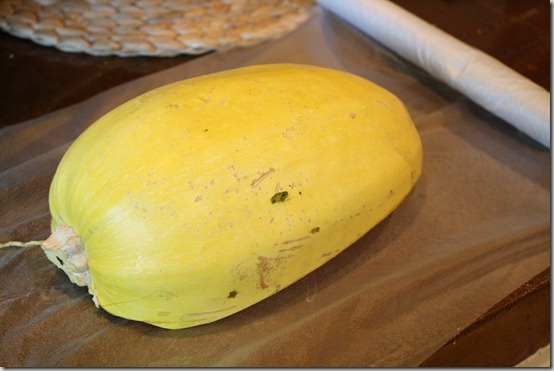 pull the plastic over the outside of the squash.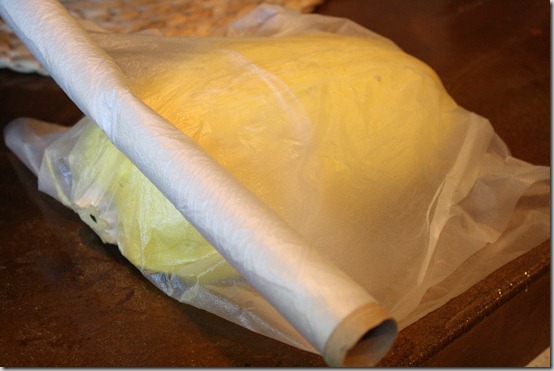 cut your wrap and seal up all the edges.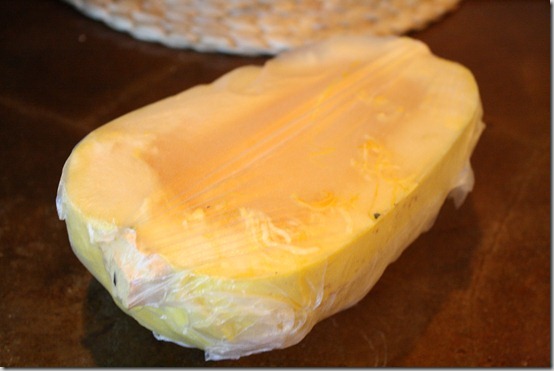 repeat with the other half, then place both halves in the microwave.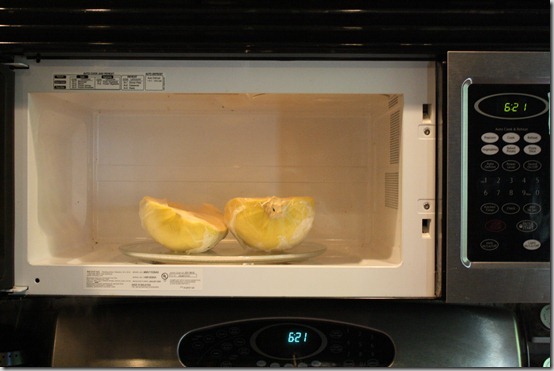 the time it will take to cook the squash will depend on the size. i always start with ten minutes and go from there.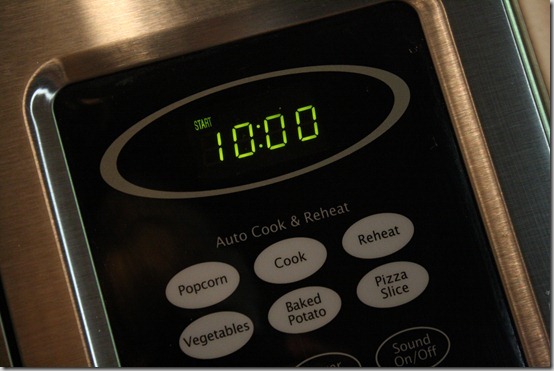 after ten minutes, check the squash by sticking a fork into the edge of the flesh near the skin.  if it is tender, it is done.  this squash was on the large side, so i ended up cooking it for a total of 12 minutes 30 seconds.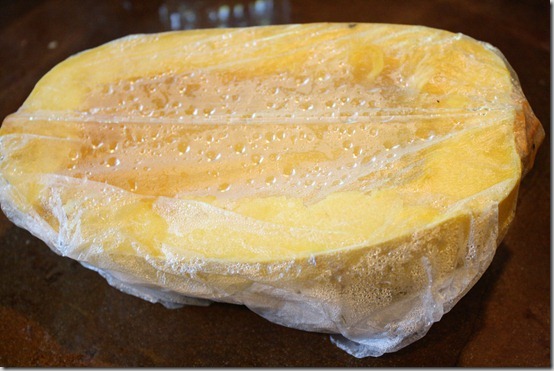 if you choose to eat your squash immediately, you can unwrap each half right away. alternately, you can transfer the squash from the microwave to the fridge to use when you want. right now, one half is still in my fridge in the saran wrap.
i used the other half immediately. careful if you are unwrapping it hot out of the microwave—it will be HOT and STEAMY!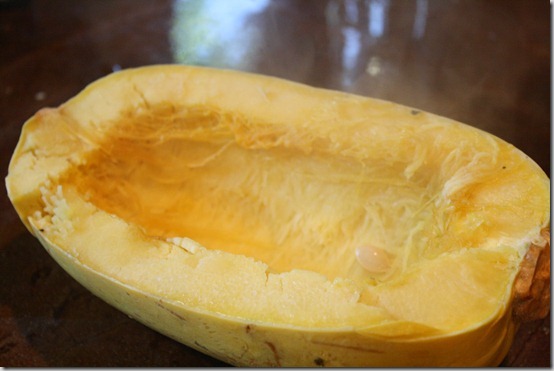 to remove the flesh from the skin, it's easiest to use a fork. once the squash is cooked, it easily shreds off the skin.
shred, shred, shred…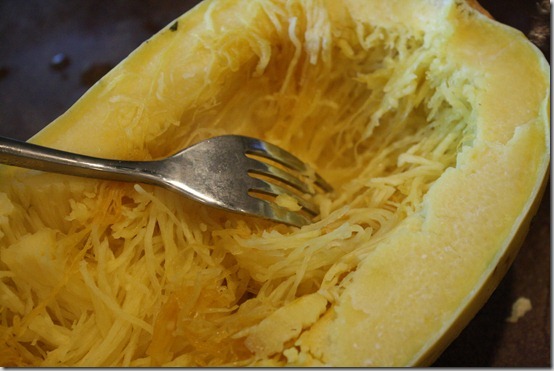 …until it's scraped clean.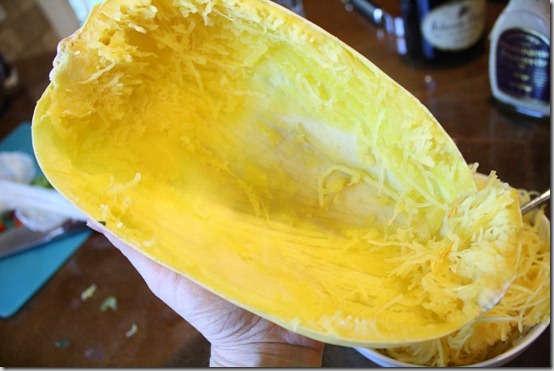 just one half of this squash produced three servings—one serving being one cup (or 150 grams).
tons of squash in less than 15 minutes!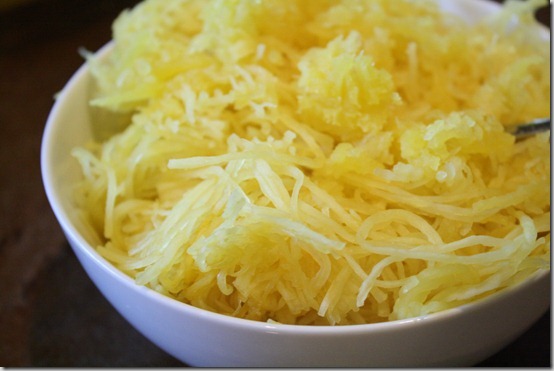 once you have the squash prepared, you can use it in so many ways! the possibilities are endless and because of the mild flavor, you can really use it as a blank canvas.
here a few of my favorite ways to use spaghetti squash:
straight up with salt & pepper
mixed with cottage cheese & ranch seasoning
to bulk up a casserole
instead of spaghetti noodles—topped with marinara or another pasta sauce
in my "faux lasagna" as seen here
as the noodles in an asian dish with peanut sauce (SO GOOD)
in a stir fry—which is what i did tonight!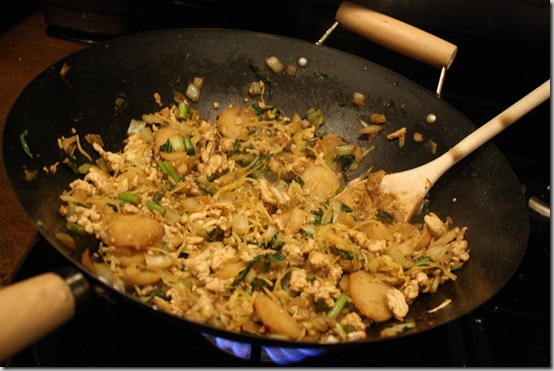 i made a clean-out-the-fridge stir fry tonight. it turned out delicious! do you spy the spaghetti squash?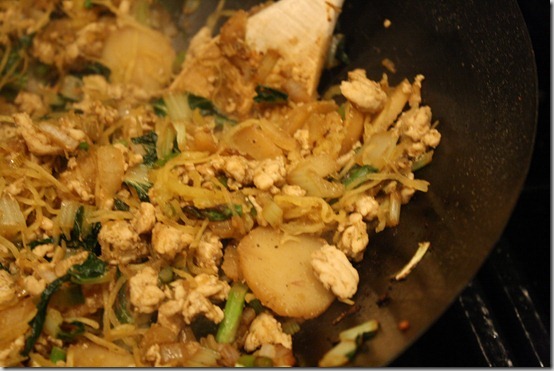 clean-out-the-fridge stir fry.
serves four, body for life friendly!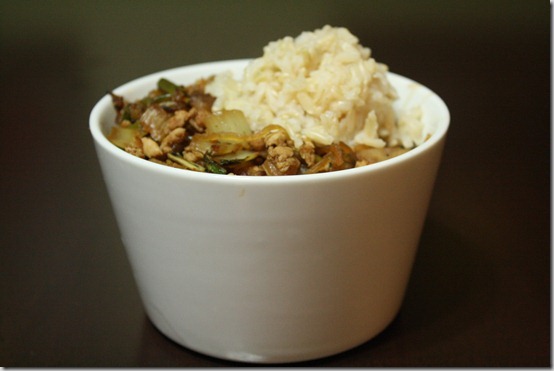 ingredients:
1 lb 99% lean ground turkey breast
1 small onion, diced
1 T toasted sesame oil
2 T minced garlic (or 2-3 cloves.. i used the jarred stuff)
1 large bunch of bok choy, chopped roughly (yield ~2 cups)
10 stalks of asparagus, chopped into 1/2 inch pieces
1-2 T low sodium soy sauce (to taste)
1 can of sliced water chestnuts
1 cup of cooked spaghetti squash
red pepper flakes (if you like it hot!)
1 cup cooked long grain brown rice (yield 4 servings—1/2 cup uncooked)
directions:
1. cook you rice according to package directions.
2. meanwhile, spray a wok (or large skillet) with cooking spray and heat over medium-high heat. add turkey and onion to wok.  brown turkey until cooked through, remove from wok and set aside.
3. return wok or skillet to stovetop and heat over medium-high heat. add sesame oil and garlic to wok and stir continuously for one minute.
4. add bok choy, asparagus and soy sauce to wok. stir fry for 4 or 5 minutes, until vegetables begin to soften (but you want to keep them a bit crisp).
5. add water chestnuts and spaghetti squash to wok. stir continuously until heated through. add red pepper flakes and more soy sauce if desired.
6. serve a quarter of the stir fry mixture with a quarter cup of cooked rice.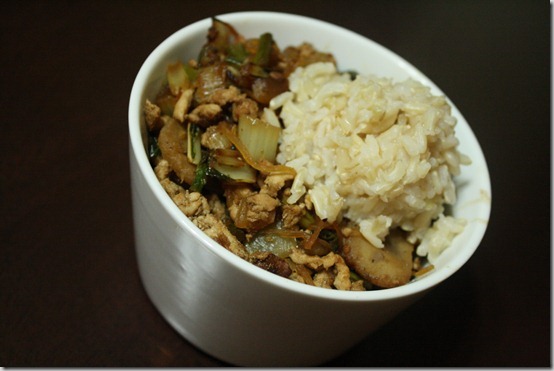 enjoy!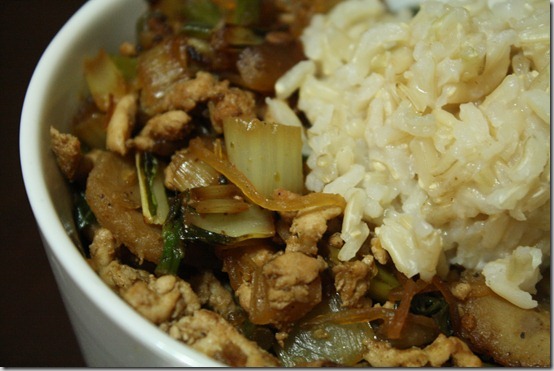 nutritional info per serving: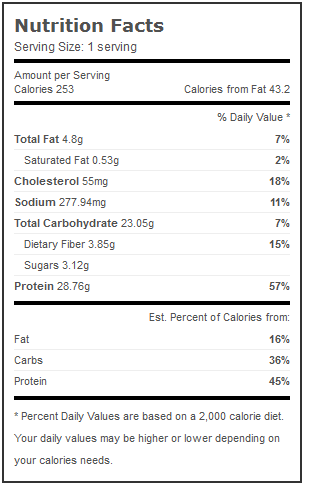 now you know my spaghetti squash secret! are there any other tutorials you'd like to see?
Qs~
1. do you like spaghetti squash? what is your favorite kind of squash?
2. are there any foods you cook in the microwave? (aside from microwave dinners or popcorn

)