hey, guys! man—i tell myself i am going to get back to regularly blogging, then, BAM, it's been two weeks since i posted last. whoops!
that's okay, though.. i have been busy growing a human, and that is no joke. i really didn't expect it to consume me as much as it has. i am definitely not complaining.. i am welcoming any and every reason to move less and eat more ;) lazy girl at heart right here!
plus, i have turned into one of those people that reads baby message boards instead of blogs. what can i say, there is a lot for me to learn and i know nothing! gotta make good use of that free time, ha.
i thought i would pop in and touch bases because i do have some exciting news regarding this little baby in my belly! i am almost 19 weeks along…
side note, i actually hate it when people talk in weeks. it makes sense for pregnant folks, because, well, different stuff is happening each week. but it really makes no sense to the rest of the world since we don't live in lunar months. i will just tell you that i am somewhere between 4 and 5 months pregnant, which makes more sense to most people than 19 weeks does.
what really grinds my gears is when people describe their children as X-weeks old.. like 29 weeks old. NO. your kid is seven months old. and then these same parents move onto saying their child is X-months old.. like 22 months old. NO, NO.. your kid is almost two! i think i will start telling people i am 370 months old. or, better yet, 1603 weeks.
where was i? oh, yeah, i am pregnant. you guys are probably coming here to find out what the little squirt is, since i mentioned on social media that my anatomy scan was yesterday. well, don't worry, i am not waiting and doing some cutesy pinterest-worthy reveal of the sex. i am also not having a "gender reveal party" because, well, i don't want to. i will just tell you. (some things pregnant people do just aren't my cup of tea.. and that's okay. i am sure there will be plenty of cutesy things for me to do eventually.)
*drumroll*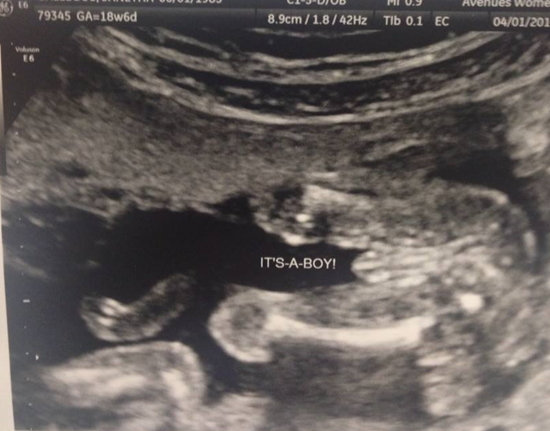 yep! we are having a little dude! i had a hunch, and by hunch i mean i thought it was a boy because 93.6% of pregnant people i know are having boys or recently had a boy. it's the year of boys, i tell ya. my BFF is having a girl, though, so we have already signed on the dotted line for an arranged marriage. perfect.
marshall actually thought it was going to be a little lady, so i think he was surprised at the anatomy scan. we were both surprised when the doc told us our guy was straight up peeing in the womb on camera when we came across his male parts. already acting up ;)
he's super cute! look at his profile. he's definitely got the "benson nose"—many of my nieces and nephews ended up with it. not a bad thing. he will be cute as a button. and hopefully have long curly locks like his daddy.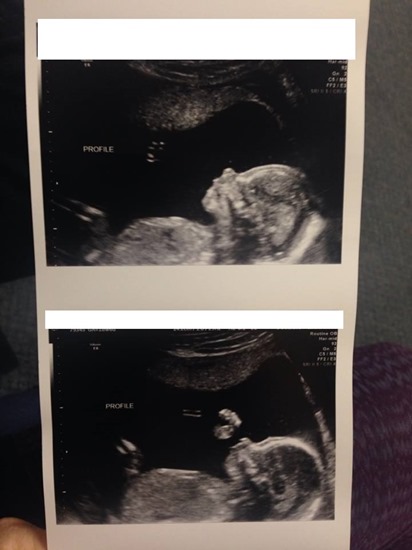 in other news, still baby related (sorry, guys, this pregnancy is basically all that is on my mind these days), i felt movement for the first time yesterday! whew, what a day, we found out the sex AND felt the kicks for the first time. it was cool because marshall and i were together when it happened. i was driving down the road and felt basically the craziest feeling ever in the history of feelings—i mean, it's a tiny human kicking your insides, i won't even try to describe it. and so i had marshall reach over and feel my belly, and he was able to feel the kicks, too!
i had read and had been told that the first movement felt like butterflies or something of the sort.. which i hadn't felt at all.. and then the first thing i feel is this kid pummeling my uterus. he doesn't mess around! he continued to punch and kick the remainder of the night. we were even able to see the movement in action, which is definitely a trip.
between finding out he's a boy and feeling him for the first time, i would say yesterday was the SHIT JUST GOT REAL day. no april fooling. and it has made it all that much more exciting!
what else? oh.. we are still house hunting. i am REALLY hoping we find something soon, as i would love to get moved and settled before i have this baby. if not, i won't sweat it. we have plenty of space in our current home, i just won't go to the trouble of making a nursery or anything if we find ourselves still in it when the baby comes. sure, we will have a crib and all the necessary baby loot.. but why decorate a room when we are just going to be moving? plus, i don't think the baby will care either way ;) but, regardless, we want to find a house! so send me some happy house hunting vibes, k? thanks.
on the meals & moves front, things are pretty boring.
i don't have food aversions anymore, but i still have random cravings which i am giving into 110%. cravings lately have included fluffy cinnamon rolls (i have yet to find one, though!), avocado, orange juice, bread & butter pickles (so cliché!), and breaded chicken sandwiches. i have also been craving arby's curly fries & a roast beef sandwich with horsey sauce for a few weeks, so i am thinking that needs to happen. so random. one thing is for sure.. i am hungry all the time. allllll the time.
moves.. oh.. moves.. i told myself i wanted to work out 3x a week. uhhh.. i think that happened once. i worked out one time last week and here we are to wednesday and i have yet to make a move this week. it may sound silly, but after working 8 hours i come home absolutely beat.. even though i have a desk job. i didn't expect that being an incubator would take this much out of me, but it does. i KNOW i should be moving more.. i need to at least take walks or SOMETHING. who knew it would be such a hard thing for me?! it really is. it's like pulling teeth. how the hell are pregnant women working out 6 days a week? it is far beyond me. while i don't feel bad about not working out, i know deep down that i really should be doing something, especially since i am no longer nauseated all the time.
other pregnancy notes.. i have heartburn 24/7.. i can't even look at food without the fiery feeling creeping up inside of me. i have no idea how much weight i have gained because i am bad at keeping track, but i have an appointment next week where they will either congratulate me or shame me. both have happened. at my 12 week appointment they got mad at me and said tone it down because i was gaining too quickly and at my 16 week appointment they praised me like a puppy saying, "only 2 pounds! good job!" eye roll.  for the record, nothing had changed for me to gain less the second time around.. so clearly my body has a mind of its own and i'm just along for the ride. what else? oh–names. we have a name picked out but not a middle name yet. we haven't told people because, man, people can be jerks when you disclose the name you intend to give your offspring if they don't like it.
well, that was a whole lot of rambling.. so i will leave it at that. i do have quite a few things i want to and need to blog about soon.. i will have to tear myself away from those pregnancy forums and tune myself back into the blog world soon!
love you all and miss you, too. thanks for your emails, messages, etc.. it's always nice to keep in touch, even though i have been bad at it lately! thanks for understanding.
Qs~
1. what have you been craving lately? i mean, you don't have to be pregnant to talk about cravings! 
2. any good april fool's day pranks to share with the class? 
xo. janetha g.