hello! how was your monday?
mine was… exhausting. but fun!
why? well, first of all it was a monday, which means i have to be to work at 7 instead of 8:30.
but the real reason? i worked out twice. 
this girl does not do two-a-days. 
i accidentally made plans with two people for two different workouts.. and so today, i was a two-a-dayer.
today my friend candice (you guys may know her from bangin' body of a mother) asked if i wanted to go to GPP with her after work. kerryne had gone to gpp this morning and told me the workout of the day was suuuuper good, so i told candice i was definitely in! 
on my drive home from work, i was talking to momma b (as i do, every single day! it's a ritual and, quite frankly, a requirement in my life) and she asked if i was still planning to go to water aerobics with her tonight at 9 PM.
yes, WATER AEROBICS! that's the big adventure i eluded to in yesterday's video. except i thought we were going on wednesday, not today! whoops! 
i was already committed to GPP and there was no way i was skipping out on water aerobics–hello, i have never done any kind of exercise in a swimming pool in my life.. i had to go. so i sucked it up and decided to go to both GPP and water aerobics. you only live once, right? i know.. i am so adventurous. not quite sky diving, but it will do.
after work i had a snack (orange vanilla chobani was involved, it's my new favorite flavor!) and geared up for GPP. i had checked the workout earlier and it looked ROUGH. i got there at 5:00 and was thrilled to finally meet the owner, neil, after talking to him back and forth online for so long. neil quickly explained the technique for the workout of the day, and then the clock started! 
you can check out the full workout, called "specter" on the GPP blog. you will see that it is freaking crazy. i did make a slight modification and went with a 25# bar instead of 45#. other than that shortcut, i did the workout in its entirety in 37 minutes and 33 seconds.
i was gasping for air at the end, but i am glad i made it through all the reps. i officially hate burpees. i already didn't love them, but after doing 210 of them tonight, i really hate them! big time. yes, i said two hundred ten. oy. other than the burpee hell, i really loved working out at GPP again. not a surprise, after my first time last week i knew i'd be back. the sense of community that exists really helps push you through your workout. what's even better is neil was watching everyone throughout the workout, making sure to help us all on our form. he corrected me when i was doing my power squat cleans wrong (of course i was doing them wrong! i had never done one before today and i ended up doing 210 of them!) and once i had it he praised me on my form which really made me push harder. near the end of the workout i was even able to do the last few sets of power squat cleans with the Rx 45# bar. 
i made candice and neil pose for a photo after the intense workout. gotta have the #PROOF, right?!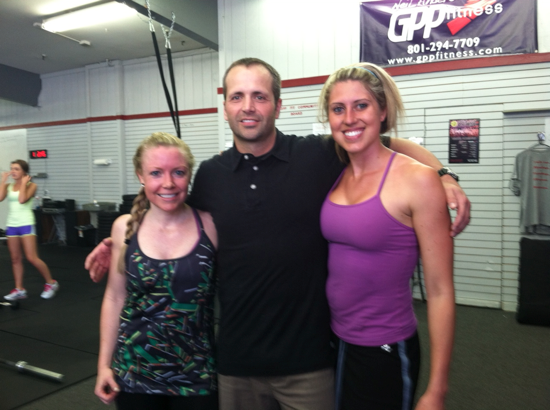 i am short. 
i left GPP and was on a mission. i had to find a swimsuit that was SUITable (hehe.. punny!) for water aerobics. all my strappy little numbers weren't gonna fly when exercising in the deep end! i hit the dressing rooms and quickly discovered that trying on one-piece swimsuits is somewhat traumatizing. i am really claustrophobic and every one i tried on made me feel trapped and confined. how did i ever wear those trendy body suits in the 80s?! beats the hell out of me. i will tell you one thing, finding a one piece suit was FAR out of my comfort zone and totally counts as an adventurous april submission. too bad i can't win my own giveaway, aye?
i did finally settle on a solid black suit and managed to spend an extra $100 on top of the price of the suit (damn you, target) and sped home to shower (much needed, i was so sweaty!) and whip up some dinner. tonight's dinner menu was chicken piccata with spaghetti squash and broccoli.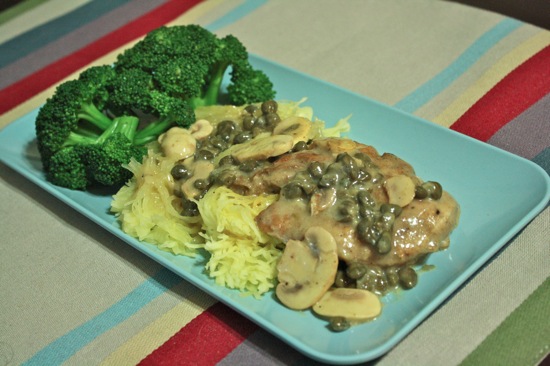 notice anything special about this photo? you probably don't, but i do.. there are MUSHROOMS in my dinner. marshall is coming around and it puts a big smile on my face.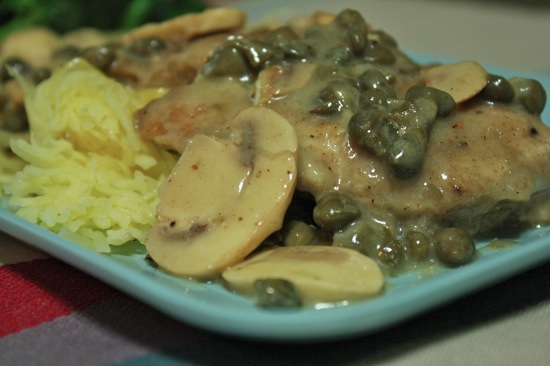 i took this photo at 8:19 and hoovered the meal so quick that by 8:25 i was finished eating. i prayed real hard that i wouldn't get a cramp in the pool at aerobics! there was definitely not an hour between dinner and workout number two of the night. 
i made it to the rec center right on time. momma b and i buckled into our waist life jackets and were ready for action!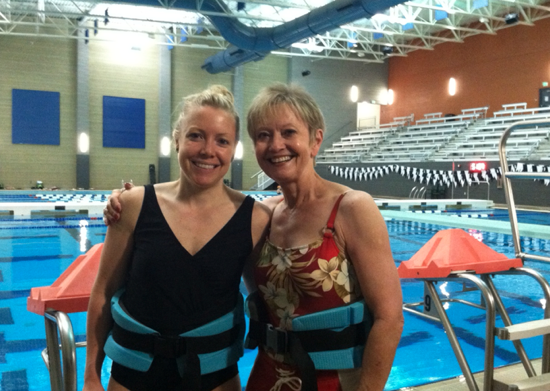 the water workout was actually SUPER fun. we were in the deep end and it lasted an hour. we did all sorts of exercises including crunches, push ups off the wall, overhand and underhand pull ups on the bars that were on the edge of the pool (above the water), and lots of different types of laps. i even took my life jacket (belt?) off for some of the laps. i am not a swimmer by any means, so this was an adventure for sure. however, i don't think i will be registering for a triathlon any time soon. or ever.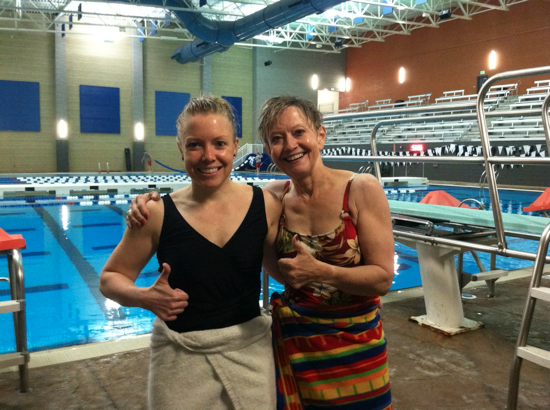 this was a great adventure and i am happy momma b and her friend, holly, invited me along for the ride! 
i came home, showered the chlorine off myself, and found my stomach growling with hunger. it's no surprise, i expended more energy in a five hour period than i usually do over the course of two days. i decided on something quick and easy (and tasty!)–a chocolate peanut butter banana protein shake.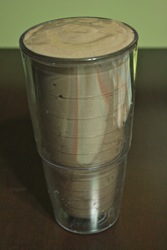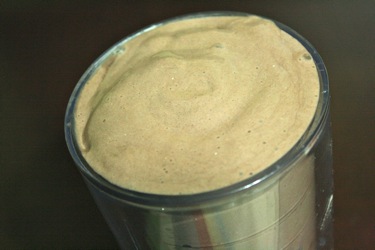 this had 1.5 cups almond milk, 1 scoop plant fusion vanilla bean protein powder, 1 TB dark cocoa powder, 2 TB PB2, a frozen banana, 1/8 tsp each xanthan and guar gums (for thickness, not required) and a whole lot of ice. to give you an idea of how exhausted i am, i blended this up, poured it in the cup, tasted it, and wondered why it tasted different than usual. oh, don't worry, i left the protein powder out. wow. i poured the shake back in the blender, added the protein powder, blended again, and THEN i had my shake. it hit the spot! honestly this combo tastes exactly like a real-deal milk shake. try it, you'll like it!
well, i've had enough action for one day. i am going to settle in on the couch and watch some family feud. it's our nightly ritual.
Q~
have you ever worked out twice in a day? is it something you do regularly/often? (if so.. you might be crazy.) 
xo. janetha g.