you guys would be so proud of me! i had not one, but TWO big adventures (for me!!) in the past 24 hours.
first of all, i went to a class at gold's last night! there is a class that i am always eyeballing from the weight training area (my comfort zone) but have never participated in because i was intimidated. every tuesday night, i would see lots of ladies and a few men participating in the "advanced crosstraining" class from 5:30 to 6:30. i never, ever, ever went. i always, always, always wished i would.
and last night, i did! as it turns out, the instructor is a good friend of my mom's.. so when i walked in the door to the class i was immediately a bit more at ease. she's a doll and i knew she would help me out if i was confused or anything (it happens. a lot.)  she actually called me out of my form a few times so that was nice.
the class is different each time, which was good for me as a newcomer. when i went to bodypump the other week, everyone knew what they were doing and set things up and i was oblivious. in this class, however, nobody knew what the agenda was, so we all waited for an explanation. once we had the game plan, we broke into groups of three and set up stations. the plan was to rotate between three moves within our station—doing EIGHT rounds of each move before moving onto the next. there were two sets of three moves—so that totaled 48 rounds. whew.
we started on the top of the minute and had to complete all the reps. if we completed the reps before the minute was up, we were able to rest. if not? we just had to keep going when the new minute started! eight minutes of one move is pretty intense. try it, you'll see.
for the first set, we did this:
20 barbell deadlifts
30 pushups
30 box jumps
after 8 solid minutes of each move, it was time for the next set:
30 jump squats
10 burpees with a hop over the bench in between
30 overhead barbell shoulder press
i have to admit, i didn't make it through all the reps on all the rounds, but i tried my hardest! after the workout i was totally beat (and totally glad i went!) i plan to go to this class every tuesday, so if you go to the bountiful golds, come with me!
my second adventure was bright and early this morning. i had promised kerryne that i would meet her at 6:30 for a GPP workout. GPP fitness is a gym located in centerville and is similar to crossfit in that it has a workout of the day, but it is geared toward general fitness (GPP stands for general physical preparedness.) candice was there, too, but she didn't work out.. she was my moral support.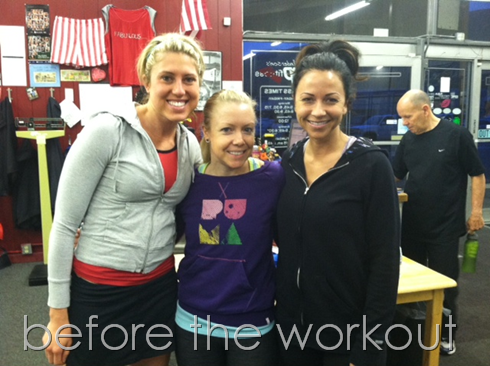 i am a geek and filmed a little vid before and after the workout! (plus a little post-workout ramble from after work today.. haha.)
here's the workout, i did the five rounds in 30:08.
jump roping our hearts out!
it was an intense 30 minutes and i am glad kerryne and candice kept me accountable!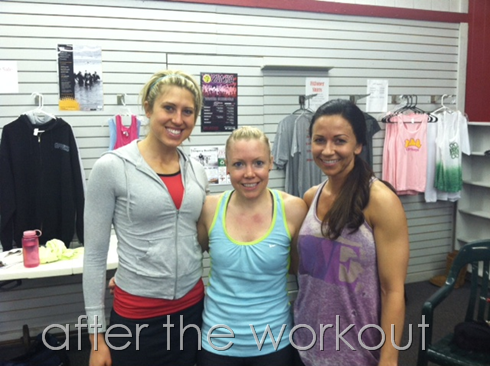 (don't mind my huge red mark from the push presses or my flaming red face. )
i will be going again for sure! if you are local, let's go together. and if you are a local BLOGGER, you should get in on that deal i mentioned.
so those were my two new adventures! i am having such a great time expanding my fitness horizons and trying new workouts. by challenging my body, i feel like i will have better results and more progress. i have kind of been at a stand-still with things lately and these new routines are just what i need.
speaking of new routines.. i have to tell you guys about an upcoming boot camp! i mentioned it the other day, but didn't give you the scoop.
as you know, i am a huge fan of fitmixer. i started drinking it way back when, and after blogging about it they came to me and said HEY! let's be friends. i was actually surprised because i didn't know fitmixer was a utah local company prior to them contacting me. that just made me love them even more. the fact that they don't capitalize their brand name scored bonus points, too!
since we have connected, i have met with them a couple times and we have chatted about their upcoming 12-week boot camp.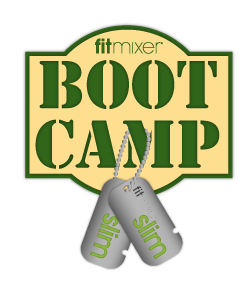 they have done a 12-week boot camp in the past where participants used their products, followed a workout plan, and ate a diet that was designed to fit their specific goals.  the participants had an average weight loss of 15 pounds and every participant decreased their body fat percentage while upping their lean muscle mass. since the first boot camp was so successful, they have decided to do another one! it starts on may 14th and it will run for 12 weeks.
one of the fitmixer reps, alicia (who i worked with at the booth on saturday!) filmed a video talking about the upcoming boot camp and also interviewed some past participants. check it out:
momma b and i have already committed to the 12-week boot camp, and if you want to sign up to do it with us that would be fun!
i think that the boot camp is a perfect way to get in shape (and stay in shape!) for summer. i always do better when following a plan (case in point: body for life, livefit, insanity) and so a group boot camp is right up my alley.
it's pretty amazing that if you follow an eating and exercise plan diligently for twelve weeks, you can have serious results. for example, when i did body for life, i dropped nearly 10% body fat in just 12 weeks and gained a lot of muscle: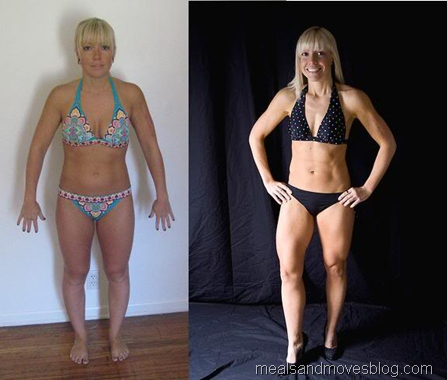 i think that one of the KEY aspects to my success in the photos above is that i was doing BFL with my mom and i had that motivation and accountability. she encouraged me to work hard and eat clean each day. without her help, i would have quit.
that reasoning was one of the selling points for me on the fitmixer boot camp. there will be weekly conference calls for encouragement and accountability. participants are given a meal plan with calorie guidelines (tailored to their goals) and an exercise routine for the full twelve weeks—but instead of just getting it and following it, participants have to check in and report that they ARE in fact following the plan. what's cool about the fitmixer boot camp is that it is virtual, meaning we can all participate together without living near each other. we will all be in this together!
while some of the plans i have tried were free, i never had the accountabilty or encouragement that comes when doing something in a group and having to report in. aside from momma b's companionship during body for life, i was my own motivator and i was accountable to myself. this was especially hard while doing insanity and livefit. there were several times i wanted to give up!
the fitmixer boot camp is going to be geared mainly toward accountability and checking in each week. just like a boot camp with a drill sergeant! the workouts will vary depending on your fitness level, but i believe they plan to have a workout routine for those just starting out with exercising and a plan for those who already workout regularly.  they will also give options for people who don't have access to a gym.
the fitmixer boot camp does cost $150, but the supplements alone make it all worth it.

here is a rundown of what you get when you sign up for the boot camp:
$150 worth of fitmixer

a 6 lb bag of fitmixer slim (vanilla or chocolate)
a 6 lb bag of fitmixer protein (vanilla or chocolate)
two 1 lb bottles of fitmixer amino (grape or fruit punch)
fitmixer blender bottl

a personalized nutrition plan from a registered dietitian
a fitness plan from a certified trainer who will challenge you to get fit at your own pace
12 weekly live boot camp calls with all participants involved and lead by a registered
dietitian and fitness expert
use of an online and mobile calorie counter to help you track your daily caloric intake
access to write on a community blog where you can record challenges and successes
and receive support from fellow participants in the boot camp
considering the fact that a workout with a personal trainer or a meeting with a registered dietician can be pretty expensive, the price for the 12 week food and fitness plan seems like nothing. well, and the fact that it includes $150 worth of product that i would be buying anyway… seriously, you guys, i use this stuff every day.
want proof?
on the way to my workout this morning i had fitmixer amino in hand…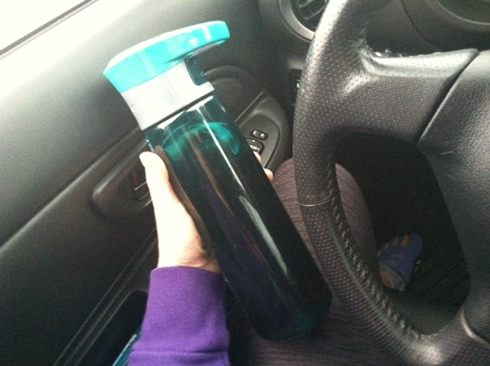 and then on the way to work today i had a fitmixer chocolate coconut protein shake in hand…
and yes, i am wearing purple pants. and yes, my boss made major fun of me. such is life.
anyway, there's my ramble. the boot camp starts in just under four weeks. if you are into it, click here for more info or to sign up.

oh! and one more thing! fitmixer is a blend sponsor and their registered dietician, candice, will actually BE AT the retreat! in honor of their sponsorship, they have a little spotlight on the blend blog today, complete with a giveaway of their products.. the same ones that we will be using in the boot camp! head on over to check it out.
in other news..
xo. janetha g.