yellow.
let me set the current scene.
it's 9:41 PM.
i feel like there is a porcupine in my throat that is poking me with his (or her) quills every time i swallow.
i have zero hearing in my left ear, it is completely plugged. i'm beginning to wonder if it will ever unplug or if i am forever doomed.
marshall told me to stop being dramatic.
i have sharp, stabby pains in my stomach for some reason unbeknownst to me. they hurt. real bad. i have a feeling it's the pharmaceutical cocktail i've got going on in my belly at the moment.. i hope it passes soon.
my taste buds have failed me. i have three liquids in front of me.. none of which i can taste. i can't taste the kleenex, either.. FYI.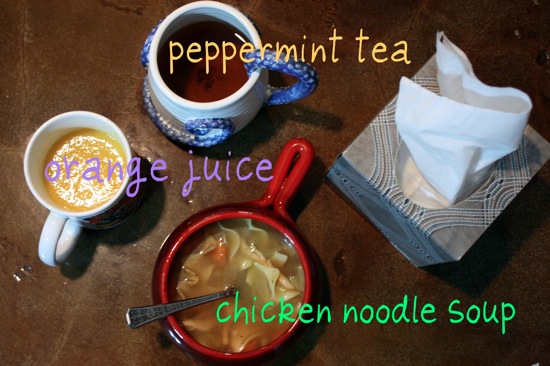 okay, okay.. i will stop complaining. for a minute, at least.
i only worked for about three hours today before heading home sick. my boss actually demanded that i go home and rest. who am i to say no? i gladly took off early.
i swooped by the grocery store so i could snag an antibiotic from the pharmacy along with a prescription to help soothe my sore throat. i literally told the nurse on the phone that i couldn't very well keep eating my weight in popsicles or i would surely blow up like a balloon and not fit into any of my clothes.. so i NEEDED something for the throat pain. she laughed and fulfilled my plea.
so now i am fully stocked with FOUR prescriptions. two from yesterday and two from today. i don't love taking medicine, but i am desperate and feel awful. this better do the job and making me feel well again.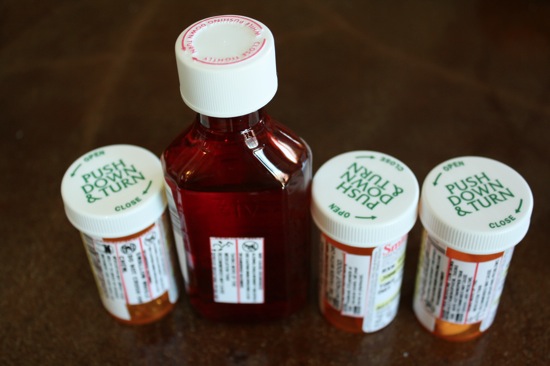 i got home and, luckily, still had my taste buds working at this time. it's adventurous april and i was feeling snacky, so i busted out a new-to-me protein snack that i had ordered online awhile back. let the adventures begin!
april adventure #1: a new kind of chip.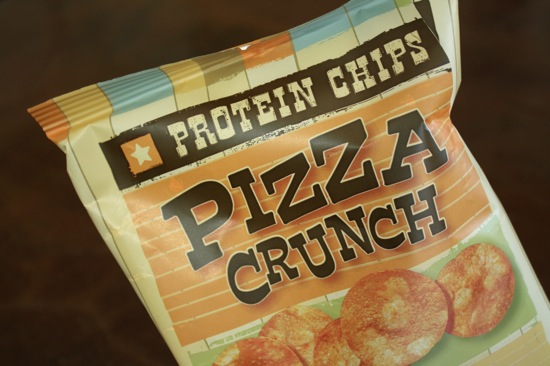 i wasn't sure what to expect from these chips since the protein cereal i'd tried (that i ordered from the same website) was absolutely awful. i actually had been putting off trying these chips BECAUSE of the bad cereal experience. but it is adventurous april, right? and those chips weren't eating themselves.. so i dug in.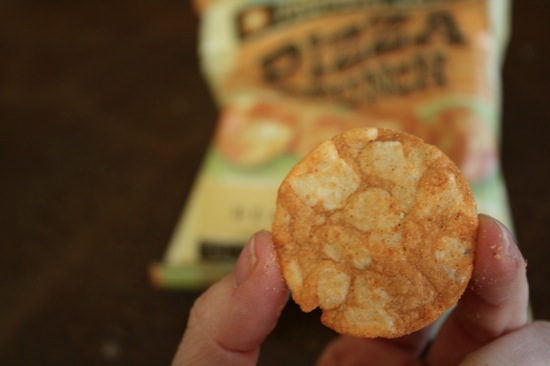 the verdict? i LOVED them. they reminded me of these chips i used to eat as a kid called pizzarias.. remember those? keebler made them. not sure if they are still around. but if you click that link you will see a super sweet commercial for them from 1991! anyway, that's exactly what these chips tasted like. they have great stats, too: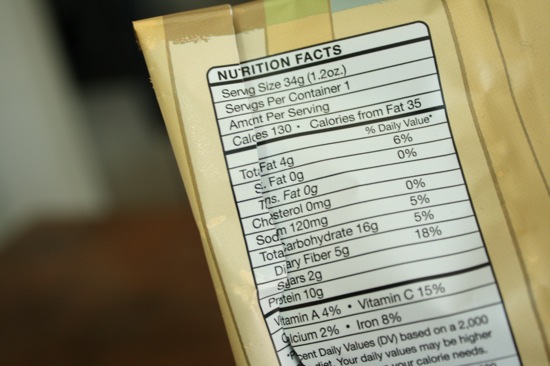 i have a feeling i will be ordering these again. first april adventure? success! granted, it was a teeny, tiny adventure.. but like i said, anything new counts as an adventure! that definitely includes any new foods you try this month.
you know me and my sweet tooth, so after my savory chips i was craving something sweet. i spotted a new flavor of arctic zero at the grocery store today (smith's marketplace, for you locals) and squealed with delight.
april adventure #2: a new flavor of arctic zero.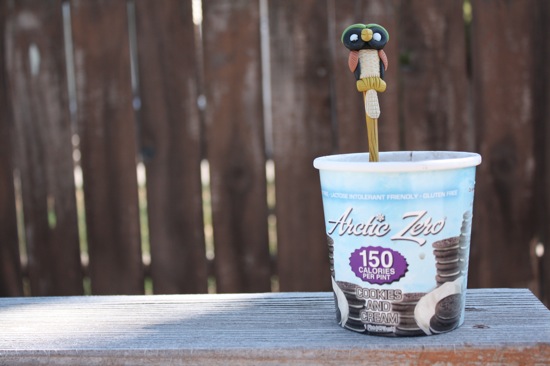 COOKIES AND CREAM! my favorite flavor of ice cream in arctic zero form. i was stoked when i spotted it.
okay. let's talk about arctic zero for a minute. i have to start by saying it IS NOT ice cream. it's just not. you can't crack open a pint and expect to think you are eating ice cream, or you will be let down. arctic zero should be called a FROZEN TREAT. it has an icier texture than ice cream.. but it also has a fantastic nutritional profile so when you eat the whole pint you don't need to worry about undoing a workout session or three. the whole pint is 150 calories, 24g carbs, 14g protein, 8g fiber, and 0g fat.
i have tried a few other flavors of arctic zero.  i really like the vanilla maple. the chocolate mint is just OK. the strawberry reminded me of eating medicine. and the cookies and cream? WINNER. by far the best flavor. april adventure #2: success!
i did as my boss told me to do and took a load off and got some rest this afternoon, but whenever i am home during the day on a weekday i get a little antsy and think i have to do something productive. i ended up mopping the floor while talking to my (other) boss on the phone for a half hour. when we hung up, i decided i should make something. yep, i had a kitchen adventure!
randy helped.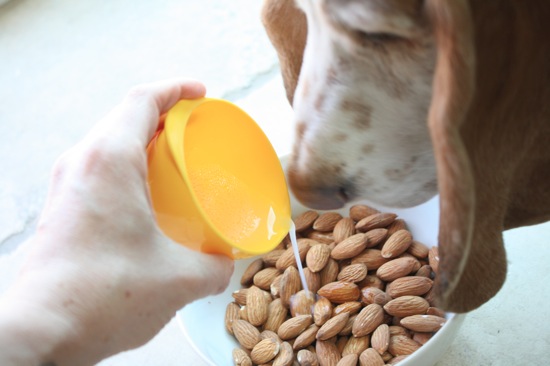 he's a good helper, for sure.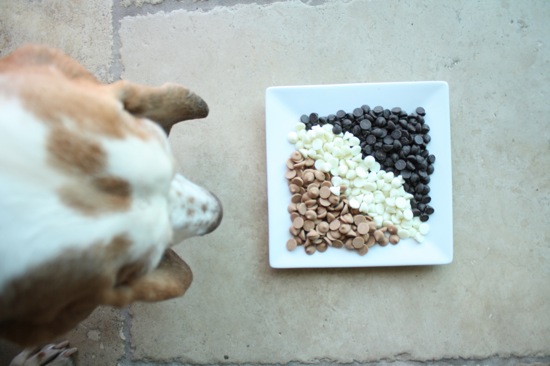 for my april adventure #3 i made my own trail mix AND made cinnamon roasted almonds for my first time ever. um, SO easy. i will have a post coming soon with the recipe & a how-to.
okay, so i managed to sneak three little adventures in before my MAIN adventure that was planned for tonight. i had mentioned that i was a little nervous about it.. did anyone guess what it was??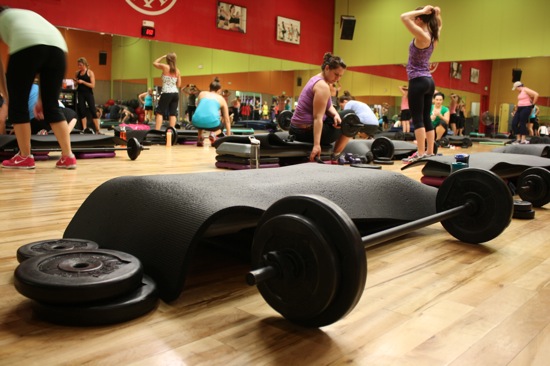 april adventure #4: BODYPUMP.
yep. i finally bit the bullet and tried bodypump. i know, i know.. it doesn't seem like that big of a deal to all of you regular bodypumpers. but i am not a class-goer. i prefer working out alone. i prefer lifting heavy weights in smaller sets. i prefer not doing anything that requires a lick of coordination because i have none. however, i have been wanting to give bodypump a try for years. YEARS, people. candice happens to teach pump at my gym every other tuesday and i kept telling her i would go. i was lying. i never went. i definitely kept putting it off because it was totally out of my comfort zone and i wanted to stick to what i knew, what i liked, what i was comfortable with.
and then adventurous april came along, and i decided it was time. i know, i am so dramatic. marshall already informed me of this. i recruited momma b and my sister, suni, to head to the class with me tonight. everything is more fun with family!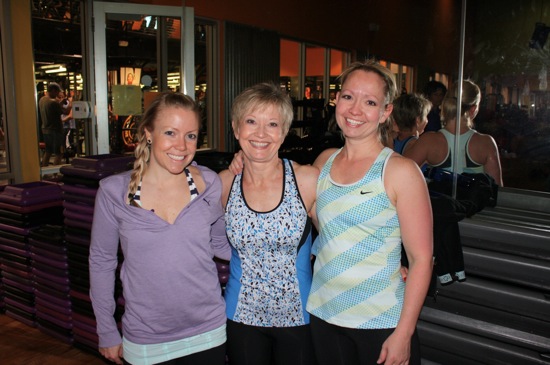 i honestly had no idea what to expect with bodypump.. i just knew i would be hitting all areas of my body with high reps. candice did a great job of walking the class through all the exercises and letting us know when to change our bar weight and how much to load it up with. i gotta say, though, i got a little flustered with the constant changing of plates and weights! i have some practicing to do.
the hour long class whizzed by. it seriously was over before i knew it! i didn't work up as much of a sweat as i'd expected, but i definitely felt the burn on certain parts of the workout–namely the triceps and biceps. go figure, those are my weaker muscles! a few times i got a little lost since i am not hip with the bodypump lingo such as "let it ride" or "in the basement"–but lucky for me i have eyes and am pretty good at following along, so i got the hang of it. momma b did, too.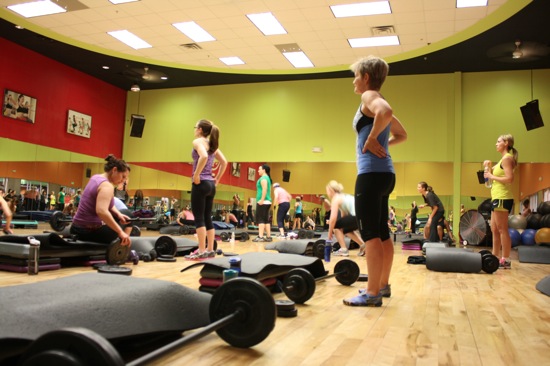 check out her guns! and she's rocking the vibrams. my mom is pretty freaking rad.
i think bodypump is a great way to hit all your muscles in one quick session and i definitely will be going again sometime. i also think it would be beneficial to strengthening those weaker muscles of mine like my triceps and biceps because having an instructor pushing me along really made me work harder than i might when on my own. next time i want to up the weight for certain parts of the session (squats, lunges, and chest) so i will get a better workout on those body parts.
i don't know why i was such a baby and waited so long to try bodypump. i liked it more than i thought i would and it was fun to have candice leading the class. thanks for making me go, lady!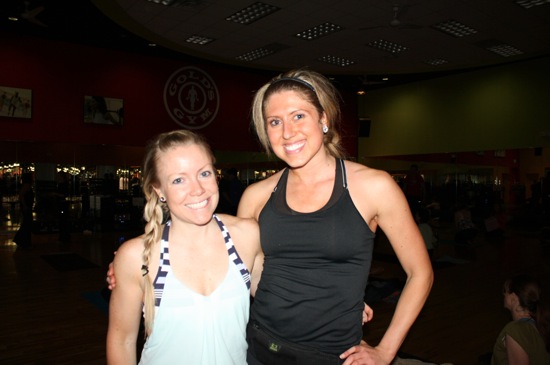 well, that's my BIG adventure. combine that with my three little ones and i've already had four adventures this month!
everyone has been sending in their own april adventures and i have to say it is really fun to see how you all are challenging yourselves to step out of your comfort zone. i am excited to share the round up post at the end of the first week. remember, if you want to participate, check out the instructions here! this week's prize is a contigo cold thermos. grab your adventure pants and join in the fun.
well, i am going to go curl up into a ball and try to sleep this sickness away. here's to a better tomorrow, hopefully full of more adventures!
Qs~
have you tried bodypump? love it/hate it?
how do you feel about group fitness in general?
xo. janetha g.