my dad is one of those types that always buys the very best brand of whatever it is he may be purchasing at any given moment. he is a smart guy. he does his research. he goes for quality, and will not settle for less.
my mom loves a bargain. if she can get away with buying something for a fraction of the price rather than splurging on the razzle dazzle version, she's all about it.
up until about a year ago, i was 100% like my mom. when we renovated our house, before moving in, i had to buy three sinks: two bathroom sinks and one kitchen sink.
at the time, i was all about a bargain. and boy, kitchen sinks were EXPENSIVE. i ended up picking a modestly priced one—i believe it was around $400.. which still made me cringe.. but it didn't matter. it took my kitchen sink from this: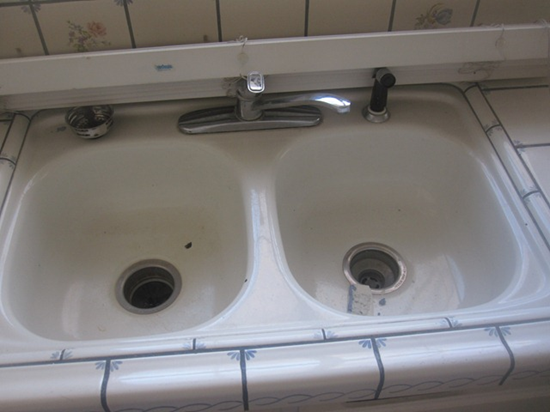 to this: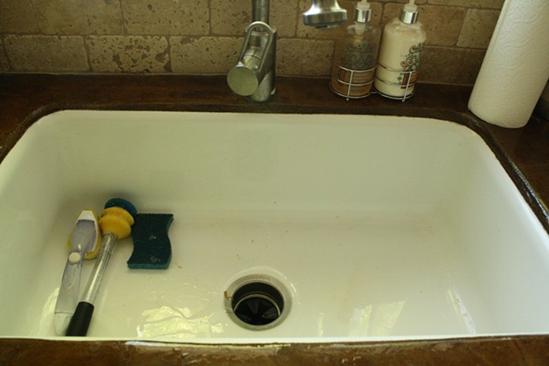 ah.. so nice and big and shiny and new! (and fiberglass, by the way.)
fast forward a year and a half.. and my kitchen sink now looks like this: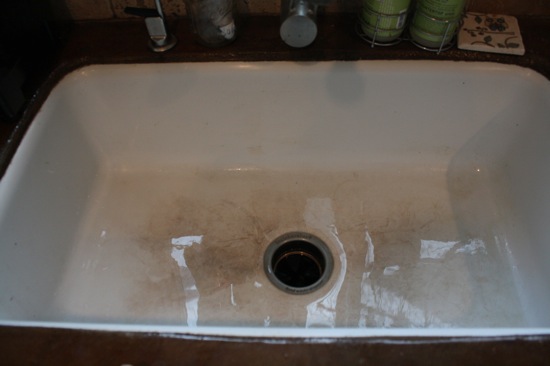 stained, beaten, bruised.. sigh.
ugh. yeah. that's what i get for bargain shopping a kitchen sink. they say hindsight is 20/20, and they are right. whoever they are… i sure wish i had purchased a high-quality porcelain sink, no matter the price tag. and since my brother laid our concrete countertops over the lip of the sink, it's kind of hard to just get a new one (unless i want a rimmed lip sink, which i don't, i love wiping crumbs right into the sink from the counter.)
one other example of my bargain shopping habits being a total downfall during the renovations is our main bathroom vanity. again, my brother did the countertops for us, so we had to pick out a vanity that he could install the countertop on.
thrifty janetha went with an IKEA vanity. sure, it's cute.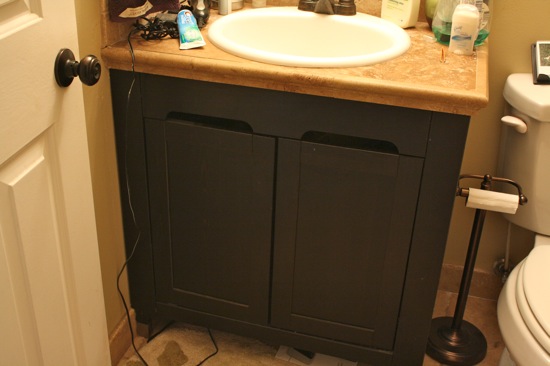 but it is NOT practical. at all. first of all, it was a huge pain to assemble.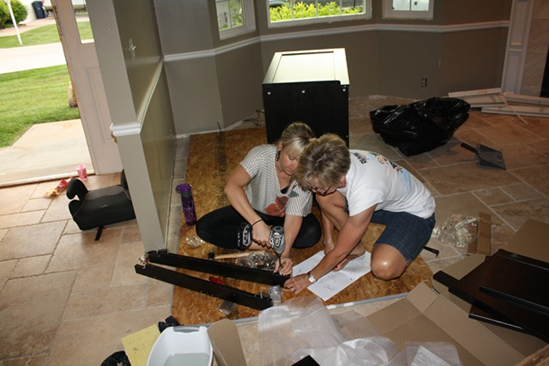 but at least once it was done it was done. second, it sucks. there are no drawers. we leave everything on the counter, as you can see in the photo above. the cupboards are janky. it bugs me. and because our nice tile countertops are built right on top of the wonky vanity, it's here to stay.. and hard to replace.
on the upside.. it does look a lot better than what we started with:
on the other upside, we couldn't find a vanity to fit our master bathroom, so we opted to have one custom built by a family friend. BEST IDEA EVER. i adore my master bathroom vanity. the quality is top notch, it's totally functional, and it is gorgeous. (photos are from the renovation process.)
it went from this: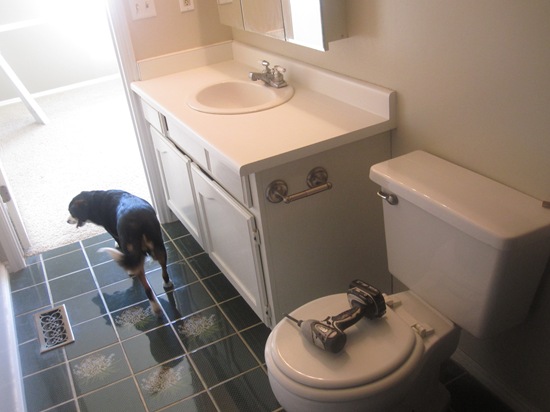 to this: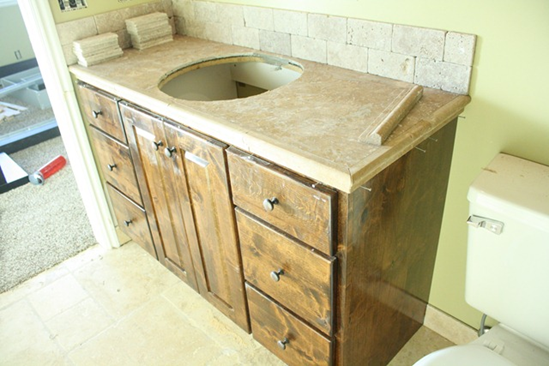 i so wish i had this same craftmanship in the place of the crappy IKEA vanity.
sigh. lesson learned.
anyway, all this rambling DOES have a point.
i recently read an article about ten items you should buy now that you will keep forever.
dining table
your favorite chair
original artwork
a durable knife
unbreakable dinnerware
indestructible blender
well-made rug
heavy dutch oven
timeless headboard
classic lamp
looking over this list, i am happy to report that i HAVE invested in a few of these.
dining table.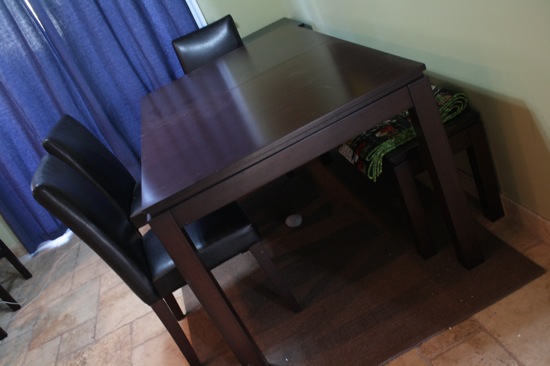 this is one thing we splurged on when moving in. we got it at RC willey and i LOVE it. it expands to fit 8 people or it fits 6 people as-is. i love that there is a bench and chairs.. i am a big fan of benches for some reason.
original artwork.
we are slowly but surely collecting artwork. we try to buy pieces when we travel. we do have a few things that aren't framed yet (framing is expensive!) but here are two items i love that are both hanging in our living room.
we got this one while honeymooning in mexico.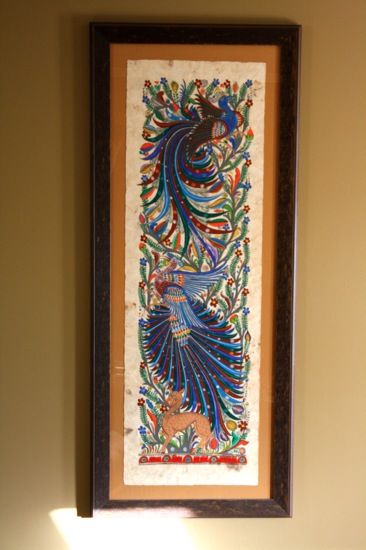 i bought this as a christmas gift for marshall. it's by kat's creepy art.. she takes old paintings and adds in her own special flare. in this one: sharktopus. a hybrid shark octopus, coming out of the water to destroy the boat. i love it.
a durable knife (knives).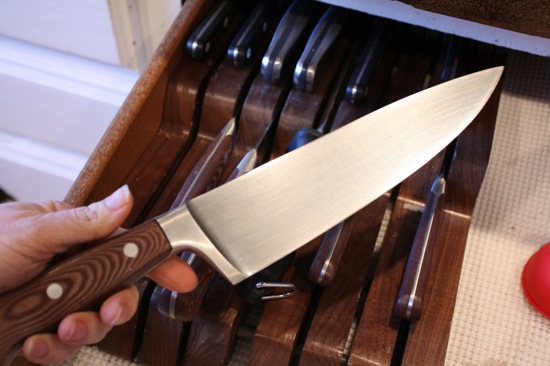 marshall actually bought me this stellar set of wusthof knives back when we were dating. i didn't want to ruin them, so i stored them in a box under my bed until we were married and had our own home. i use the knives daily and really believe it makes my culinary experience much better. knives are important!
indestructible blender.
as you may know, we recently replaced our broken vitamix with a shiny new one.. which is way better than the old one. it has a variable speed dial and it came with a dry grains/bread kneading container. i am happy with our purchase, even though it was QUITE the purchase, and because it has a 7 year warranty.. we are set for quite awhile.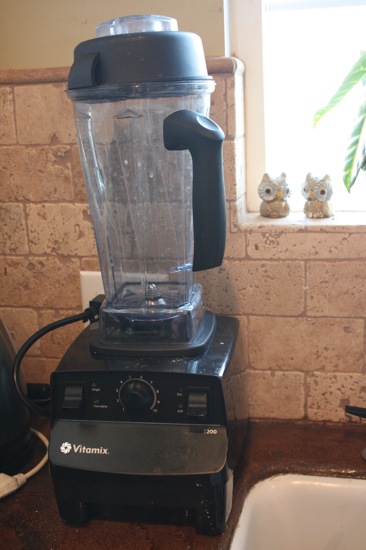 p.s. if you want free shipping on a vitamix, click click.
i also have a few items on the list that are definitely not—uh—things that'll last forever.
your favorite chair.
i have had this awesome mission-style chair since i moved out of my parents' house. they handed it down to me and it has been through a lot. while i adore this chair, i think penny and randy adore it even more. they have officially taken over this chair.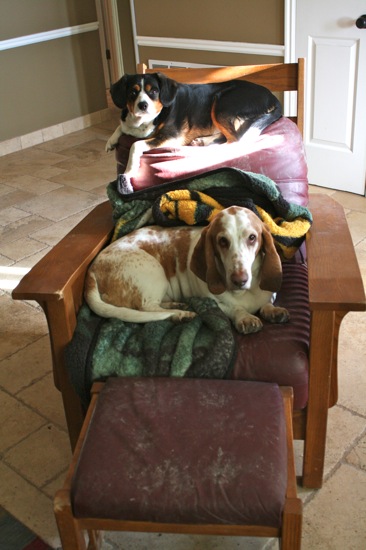 it's a good thing it is leather, because every day we come home to see it covered in muddy paw prints.. as you can see in the photo above. i just got home from work and this is what they've managed to do today. i know this is probably making you neat-freaks cringe.. but i have had to get used to the muddy prints.. it's a daily occurence! i think we will hold off on buying a nice, new chair.. our dogs would just trash it, anyway.
well-made rug.
this is another thing i bargain-shopped for when we were doing the renovations. we bought the above rug from a website for super cheap. this purchase, however, isn't one i regret. i knew our rug would take a beating with the dogs.. and plus, we have spilled everything from coffee to ketchup on the rug. we've flipped it over once, so next time it gets a bad stain.. we will probably have to replace it. but since it was only $350, that's not a big deal. so while it may not be well-made, it's cute and does the trick.
timeless headboard.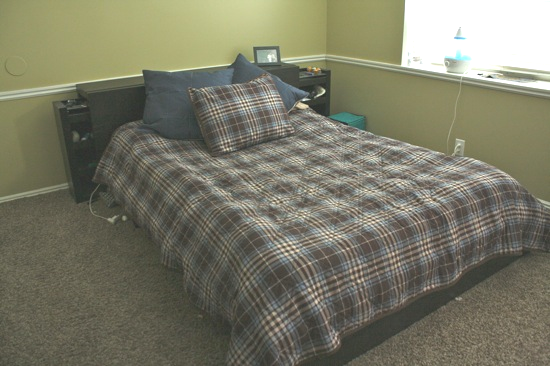 here we go again.. another IKEA purchase. this one, however, isn't a janky item. i like this headboard because it has roll-out compartments on either side, which is optimal for space saving. it's actually quite efficient. i already had this bed when we got married, so we just bought the matching headboard and now marshall & i both have our own little cubbyholes. it's great. i don't know about "timeless"—but i like it!
and, finally, there are a few items on the list that i don't have at all.
unbreakable dinnerware.
we have dishes that we registered for for our wedding. they're typical and white and square and boring.
looking back, we shouldn't have registered for these dishes. marshall really wants to phase out all of our "made in china" dishes and buy american-made pieces. it doesn't really matter to us if they are unbreakable or not..
i really would just like to own a bunch of different dishes—one of each. so when the table is set, there are tons of random, mismatched pieces. i like that idea.
heavy dutch oven.
THIS IS ON MY LIST. i want one of these so bad. this one, particularly.. in case you were wondering.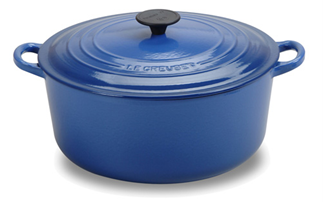 source: amazon.com
or if you want to buy it for me :)
classic lamp.
when i think of classic lamps, i think of my dad. my parents have the most beautiful lamps throughout their house. my dad has a great eye for design, and really great taste. he's into stickley lamps.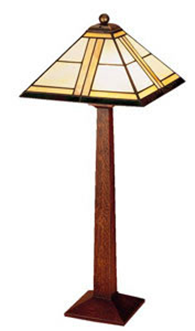 source: stickley.com
for some reason, he always knows the perfect spot for a nice lamp. i imagine that when the time comes for purchasing a classic lamp.. i will look to him for advice. and then i will ask my mom if she can find it anywhere for cheaper!
all in all.. i really shouldn't complain too much. my house is a lot nicer than it was when we bought it, we were fortunate enough to get that fat tax credit to fix it up. plus, we are still young. we have time to buy things that we will keep forever. at least i don't have a toilet in my kitchen anymore, right?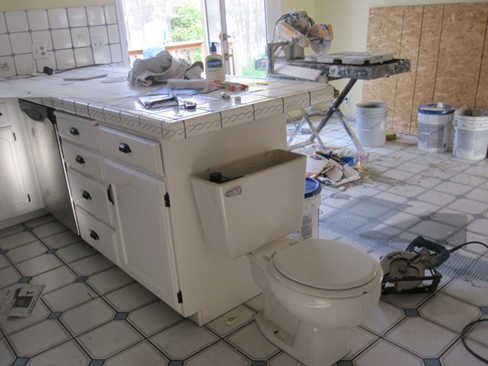 so, how about you?
do you typically splurge on high quality or save with a bargain?
how many of these 10 items do you own.. and will they last forever?
xo. janetha g.