hello and happy wednesday evening! we've made it half way through the work week. i always love wednesday nights because thursdays and fridays at my office are way more mellow than the first half of the week.
today was busier than most wednesdays.. i am constantly trying to mark things off my to-do list, both at work and my personal one, before i head out of town.
after a jam packed day at the office, i headed to the gym for a livefit workout.  i am currently pulling workouts from week 12 of livefit trainer. last week i was pulling workouts from week 10. there is no real rhyme or reason to my workout schedule right now.. the important thing is that i am getting to the gym and getting it done. i did modify this workout a bit because the gym was crowded, but i focused on all the same body parts as the original workout called for.
here's today's routine.. i completed each move, one after the other, for a total of 140 consecutive reps. i then rested for a few minutes before completing the circuit again, for a total of 4 times through. since these were giant sets with high reps, i used lighter weights.
barbell deadlift: 60# x 20 reps
bent over barbell row: 40# x 20 reps
assisted wide grip pull up: 100# assistance x 20 reps
close grip seated row: 60# x 20 reps
hyperextension: 25# plate (holding) x 20 reps
captain's chair leg raises: body weight x 20 reps
bicycle crunches: body weight x 20 reps each side, alternating
i finished off my workout with 30 minutes on the stationary bike while reading SELF. gosh, what a shitty magazine, it's so boring. won't be renewing my subscription.
i had errands to run and didn't get home til about 8:30, so dinner was a late one tonight.. we didn't eat until after 9 PM. that's how things are in this house most of the time! i picked the quickest and easiest meal ever: soup & sandwiches.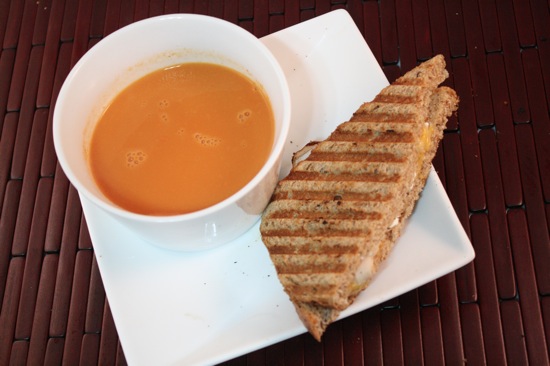 creamy tomato soup and turkey, goat cheese, and cheddar paninis, to be exact.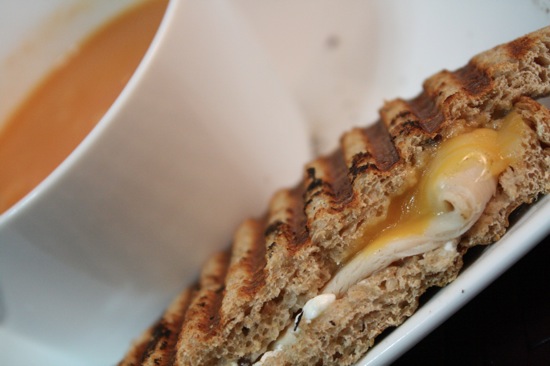 i love this panini press! it was a gift from my good friend, danica.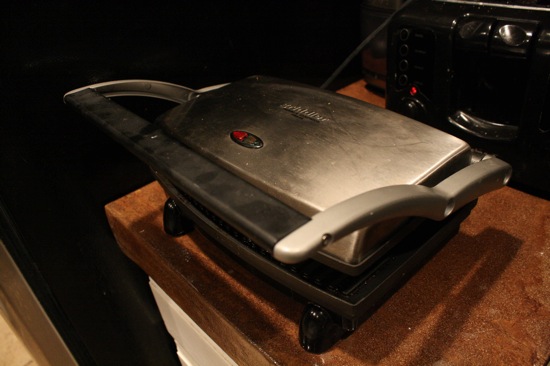 speaking of appliances.. i thought it would be a great time for another round of things i use & love! this installment is electric appliances.
we have a LOT of appliances. more than necessary, that's for sure. and more than we use. there are a few appliances in the garage, collecting dust. but there are a handful that i use regularly, some daily! here they are.
kitchen aid stand mixer.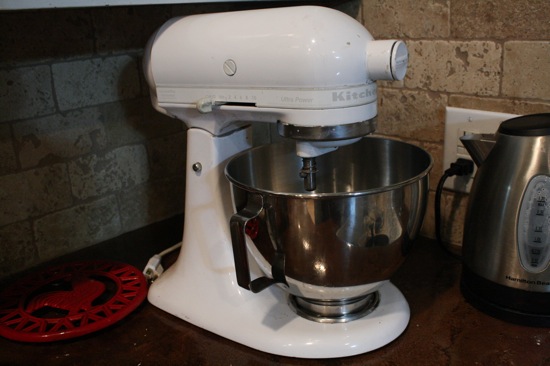 this was actually given to me. it used to be marshall's grandmas. she passed away a few months after we started dating and his grandpa was nice enough to give me the mixer.  i know i lucked out since these appliances are around $300. with the amount of baking i do, this thing comes in SO handy. it also has a lot of functions and attachments that i don't utilize.. for instance: it can make bread dough or pasta. maybe one of these days i will hop on one of those wagons. just not today. tomorrow doesn't look good either.
coffee grinder & electric kettle.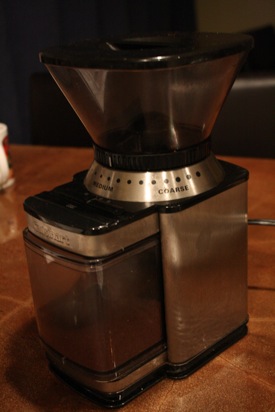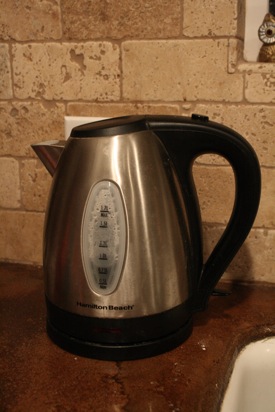 i use these two appliances every single morning! i brew my coffee using a french press, so fresh ground coffee and quick boiling water are key components. the grinder is a cusinart ($50) and the kettle is from costco–it was around $25.
food processor.
marshall got me this for our first dating anniversary back in 2008. i probably don't use this as much as i should, only because i am lazy. yes, that's what it comes down to. pulling it out and using it to chop things isn't ideal. however, this appliance is awesome for making homemade hummus, peanut butter, salsa, sauces, and.. the way i use it the most.. to make my own ground chicken/turkey/beef.  WAY better than buying it pre-ground at the grocery store! i was even too lazy to pull it out for a photo, so the one above is recycled from an old post.
mini food chopper.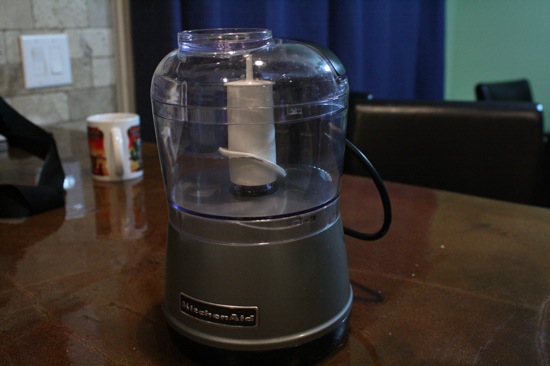 marshall just barely got me this little guy for christmas because i was always complaining about pulling the big food processor out for small tasks. this appliance has been great so far! i have used it at least a dozen times since christmas. i make my own bread crumbs, chop vegetables, and make graham cracker crust for my protein cheesecakes that i have been making like crazy. yes, recipe coming soon.
vitamix.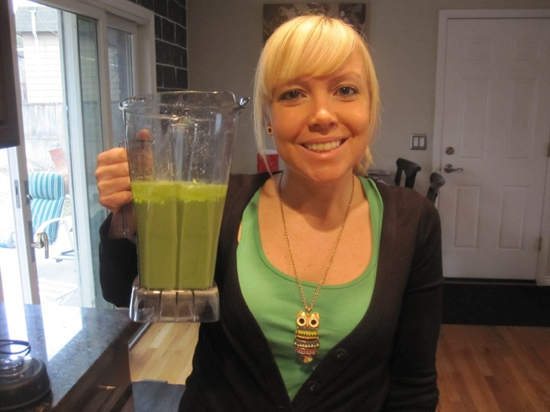 (photo circa march 2010)
oh.. my vitamix. a hand-me-down from momma b over five years ago. i have used this over and over and over to make hundreds of smoothies. however, i know it can do a lot more. the way people talk about vitamixes, you'd think they could fold your laundry and find a cure for cancer. or at least make you soup. but i just use it for smoothies, protein ice cream, and the occasional batch of mama pea's mmm sauce.
on the downside, i was blending up a shake the other day.. sunday, i think it was.. and SPARKS started flying from the base of my blender.. where the base and container connect. i quickly turned it off and checked out the situation. looks like a metal whosamawhat broke off the thingamajig and caused sparks to fly. yikes. check out the aftermath: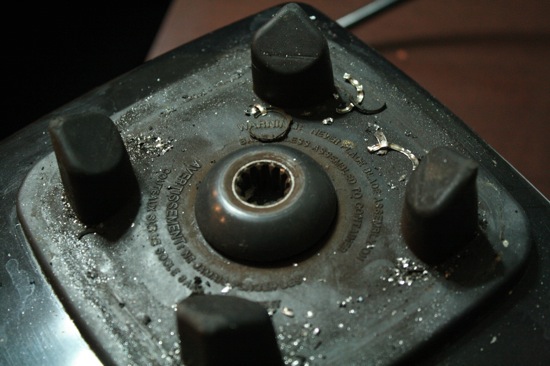 so now i am in the market for a new blender.. however, my friend casey pointed out that i might have a warranty on the ol' vitamix. after all your tips on my last post about how i could have taken my buyer's remorse bedspread back to kohl's, used and all, i think i should look into this warranty thing before dropping another $400 on a blender.
well, i could keep going about the appliances i use and love.. but i think six is enough for tonight. looking at that list, i realized i lucked out quite a bit. of all the appliances i named, i only bought one myself (the kettle.) the rest were gifts or hand-me-downs. goes to show that appliances make great gifts!
in case you want to check the other installments of things i use & love out.. here they are:
check ya later alligators!
Qs~
1. what is your most used electric appliance?
2. what appliance is on your wish list?
xo. janetha g.