it's 10 PM and we just finished eating dinner.
TEN PEE EM.
an hour and a half of that has to do with the fact that i got into a heated phone call with comcast after work today. this big fat waste of time led to me canceling my cable and internet service and i know i will be ultimately happier in the long run.  GOOD RIDDANCE, COMCAST. get out of my life.
whew, sorry, went off there, didn't i? it's still a sensitive subject, apparently. moving on.
after hanging up with comcast, i let my frustrations out at the gym. i didn't even get to the gym until 7:30 PM—yikes. i spent an hour on biceps + triceps with a short 10 minute jaunt on the elliptical. (can we call it a jaunt?)
the dinner we just finished eating was worth the wait! it was so dang delicious.. marshall said it needs to go on "the menu for the restaurant"—yes, we WILL have a restaurant some day.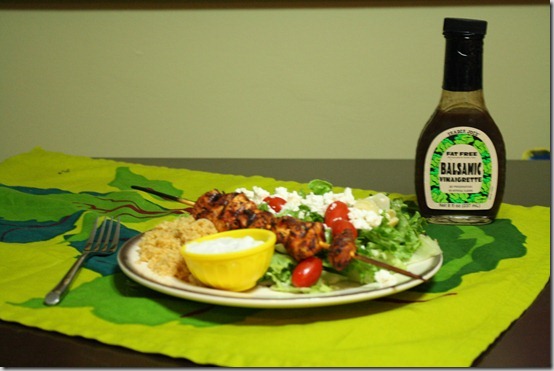 greek!
before leaving for the gym, i diced two chicken breasts into 1" cubes and marinated the cubes in a mix of olive oil and this line up of spices: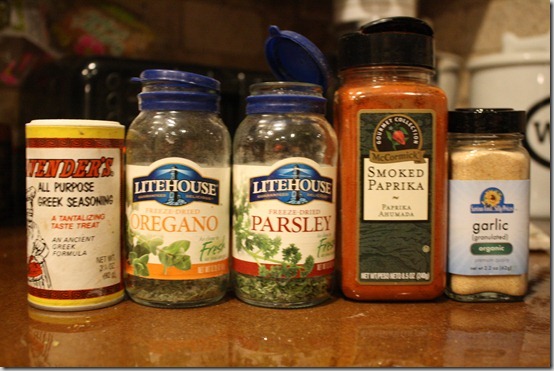 when i got home from the gym, i skewered the chicken onto some bamboo sticks.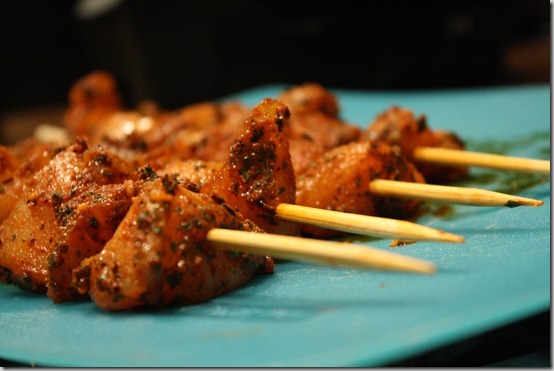 marshall grilled the chicken while i prepped the rest of the dinner.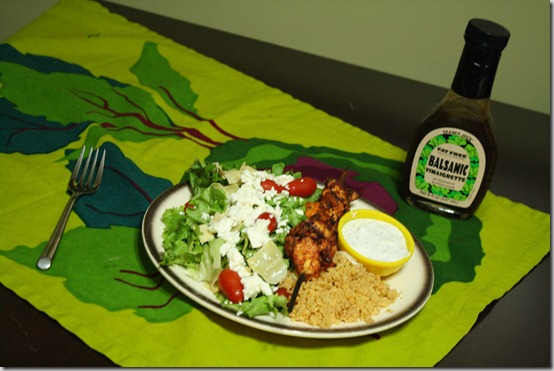 first i made some tzatziki by i combining 1/2 cup of  plain greek yogurt with a small minced cucumber (after peeling it), the juice of 1/2 a lemon, a half tablespoon of dried dill and some salt & pepper.
next, i got to work on the salad—this was tough.  i tore up a head of romaine, pulled some marinated artichoke quarters out of the cupboard, grabbed the costco container of grape tomatoes from the fridge and crumbled a tiiiiiny corner from the massive block of euphrates feta emily sent me.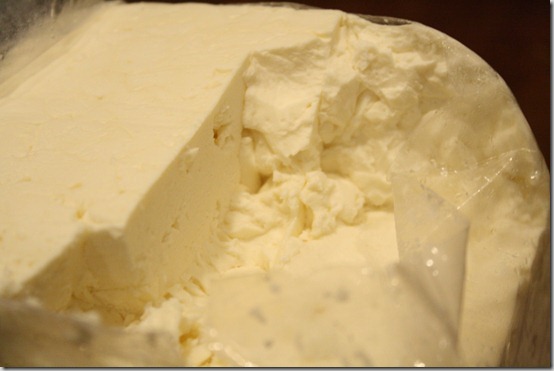 this is the second of the two blocks i received.. we have feta for days, folks! come on over! i have plenty to spare.
simplest salad ever.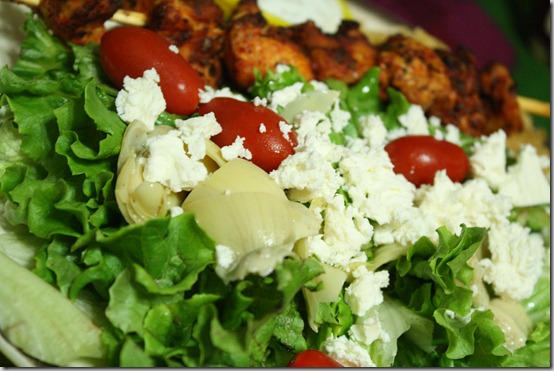 i was going to make greek dressing from scratch, but since we were short on time, i used one of my favorite bottled varieties (i always pick this up when i visit a trader joe's!)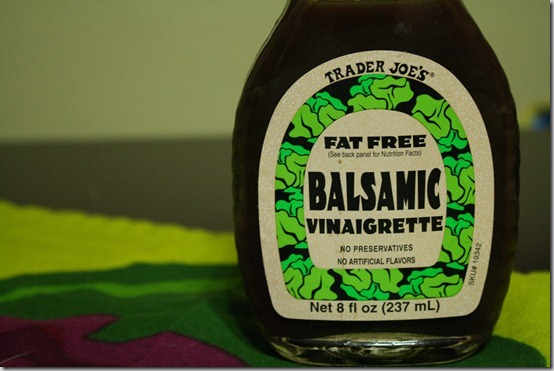 i also prepared some whole grain couscous. i was planning to do roasted lemon potatoes, but after the whole comcast fiasco, those were out. couscous is the quickest starch to prepare, so that decision was easy.
for the couscous, i boiled one cup of low sodium vegetable broth and then added one cup of whole grain couscous. i removed it from the heat and covered the pot.  after it sat for about 5 minutes and all the broth was absorbed, i fluffed it with a fork.
i then added three thinly sliced green onions, about a tablespoon of balsamic vinegar, a generous shake of granulated garlic, the juice of 1/2 a lemon and a little salt & pepper. one more fluff and the couscous was ready!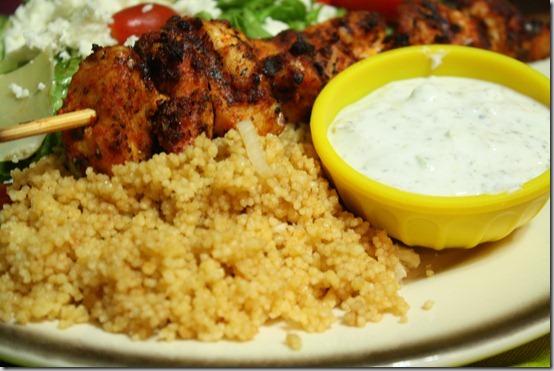 just as i was finishing everything in the kitchen, marshall brought the chicken kebabs in from the grill.  we threw it all onto our plates and called it good.  and it was.
this came together relatively quickly considering how many components were involved!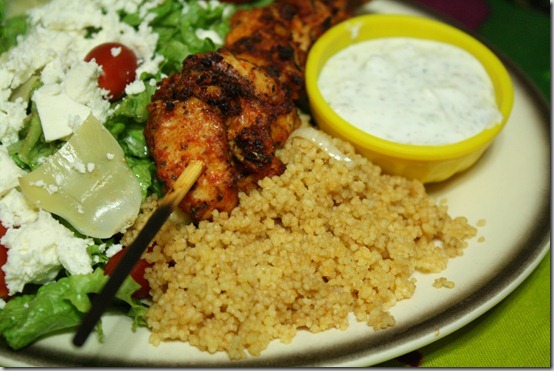 i ended up mixing the couscous into the salad and then pouring the tzatziki over top of it all. the various textures and flavors were incredible together! i need to start topping my green salads with grains more often.
i am already excited to eat the leftovers for lunch tomorrow.
Qs~
1. what is your favorite grain?
2. what time do you typically eat dinner?
bonus question: do you hate comcast?
xo. janetha g.