hello! thanks for all the blog birthday wishes. for the record, if you used the "b" word that rhymes with "hogaversary," you probably won't win the giveaway. sorry, nothing personal, i just despise that word…
moving on!
today was quite eventful. i finally decided to sit down and blog about it before the fantasticalness of it all slips my mind. fun fact: i just tried to type "fantasticness" knowing it indeed is not a word, but was going to say it anyway, and my mac corrected it to "fantasticalness"! i had no idea THAT was a word, and i fully intend to use it from here on out.
this morning's adventures started with food–the best way to start any adventurous day, am i right? i had purchased a groupon for a new cafe in salt lake city.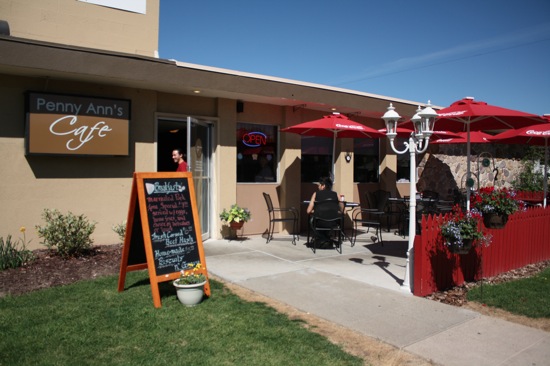 penny ann's cafe (you know i loved it JUST because of the name.. my dog=penny and my middle name=ann!) is located at 1810 south main street in the SLC. they serve breakfast until noon on saturdays, so marshall and i took advantage of the situation.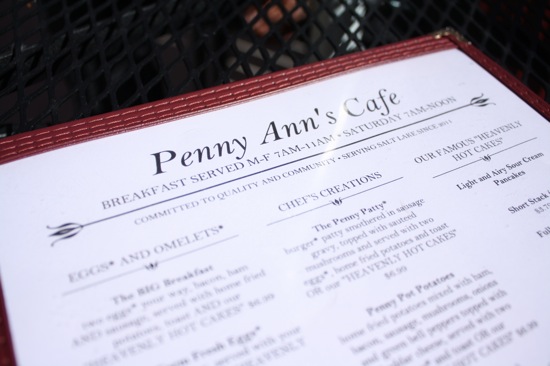 the weather was GLORIOUS today, it was 70 degrees! we sat on the patio. dining al fresco is the best way to dine.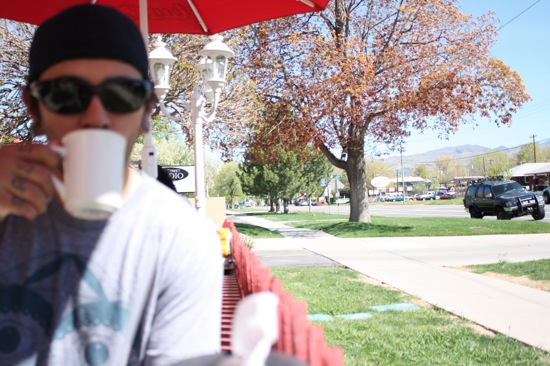 we started with coffee and a scone. yes, a utah scone.. which is fried dough smothered in honey butter. for more about scones, check this post.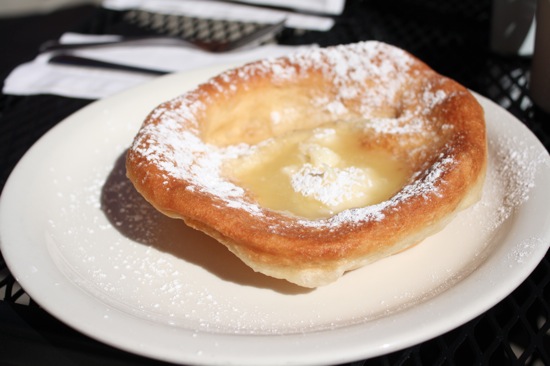 i ordered the sourdough french toast and a side of two eggs over medium.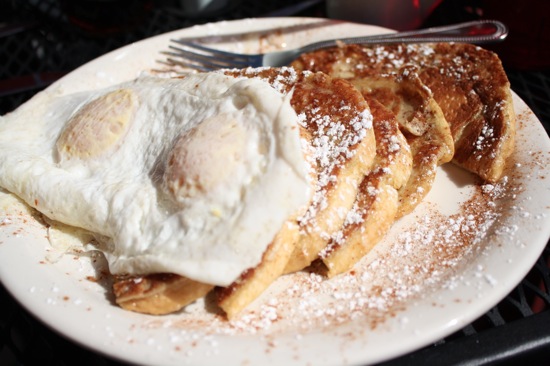 marshall ordered the biscuits and gravy with a side of two eggs over hard.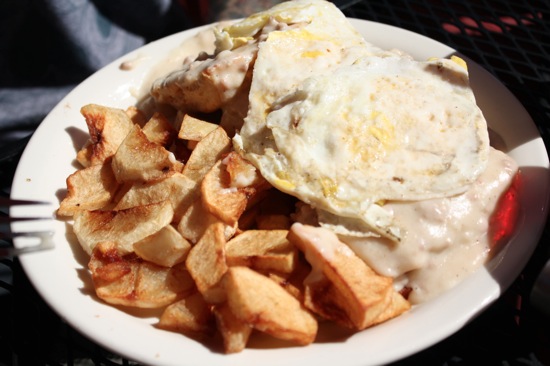 we both really loved our selections and agreed that we will be back to penny ann's cafe again soon. saturday adventure #1: success!
we ran a few errands in town–first and foremost i had to get a helmet so i can ride on the back of marshall's harley! we swung by the harley shop and i snagged a simple black helmet. after the helmet purchase, we headed to salt lake running company so i could buy this torture device: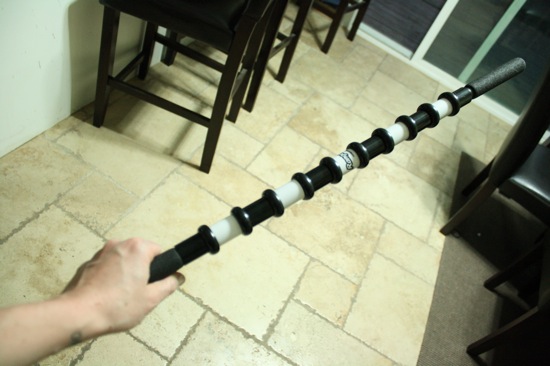 i was originally planning on buying the stick because an old roommate of mine had one and i always loved using it on my sore muscles. however, the employee told me the ridges in this range roller feel like fingers kneading into your sore muscles. sign me up! this is similar to a foam roller, except it's hand held. it's awesome for rolling out sore hamstrings and calves (which i have right now) and it works better than my rolling pin. yes, i've done that before and it works well. but not as well as this device. saturday adventures #2 (helmet) and #3 (torture device) success!
once we got home from our errands, i changed for the gym.  since it was such a glorious day, marshall suggested i ride my bike to the gym. i agreed that it was a great idea and asked him to dust off the ol' bicycle for me. (we store them up high and i am short!) he did just that and i pedaled my little heart out to the gym.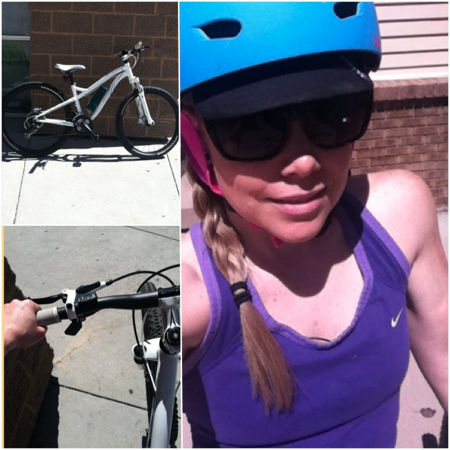 saturday adventure #4: success!
the gym is just over a mile from my house, and it's a nice warmup for any workout because there is a slight incline.  this makes the ride home perfect for cool down, too! 
anyway, onto my workout. i wanted to give tabatas a try. i have done interval workouts in the past, but never have done a full-blown tabata workout. i downloaded a tabata timer app on my iPhone (it was $2.99) and decided on ten different moves for my workout. 
i grabbed all the equipment needed and headed into the classroom.. it's so nice on saturday afternoons because the room is empty and i can do any crazy workout i please!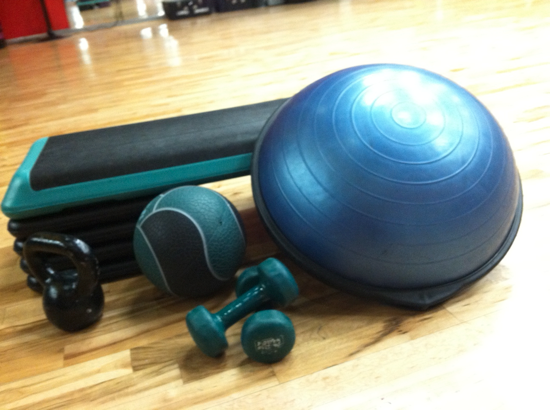 i planned to do 8 rounds of each move and each round included 20 seconds of work + 10 seconds of rest. i was already warmed up from my bike ride, so i hopped right into the tabatas.
 about 45 minutes later, the workout was done and i was a sweaty mess. saturday adventure #5: success! oh and P.S., that tabata timer is totally worth the three bucks.
i finished my workout with some ab work just for kicks.. i did the following twice through:
100 ball crunches
50 right side ball crunches
50 left side ball crunches
50 hanging leg raises in captain's chair
the bike ride home from the gym was nice an breezy, i was able to coast most of the way thanks to the slight decline.
once home, i traded my bike helmet in for my motorcycle helmet!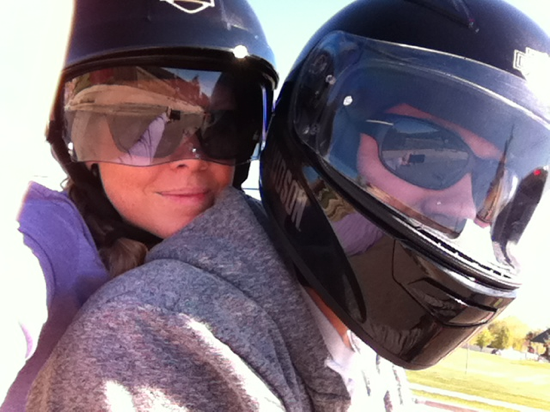 marshall took me on a harley ride around town. i could never drive a motorcycle, but riding on the back was really fun! saturday adventure #6: success!
we came home to find that randy had gotten into the trash. there were chobani containers, egg shells, banana peels, and a peanut butter jar littered all over the kitchen floor. he had a guilty look on his face, but i am sure it was all an act. he's never really truly sorry for getting into the trash. he's a dumpster diving dog and loves every minute of it. we scolded him (hardly.. psh.. we are putty in his paws) and cleaned up the mess.
i decided to keep on cleaning and i ended up on a roll! i cleaned the kitchen, the garage, and got rid of a boatload of clothes from my closets. i wouldn't call my saturday spring cleaning an adventure, but it was definitely a success!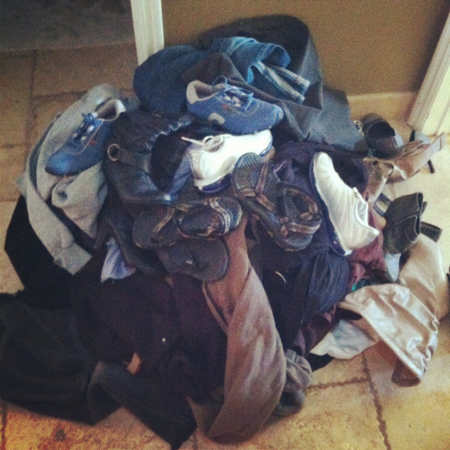 and now it is already 8 o'clock. whew. i am going to load the furry rascals into my car and head up to marshall's old house. you know, the one he lived at before we got married. rumor has it that dave is making his famous vegan tacos and i am not about to miss it!
hope you all had a great saturday! i will be back tomorrow for the week three recap of adventurous april.
xo. janetha g.