i am super stoked that you all have your adventure pants on for adventurous april! it will be fun to see what new things you do and what you learn about yourself. maybe you will find something you love.. or something you hate.. but at least you will be able to say you took a chance. a few entries have already rolled in! keep them coming. for more info, check out the official instructions.
this weekend has been fun. i have been trying to fight off some sort of sickness that started as a tickle in my throat on thursday morning. it still is just a sore throat and it better not turn into anything worse! of course, i took that sore throat as an open invitation to skip the gym a couple days in a row.. wouldn't want to exert myself, right? right.
when saturday rolled around, i decided i should probably do something with myself. i headed to gold's for a chest + abs workout, but skipped the cardio. i am pretty horrible at cardio lately. i just hate it so much!  after the gym i quickly cleaned up and headed to lindsay's house for our friend summer's baby shower. she's due next month!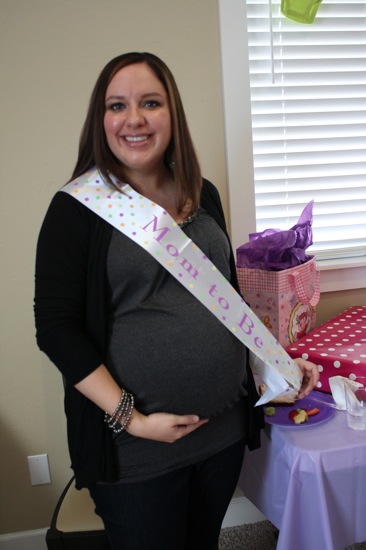 the shower decor was cute and the brunch spread was delicious.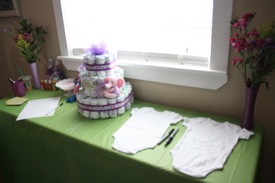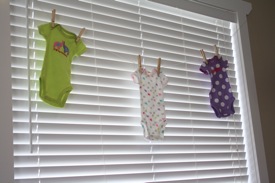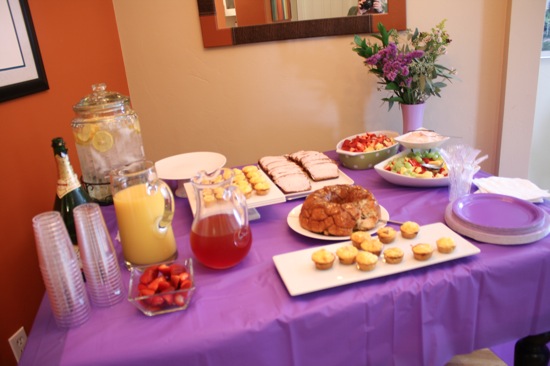 banana bread topped with cream cheese, fruit with dip, monkey bread, mini quiches, and mimosas to drink.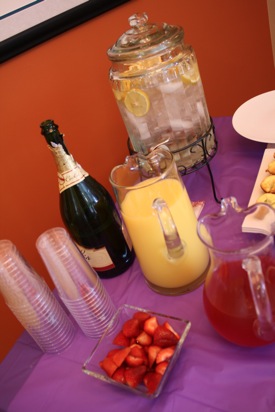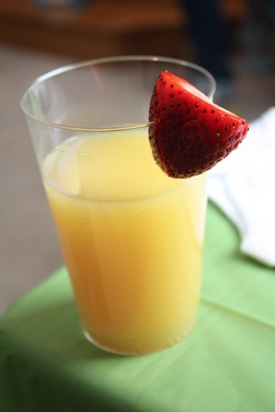 once everyone arrived, we started playing the obligatory shower games. i usually dread baby shower games (who wants to guess what kind of melted candy bar is resembling poop in a diaper?!) but my friends actually found a couple of fun, new games to play.
for the first game, we broke into small groups. each group was given a photo of summer and her husband, a pair of scissors, and a glue stick. we had to cut out parts of each of their faces and piece together a hybrid face which would look exactly like their baby. so random, so hilarious.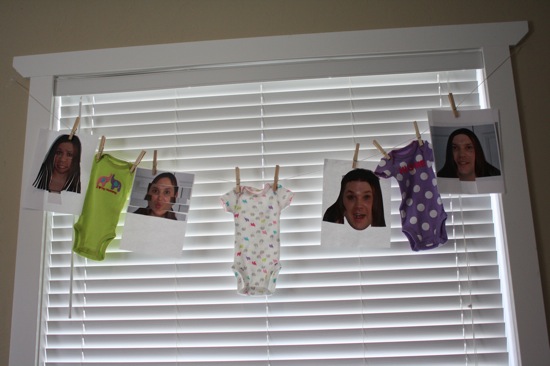 here was our creation: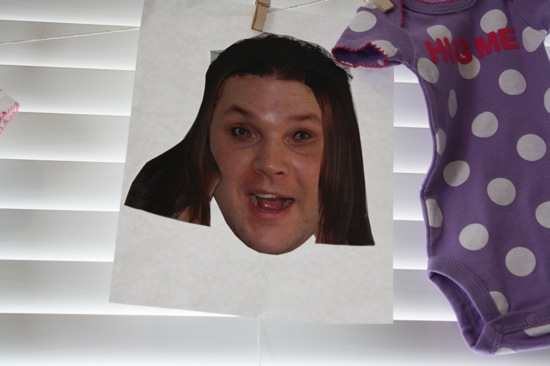 and the winner, which summer hand-picked: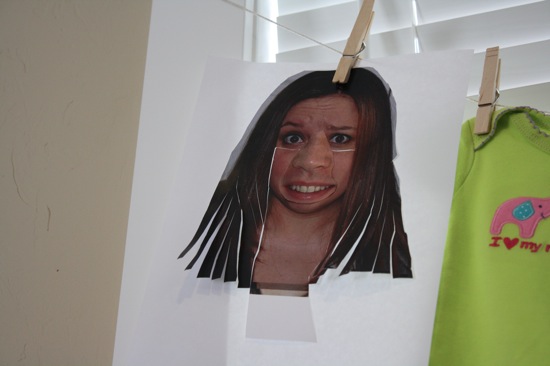 the other game we played was tied to the gift opening process. we each had a necklace with three pink clothes pins.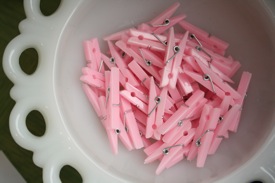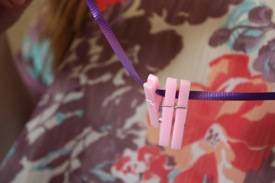 any time someone said the word "cute" and was called out by another person, the caller-outer got to take one of the offender's pins. the person with the most pins at the end of the gift opening won.  this led to people calling the gifts things like "adorable", "lovely", and finally we just resorted to "that's just great!". it was pretty hilarious.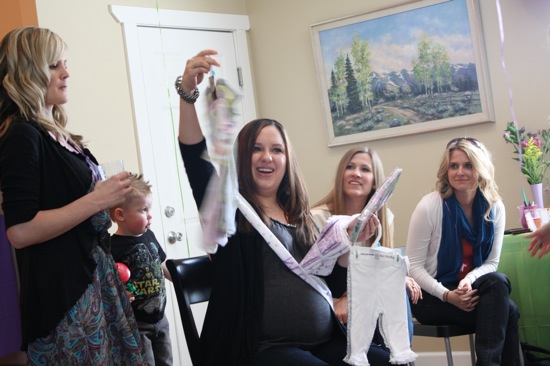 i guess i have a heart of stone, because i was the winner! the only time i DID say cute was when kristen was telling me how she wraps her puppy up in a hooded baby towel. oh my gosh, THAT is so cute!
the shower was fun, and i am not even lying (i usually am not a fan of baby showers!) it was great to see all my friends and help summer get ready for her first baby.
later in the day i headed to trolley square. i am LOVING all the blossoms blooming, by the way.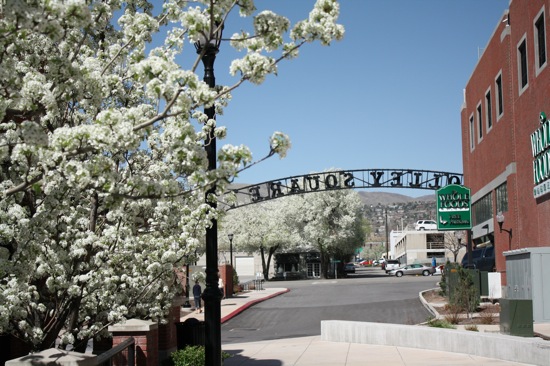 i had been meaning to take a trip to the new lululemon store since it opened nearly two months ago. i'd been saving my pennies to make a purchase! before yesterday, i didn't own a single stitch of lululemon gear.. i am pretty cheap and buy 87% of my workout gear at tj maxx or ross.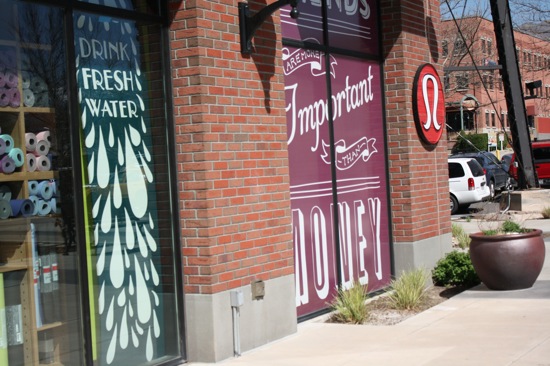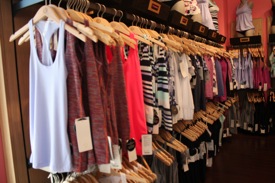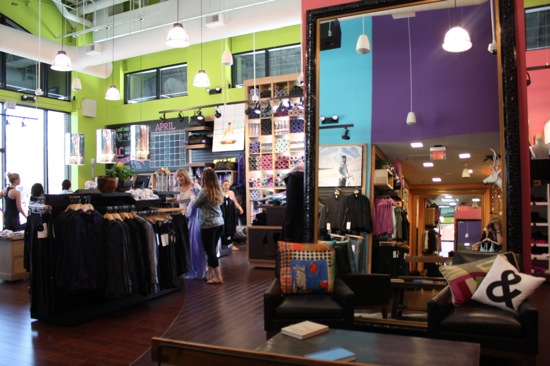 i knew i wanted a pair of wunder under crops and i also had my eye on the practice freely tank ever since seeing a few ladies at my gym sporting it. the color i wanted wasn't there, but i ended up getting a turquoise one.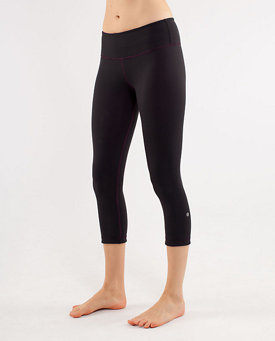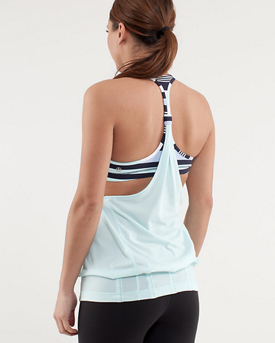 (images from lululemon.com)
it should be noted that the "crop" pants actually go down to my ankles. yep, i am a shorty at 5'1″. that's why i didn't go with the pants.. i don't like messing with hemming when i don't have to (even though it is free.. i am lazy.)
whole foods was just next door, so i took advantage of the situation. i wandered over and piled myself a plate from the salad bar.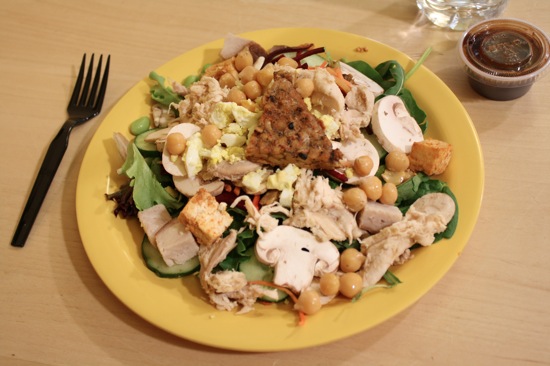 it's kind of weird that they have reusable plates but only disposable forks. these are the things that go through my mind when eating alone.
after eating, i grabbed a few things from the market section. just essentials like chobani (on sale for a buck!), almond milk, apples, and countertop cleaner. i also picked up a container of natural calm thanks to some of your suggestions. maybe it will help my gut?
saturday had an unexpected turn of events when marshall told me he locked his keys in his car at the golf course… up in layton. that was about 40 miles from where i was, but luckily our house (and his spare key) was on the way. i zipped up there and saved the day. or at least his day.
the rest of saturday wasn't too exciting. it included a trip to the grocery store, a car wash (which was pointless since it snowed today), and a whole lot of lounging. after being on the go all day, all i wanted to do was relax. we made ravioli for dinner and had popsicles for dessert. i also had a peanut butter chocolate protein shake as a second dessert. that pesky sweet tooth of mine is really acting up lately!
for some reason i couldn't sleep in today. i woke up at 8:30 and tried to go back to bed but couldn't. i took advantage of my morning like any normal person would and caught up on all my turns on draw something (an iPhone game.) i eventually rolled out of bed, but didn't make it far.. just to my kitchen table where i drank tea to soothe my throat while catching up on blog reading.
hunger kicked in around 10:30, so i made some breakfast that was both sweet and savory–the best of both worlds.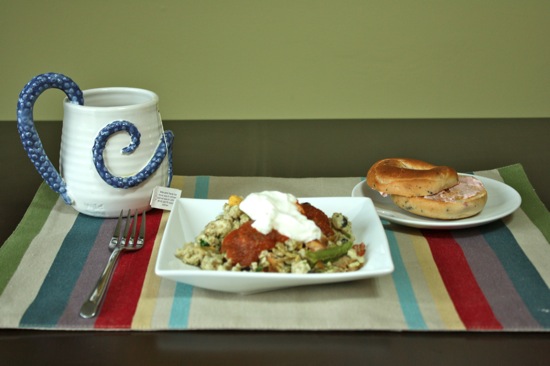 for the savory, i used my leftovers from friday night's chipotle burrito bowl. i put the leftovers in a skillet with a little butter and got them nice and warm.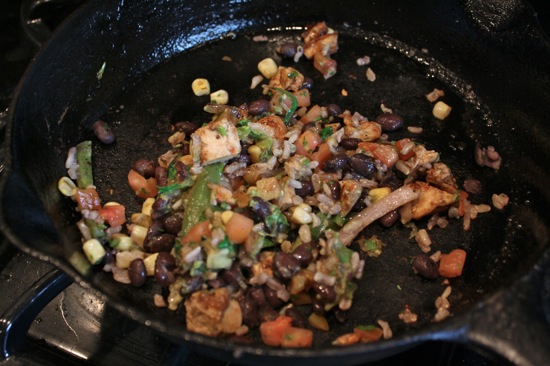 i poured a cup of egg whites over the chipotle ingredients and scrambled them all together.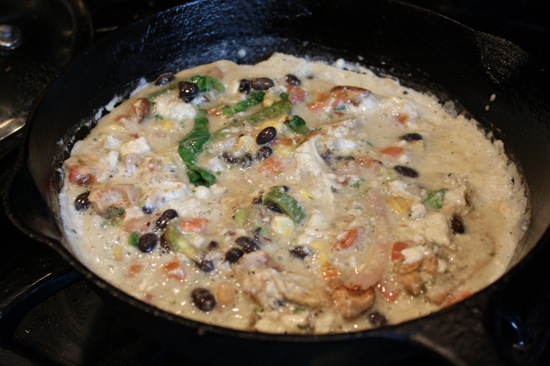 i topped the chipotlEGGS with some chobani and homemade salsa. this was the best leftover idea ever. it was so tasty!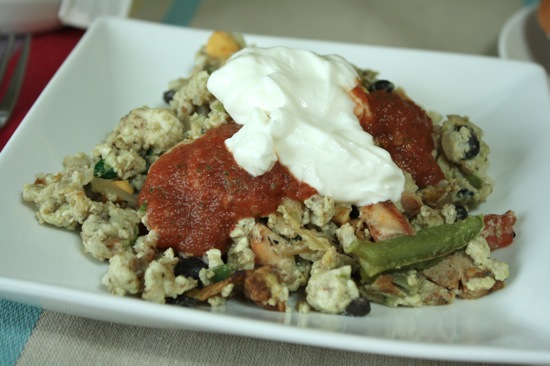 for the sweet side of things, i toasted a blueberry bagel and topped it with strawberry cream cheese.  simple and satisfying.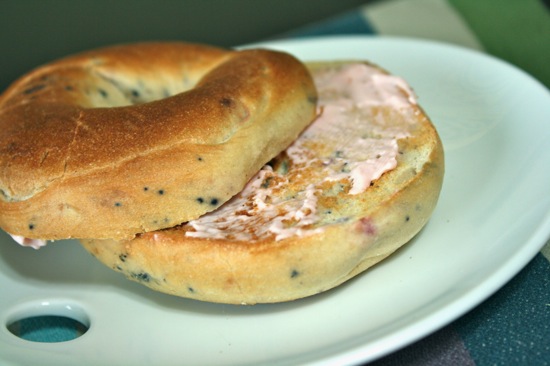 i lollygagged for a good hour and a half before doing anything else with myself. i needed to fold laundry (my most hated chore) and clean the bathrooms and kitchen.. that didn't sound very fun, so i decided to go to the gym first.
i was feeling pretty lazy, but i am glad i still managed to get a workout in. i did three sets of each move before moving onto the next:
single leg kettlebell deadlift – 12 reps each leg @ 30#
standing side crunches – 15 reps each side @ 30#
below parallel squats holding kettlebell while standing on bosu ball – 12 reps @ 30#
laying leg curl – 12 reps @ 50#
calf press on 45 degree leg press machine – 15 reps @ 135#
leg press on 45 degree leg press machine – 12 reps @ 225# (alternating foot placement each time: high, middle, low)
donkey kicks – 20 reps each side
i finished with stretching and 30 minutes on the bike. it was a half-assed workout, but it was a workout nonetheless.
after the gym i made my usual sunday costco run and managed to keep it under $100! that never happens. it's probably a good thing, though, because i also accidentally stopped at ross and tj maxx and spent a little too much money on a couple workout tops and some beautiful oven-safe bowls. and a hair brush. oh and a mug. and an airtight container. ohh.. and some silicone cupcake liners. i promise that is ALL i got, though.
i came home and got to work on a kitchen experiment i had been dreaming up for awhile now. i actually used the silicone liners for this project and they worked perfectly! i made up a recipe for lemon coconut no bake protein cheesecake. yeah, that's a mouthful.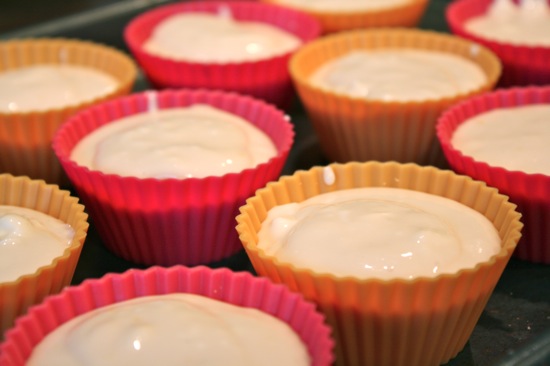 they are chilling in the fridge now.. not sure if the recipe is going to turn out. fingers crossed! if it does, i will be sure to share it. the stats are great: 115 calories, 10g protein, 6g carbs, 5g fat per cheesecake.
i snacked my life away while in the kitchen making these cheesecakes. snacks included hunks of sprouted baguette with butter, pb&j rice cakes, cottage cheese, peppered turkey slices with hot mustard, a million licks of the cheesecake batter, and lots of the coconut cookies i used for the cheesecake crust that "oops!" broke and couldn't be used. yeah.  i cannot be trusted when alone in the kitchen.
marshall is at the movies right now and i am hoping to work up an appetite before he comes home and wants dinner. tonight's menu steak, roasted potatoes, and steamed broccoli. it sounds delicious so i better get hungry quick!
i am going to hit publish now.. there are six more hours left in the day and i plan to use each and every one of them relaxing. that laundry folding can wait til tomorrow, right?
hope you had a great weekend!
xo. janetha g.