hello!
glad you guys are digging the peach protein muffin recipe. i got a lot of questions about what protein powder to use, and i wanted to address that real quick.
i have done a lot of baking with protein powder, and while 100% whey protein WILL work, i think that other types bake up better. a few that i like:
olympian labs pea protein
bob's red mill soy protein
syntha 6 whey/egg/casein blend protein<—high in carbs, but bakes great
if i am going to use a 100% whey protein powder to bake with, i have found that the MRM rich vanilla yields the best results.  the thing with whey protein is it can toughen baked goods, so i try to combine it with whole wheat pastry flour so the fluffiness of the recipe is not too compromised.  if you are using ONLY protein powder and no flours, for sure don't go with whey. but if you are using whey and the recipe has whole wheat pastry flour, coconut flour, or other flours.. give it a try and see how it turns out!  just know that the whey may make it a little tougher/rubbery.
one more thing, i always, always, always bake with either a vanilla or unflavored protein powder and add my own extracts/flavorings to the recipe. i feel like using dark cocoa powder yields a better chocolate flavor than using a chocolate protein powder. in fact, i never buy chocolate protein powder for this very reason.
now you know my baking-with-protein-powder thoughts. maybe i will do a whole post on protein powders soon. would anyone be interested in that?
okay, moving on. time for a manzanillo recap! like i said in my first recap, i don't want to do a day-by-day play-by-play, so today i am just going to talk about some of the highlights (and lowlights) from our resort, the barcelo karmina palace.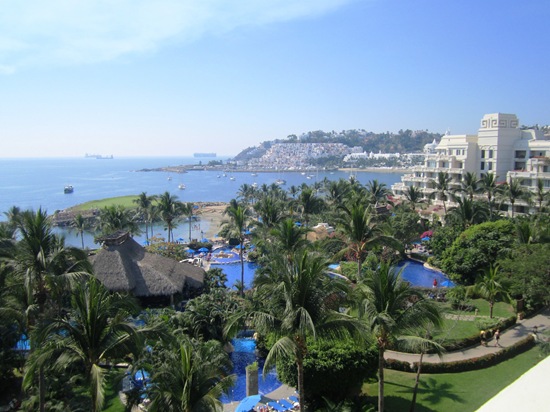 highlight: the cute private beach.
it's like we were closed in this nice little pocket. it wasn't a big beach, but it also wasn't crowded.. the seclusion was nice. and word on the street is that is the bridge in the photo up there is the same one that free willy jumped over (is it called jumping if you are a whale?) not sure if there is any truth to that, but hey.. it's fun to pretend. i've never even see free willy.
highlight: it was overcast most days.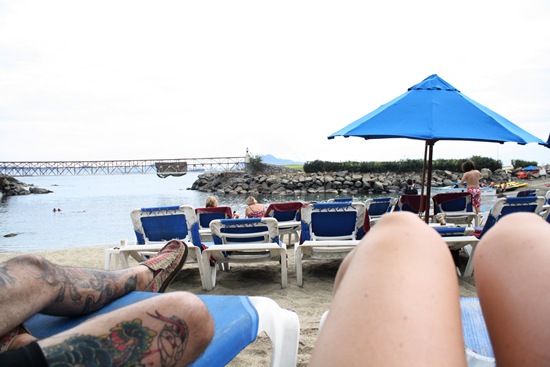 some people might not think this is a highlight, but it was nice to have the sky overcast. it made for a nice climate and we didn't have to find shade when laying on the beach reading our books.
speaking of books..
highlight: i rediscovered the bookworm in me!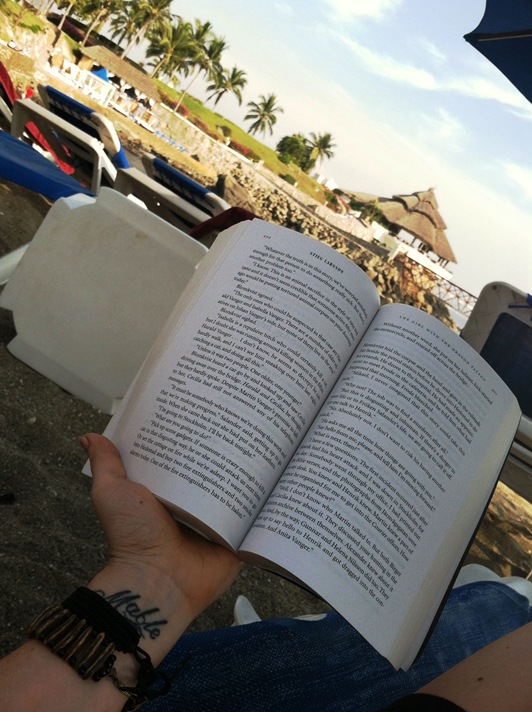 i used to read a book a day when i was a kid. no joke. i would pile pillows and blankets into the bathtub and camp out, reading books all day. i was a real winner. anyway, over the years i read less and less, to the point where reading a book just never happened. i read magazines. i read blogs. i don't read books.
however, i started reading the girl with the dragon tattoo (after LOVING the movie) and i remembered how much i love to read! i finished the book quickly and then bought the sequel and finished that the other day. i am now about 1/3 of the way into the third novel of the series. i am going to try to keep this momentum going, because reading is rad.
highlight: dining al fresco every morning.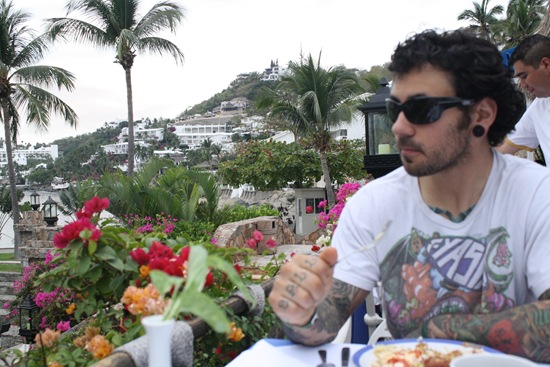 the resort and our surroundings were super beautiful. and dining across from this guy didn't hurt.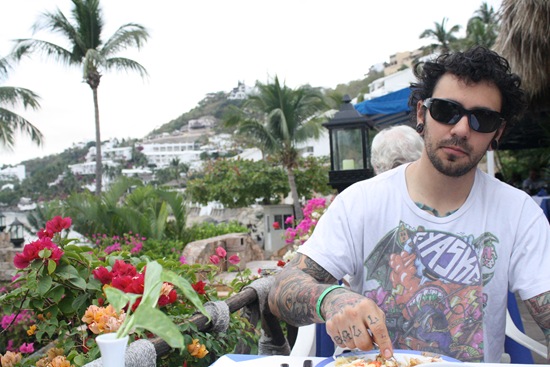 isn't it such a pretty place?!
lowlight: the lack of cereal options at the breakfast buffet.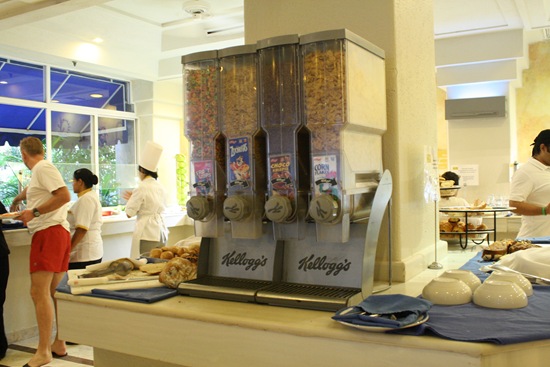 yep, that was it! and not only that, the cereal was pretty stale. must have been the humidity. luckily, i was able to find some AMAZING french toast at the kid's section of the buffet. i ate the french toast every single morning. it was super eggy and coated with cinnamon sugar. it didn't even need syrup.
highlight: a winning breakfast.
after the first day, i actually found a breakfast combination that left me perfectly content.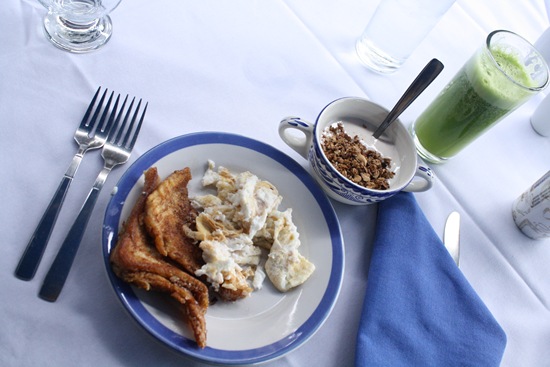 my go-to breakfast was scrambled eggs and the fabulous french toast i just mentioned…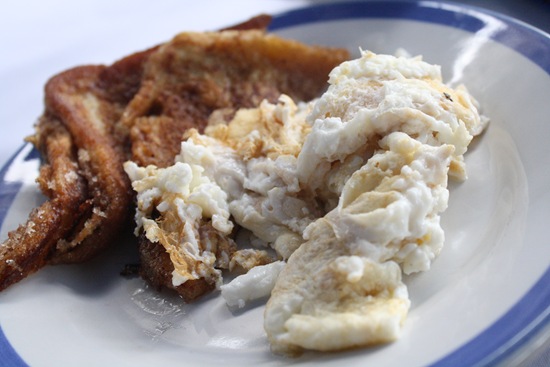 …a mug of yogurt topped with granola…
…and this juice labeled "green juice." i asked and they said it had spinach, celery, pineapple, apple, and melon.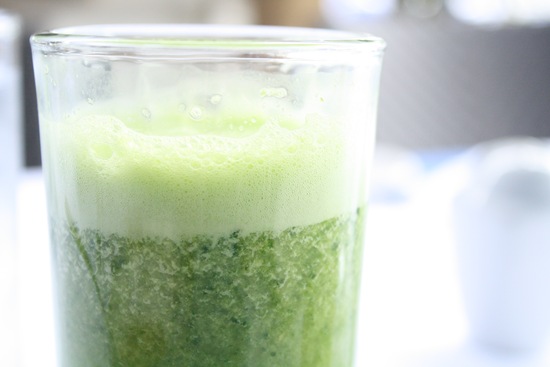 while this breakfast was great and i enjoyed it each and every morning.. there was a downside.
lowlight: i got SO sick of the resort food.
this was expected. eating the same, subpar food for a week is bound to get old. we already went over breakfast, but the lunches and dinners were so bad that i didn't even bother taking photos.
there was ONE really good lunch on tuesday. fresh tacos al pastor with rice, beans, and guacamole.. they were excellent. probably because they were super fresh. unfortunately, we didn't see these tacos at the buffet for the rest of the trip.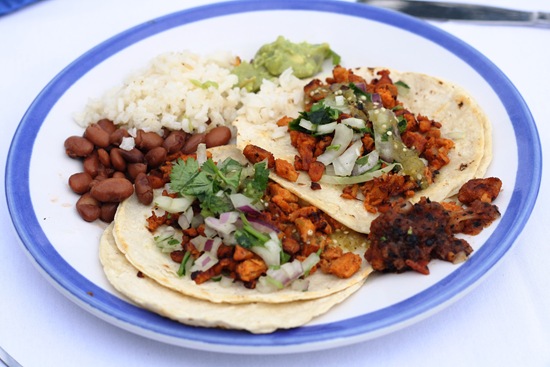 there needs to be an all inclusive resort for foodies. i would SO be there. all you can eat gourmet food sounds like a dream.
highlight: the gym.
it was a pretty nice gym, and the fact that marshall and i like to workout around 5 o'clock made it so we were always the ONLY ones in the gym—everyone else went in the morning. sometimes being a lazy slug has perks.
highlight: all you can eat ice cream.
need i say more?
i love how the cones had smiley-faces. and i love how you could just grab one any time of day or night. if i had to guess, i would say i ate an average of six ice creams a day. sometimes with the cone, sometimes without. it made up for the lack of cereal selection, for sure.
lowlight: i broke my camera.
i shot a bunch of photos with my 50mm lens and then wanted to switch back to my standard one. well, the lens wouldn't come off. after a google search, i found out that this problem was pretty common and that i needed to push the lens against the camera body while turning it and it would come off. i must have pushed too hard, because i heard a "snap, crack, pop!" and my lens came off… but was busted.
i was okay with this, because i still had my standard lens, but when i went to put it on the camera body, i got an error:
it turned out the sensor on the far right was stuck in the "down" position, thus not reading the lens properly. google told me to not try to fix this problem myself, so i just pouted and accepted my fate.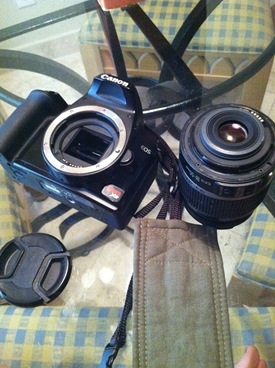 at least i had my iphone and marshall had his point-and-shoot.. there are worse things that could go wrong… like losing your wedding ring.
lowlight: marshall lost his wedding ring.
he was tossing the football around on wednesday and when we got back to the room he realized it was not on his finger. we headed back to the beach to search for the ring.. a lot like searching for a needle in a haystack.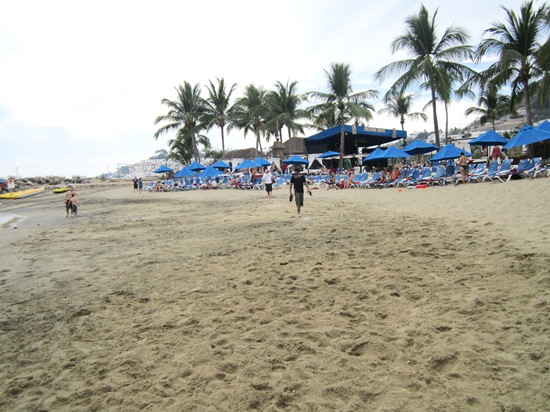 we gave up after awhile. sigh. cry.
highlight: my boss FOUND marshall's wedding ring.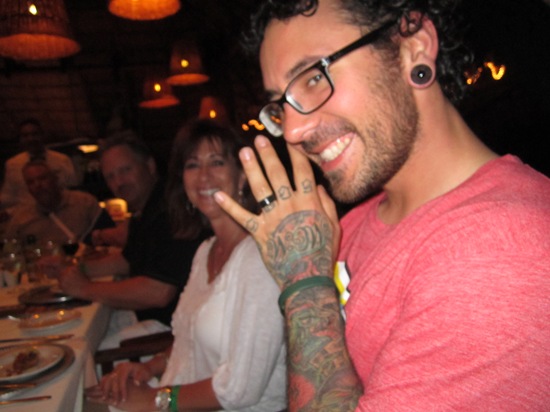 crazy, right?! we headed to town for lunch after giving up on the search, then we all got together for dinner. my boss' wife cleverly put marshall's ring in his water glass at dinner. i CANNOT BELIEVE HE FOUND IT. and even more impressive—he found it after looking for only about ten minutes. unreal. i still am amazed that he managed to find it on the beach. and, of course, i am super happy.
i asked my boss if he could fix my camera.. no luck.
oh, and i didn't even TAKE my wedding ring with me to mexico. i lose everything and didn't want to risk it!
there you have it—the good and the bad of the events that occurred at our all-inclusive resort. tune in next time, i will recap my adventures OFF the resort.
Q~
1. have you ever lost anything super special/valuable? what was it?
2. do you like reading books, or are you more of a magazines & blogs reader like me?
xo. janetha g.