sure am glad you all liked the post about my bad dogs. i just got home from the gym and guess what? guess WHAT?
PENNY AND RANDY ATE OUR DINNER.
i had a big tupperware of chili out to thaw. apparently they somehow got it off the counter–it was even tucked away, but randy is apparently super crafty because the chili is gone and both dogs have chili breath.. and their ears reek of chili. oh, and they don't even care that they ate mine and marshall's dinner.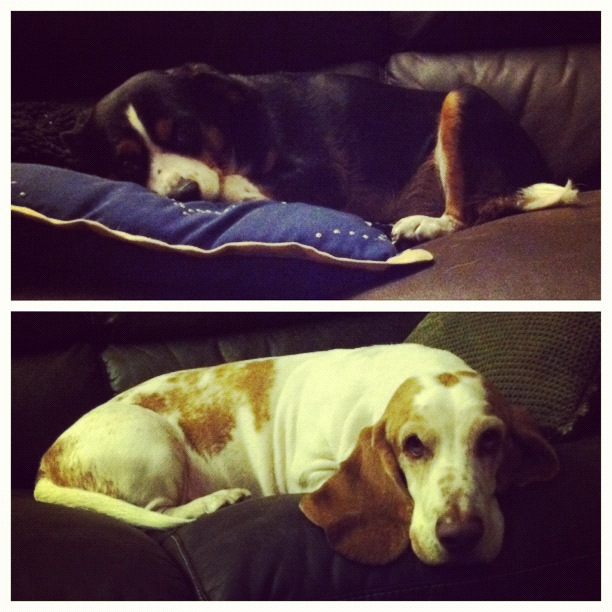 jerks. jerks in chili comas.
okay, so a few thursday things:
i forgot my camera at home today, but it didn't matter.. there was nothing to take photos of. same ol', same ol' here in meals & moves land. banana, egg whites, oats, goat cheese stuffed chicken, asparagus, clementines.. and then dinner WAS going to be chili and cornbread.. but now i guess we will eat worms.
my whole body is sore from four days of phase 3 on jamie eason's livefit trainer… i can barely move.
i must be really tired, because i overslept today.. logging NINE hours of sleep last night. glorious.
it's national chocolate brownie day! i am making brownies for marshall tonight. they are his favorite. he is my favorite. it makes sense. i guess maybe we can have those for dinner instead of worms.
i really need to unplug. i have spent way too many hours online lately, working on various projects. i am getting a lot done and i am really excited to be able to share it all with you soon, but for now.. i need to get the hell off the computer.
instead of reading my blog, go read these two blogs! time for another installment of the local spotlight, featuring utah bloggers.. but you don't have to live in utah to enjoy these lovely blogs.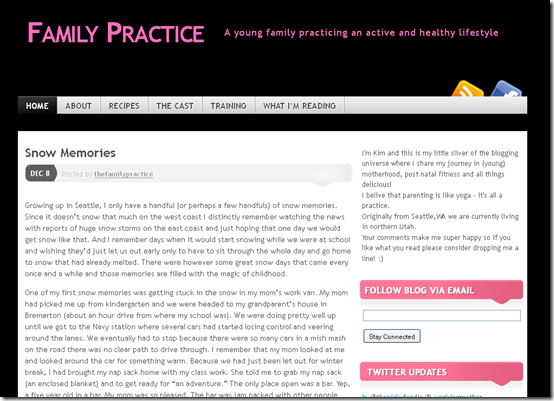 name & location: Kim – currently living in Eden, UT, working in Salt Lake – moved from Seattle, WA in September
tell us about your blog: I blog about being a young mom (I'm 25) and trying to make it all work from healthy meals, fitting in fitness, to going on adventures. I share my recipes and once a week I share thoughts on being a working mom.
how long have you been blogging? I started my blog in January of this year but didn't really commit to it until April.
what are two NOT TO BE MISSED posts of yours?
finally, what are five things you could NOT live without? My family, cheese, waffles on sundays, tootsie rolls and coffee – random, I know :)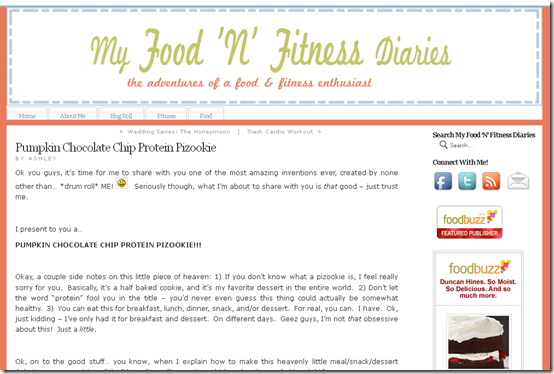 name & location: Ashley Wiseman from Eagle Mountain, Utah
tell us about your blog: My blog is about my life's adventures with my husband and two labs as I strive for a balanced, healthy lifestyle, while enjoying all the great things food and fitness bring to life!
how long have you been blogging? I've been blogging for about four months.
what are two NOT TO BE MISSED posts of yours?
finally, what are five things you could NOT live without? I couldn't live without PEANUT BUTTER, my running shoes, hair ties/bands, coffee, and hoodie sweatshirts.
one more blog you should read is melissa's.. yep, of melissa's nibbles. she's back! i couldn't be happier.
happy reading!
one last thing: the two winners of the peach treats giveaway are melissa B and and marie G. i have sent them emails. also, one winner for the card giveaway never replied, so the new winner is liz A. thanks for entering!
see you tomorrow for a very, very, very much needed friday!
xo. janetha g.