hello and welcome to another blog post.
how has your weekend been? mine has been pretty productive. how about a list? i love those.
i lugged out the christmas décor and decorated my house.. we are getting our tree tomorrow after work, can't wait!
i stayed accountable to dedicated december and worked out friday, saturday, and today. did you complete a workout? make sure you log it here. also, i will be posting all my workouts in december on the dedictaed december page—in case you want to see what my moves are.
i baked cookies.. again! yes. again. this time chocolate chip. and i have butter sitting out waiting for me to make another batch after the packers game. i cannot be stopped.
i wrapped almost all of my christmas gifts! and almost all of my christmas shopping is D-O-N-E. yippee!
if YOUR christmas shopping isn't done yet, let me give you a really great gift idea.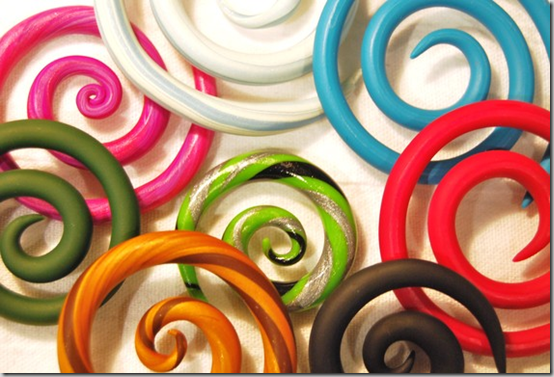 peach treats: art for your ears!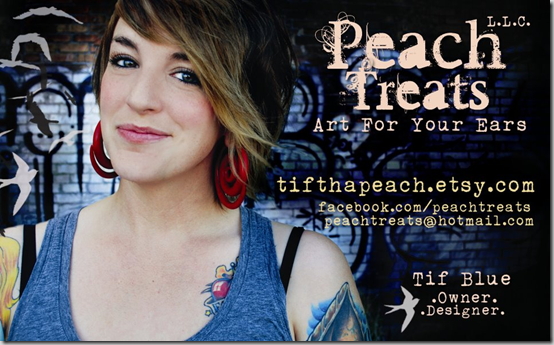 meef tif, the crafty lady behind peach treats.
fun fact: tif and i were friends in high school! i hadn't seen her in years and YEARS, then i saw some of her amazing jewelry on facebook and it didn't take long to put two and two together that the tif behind peach treats was the same tif from high school. small world!
anyway, tif makes jewelry BY HAND from polymer clay.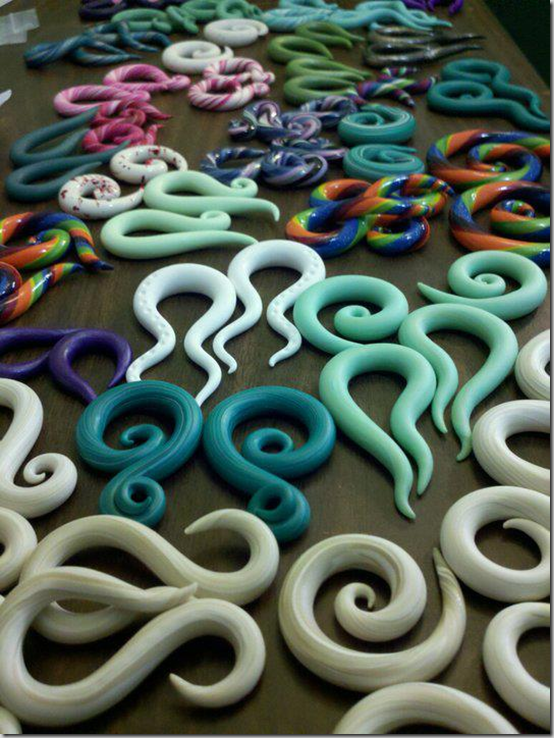 she makes earrings for both gauged ears and for regular pierced ears.  if you aren't sure what i mean by "gauged ears"—that is when the earring hole is stretched.  both marshall and i have gauged ears.
i have had gauged ears for over a decade, but the selection of unique earrings was always pretty scarce.  because i couldn't wear "regular" earrings, i was always missing out on wearing fun, colorful jewelry in my ears.  peach treats changed all that!
i am slightly obsessed with all the designs and i have purchased several pairs of earrings.  you have probably seen me wearing peach treats earrings in photos i have posted here on the blog…
here's a closer look of the two different pairs i am wearing above…
something that is really awesome and impressive is that tif was able to take a pair of regular owl earrings that heather sent me and turn them into gauged earrings so i could wear them!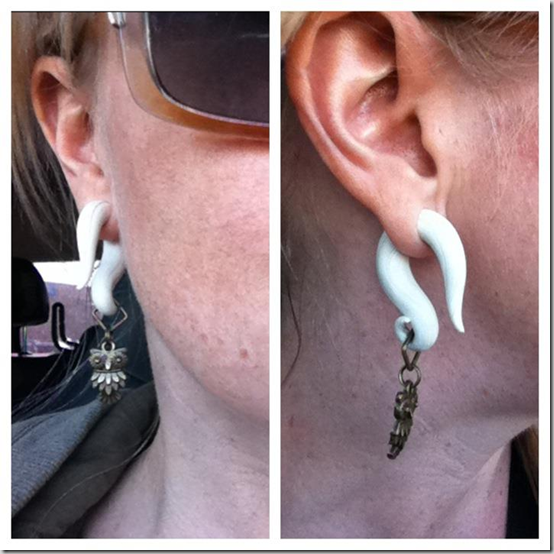 like i mentioned earlier, peach treats are NOT just for gauged lobes—tif specializes in making "fakers"—which look identical to her gauged creations but are split in two and attach together with a standard size earring post. so clever!
any peach treats earrings can be made for gauged lobes or as fakers. tif's talent and creativity is out of this world.  look how beautiful these earrings are:
if you live here locally in utah, you can always catch peach treats at the many different markets, conventions, and craft fairs.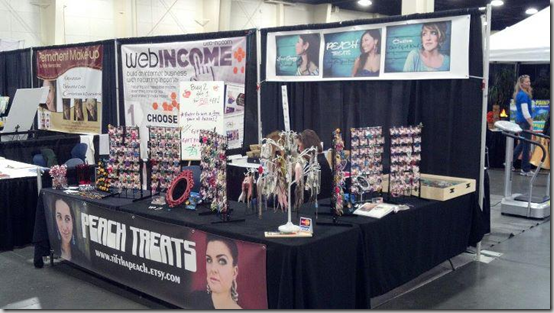 however, peach treats has an online shop on etsy. there are pages and pages of earrings listed in her store. you can also custom order anything you want—any style, any color, any size.. custom made just for you.
a few of the reasons peach treats products make a great christmas gift:
quality handmade jewelry
unique, original gift idea
supports the small business economy
each pair is custom made to your liking
head on over to peach treats today to do some of your holiday shopping!
giveaway time!
peach treats has generously offered two meals & moves readers a $25 gift certificate to use in her etsy shop!
to enter:
pretty simple! i will pick two random winners on thursday, december 8th.
xo. janetha g.
*i wasn't paid for this post nor did i receive any product free of charge. i just really love peach treats and supporting local, handmade goods. peach treats is providing giveaway prizes.