i have a story.
it's probably the most hilarious story i have.
i have been keeping it from you guys because i am certain no words i muster up can do this story justice in terms of how hilarious it really is.
but i will try.
a few weeks ago, fullbar sent me a few boxes of their bars to review. being the lazy blogger than i am, i didn't take a photo of the boxes right away.
being the clever google image searcher that i am, i did find an image of the three boxes—identical to the package i received.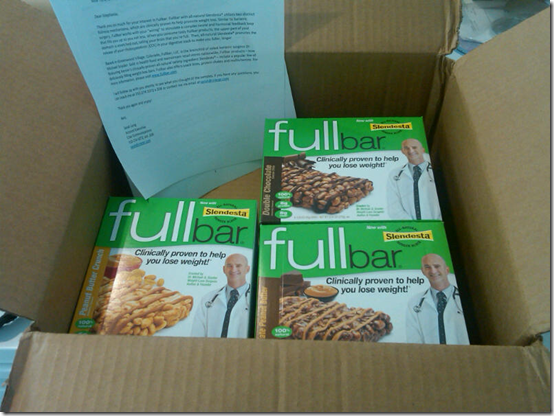 (source: google images)
i read what they were all about.
here's a rundown:
fullbars claim to help you lose weight.
fullbars contain a special ingredient called "slendista" that they claim helps keep you full.
fullbars are supposed to control hunger without unwanted side effects such as jitters.
after reading these claims and directions, i turned the box around to checked out the ingredients and nutrition info.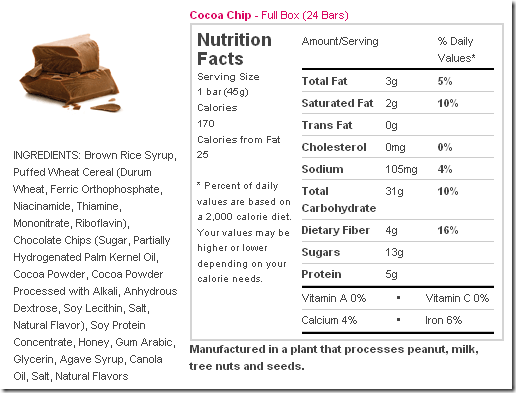 the ingredients are okay, but they do contain partially hydrogenated oil. not something i would buy if i read it on a label at the store!
then i looked at the nutrition facts. 3 grams of fat.. reasonable. 5 grams of protein.. hm, not too impressive, wish it had more. 31 grams of carbs, 13 of which are from sugar. yikes! also.. pretty high in carbs for a bar, i'd rather eat a sandwich. 170 calories.. okay, that's average for a bar.
overall, the stats aren't anything to write home about. they aren't the worst, but are far from the best.
then i read the suggestion: "eat a bar 30 minutes before a meal with 16 oz of water. eat two bars a day."
wait, WHAT? eat two 170-calorie bars a day, 30 minutes before meals, in addition to your meals??? this is what they are telling people to do?
that's a joke. i realize that the bars are said to make you more full and you will eat less, but if you are going to tell people to eat a 170-calorie bar before meals, you sure as shit better tell them to reduce the size of their meal.  i pack my meals.  if i pack a usual lunch, bring it to work, and eat a fullbar 30 minutes before lunch.. i am still going to eat my whole lunch. most people don't just stop eating their lunch when 3/4 of the way through. okay, some do, those who are super mindful of how they feel.. but not me. i eat my whole meal. it's what i do. i serve myself reasonable portions and i eat the whole portion.
when a weight loss bar box tells me to eat an additional 340 calories each day, split up before meals, and doesn't say to reduce typical serving sizes.. then i am bound to consume an extra 2,380 calories each week.. or 71,400 each month. that's 20 pounds you would gain if you didn't change your other food intake, folks. someone needs to inform the weight loser than in order to lose weight, they need to reduce calories in their current meals.  sure, these bars might fill you up.. but if you don't adjust your portions, you will end up overeating.
so, there's my rant. i stashed the bars in my spare closet (where i always keep other blog review items) and planned to try them and review them in a few days. i was planning to say everything i just said above.. after trying them, of course. i had to see if i really was super full and had to stop eating my lunch halfway through.
still with me? this is where things get good.
one day, november 14th to be exact, i got a text from marshall. here is how the convo went: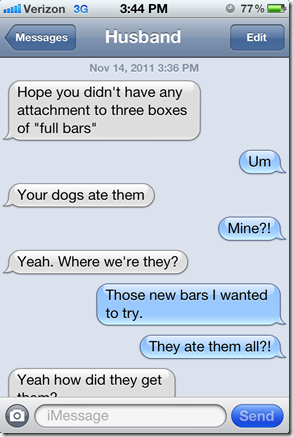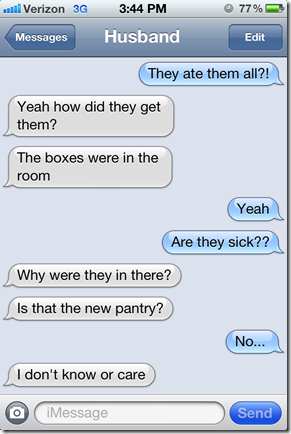 uh. crap. yep.. the dogs got all the fullbars! THOSE RASCALS. i immediately emailed my fullbar contact to let her know.
Janetha Gallegos to Sarah

Nov 14

You're never going to believe what u came home to.. I was actually going to email you tomorrow. My dogs ate ALL THREE BOXES while I was at work today. All of them! They aren't acting sick… But I hope the bars didn't contain anything harmful to them =\

Anyway, I'm sorry to report this news.
sarah was gracious enough to send me ANOTHER box of bars.
i was on my way out the door when i saw the new shipment. i placed the box inside my front door so i could deal with it when i got home. it was still in the cardboard shipping box. marshall and i went to dinner with some friends, and then came home to quite the sight.
THEY OPENED THE SHIPPING BOX! luckily they did NOT get all the bars. only one box—the box of peanut butter ones.
again, i emailed sarah.
Janetha Gallegos to SarahNov 22

Sarah!


I have to tell you something and I am not even making it up–I couldn't if I wanted to.
I got the second package (thanks to you!!) and put the box inside my front door. My dogs have never gotten into a package before–they got the Fullbars because they were OUT of the box and within jumping distance.  Well.. never say never.  I left the house for about 3 hours and came home to a torn open shipping box!! I could NOT believe it!


They only managed to get their paws on one box of bars and only ate three of the bars from the box–it was my favorite flavor, so far, though.. the peanut butter crunch.  Can you even believe that? I am shaking my head just thinking about it.  They must REALLY love Fullbars.  I can't wait to type up my post on it. Hilarious.
so hilarious.
i thought that was the end of the whole dogs and fullbars fiasco.. but i was wrong.
one day, we came home and saw a fullbar wrapper on the dog bed.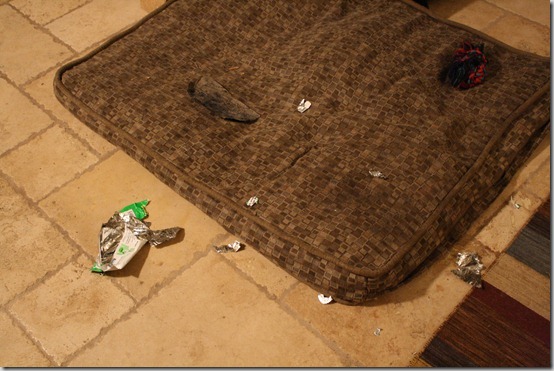 i looked in the pantry to see if the new shipment of bars were still safely stashed. they were. so where did this wrapper come from?! i held it up and sternly asked penny and randy where it came from.  they were not responsive.. at all.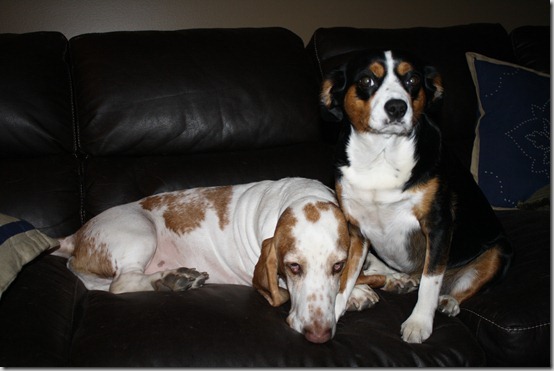 a day later, we came home and saw ANOTHER fullbar wrapper by the dog bed! just one. a single wrapper.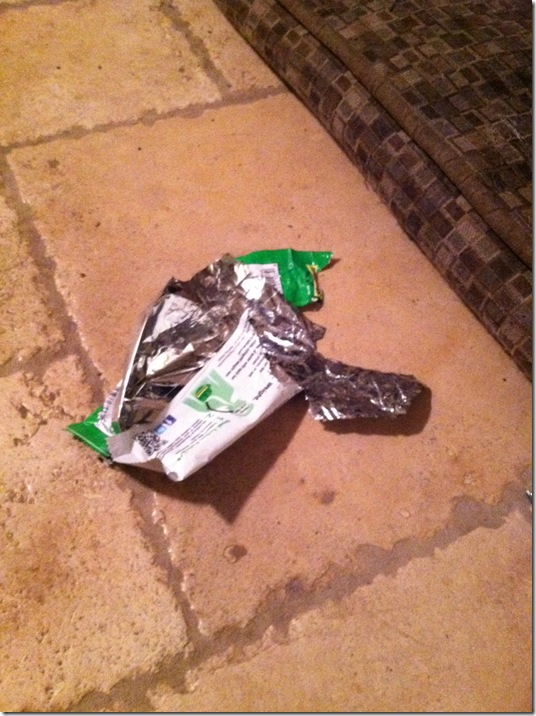 again, the dogs wouldn't 'fess up to any fullbar shenanigans.
this was just ridiculous.  where were they getting the bars?! and why were they only eating one at a time?
days went by with no fullbar wrappers.. but on those days, randy got other things while we were out:
the butter dish
marshall's ready to drink protein shake (yes!)
pro bars
once he ran out of things to get into, the fullbar wrappers started showing up again! almost always on the dog bed.. always one at a time. we did find one outside on the deck once.
he's really good at opening them, too!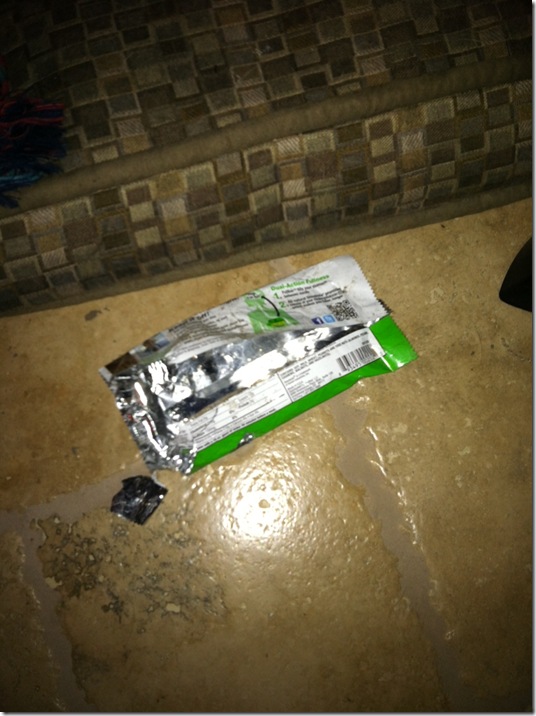 we have decided that randy has buried the bars somewhere in the yard. we looked around but couldn't find his stash anywhere! but the wrappers always have dirt on them, so he must have buried them somewhere!
the fullbar wrapper tally is now up to five, i believe. because our fence blew over in the storm, randy hasn't been able to romp in the yard while we aren't home. this is probably causing him to go through fullbar withdrawals!  we did get the new fence put up yesterday. we will see if the wrappers start appearing again. i will let you know.
i can't believe he is so clever and sneaky! and i know it's randy, because penny would have eaten herself sick immediately, like she does with her food. randy is wise and conserves his treats.. saving them for a rainy day. i wish i could catch that guy on video, wandering into the yard, getting a single fullbar from his hiding spot, bringing it into the house, and devouring it on the dog bed. that would be a priceless video!
okay, so hopefully you laughed at least a little bit at this story. he is the most ridiculous dog on the planet.. but i love him anyway.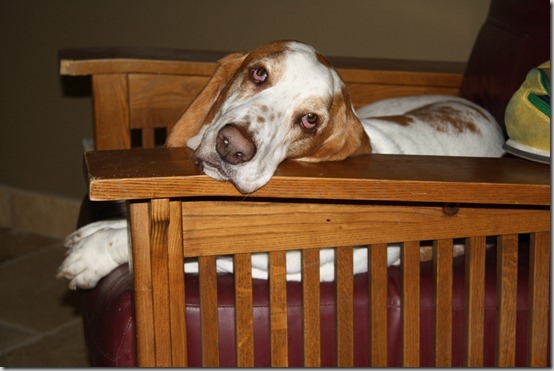 anyway, i did end up trying all the bars. here are my thoughts, pros & cons style.
pros.
they taste great. this is the biggest pro of them all.. they really are so tasty.
they are convenient.
they are 100% natural despite the partially hydrogenated oil..eh.
they contain a fair amount of fiber.
cons.
when eaten as a snack, they didn't keep my hunger at bay for longer than a little over an hour. i think this is because they are low in protein.
when eating them 30 minutes prior to meals, i did not have the desire to eat less of the meal i had. (however, if i had packed a smaller lunch, i am sure i would have been fine/plenty full with the smaller amount.)
they are marketed as a weight loss bar, but i don't think consuming them before meals would help me lose weight (if i wanted to.)
the box is misleading and tells you to eat two a day before meals—in addition to meals with no direction to reduce portions.
they contain partially hydrogenated oil.
they are high in sugar.
those are my thoughts—as you can see, i am honest. i am sure people could lose weight using these bars as a replacement for part of their meal.. not in addition to their meal.
i do like the way they taste and i am sure i will finish the bars i have, but  i wouldn't buy them based on the protein (lacking) and sugar (high) content alone..
but i bet randy would sure like me to buy him a box for christmas.
xo. janetha g.
*i received both boxes of bars for free but was not compensated for my review, my opinions are my own.