remember how i told you guys i had some weird looking moles removed awhile back?  and how the doctor told me i'd have to go back in to have the tissue around said moles removed? well, today was that day!
i had to go get a nice, big chunk taken out of my body today so i don't run the risk of developing skin cancer. the doctor said it was probably nothing, but it had potential to turn into something, so he wanted to dig around the strange mole area and scoop out all the tissue and sew me up nice and tight. better safe than sorry, i say.
originally i was supposed to get two areas worked on, but the mole on my hand turned out to be nothing threatening like he had originally thought, so he said that area can be left alone unless it grows back. phew—what a relief! i don't like any sort of medical procedures, so having to only get one area worked on today instead of the two i was expecting was a nice relief.
i went into the dermatologist a little after eleven o'clock and they took me right in.  the doc's assistant numbed the area—smack dab in the middle of my chest right below my bra line–with a few small needle pricks of solution. it wasn't bad at all. once the area was numb, i laid my head back and paid no attention to what was going on. even though the area was numb, the pressure i could feel from the instrument digging my flesh out of my body made me pretty woozy. when he stitched me up, the pull from the strings also made me a tad nauseous. i could never work in the medical field. i'm a wimp.
as the doctor was sealing the deal on my incision (quite literally—with some glue), he told me that i won't be able to work out for two weeks. at first i laughed and thought he was joking, but then he made it perfectly clear that he was dead serious.
i probably looked like i saw a ghost.
"TWO WEEKS?!" i asked, with frustration and shock in my voice.
after a little back and forth, he did tell me that after one week i am free to work my legs, bis/tris, and back.. but no chest, shoulders or abs for two full weeks.
shit.
that really puts a damper in my current training program!
i said, "but today is chest day!"
he said, "haha—nope, it sure isn't!"
and i sighed.
the doctor also went on to tell me that when i come in for my checkup in december, he will be able to tell if i put any strain on the wound so i better follow his orders.
eep.
i left the doctor's office feeling discouraged. i had no idea that a simple thirty minute procedure would keep me from my workout plan for two whole weeks. i honestly thought it would just be an in and out thing and i would resume life as usual with my planned workout this evening. his orders really caught me off guard, especially since i feel perfectly fine.
don't get me wrong, i realize he knows what he is talking about and there are reasons he is ordering me not to work out for two weeks.. but it's still very frustrating and discouraging. the reasoning behind it is i have multiple layers of stitches beneath my skin and if i lift weights or put strain on the area, the stitches could break before they are supposed to dissolve or the wound could open up. i get it. it makes sense. but that doesn't make it suck any less.
i know it isn't the end of the world. i have taken time off from working out many, many times before. in fact, i had to take time off from my current plan, jamie eason's 12 week trainer, because of my LA trip and the fact that i got sick afterward. that was annoying, but i hopped back on the wagon and just barely finished week 6 strong and have loved the first couple days of week 7 this week. i was planning on posting an update on the program and some progress photos this weekend after i finished week 7.
but now the challenge is on pause. again.
i will still post about the program and i will still do the progress photos. and yes, i will still finish the 12 week program once i can work out again. it will just take a bit longer than anticipated… but that's life. you gotta roll with the punches, right?
***************************
after the doctor's office, i stopped at home to eat lunch before heading back to my office since i was already in the neighborhood.
the best part about going home for lunch?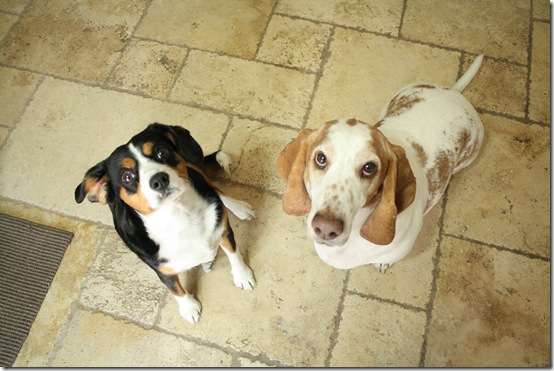 love those two. they were SO pumped when i came in the door.. they usually don't expect anyone to be home until later in the day. it's always fun to surprise them.
lunch was leftovers from last night's dinner…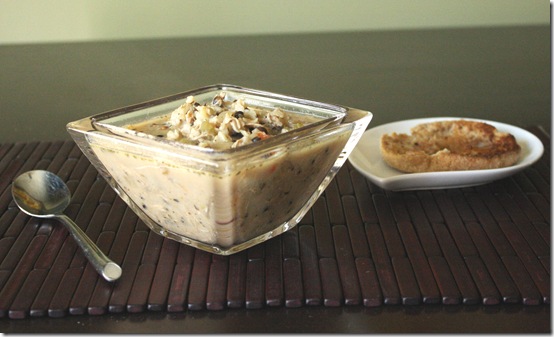 i saw nicole's recipe for creamy chicken & rice soup yesterday morning and starred it because i thought it looked like a great recipe for a cold day. when i asked marshall what he wanted for dinner, he told me chicken & rice soup.  what are the odds?! i already had almost all of the ingredients on hand, i just had to pick up a rotisserie chicken (from costco—5 bucks!), celery and an onion. i followed nicole's recipe for the most part, but made a few minor changes noted below.
chicken & rice soup
serves six, slightly modified from prevention RD which was slightly modified from budget bytes
ingredients:
1 T olive oil
1 yellow onion, diced
1 T minced garlic
3 large carrots, peeled and diced
4 celery stalks, diced
6 cups low sodium chicken broth
16 oz skinless rotisserie chicken breast
2 bay leaves
1 tsp dried oregano
1 tsp dried thyme
1/2 tsp fresh ground pepper
1 tsp fresh ground sea salt (i don't like super salty—you may want to increase this if you like salt)
1 cup trader joe's brown rice medley, dry
2 T salted butter
2 T whole wheat flour
2 1/2 cups 1% milk
directions:
heat a large pot over medium-high heat. add oil, onion and garlic and sauté until onions are translucent, about five minutes.
add carrots and celery and sauté an additional five minutes.
add broth, chicken, bay leaves, oregano, thyme, pepper, salt and rice to the pot. bring to a boil.
reduce heat to low, cover and simmer for 30 minutes.
after the soup has simmered for 30 minutes, melt the butter in a small pan. whisk in the flour, followed by the milk. whisk until the mixture thickens a bit.
add the milk mixture to the pot of soup and continue to simmer, covered, until rice is cooked through—about 20 minutes more.
serve with toasted buttered bread and hot sauce, if desired. season soup with additional salt and pepper to achieve desired flavor.
here are the stats based on my substitutions (per serving, without the bread, based on six servings for the whole recipe): 355 calories, 35g carbs, 31g protein, 10g fat, 5g fiber.  awesome, right? and the servings are large! oh, and totally body for life friendly.
the soup turned out DELICIOUS.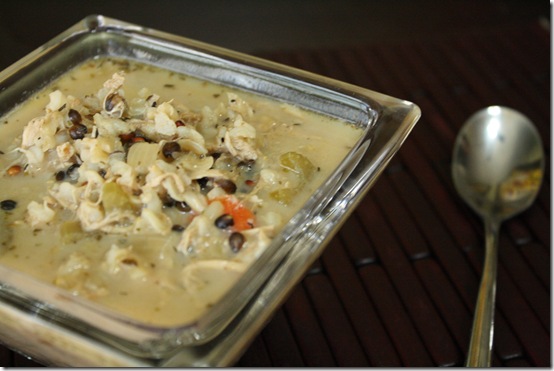 both last night and today with lunch, i ate the soup with a toasted whole wheat english muffin with butter.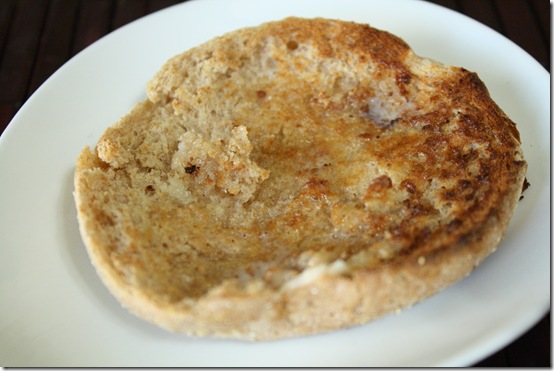 i felt that the soup did need a little kick, so i followed marshall's lead and stirred in some frank's in for a little extra oomph.
i highly suggest you guys give this recipe a try. it makes a lot and is super inexpensive! this will be made again and again at our house. thanks, nicole!
well.. now that i have a ton of time on my hands since i won't be working out.. i suppose i will do what any normal person would do…
bake!
be back tomorrow with the results of my baking adventures.
Qs~
1. have you ever been given doctor's orders that you haaated? what were they?
2. how long can you go without working out before you go stir-crazy?
xo. janetha g.