hola! glad you guys liked the rundown of all the tasty food i ate while in LA. this post is dedicated to the moves—there was quite a lot of moving involved, actually. it's fun when you are visiting like-minded people who want to hit the weight room and hiking trail with you.
friday.
deb & i went to her favorite gold's gym on friday morning.. venice gold's: the mecca of bodybuilding!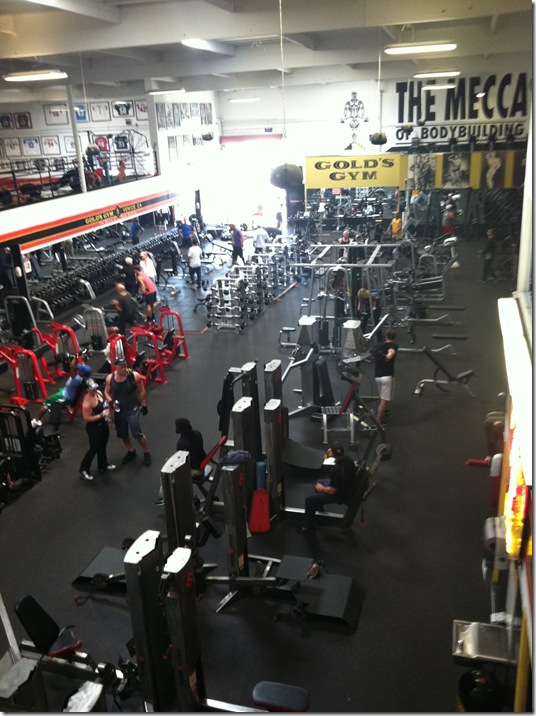 we completed jamie eason's bicep & tricep workout from the 12 week training plan i am following. it was a lot of fun working out with deb and trying out a new-to-me gym! there was an awesome outdoor area that we spent a lot of time in—it kind of reminded me of a prison yard. not that i would know.. i have only been to jail, not prison.
we ended up getting super huge!
i also participated in a first time experience.. showering at the gym! i know, it took me 28 years to actually shower at the gym. i live really close to my gym, so it's never been an issue. turns out there is a serious method to the madness and deb showed me the ropes. we were ready in no time!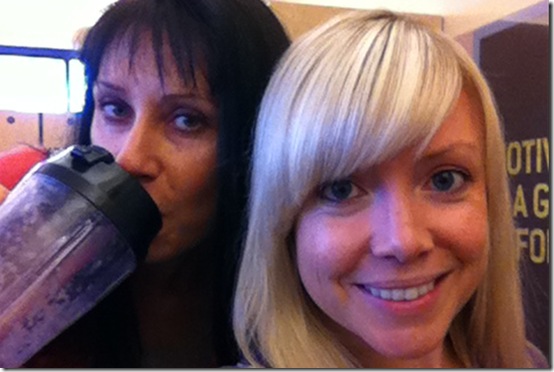 smoothies in hand, we left the gym and headed straight to venice beach (more on that later) and didn't have to worry about heading home to get ready. it was quite convenient!
saturday.
deb & i hit up an outdoor workout on saturday. we headed to an area that overlooked the ocean.  it had a loooong flight of 125 stairs plus a shady area to do some lower body moves.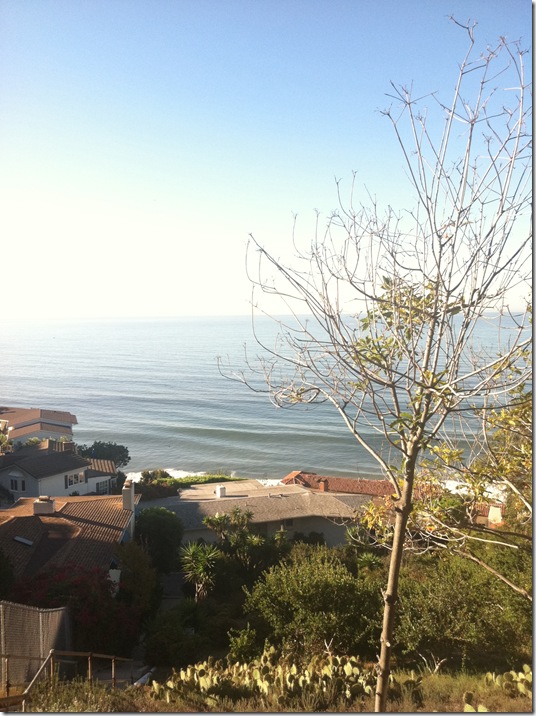 we brought some necessary equipment. you know.. a kettlebell, an exercise band, a jumprope…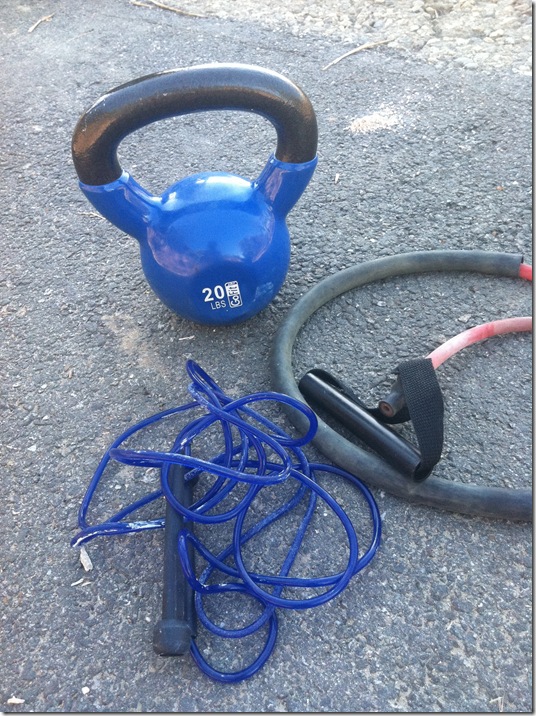 …and a 40 pound bag of kitty litter.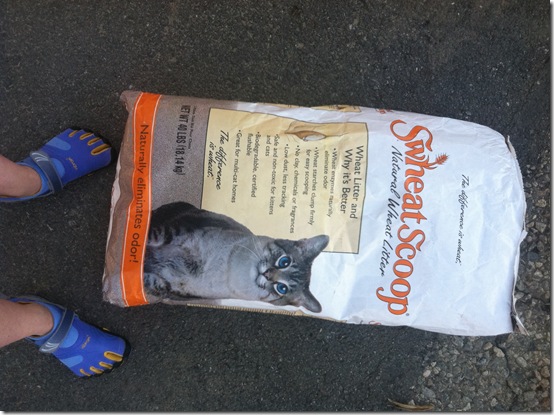 we got crafty and did things like kickback walking lunges, stiff legged deadlifts, over-the-bosu squats and lunges, sumo squats and single leg squats.
we finished off the workout with a little cardio action on the massive staircase.
it was such a fun workout! deb will be posting the details of the moves sometime in the next decade.
after our blogger picnic, eden, deb & i headed to hike runyon canyon.
the best part about the hike is that it doubles as an offleash dog park. lucky me!
the worst part about the hike is that there were no portapotties, so we peed behind a tree. hey, when you gotta go.. you gotta go.
it was a steep (but fun) climb to the top.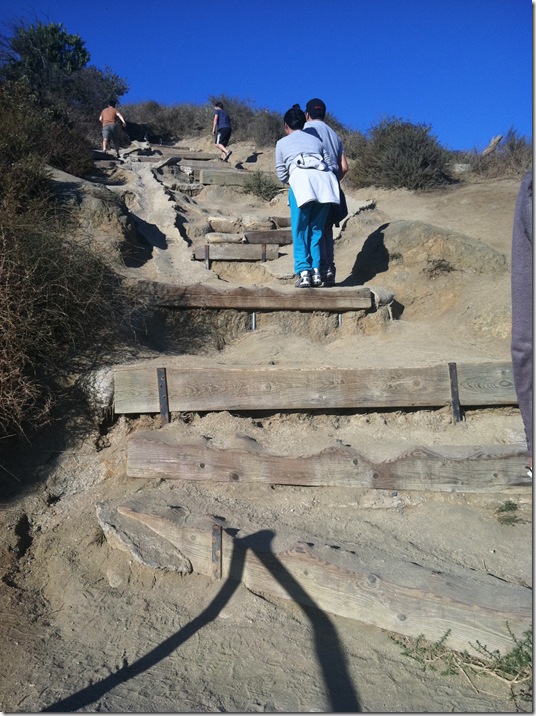 the views at the top of the hike were amazing.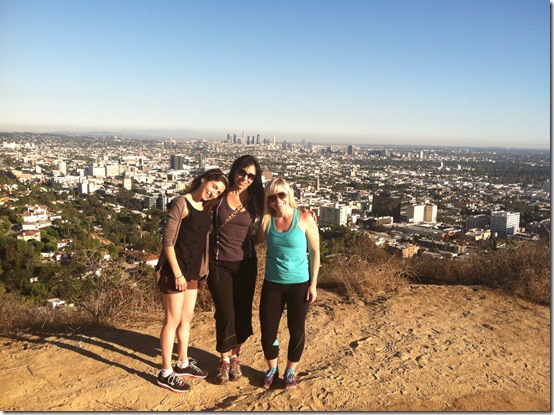 i am really glad eden planned for us to do this hike.. it was one of the main highlights of the trip!
sunday.
deb & i got a late start on sunday. we headed to malibu for a hike that deb does quite often. we practically had the trail to ourselves and it was a beautiful day to enjoy the outdoors. it was just under 3 miles (we think!)
stunning shot of the sun coming through the clouds shining onto the ocean!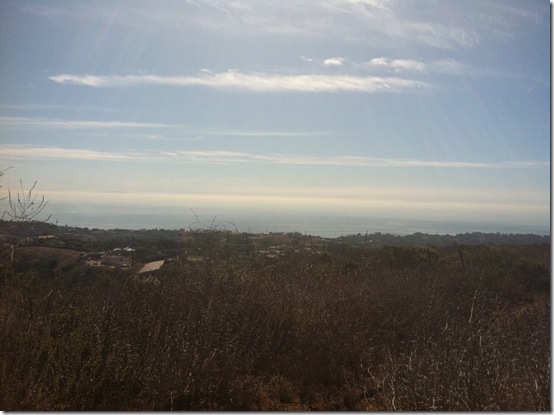 there were lots of lizards on the way. i named this one xavier.
another shot of the great outdoors.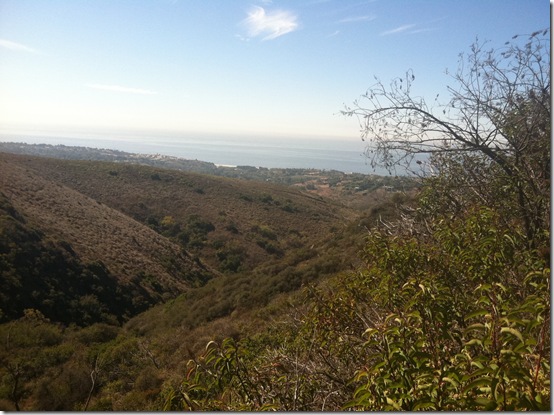 good hike, even better company!
as you can see, we managed to cram a lot of moves in over the short three day period i was in LA. it is always fun to stay active while on vacation!
*****************************************
speaking of moves & staying active.. it's tuesday trainer time over on lindsay's list! it's actually rest week for tuesday trainer, but you can catch a video of me answering four fitness-related questions along with a handful of other awesome bloggers answering the same questions in videos of their own. click the logo!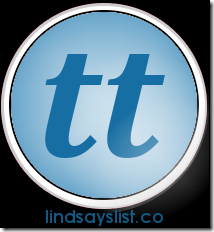 in other news… the last time i ate a meal was monday night around 9 PM. marshall made me a grilled cheese and tomato soup and had it waiting for me after i woke up from a 3 hour nap. he's perfect.  i don't get to eat again until thursday afternoon. YEAH. i have a colonoscopy scheduled for thursday morning and i have to do a two day prep that involves no food… but lots of water, coffee, jello, broth and other clear liquids. ugh. so far i've only had water and coffee. i am not too cranky YET but i am only about 20 hours in.  i feel bad for anyone who has to talk to me tomorrow.
in more other news, please answer these polls.. we have some ideas in the works about a blogger retreat in denver in the late spring and i need input. "retreat" means hanging out, cooking together, eating, hiking, group fitness and relaxing. nothing is set in stone, but wouldn't it be rad? also.. bloggers and readers can both vote.
thanks in advance! oh and speaking of polls.. the better breakfast poll is still open. i am busy and will announce the winner tomorrow. go vote if you haven't!
Qs~
1. do you workout while on vacation? what types of workouts are your favorite while vacationing?
2. just in general: do you prefer to work out at the gym, outdoors or in your home?
xo. janetha g.