holy crud. it is a good thing birthdays only come once a year, because i am birthday celebrationed OUT.
i consumed a ton of ice cream. i ate out at restaurants more frequently than i cooked meals at home. i seriously neglected my insanity workouts. i totally forgot to drink water. i didn't take a single vitamin or supplement.  BUT– i made lots of fun memories.. and i don't regret a single bit of it!
i am never opposed to breaking away from my usual healthy meals and regular exercise if there is good reason behind it—birthdays and vacations are two reasons that come to mind.  but when all the fun times are said and done, i am always ready to get back to clean eating and regular exercise. my body tells me "GET WITH THE PROGRAM, JANETHA!"
smart body.

this morning i woke up and thought about my weekly monday morning sales meeting at the original pancake house.  the thought of eating at a restaurant made me a little sick to my stomach.  i wasn't super hungry and all i wanted was a protein shake.. so i listened to my cravings and skipped out on the breakfast meeting.
i had a delicious berry protein shake on my way to work.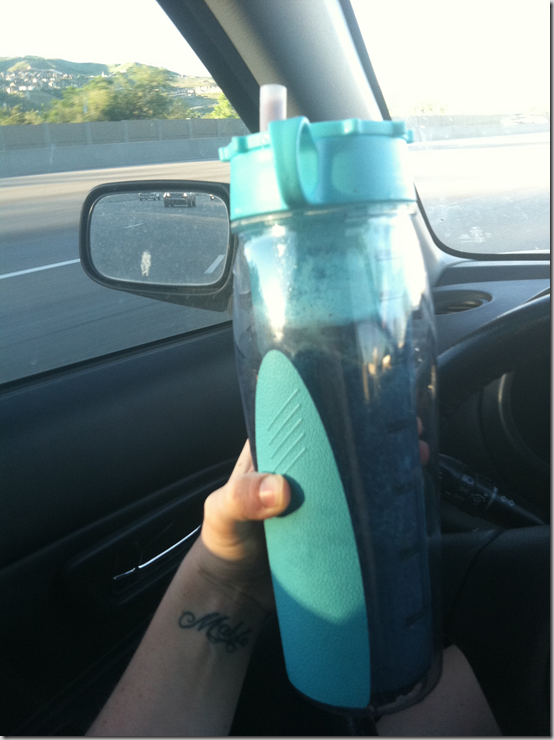 i know you don't need to see a boring photo of my shake, but i love this bottle and need to express my joy. it has the capacity to hold my whole shake and it has a built in straw. i got it at target. get one.
this shake had:
1 cup skim milk
1 scoop vanilla pea protein powder (my current favorite)
1 cup frozen raspberries
1/2  cup frozen blueberries
ice
1/8 tsp xanthan gum
this clocked in around 300 calories, 35 grams of protein and 39 grams of carbs and no fat. surprisingly, it kept me full for five hours.
here's a story. i usually put both xanthan and guar gum in my shakes. i have two little jars that sit on my counter for easy access. today i was in a rush and the guar gum jar slipped out of my hand and shattered on the kitchen floor! guar gum all over the floor.. and all over my clothes. i had to change my clothes and luckily marshall is awesome and swept up the mess for me so i wouldn't be late. i am an idiot.
moving on!
lunch involved leftovers and veggies.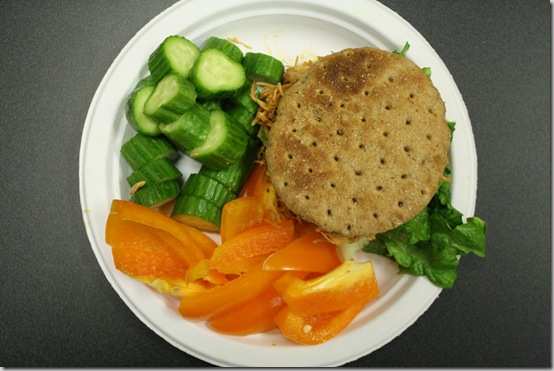 a pulled chicken sandwich with romaine and trader joe's sweet & hot mustard, a whole orange bell pepper and three baby cucumbers.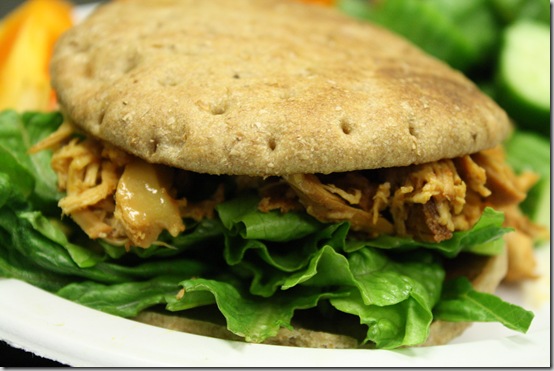 i am not typically a fan of sandwich thins (bagel thins are another story, love those) but i do like to use them as a vehicle for pulled chicken, as long as they are toasted. toasting is KEY.  i am all about hearty, delicious bread when eaten by itself or in an amazing sandwich, but when the bread isn't that important, sandwich thins are a good low calorie option for me.  if i could eat a 300 calorie bun and get away with it, trust me, i would. but it's bikini season, folks, and i am not ashamed to say i eat something because it is lower in calories than the alternative. good talk.
my contigo water bottle has been my best friend today!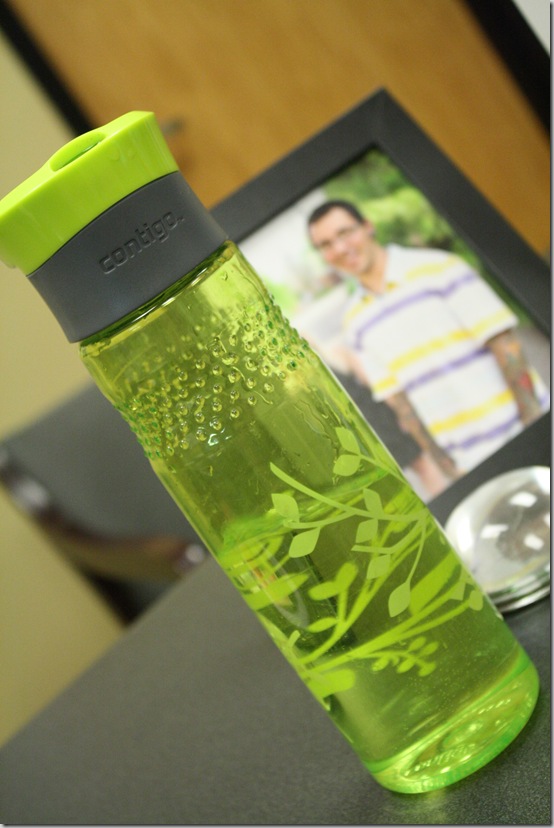 so has the toilet. i think i drank nearly 1.5 gallons of water today.

as i mentioned above, i have been neglecting shaun T just a bit this past week. i missed insanity on tuesday, friday AND sunday.  now, that doesn't mean i wasn't active.
i rode my bike 4 miles uphill (and 4 miles downhill) on friday, i ran a 5k on saturday (my designated "rest day" for insanity) and i walked a bunch on sunday.  it all balances out.
however, i am taking this insanity challenge seriously and intend on extending my finish date by three days.  i don't want to skip even one of the workouts.  when i had the flu, i put the challenge off for a week, but picked up where i left off.  and that is what i did again today.. picked up with the insanity workout i hate the most! yippee.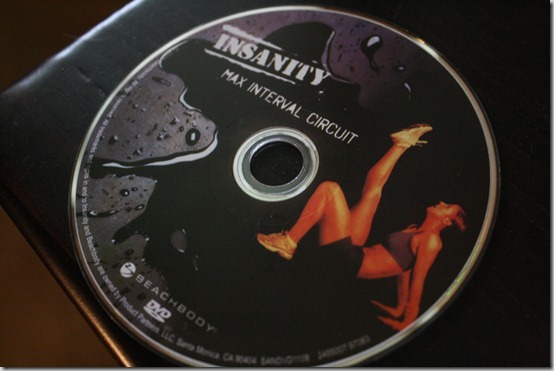 it was HARD. i did it. but.. yeah.. IT WAS HARD. i earned that slash today.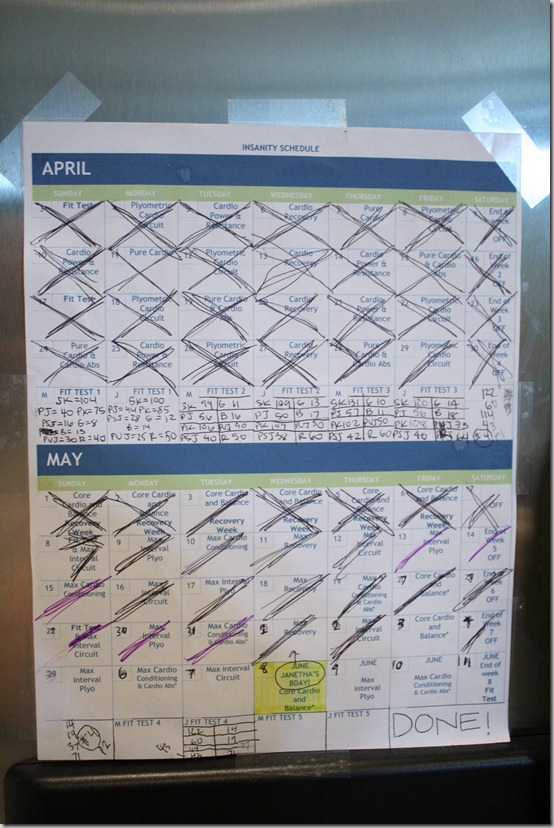 it will be nice when i am able to cross that very last day of the challenge off, knowing i did EVERY SINGLE workout.. even though it will take a tad longer than originally planned.
a few of you have asked what my plans are for after insanity.  i will be going back to body for life style workouts. they never fail me and i want to work on my upper body strength this summer.

i kind of forgot how to cook dinner.  i definitely forgot how to meal plan and grocery shop.. our fridge and cupboards were bare! i managed to scrounge up some ingredients for a tasty, nutritious dinner.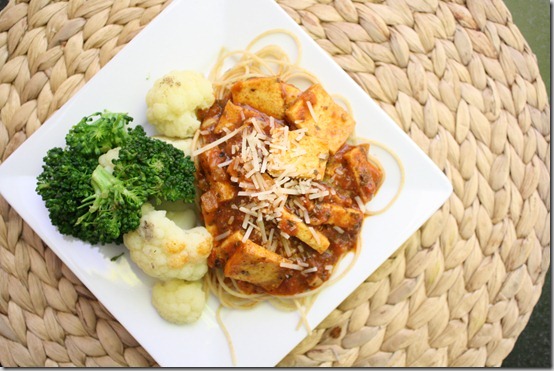 the stars of the show: whole wheat noodles & jarred cacciatore sauce.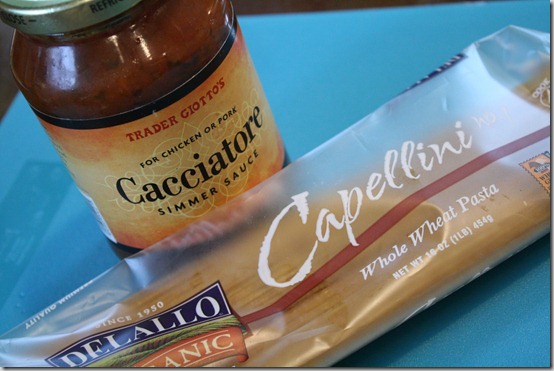 for protein, i diced up a block of pressed extra firm tofu..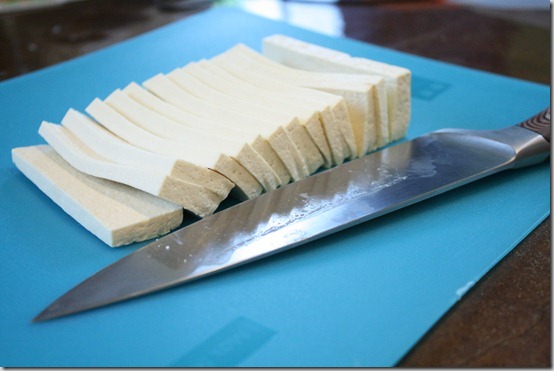 tossed it in some olive oil, TJ's 21 seasoning salute, dried oregano and garlic powder..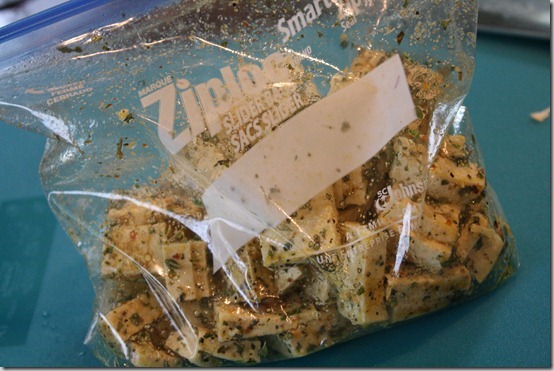 laid it out on a sheet pan and broiled it on low for about 7 minutes on each side.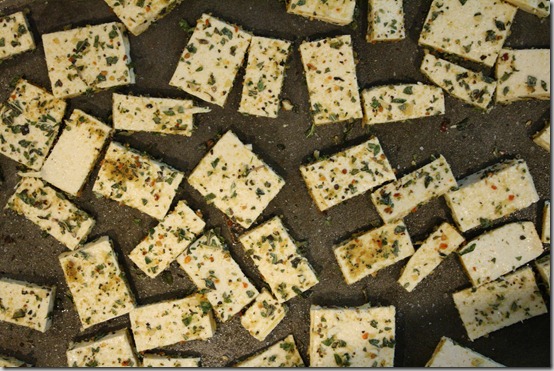 while the noodles cooked, i tossed the tofu into the simmering sauce and let it heat through before serving.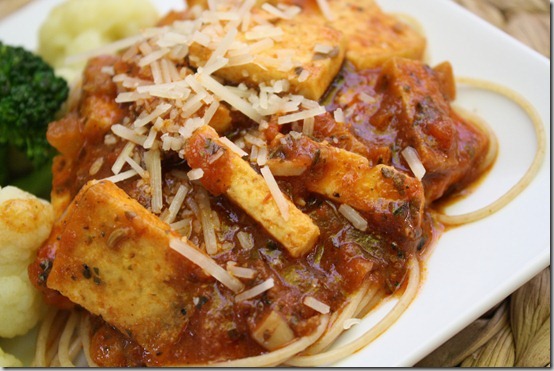 such a quick and easy dinner for two! this cacciatore sauce from trader joe's is a keeper.  a side of steamed cauliflower and broccoli rounded out the meal.  this was actually my first time eating broccoli since i barfed a bunch of it up during my bout of the flu a few weeks back. not to worry—i kept it down the hatch.
in other news, i think i need to do a few days of no added sugar to kick this sweet tooth of mine. after a week solid of lots of birthday treats, i have fallen back into the habit of wanting a sweet something after my meal. it is crazy how quick that urge can come back.  however, i know that if i go a few days without the added sugar in my meals, those cravings will go away.
i will more than likely have some protein chocolate milk for a night cap—sweet but healthy!
after just one day of being back to "normal", i feel better already.
the sluggish feeling is gone, i am hydrated and have renewed energy from my much needed intense sweat session.
it goes to show that taking a week off from the norm isn't going to kill you. in fact, it just might make you stronger.
xo. janetha g.