mini white chocolate cheesecakes.
[pinit]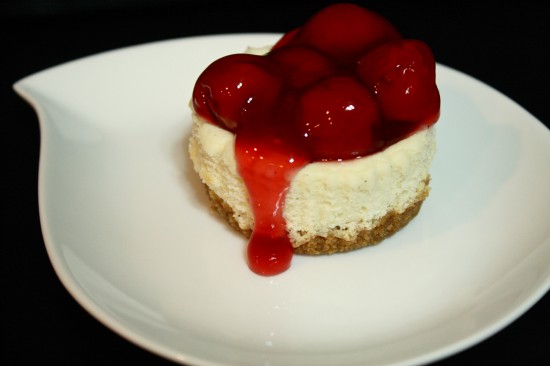 this recipe can be served plain, with any type of fruit, with chocolate sauce, with whipped cream.. the possibilities are endless! the photos show cherry, but i have mentioned a few ideas throughout the recipe because i have made this recipe so many ways.. even green ones for st patty's day!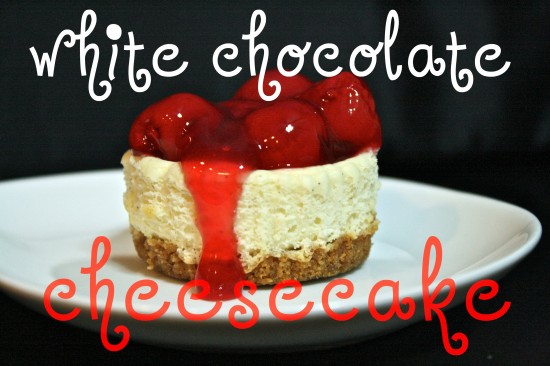 [pinit]
makes 24 miniature cheesecakes
prep time: 10 minutes; bake time: 30 minutes; cooling time: at least 2 hours 
ingredients
crust:

1 + 2/3 cups freshly crushed graham cracker crumbs
1/2 cup sugar
1/3 cup  melted butter
filling:
6 oz white chocolate (this is half a standard bag)
1/3 cup butter
16 oz cream cheese, softened
8 oz plain greek yogurt
1 TB cornstarch
1 TB vanilla extract
2 eggs
directions
mix cracker crumbs and sugar and then add melted butter, mix well and add more melted butter if needed.    
bake at 325 degrees for 8 to 10 minutes. 
remove from oven and set aside
melt chocolate chips and butter together in microwave, about 2 minutes,  stirring halfway through. remove from microwave and let cool.
combine greek yogurt and cream cheese in mixer, let it mix together for about 5 minutes until it is smooth.
add white chocolate/butter mixture, beat until smooth.
add cornstarch and vanilla, beat until smooth.
add eggs one at a time, beating until smooth after each time.  
fill each cupcake liner with the filling so each cup is about 3/4 full.
*sometimes i put a little bit of filling down, then add some fruit (like raspberries) in the middle, and top it off with more filling. this turns out super delicious!  
bake at 300 degrees for 30 minutes, the cakes will not look done but any longer will dry them out.
let cool for about 20 minutes and then cover with aluminum foil and refrigerate for at least 2 hours before serving.
top with fruit or other items of your choice prior to serving.  
[pinit]
xo. janetha g.