sesame stir fry.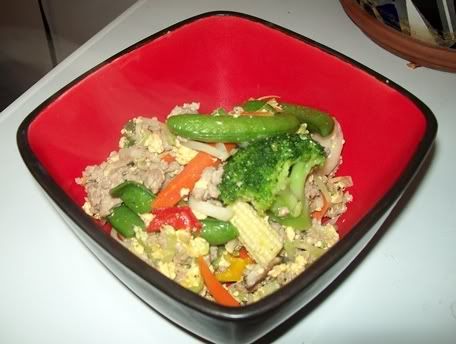 this is something i threw together one day, and it was good.. so i wrote it down.  the recipe changes from time to time.. but at least one version should be listed on this little space of mine.  so here you go.
serves six
ingredients:
1.25 lb ground turkey
1 bunch green onions, chopped
2 T sesame oil
3 cloves garlic, minced or pressed
broccoli slaw
1 1/4 cup egg beaters or egg whites
vegetables of your choice
salt
pepper
directions:
brown ground turkey, adding just salt and pepper to the meat. set aside.

heat sesame oil, green onion and garlic in pan until it is very aromatic

add about 2/3 to 3/4 of the bag of broccoli slaw, stir fry for a few minutes until slaw starts to wilt

create a circle with the slaw around the edges, like a nest
add the egg beaters/whites to the pan

stir fry the ingredients until eggs are cooked through

add cooked meat to pan, stir fry

add more salt and pepper according to taste
add pre-cooked veggies (i cooked them in the microwave–they were previously frozen) to pan, stir fry and heat through

serve!



this is also good with brown rice stirred in and one time i even chopped up some cooked spaghetti noodles i had left over and stir fried them into the mix.  i made it this time without the rice or noodles because the carrots and corn in my stir fry veggies made it carb heavy already.  it is great any way you make it.  you may serve it with light soy sauce if you want, but i hate salty things so i eat it like it is.