peanut butter noodles.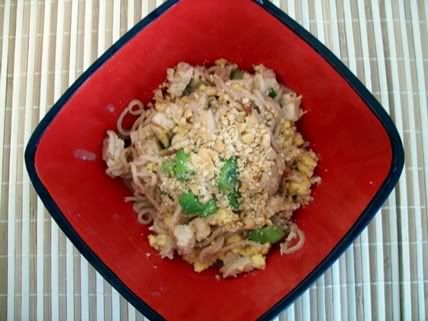 adapted from vegan a go-go.
this dish has a video demo here.. and this is the way i made it!
ingredients:
8 oz shirataki noodles
1/2 cup vegetable broth
2 T fresh ginger, grated
3 T peanut butter
3 T soy sauce
1.5 T sweetener (agave, honey, etc)
3 cloves garlic, pressed through garlic press
chile paste to taste (i omitted this because i can't have spicy food right now–tonsillectomy)
1 block extra firm tofu
ginger root powder
1 bunch green onions, chopped
1 cup egg beaters or 4 eggs, scrambled
crushed peanuts for garnishing
directions:
prepare noodles according to directions, set aside.
in a saucepan, combine broth, PB, soy sauce, ginger, sweetener, garlic & chile paste
melt all the ingredients together and bring to a slight boil on accident ;)

meanwhile, chop tofu and heat in skillet, cover tofu with ginger root powder

scramble eggs
add noodles, tofu, green onion and eggs to the sauce. mix reallllly well.

garnish with crushed peanuts & serve!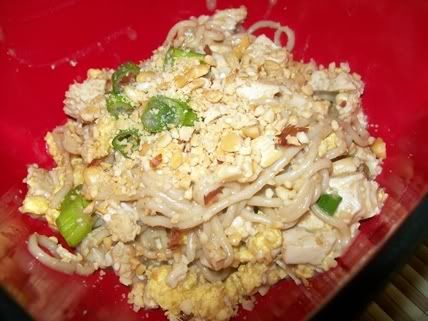 this recipe was super yum!! next time (when i can swallow better) i will be adding chicken and edamame. i love how versatile this recipe is!  it would also be good with japanese rice noodles.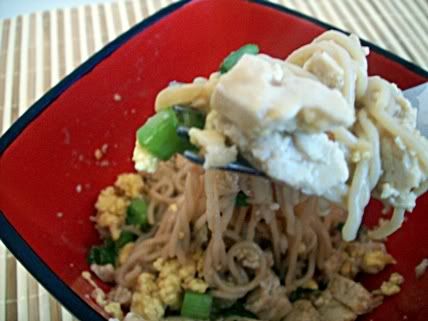 enjoy!