hi! i haven't done a post on first time mom stuff in awhile, i have been slacking. i plan to do a post about breast feeding (because i have a LOT to say about it and what i've been trying) and a comparison about how my life has changed.. but for now, let's talk about STUFF!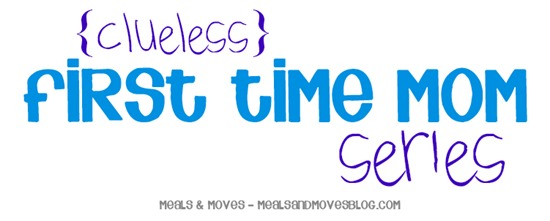 it's no surprise that you need a ton of stuff once a baby comes along. it legit looks like a colorful bomb went off in every room of our house—fox has some sort of contraption, toy, device, etc no matter where you look. it's the same at my office, too, since i still take him to work (only until the end of this month, and yes, i am crying inside about it. sometimes crying outside as well.)
i talked about stuff we loved the first three months of his life, and now he's almost six months! here are a few things we can't live without.  i love online shopping, by the way, so the majority of these things i bought online (unless they were hand me downs or gifts.)
it's so fun to have toys around now that fox actually plays with them! i received a couple of these oballs at my baby shower and i have found they are his favorite thing to play with, mainly because they are easy for him to grip.
my friend jenn gave him the car version which has an oball on top, and he loves that as well. the little beads that jiggle around when the wheels move are an added bonus.
i picked up a couple of these door jumpers—one for home and one for work. there are under 20 bucks so i figured it's easier to have a couple than to always haul it around. fox loves playing in the jumper and he is learning to use his feet and legs. i know there is a lot of taboo out there regarding these devices, but i have done my research and talked with many a many a many mama about them.. and i am glad we use them. the only downside to using it at work is the doorways are much taller than your standard door, and even on the longest setting, his little toes don't reach the floor! i put something underneath him so he can use the jumper properly.
we received a couple of these as hand-me-downs and fox absolutely loves playing in them! there are so many different activities to play with and he keeps busy for quite some time. they definitely take up a lot of space, but that's okay.. all that matters is that he is having fun and learning. it's so exciting to see his face light up and to watch him busy at work—it's amazing to see him learn.
we had a couple bouncy chairs that we used when he was smaller, but he's a little big for those, so i decided to buy one that accommodates his larger size. this one is sturdier and it even plays music! we don't use the bouncy seat as much as we used to, simply because he is busier and likes to be upright, but this seat is perfect for him to hang out in and watch us cook dinner. we also use it every night for his bath—we put the warmed up towel (yes, he is spoiled) into the bouncy seat and transfer him from the tub to the seat and then bundle him up in the towel. it's pretty slick and convenient.
i raved about my love of aden & anais swaddles in a previous post, and we still love them. however, i have decided that the bamboo ones are far superior to the muslin ones! they are just so much softer and thinner (great for the warmer months—and it's been WARM here in utah.. nothing like a typical february.) i picked up a 3-pack of bamboo swaddles on amazon the other day. i truly believe you can never have too many of these things! we use them for naps, in the car, as a nursing cover, as a burp cloth.. the possibilities are endless. they may be a little spendy in comparison to other swaddle blankets, but i feel they are worth it.
this is a fun one! i love society 6 and often buy phone cases, pillow cases, and other artwork from the site. basically it's a site with a TON of artists and you can put the art on anything you want.. totes, canvases, and—yep—baby onesies! we love twin peaks, so we got fox a dale cooper & diane onesie. love it. (also love his BFF.)
they are $20, so i am not going to town buying him onesies, but it's fun to look and get one every so often.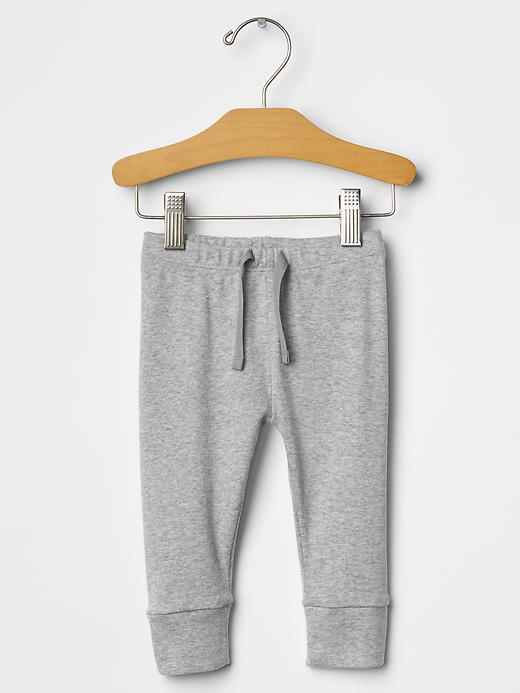 so.. my baby has REALLY chubby legs. like, chub a lub. so cute and roly poly. i had purchased a ton of super cute leggings from etsy and instagram when i was pregnant. guess what? the waists are too big, the legs are too tight. sorry fox, that's the story of MY life. he got those suckers from me. i am so bummed i can't utilize all the cute leggings and pants i got him! but, luckily, i have found some pants that work well with his body shape. these ones from gap are perfect for him. i have bought the navy and gray ones in every size so far. the newborn, 0-3, 3-6 and most recently the 6-12 ones. a little advice for you moms.. don't buy a ton of older (like 6-12 month) stuff until you know what brand will work for your baby. you will save a lot of money, haha.
fox likes babywearing, but only when he can face OUT and look at the world. we recently replaced our original ergo with the 360 and he is a big fan. he likes looking around and the 360 makes it easy for him to do that. it still allows you to wear your baby the original way, facing in, and also on your back if you want. it's an awesome carrier and i highly recommend it over the original ergo!
fox has pretty bad gas issues. we are working through them. one tool we have discovered and use quite often is the windi. it's made by the same swedish company that makes the popular nose frida (which we love, by the way!) they are kind of expensive since they are one-use items.. but they are worth it. i found them cheapest on amazon, they work out to $1.50 each. (i first bought them at whole foods where they were $2.50 each.) the windi definitely helps in relieving gas! it's the same concept of sticking a q-tip or thermometer up the baby's bum.. but the windi is hollow straight through and lets the gas escape while it is inserted. yeah, sorry to those of you who don't have babies and found that too graphic. but this is real life for me now, haha.
it took us a long time to find a bottle that didn't cause fox to refuse the boob after using. he has bottles more and more these days (and i am pumping like a maniac, i will get to that in my breast feeding post.) but i have found that comotomo bottles are THE BEST as far as compatibility with breast feeding. we recently purchased the larger size with the faster nipple. i don't have him on the fastest flow one, simply because i still want to make him work a little bit to simulate nursing. but these bottles are great! they are sold out quite often and i can totally see why. it makes me sad that he can hold that thing by himself!!!
honest company shampoo & body wash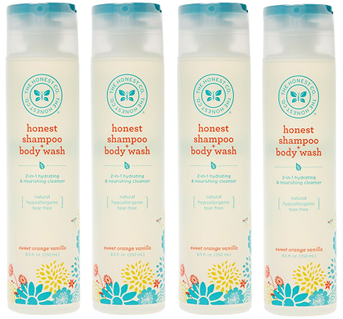 our friends anna and brian gave us this soap as a gift and it smells SO good! we put some in fox's bath every night to make a bubble bath and then we also wash his hair and body (neck rolls!!) with it. i love the orange vanilla scent. i also love the honest company and what they stand for. i feel safe using the products and have actually started trying other things they make. more on that later!
bath time is so much fun now that fox kicks and splashes and plays in there. he LOVES his ducky. it's so cute to see him just hold it and stare at it while he's in the tub.
cute little nugget.
one thing that i don't feel is worth the price tag is the sophie the giraffe teething toy. i mean, you could get something the exact same for a fraction of the cost. fox will chew on it, but it's not his fave.
he actually prefers this toothbrush we got for free at the dentist! we love dr. adrian and staff. :)
that's probably a long enough list for today! i could really go on and on, but this is already pretty lengthy.
if you are curious, the items that carried over from the first three months post that we are still loving include the fisher price rock'n'play, his play mat, pampers swaddlers, the white noise app on his iphone, and binky bungees.
mmmkay. that's a wrap! hope the rest of your week goes well.
Qs~
1. what is the last thing you bought online?
2. mamas.. what baby gear can you not live without?
xo. janetha g.