hi! long time no blog. how was your holiday weekend? we had a great thanksgiving on thursday. my little fam went to my parents' place for dinner, dessert, games, and naps.
it was perfect!
today i am going to ramble about baby gear, as part of my (clueless) first time mom series.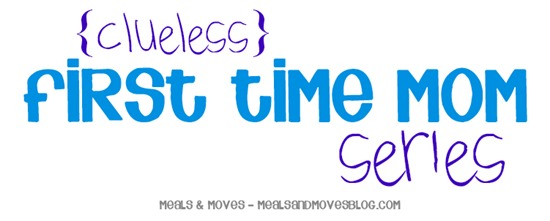 i have been meaning to get this post up, but life gets in the way.. you know how it goes! now that fox is 3 months old, i feel like i know a lot more about baby stuff than when he was still in my belly. when i was registering for my shower and planning what to purchase, i did SO MUCH RESEARCH.. because, as you probably know, there is SO MUCH BABY GEAR out there! i would read review after review and any blog post i could find, trying to determine exactly what i needed. in the end, i realized that it really depends on your baby and your needs. my BFF jessica has a babe just a bit older than fox, and the things she prefers to the things fox prefers differ so much. so when you read "it depends on your baby"–it's so true.
with that said, i do want to tell you what worked for us and what we love! i know reading the opinions of other mommas is always something i like to do, so i thought i would put my two cents out there. this list isn't ALL the stuff we use and love (that would take centuries to type) but it is a good list of items that we definitely can't do without. (and, by the way, i never thought a little baby would require so much stuff!)
the first three things on my list are so much of a MUST HAVE for us, that i have two of each of them! one for home and one for work. since i take fox to my office tuesday through friday, it made the most sense to double up on these items rather than transport them. plus, the first two items were hand-me-downs from his cousin (thank you, nora!) so we only had to buy them one time instead of two.
fox has slept and napped in this device since day one.. or, i guess, day three.. here he is the day we brought him home.
okay.. maybe this post is just a reason to post photos of when my baby was just itty bitty.. gah! cannot believe how much he has grown already! where's the pause button??
the rock'n'play is awesome because it is super portable and easy to move from room to room, depending on where you are. newborns sleep a LOT, so it's nice to let them sleep comfortably in any room in the house. fox slept in our room up until a couple of weeks ago, and marshall and i alternated which side of the bed the rock'n'play would be on. (that's because there is this fun game called "binky patrol" that we would take turns playing every night…)
the rock'n'play is also nice because it puts fox on an incline, which is great for his silent reflux. don't let the name fool you, he doesn't do much playing in there.. and the only rocking that happens is manually. you rock the bassinet with your hands or foot. if your baby has a hard time going down for a nap (something i know all about) then this is a great device to rock them into a nice slumber. the one i have at work is a newer model and it vibrates. turns out, babies LOVE vibrating. fox definitely prefers the vibrating rock'n'play, i can tell because he falls asleep in it sooo fast, usually without even needing to be rocked.
we are able to take the rock'n'play with us wherever we go, which is really convenient. it will suck when he finally grows out of it. i am worried about how naps at work will go once he's out of the rock'n'play, but i will cross that bridge when i come to it.
this is, by FAR, the best piece of baby gear we own. it is crucial for our survival, i swear!  who knew this inexpensive $30 vibrating bouncer would be so valuable?! any time we need to put fox down for a few, this bouncer is our go to. it vibrates, and like i said above, babies love that jazz. there is also a removable toy bar that he has grown to love as he gets a little more interactive and alert.
the bouncer is perfect for after his bath–we lay his towel down over it and bundle him up straight from the tub. he loves it!
the one we have at home was a hand-me-down, and i couldn't find the exact one to buy for work.. but i did find a similar one. it's more of a bucket seat, so he doesn't need to be strapped in (on the other one he will slide down the bottom if we don't strap him in) so it's kind of nice in that sense. my one complaint is the toys on the bar aren't removable like they are on the other one.. but i think we will survive. actually, fox will stare at that owl for the longest time! staring contests are his favorite.
side note.. i never leave fox in the bouncer unattended. i know he's safe in there, but you never know what could happen and we don't need an accident where he topples over.
initially i thought play mats wouldn't be really necessary until fox was a little older.. but we started using ours around 2 weeks and have used it daily since! the one we have at home is this one and, while it does the job, i really don't recommend it. why? well, the musical mobile is manual.. and that sucks haha. you have to twist it up for the music to play and the mobile to go around.. and that gets REAL old after the fourth or fifth time.
so, for work, i got this one, which has a battery-operated mobile and music. oh, man, i LOVE this one! i am actually thinking about buying it for my house and donating the other one.. i love it that much. fox loves it, too, and will just stare at his animal friends forever.
the music is actually quite enjoyable (i mean, as enjoyable as baby tunes can be) and you can set it to two different volumes. it also lights up, but i haven't used that feature because you have to pick either music or lights.. and.. duh.
i am sure we will get a lot of use out of the play mat. he uses it for tummy time, kicking at the bars, and just hanging out and having a good time. solid investment.
i actually ended up with two of these, too. one for home and one for work. the boppy was essential for nursing when fox was littler. now that he has grown, i don't need the pillow for nursing because he rests on my lap just fine.. but my back would never have survived without this thing the first couple of months! i one of mine was a hand-me-down and i picked up the other one for $5 off a baby items for sale facebook group. i just bought my own covers off etsy and bam.. good as new. plus, it doubles as a pillow for penny. :)
there are WAY TOO MANY DIAPERS out there. we received several different brands and kinds as gifts, and we definitely prefer pampers swaddlers. yep, every baby is different, so yours might like a different one. but these are convenient because there is a yellow line on them that changes to blue when the diaper is wet. pretty clever, diaper inventors. target brand ones have the line, too.. but we found he would spring a leak more often in those. i found the swaddlers cheapest on amazon–this link.
ohhh my goodness, i can't rave about this little sleep sack enough! fox has a few different types of swaddle blankets and sacks, but the halo swaddle sack takes the cake. once we started using it, he slept for seven hour stretches. that has since become a thing of the past for other reasons.. but we still love the swaddle sack! we actually just bought the bigger size because fox grew out of the newborn one (sigh.)  we have two on hand at all times, in case there is an accident and one is out of commission.  it's nice because you can swaddle the baby's arms in or out of the sack (or just swaddle one arm in.) it's way more convenient and user friendly than trying to get a nice, tight swaddle with blankets. i never did get the hang of that, to be honest. marshall does a pretty great job, but i am all thumbs when it comes to the art of swaddling.
but that brings me to the actual swaddle blankets…
while we don't use the blankets for sleeping at night, we use them for everything else! fox loves to have one to snuggle up in during his nap, while riding in the car, or even just when he's being held. they are also great to double as nursing covers when out and about.. i never bought one of those specialty nursing covers because i really am not out and about too often, but these blankets are great in a pinch.
he has a few of the bamboo ones, and those are extra, super duper soft!
so, this is probably not something you would think of as baby gear.. but we use a microwave heating pad every night! we used a corn bag momma b had made us, but the dogs got to that (darn dogs!) and so i recently bought a flax one from this etsy shop. we use it to warm up fox's bed before putting him down. (we move the pad before putting him down.) it makes the transfer from a warm body to his bed much more seamless. i highly recommend it!
white noise app/iphone
so, we could not live without the white noise app. it helps put fox right to sleep. i highly suggest you get SOME kind of LOUD white noise device. luckily we had an old iphone with a shattered screen that we downloaded this app on and it is now solely fox's noise maker. it is amazing and annoying all at the same time.

this bird is magic, you guys. it's funny.. jessica and i both have it and both our babies LOVE it! it can be hung anywhere. it has fun colors and textures. it chimes. it's fox's BFF. i love that damn bird.
i think i have gone into detail about enough items. but i still have a little more to say.
first, a note about swings. i think this is the thing i did the most research on and stressed about the most when it came to baby gear. seriously, hours spent reading about swings and the mamaroo and which i should get! we initially purchased the mamaroo and then took it back because i felt sick about spending $250 on it. so then we ended up getting a fisher price swing that had amazing reviews on amazon. while we do use the swing sometimes, it definitely does not get a ton of use at our house! i know some babies that live in and LOVE their swing.. but not fox man. he just isn't a huge fan. he will stay in there for a short while, but eventually he wants out. the bouncer is his favorite place to be. i am SO glad we ended up not keeping the mamaroo! i was so stressed about that! and i am glad we have the swing because it will get him to nap at times.. but if we had to live without it, we totally could.
one thing i went back and forth and back and forth on buying was a dresser/changing pad station from west elm. i am pretty frugal and spending a chunk of change on a dresser gave me anxiety. i tried to find something similar so i could do a DIY version, but didn't have a ton of luck. i loved the different sized drawers AND the cupboard. i knew it would be perfect for all his changing gear, swaddle blankets, pajamas, and burp cloths. i seriously debated purchasing this thing for months and i couldn't stop thinking about it! over memorial day, the dresser was 25% off and so i just bit the bullet and bought it. i am so glad i did! it has seriously been my favorite thing in his nursery, it's so useful and i am so happy i ended up getting it. plus, it is high quality and we will have it for years and years to come. i guess the moral to this paragraph is if you are on the fence about something you really want.. just get it.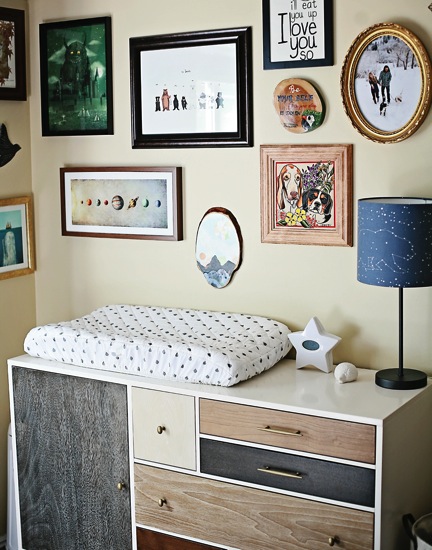 another thing that i really wanted was a comfy chair for the nursery. we ended up getting one at a local baby shop called babinski's. it's a glider with a gliding ottoman and it has already gotten so much use. i don't really have a comfortable place to sit in my house–my bed is super low to the ground, my couch isn't amazing, and the only other chairs are the kitchen ones. the glider/ottoman was a good investment. both marshall and i use it daily and whenever we need to settle fox down, we sit in the chair and rock him. definitely make sure you have a nice, peaceful, comfy place to sit with your baby! you will be doing a lot of it!
some other things we love and can't do without include the binky bungee, changing pad liners, pajamas with zippers instead of snaps (so much more convenient), portable lamb sound machine (we keep it attached to his car seat), gripe water, and aquaphor. there are many more things, but i will leave it there.
of course, we have some items that don't really use! i should mention those, right?
so the very first thing i bought was a pack'n'play. guess what? it sits in our room and collects laundry dust. i am sure we will use it when he is a little bigger and needs to be contained, but since he doesn't sleep on a flat surface.. we haven't used it at all yet!
i also bought this super awesome aden & anais clock/thermometer/sound machine/night light for $75. well, the sound isn't loud enough for little fox man, so we use the iPhone app instead.. and i have a $75 night light haha. it's cute and functional, though, and if the room is too cold or hot, it turns blue or red. the clock is nice, too. plus, it's aesthetically pleasing.. so, whatever.
we also have a ton of different bottles and, as it turns out, we only need a couple. it took awhile to find the brand that works best for fox. since i am breast feeding 95% of the time and the other 5% he gets pumped bottles, we really don't need a whole stash of bottles. i was under the impression i would need, like, 12 of them. no.. we have two and that is plenty.
a couple other things we don't need.. other brands of swaddle sacks (i even bought some cute custom handmade ones and they didn't work at all!), anything footless (the legs ride up too much and it's a pain.. they should always make jammies have feet!), and our oh-so-amazing stroller. i did a ton of research about what stroller to get.. but we really aren't big walkers.. so we have used it no more than five times. i am sure once fox is bigger and out of his infant seat we will use it more, but for now it is just big and bulky and a pain! if we are going to walk somewhere for awhile, we usually put him in a baby wearing device like the ergo. i am not a jogging with baby type of mom (or a jogging type of person, period) so i didn't need it for that. i kind of wish we wouldn't have got such a fancy bells and whistles stroller.. because it just sits at our house, unused. live and learn.
so there you go! way too many rambles about baby gear, which i hope you find a little bit helpful if you are in the momma-to-be or new-momma boat like me.
happy december! i will try to check in more often this month. i miss blogging, i do, but life is way too busy with fox and a full time job. bummer on the blog front. love you all!
Qs~
1. moms.. what baby item(s) can't you live without?
2. how much research do you do before buying things?
xo. janetha g.