hey, hi, how are you? hope your week is going well. mine is getting better. amanda (aka my co-worker) was out of town for 8 days but was back today so it made work seem like a breeze! once our new admin assistant starts i am not going to know what to do with myself! so excited.
i had my 16 week checkup today. no ultrasound this time around.. but guess what?! april 1 is my next one and we will find out the baby's sex! super stoked. i hope he/she doesn't try to fool us ;) all is well with the baby for now.. healthy heartbeat at 145-150 BPM and my uterus is "sitting just right"–good job, ute. proud of ya.
in other news, marshall is at a concert and i am home alone eating my entire kitchen.. so i thought i would tear myself away to ramble for a minute before going back for more.
time for three things thursday!
once upon a time there was a blogger named melissa who wrote a blog called melissa's nibbles (or was it melissa nibbles?) and it was easily one of my top five favorite blogs. when she retired, i was sad to see her go. one of her weekly features was three things thursday, where she'd bitch about what's bugging her that week.
every once in awhile, i would jump on the TTT wagon and post my own annoyances. it's been year(s) since i have posted my own three things thursday, but today i decided to bring it back. sometimes it's just nice to complain, right? plus, it's all in fun. i am sure my list today will offend lots of people, but please don't take it too seriously. there's my disclaimer.
1. the hashtag #fitpregnancy.
haha.. this is going to offend the majority of bloggers who are/have been pregnant. many of my friends as well.. so please don't take it personally, k? but i just cannot handle this stupid hashtag! it drives me up the wall.  is it necessary to post a photo every.time.you.do.something.active? we get it, you are working out WHILE growing a child in your womb. you are so fit. someone get this woman a trophy.
i personally didn't work out for the first three months of my pregnancy. i was too sick to do normal things like make dinner, fold laundry, or walk up a flight of stairs. going to the gym was the last thing on my mind. while i don't feel an ounce of guilt for my lack of working out, i know that some pregnant women might see all this #fitpregnancy talk and feel bad about their own habits.. which makes me sad to think about. some women aren't even allowed to work out during part/all of their pregnancy. it's FINE. you are growing a HUMAN. that right there is no joke—it takes it out of you. i had no idea just how exhausting it would be. yeah, i have made it to the gym a few times since entering the second trimester, but i am by no means superior to anyone who hasn't made it there. i said i would go 3x a week but it's thursday night and i have gone once. whoops. i mean, i counted my trip to costco yesterday as my workout. it's fine. jessica said it counts. (jessica is my pregnant BFF. she is 6 weeks ahead of me. she has authority on these things.)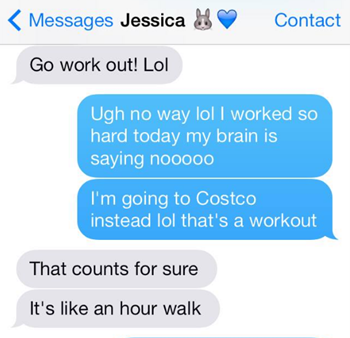 and can we all pause for a moment to read THIS POST? best. ever. seriously, go read it. i will be here when you get done.
and then there are the food pics. i didn't know that every semi-healthy-ish morsel that went into your mouth had to be tagged #fitpregnancy.  chicken for dinner? tag that shit. you ate an apple for a snack? clearly you are the fittest pregnant woman around! good job. i bet you anything that same woman is eating french fries and/or ice cream as well (depending on her cravings and/or aversions) and not boasting about that snack choice. i'm just over here trying to decide between savory and sweet.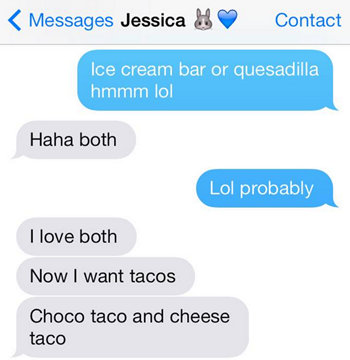 for the record, i had both. and, yes, we text each other about food ALL DAY LONG.
okay, so the working out pics tagged with this DO make some sense. even though it's annoying, i get it. and even though i don't agree, i see why you might tag your oh-so-healthy meal choice with #fitpregnancy.. but what about the ones that are completely irrelevant? i saw a pic of a pregnant belly in a bubble bath tagged #fitpregnancy. (don't even get me started on bathtub pics, you guys.)   #fitpregnancy in the bubbly tub??? WHY?! please stop.
finally, one last rant about this one before moving on, and it's my biggest rant of all. i saw a pic under this hashtag and a woman was talking about how she "hasn't even gained 10 pounds yet, 26 weeks in!" i had to shake my head. first of all, weight gain during pregnancy is not exactly something you can control. sure, maybe you can not gain all the pounds by having some self control around the self-serve ice cream machine.. but really, that baby is gonna make you gain weight. rapidly. and it's gonna be weird. no matter what. even if you are ready for it or expect it. and for a woman to put that photo out there for other pregnant women to see, for those who may be struggling with their own weight gain, for them to compare their situation to yours, is just ridiculous. yay, you, you're the fittest because you haven't packed on double digits yet. congrats.
whew. apparently that one really makes me ragey. moving on.
2. same side sitters.
you know those couples. you go to a restaurant and they are there, insisting to sit on the same side as each other… but they are the only two at the table. is this so they can hold hands while they eat their meal? or are they just terrified of watching each other chew?
marshall and i always give a nice eye roll to those same side sitters when we spot them. i guess it's a phenomenon we will never understand. a quick google search just now informed me that i am not the only one noticing this. it's even listed in urban dictionary! haha.. the images tab is good for a laugh. found this gem…
the facebook sharing thing should definitely be on this list as well, no?
3. boobs.
you guys! why do people pay money for fake boobs?? i HATE them. before i was pregnant, i had no boobs an happily went bra-less about 87% of the time. i don't understand women who complain about small boobs.. they win at life. proud member of the IBTC right here.
then this pregnancy thing came along and my boobs started growing at a very rapid rate. i have had to purchase bras on two occasions so far—because they just keep getting bigger and bigger. umm.. i'm not even halfway through my pregnancy. shit. and let's not even think about when those things are full of milk. ay ay ay.
anyway, boobs are annoying. i hate the under-boob fold thing that i now have.. definitely a new and awful feeling. all my shirts are too tight these days, and that's not because of my growing belly (yet.) it's all because of the boobs. i guess i wasn't cut out for these knockers and i really don't understand why people pay money to upgrade the size of their chest. (i mean, i know some women have legit reasons for breast augmentation, but those who pay big bucks to supersize them? i don't get it.)
i know there's a reason for my boobs to be growing at a rapid rate, and that's fine, i just sure hope they tone it down after all is said and done. (although marshall may disagree with my desire.)
that concludes this episode of three things thursday. i would love for you to list your own things in the comments. my local radio show does a series called "things that must go" every wednesday. i love hearing what people are complaining about… so please, humor me, and let's hear it.
xo. janetha g.