hey! how's it going? hope you had a great wednesday. mine was pretty productive. i had lots of work with a few fun things thrown in for good measure.
first fun thing.. a meal with janae! my favorite speedy runner recently moved back to utah, so we decided to meet for lunch at the corner bakery.
i wore my sweet shades from michelle's wedding on my way to meet for lunch. love 'em!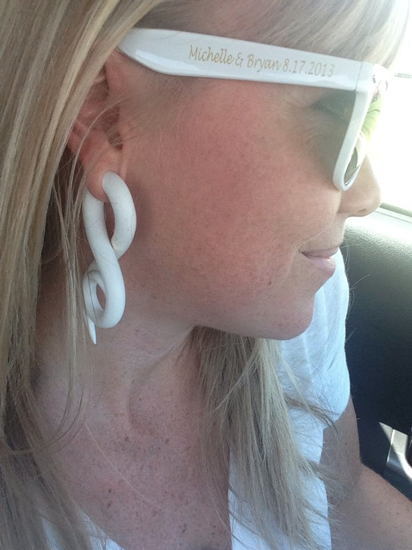 i ordered a half roasted chicken sandwich and cup of tomato soup for lunch. this was only my second time at the corner bakery and i need to remember to go more often—it's really good!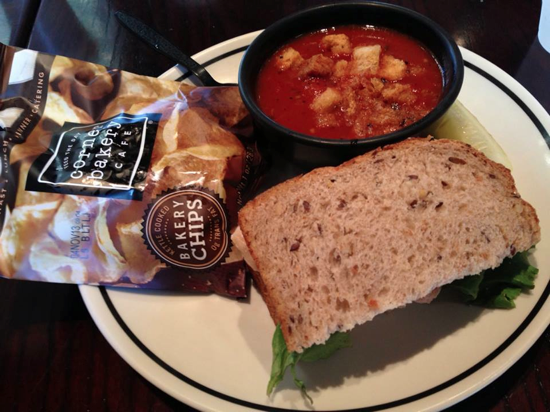 the food was good, but the company was GREAT. i hadn't met little brooke yet—i had only known her when she was still in janae's belly last summer at the blogger picnic. i was so excited to finally meet her, she's THE CUTEST little girl. she just turned one!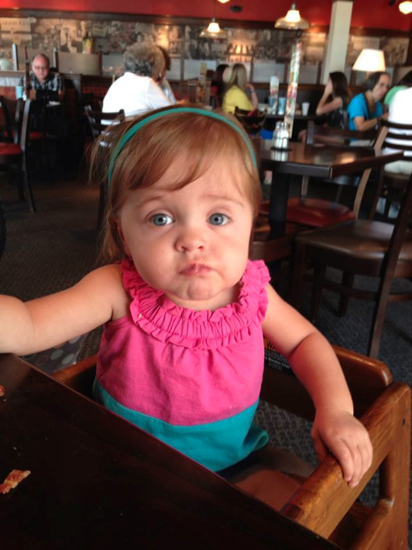 thanks for a fun lunch, janae and brooke! i am so glad you guys are in utah so we can get together regularly.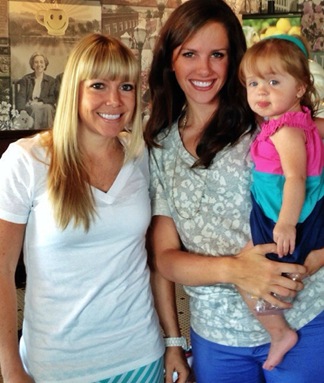 i went to the gym after work for step downs, which hits basically every body part ever.. legs, butt, core, shoulders, triceps, biceps.. you name it, this workout hits it. it's also great for cardio, balance, and especially coordination since you have to do things like biceps curls, overhead press, and triceps extensions while stepping on and off of a box. yeah, it can get tricky.. but it's fun!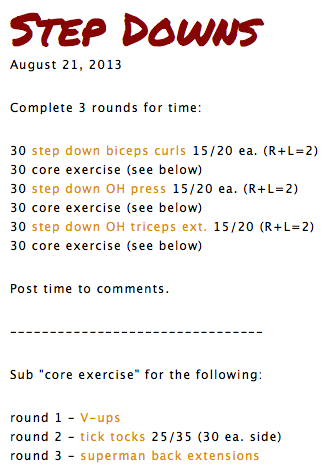 after the workout i did my double under duty. i had mentioned that i am going to do 200 double unders every day. i want to hit 50 consecutive and i am still sitting at 28.. i will get there!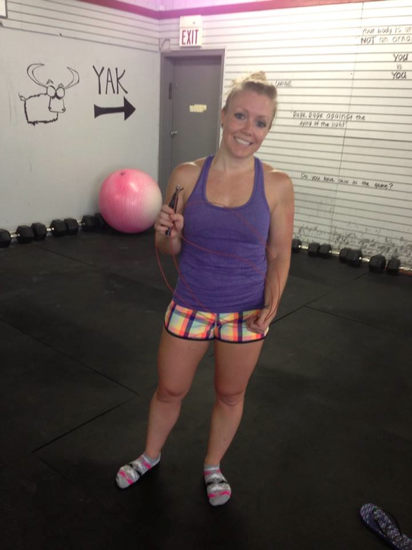 a double under is when the jump rope passes under your feet twice in one jump. you may be asking WHY i care about doing double unders (DUs).. and here are my reasons:
great for cardiovascular endurance (and WAY MORE FUN than running!)
DUs help strengthen several body parts including your core, quads, calves, and even arms!
they are great for improving your accuracy, balance, and coordination–aspects of fitness that are often overlooked when planning your workout regimen.
i love challenging myself to accomplish new things!
i got my first double under back in september, but it has been slow to string them together because of my lack of practice. i have been practicing a lot more lately, and while i have gotten a lot better at my DUs over the past few months, i still have a long way to go before i master them.
it's definitely a work in progress, and i thought i would share some tips on double unders. these tips are both ones i have found out on my own or that i have received from others. i think it's a pretty helpful list!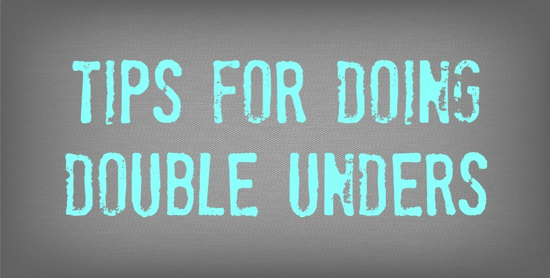 1. find the right rope!
there are lots of aspects of a jump rope to take into consideration.. thickness, handles, length.
let's talk about how important LENGTH is. i can't stress this enough. i am a short 5'1″ and all the ropes at my gym are wayyyy too long for me. i ended up buying a speed rope from rogue fitness and cutting it to my correct length. to know the best length, you should stand on the rope with both feet and bring the handles up to your armpits. they should fall right at your arm pits–no longer!
actually, the shorter your jumprope is (while still not being too short) the more efficient your jump roping will be because it will force you to keep your elbows in and hands down by your sides (more on that in a minute.) a shorter rope also has more tension, which means it will spin faster.
speed ropes are thinner and i have read they are "better" for double unders, which is why i bought the one i did. careful, though, because those thin ropes sure do hurt when you whip yourself! ouch. i also bought the one with shorter handles because i have tiny hands. i love my rope and it was a great investment.. only about $20!
2. get your singles down first.
if you aren't great at singles, you aren't going to be great at doubles. practice your speed with singles and make sure you can do them FAST. the faster you can do singles, the more your wrists will be prepared for spinning the rope for double unders. in the end, you want your double unders to look as fluid as your singles.
3. condition with plyo box jumps.
have you ever been crazy sore in your calves after a lot of jump roping? it's definitely taxing! practice your hops and condition your jump by doing plyo box jumps. here's a video i filmed awhile back.
4. start by adding double unders in slowly.
you can't expect to do double unders one after the other right off the bat. try squeezing one in after every few singles, then alternate single/double/single/double, then progress to stringing them. i started with only 3 consecutive DUs, then was stuck at 5 forever, then i was right around 15 for a long time, and now i'm at 28!
5. it's all in the wrists!
i am still working on the whole wrist thing. but, really, it's all about using your wrists to spin the rope. in the beginning, i was using my arms WAY too much, spinning them like a windmill. this fatigued my shoulders so quickly and i had to stop simply because my arms were tired. keep the part of your arm from your shoulder to elbow as close to your body as you can, bend slightly at the elbow, and focus on using your wrists to get that rope under you twice in one jump. i still have lots of room for improvement on this tip (see the video in #7), but i promise you my arms are looking way better than they did in the beginning.
6. about the feet…
keep your feet together and your weight in your TOES, not your heels.
7. keep your body vertical.
something i did in the beginning was bend at my knees tuck my feet up when trying for a double under. this not only looks ridiculous, but it is not efficient. you need to keep your body straight–the less angles, the better. instead of tucking your feet, just learn to jump higher (initially) and then you will figure out the right height to jump once you have the spin down. you don't tuck your feet for singles–you shouldn't need to for doubles.
something i do (but shouldn't do) is pike my feet–like a dolphin. while this is better than tucking, it's still a bad habit. i was piking my feet a lot in order to get that rope around twice. but it's a habit i am now trying to break (as you can see in the video) and i am trying to keep my body as vertical as possible.
overall, you want both your form and your posture to look identical to when you are doing singles. you should just be jumping a bit higher and spinning your rope a bit faster through the use of your wrists–so if your legs are all over the place and your body is angled in strange positions and your arms are like windmills… you're doing it wrong.
8. focus on staying in one spot.
oh, man.. sometimes i travel all over the place during double under practice. hopping around all over the room just takes all your energy. it's definitely easier said than done, but try to stay in the same spot when jumping. i typically travel backward a few feet when i am practicing. a way i am remedying this is by jumping in my living room (a tight space) where if i travel, the rope hits my couch or chair and i have to stop.
9. timing is everything!
jump right when the rope is about to hit the ground so you are still in the air for that second pass through. if you jump too soon, you will hit the ground right before the second time around… and you'll whip your shins.. and it WILL hurt.
10. RELAX
my trainer, meg, was watching me yesterday and she said my body was too tense. her best advice to me was to RELAX. the more tense your body is, the quicker you will get exhausted and the sooner you will have to stop. try relaxing your muscles and focus on those wrists. keep your shoulders loose, bend your elbows slightly, and let all the power come from your forearms to your wrists.
i can't stress these last tidbits enough..
practice, practice, practice.. then practice some more! you won't get better if you don't try.
don't give up when you get frustrated with failure (or when you get whipped!)
watch yourself in the mirror AND have someone video tape you if you can… so you can SEE the things you need to work on!
so, those are my ten double under tips. i hope they help if you are working on double unders yourself!
p.s. CONGRATULATIONS to my friends allie and tyler! they welcomed their second little girl into their family today. love.
Qs~
1. do you like to jumprope?
2. what is something you are practicing at the moment?
xo. janetha g.