i haven't blogged about my GI issues in ages. i get questions about them all the time, but the truth is it's hard for me to answer questions from others when i don't even know the answers to my own problems.
acupuncture had been working well for me. my gut pain and bloating was reduced drastically. my acupuncturist suggested a couple dietary changes. cutting out dairy (for the most part) has helped, so has nixing coffee from my daily life. i still will have dairy and coffee here and there.. and i can definitely feel it when i do. however, my stomach will hurt tremendously at times even if i haven't had dairy or coffee, so i know that there is more to it than that.
i haven't been to acupuncture since january because my doc went to china and he's still there. he will be back at the end of the month, i am anxious to get back in for more treatments! i was getting treated weekly. it's $45 each time–not too bad considering my alternative was getting part or all of my colon removed. i would rather learn how to manage my issues than go that route.. just a personal preference. i know it has worked for many, but it's not something i am considering right now.
while i am waiting for my acupuncturist to get back to the US of A, i have decided to try a few things. i have found that trial and error is the only way i ever make any progress. i know i should do some type of elimination diet (I KNOW, I KNOW, I KNOW) but, to be honest, i freaking love food and hate restrictions. it's stubborn of me, i am well aware. there are just so many fun things in life and food happens to be a big part of those fun things. (i mean, like tonight.. i am going to a party where everyone is bringing chicken wings and we are judging them all!) maybe down the road i will muster up the willpower to do one.
for now, i have picked out three products from renew life to test out on the ol' guts.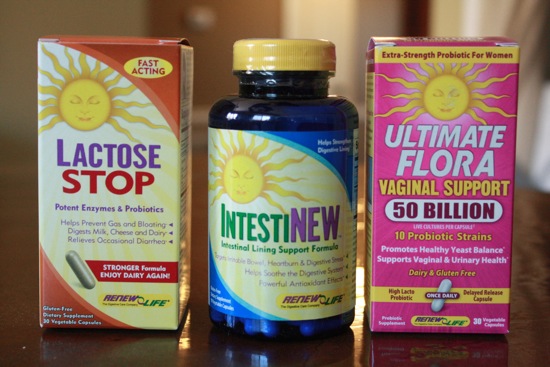 i have taken renew life products in the past. i actually found out about them back in 2009 when i was exploring supplements. i like their products and i continued to purchase them from whole foods or sunflower market (which is now sprouts) on occasion. they contacted me a couple years ago and i did a review for them in 2011. they are a great company! not only for their products, but for their concern about the health of others. side note–they also donated to the great fundraising act which helped raise $30k for my friend susan's chemotherapy. the founder and formulator of renew life, brenda watson, knows her stuff. i have watched several of her informational videos and read countless articles written by her.
while i have tried various pills in the past, i haven't been taking any supplements for my gut issues at all lately. back when i was going to a gastroenterologist, i was taking a very expensive probiotic called VSL3. that didn't last long. he then suggested renew life, which was comforting because i was familiar with the brand. then i was taking herbal meds from my acupuncturist, but i found that the acupuncture helped way more than the pills did.
about a month ago, i was contacted by renew life once again thanking me for working with them in the past. they offered to send me three items from their website–my choice. i figured i have nothing to lose, so i picked a few out according to my symptoms. i LOVE their website because it allows you to search by so many different factors–both by goal and by concern. each product page is loaded with information and several even have videos explaining what the item does. there are several customer reviews, too, which i always look for when selecting ANY products. i like hearing from the public!
the first supplement that caught my eye was the lactose stop since i am avoiding dairy but still like to eat it on occasion.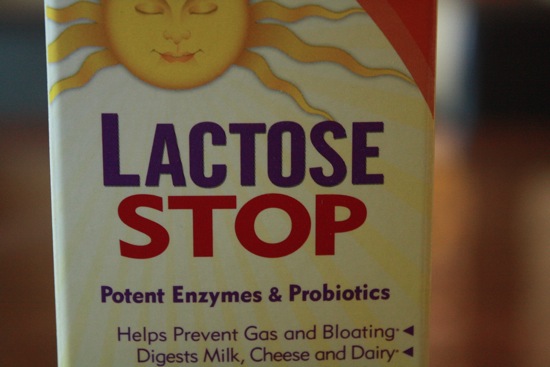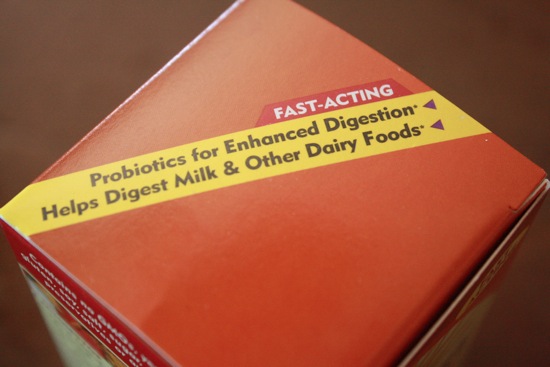 you simply take a capsule of this digestive enzyme before eating a meal containing dairy. easy enough. think it'll make me as happy as the model on the box?!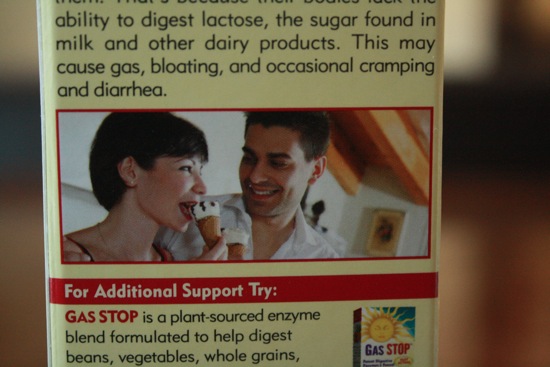 haha. this particular product had no reviews, so i am not sure how it'll work. we'll see.
i also picked out intestinew, which claims to strengthen your digestive lining. it had a five star rating and the reviews were very helpful.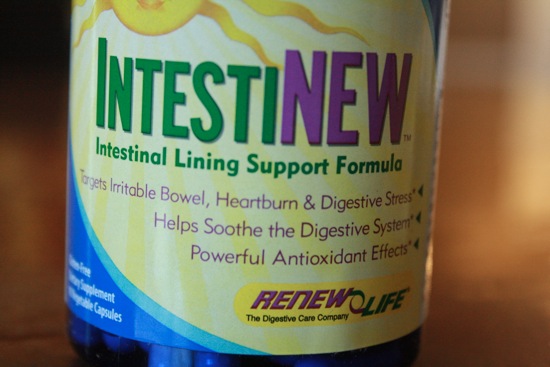 they direct you to take one delayed release capsule daily. it's also available in a powder, but i prefer capsules.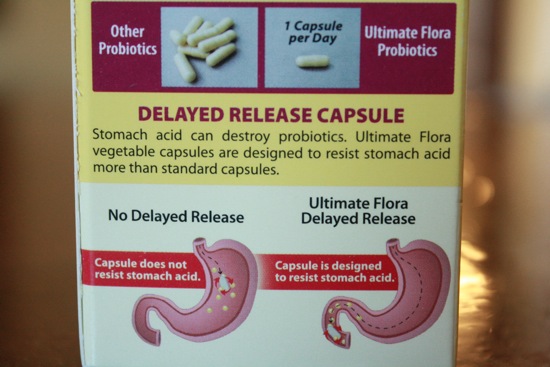 hopefully this will help reduce bloating and speed things up since my digestion is slower than a snail.
the third and final product i picked out is the ultimate flora vaginal support. again, 5 star rating and rave reviews.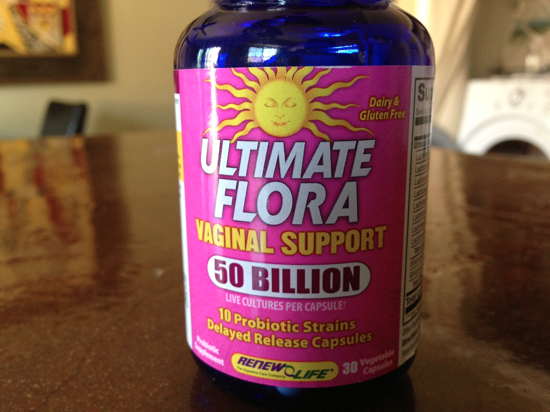 i have mentioned before that i have gotten chronic UTIs since i was a kid. i remember going in for test after test when i was little and again as an adult. they still aren't sure what's wrong with me, but doctors have said it could be a muscular dysfunction in my urethra. hmmm. that's also what i was told about my colon. my insides are messed, guys. anyway, this particular pill supports urinary health, so i decided to give it a shot.
i will let you know how these new products work out for me. i hope they help!
renew life has offered to give one meals & moves reader a $75 gift card to use on their website. since everyone has different issues, i love that they are offering a gift card rather than a specific product. what works for one may not work for another!
to enter, simply leave a comment on this post. you can get extra entries by tweeting about the giveaway, pinning it to pinterest, or posting it on facebook. just make sure you leave another comment telling me you did so in order to receive the extra entry/entries. i will pick a winner on monday.
you can check out renew life the following places:
well, i have some chicken wings to make! i have never, ever tried to make them.. so i hope it works out. marshall and i have a fun spin in mind for our wings.. hope it's a winner!
enjoy the rest of your weekend!
xo. janetha g.
*i received these particular renew life products for free. no compensation was provided for this post and all opinions are my own. i really love this company and buy their products myself.