time for more Q&A! i have brought my ask me anything box back–you can now find it up in my top bar along with links to all the answer posts. just look up and click!
here we go…
Q: what font is your wrist tattoo in?
A: my one and only tattoo, mable's name, is on my left wrist. i got it after she was killed when hit by a car. my friend, nick, (the same one i always talk about) is a tattoo artist and just drew it. it's not a font.. it's just his version of script.
Q: How much active stuff do you do besides GPP? Do you still incorporate any of the body for life stuff in your diet day to day? How do you cope with restaurants? (lots of questions … hope that's all good!) love your site :)
A: okay, this is a three parter…
part 1: NOTHING. believe it or not.. i am a lazy person at heart. i sit at a desk for 8 hours a day and usually sit when i get home. GPP is my only workout of the day and i do that 5-6 days a week. i do like active things, like hiking, snowboarding, and other outdoor goodness.. but that stuff is few and far between.
part 2: i try to eat BFL-friendly.. meaning i balance my protein and carb consumption equally with added fats. BFL suggests a 40/40/20 ratio of carbs/protein/fat. i probably eat more like a 50/20/30 to be honest. i am slackin' in the protein department these days. BUT.. whenever i want to "clean up my diet" i revert to BFL style eating.
part 3: for me, restaurants don't need to be coped with. i LOVE eating out and do so often. probably 3-4 times a week. i order whatever i want to eat, i eat it, and i move on with my life. i used to be a stickler and would only order "clean" menu items. these days, i really don't care. if i am spending money on a restaurant, i am going to order what i want.
Q: How did Marshall propose?
A: in jamaica. in our hotel room. full story can be found HERE.
Q: WHEN YOU START THE FITMIXER CHALLENGE IN JANUARY WILL YOU STILL GO TO GPP EVERYDAY? ALSO, HOW LONG ARE THE WORKOUTS EACH DAY ON THE CHALLENGE?
A: i actually won't be doing the fitmixer boot camp workouts this january. i WILL be doing the boot camp and follow the nutrition and hang out in the wonderful, supportive facebook group. but i will continue with my GPP workouts. the beauty of the fitmixer boot camp is that you can do your own workouts if they are working for you OR you can do the workouts they provide.
the workouts provided by the fitmixer boot camp team are approximately 30-45 minutes and run five days a week with the weekends off. if you are interested in joining the fitmixer boot camp fun, you can click here to sign up for the next 8-week camp which starts january 14th! it's almost full.. they have 15 spots left!
Q: Since you're doing a crossfit-like fitness routine, do you see yourself ever jumping on the paleo train?
A: NO. haha.. no. first off.. GPP may seem like crossfit, but it isn't crossfit. they have very different beliefs, goals, and programming. second.. i just can't get on board with paleo. i am not a caveman, i don't NEED to eat like one. i am already having a hard enough time not eating dairy and drinking coffee.. i don't need more food restrictions in my life. i love all food way too much for that nonsense. plus, i'm happy with myself and my diet, so i have no reason to change it.
Q: I've been using a Contigo water bottle since this summer ~ and I like the bottle, BUT it's developed a funky smell. What do you do to keep yours from smelling??
A: i LOVE my contigos! i can't rave about those water bottles and coffee mugs enough. i also love the little bowls for things like soup or oatmeal. i suggest purchasing their special cleaning brush set which can help clean those nooks and crannies.
Q: How do you like NoXPlode as a preworkout? And is your car super-expensive? (Sorry, personal question … but I LOVE it, am trying to justify investing in an awesome car too!)
A: part 1: i actually have STOPPED taking noXplode. i stopped taking it because i think it was the culprit of giving me backne (back + acne). yikes. but i also stopped taking it along with ALL other vitamins and supplements per the directions of my acupuncturist. i only take chinese herbs for my GI issues.. that's it! nothing more.
part 2: it depends on what you consider "super expensive"—it's all relative. i was nervous about purchasing a BRAND NEW car because of the price tag and the old saying that "it loses its value once you drive off the lot"… but now my tune has changed. because marshall's truck experience with buying a lemon, i am now super grateful i bought a brand new car.
i had saved up for a down payment and i got a very low (1.79%) interest rate. it made the car payments doable for my budget. i don't think it was super expensive considering the features. i got the 2013 subaru forester 2.5 XT touring. it's an all-wheel vehicle (so necessary when living in utah!) with several nicer options—including leather seats which are a must with all the dog hair in my life. i am really partial to subarus.. this is the second one i have owned and marshall owned one before getting his truck. we love subarus. i wanted a bigger vehicle than my WRX wagon (which i passed down to marshall), so the forester was a no brainer for me. if you are thinking about investing in an awesome car, i say do it! i spend so much time in my car that is was worth the investment.
Q: I saw on your IG that you were trying an Oil Cleanse thing to wash your face? How is that working out for you? I've seen so many reviews online about this kind of stuff but I don't know if it's real or not, and I trust your opinion on stuff :) Thanks!
A: i love oil cleansing! i do it each night. my oil is a mixture of 1 part castor oil, 2 parts sunflower oil, and a few drops of tea tree oil to combat acne. i purchased the castor and sunflower oils at whole foods and the tea tree oil from trader joe's. my skin has never been better.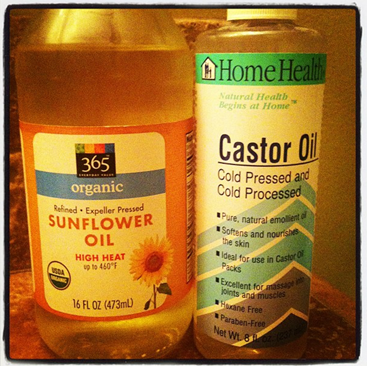 Q: I'm interested in your gauged ears; what made you decide to do it? How did you go about it and what kinds of tapers did you use? I'm using the progressive sizes as "rewards" for my weight loss, and I'd like to know how you went about it.
A: to be honest.. i don't remember what made me want to do it. i started around the age of 15—probably when it was the cool thing to do. i just kept stretching my lobes from there. i went slowly.. from a 16g to a 14g to a 10g to an 8g to a 4g and then finally to a 0g—my current size. it took about six years all together before i ended up at the size i am at today. i used a polymer clay taper for the most part. sometimes (in the beginning) i was a dumb young teenager and stretched my lobes using dumb methods which i will not suggest, ha!
once you have your lobes stretched to where you want them, the fun starts! then you can start investing in fun jewelry! my favorite sites to buy from are peach treats, tawapa, and body art forms.
Q: What are your thoughts on the nutrition/weight loss diets on the GPP website?
A:i know they have worked for many. the burst cycle diet has helped thousands of people lose weight by eating real food and exercising diligently. i don't think there is any ONE diet for everyone.. you have to find what works for you and go with it.
Q: What if one WANTS to be a runner (4-6 miles for a normal run working towards a half marathon) BUT also wants a nice body. What should their work out look like?
A: oh, bless you, you want to be a runner? i'm sorry. haha—jokes! if you want to run AND have a nice body (i am guessing you mean nice muscles?) then you MUST lift weights along with your running training. i know dozens of people who do GPP workouts and actually blow their race times out of the water thanks to the programming in the workouts. plain and simple: you need to balance your workouts. you can't JUST run. my workouts are a balance of ten aspects of fitness: cardio endurance, stamina, strength, power, agility, balance, flexibility, coordination, speed, and accuracy. combine all these things together and you will not only be a great runner, but will also have a great body.
Q: Is Momma B's gym her own personal gym or part of a strata?
A: momma b has a home gym in her basement. i have already claimed dibs for it to be passed along to moi. here's my cute niece, izzy, working out with momma b in her gym just the other day!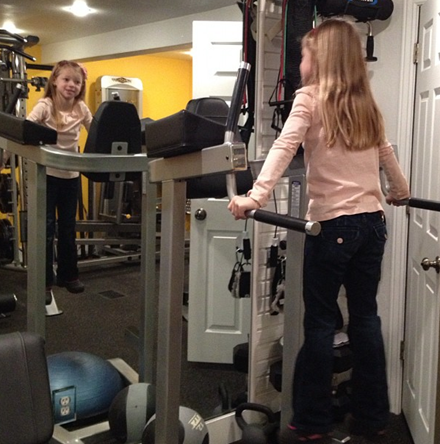 Q: Do your dogs go to doggie day care everyday?
A:not every day. they typically go 3-4 days a week. if marshall has the day off from work or has a short day, then they will stay home with him. there have been some weeks where they have gone all five days, though. we LOVE our daycare! it's desert dog daycare in SLC if you are in the market for an awesome pup sitter for daycare or long-term lodging! they are the BEST.
that's all for today!
if you still want something to read, you simply MUST check out these two lists of twenty-five:
xo. janetha g.