*giveaway is now closed. thanks for entering!*
hey! sooo super stoked it's friday!
it was a short week at work, thanks to labor day, so this week hasn't been too bad. actually, i don't work a full week of work until the last week of september—lucky me! i am heading to lake mead/lake las vegas next wednesday for my family vacation (ALL of my family—i cannot wait!) because momma b wants to wakeboard on her 60th birthday. she's my hero. then the following wednesday i am heading to chicago because my friends, danny and derrick, are getting married! yay for birthdays and weddings.
i am getting ahead of myself, though, because i have a different birthday and wedding to celebrate THIS weekend. my friends, jaime and nick, are tying the knot tomorrow. i will be celebrating my friend michelle's birthday with her this weekend. so, double yay for birthdays and weddings!
today's post is coming at you thanks to premier protein.

so, let's talk about premier—specifically, their ready-to-drink protein shakes. we buy them like crazy. marshall drinks one or two, sometimes even three, each day. i drink the shakes, too.. maybe four a week, on average. we have a special spot on the shelf for our box of premier shakes. (right next to my husband's several thousand CDs.)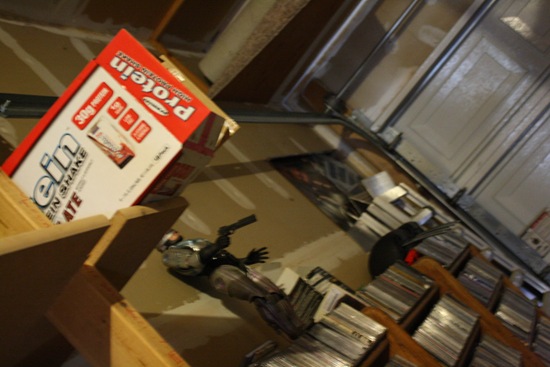 you can always find a few of the shakes in our fridge.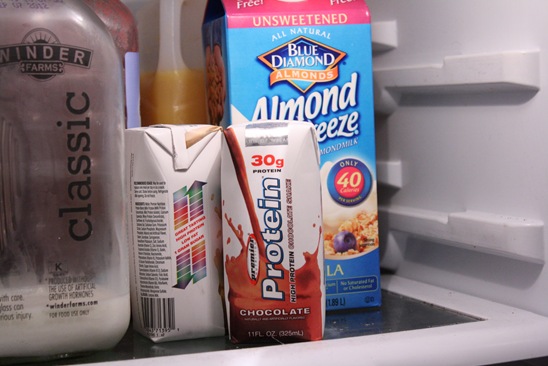 my point is that we go through a lot of these shakes. lucky for us, they are sold at costco. bulk protein shake drinking paired with bulk protein shake buying is a real good thing! the shakes come in boxes of 18 (for around $25) and we go through many, many boxes. think i'm kidding?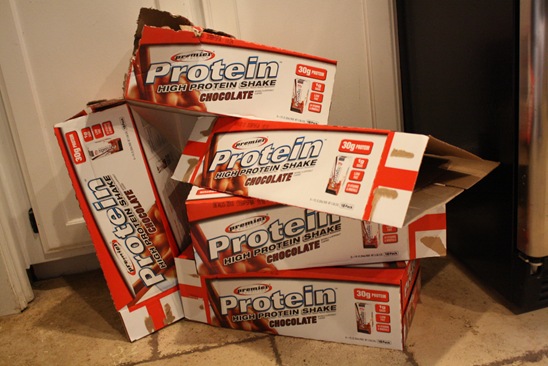 those five empty boxes were sitting in our recycle pile in the garage.. that's less than a two-month supply. we have two people in our house. and two dogs… but they don't get protein shakes. well, not if we can help it, that is. you never know what randy will get into when we aren't looking, right?
so, when premier protein contacted me to see if i'd like to do a review, you KNOW my immediate answer was YES. i don't always agree to product reviews, but i will do them if the product catches my attention. what i get REAL excited about, though, is when the brand of a product i already buy & use & LOVE contacts me. THAT is a product review i can get behind and do so with great passion. (i am in no way saying the reviews i do on new-to-me products aren't passionate.. but i think you know what i mean!)
premier sent over a box of goodies—vanilla and chocolate ready-to-drink shakes and a few kinds of protein bars.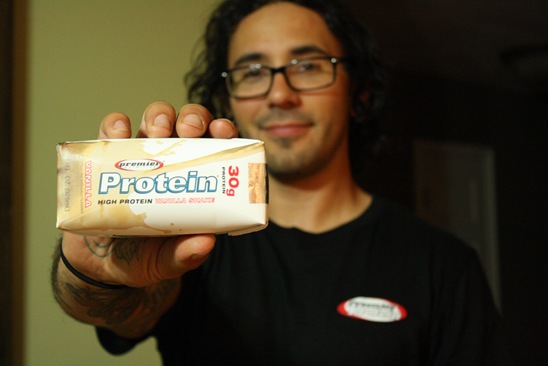 they also sent a super sweet t-shirt—a perfect fit for marshall.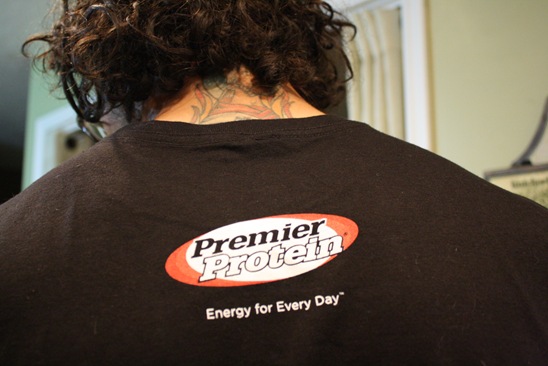 the nutrition stats on the shakes are awesome—i love that they are lower in carbs so i can eat a piece of fruit or maybe some PB&J toast alongside the shake (i like to balance out my protein and carb macros.) they are also relatively low in calories, so they make a great snack or pair well with a meal. with 30 grams of high-quality protein, you will be sure to feel fueled and full of energy.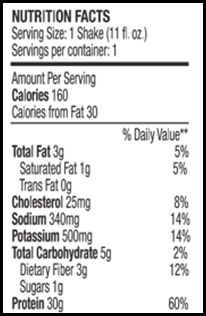 the bars are also packed with 30 grams of protein. they contain NO hydrogenated oils, trans fat, or high fructose corn syrup. i was happy to see that! i tried the yogurt peanut crunch. it had great flavor and texture.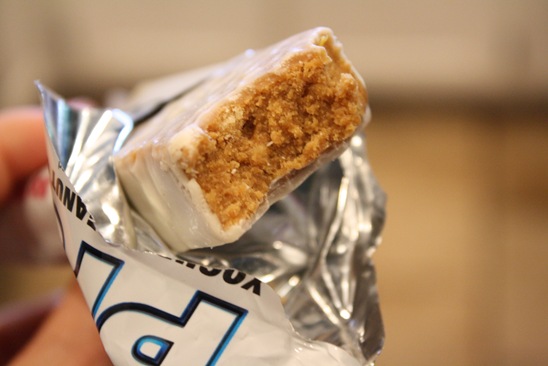 here are the stats for the bars:

as you can see, the bars are a little higher in calories than the shakes, so they are a great meal replacement or bigger snack option when you are on the go or on the job. marshall has been eating the protein bars to fuel him through his work day (he has a very labor-intensive job) and he said they are not only tasty, but also do a great job at keeping him full. three cheers for satiety! i think these bars would be awesome to take hiking—they have a great balance of protein, carbs, and fat and are perfectly portable.
giveaway time.. FIVE people will win a premier protein prize pack containing:
6 Premier Protein bars: 2 bars in each flavor (Chocolate Peanut Butter, Double Chocolate Crunch and Yogurt Peanut Butter Crunch)
4 Premier Protein shakes: 2 shakes in each flavor (chocolate and vanilla)
Nylon bag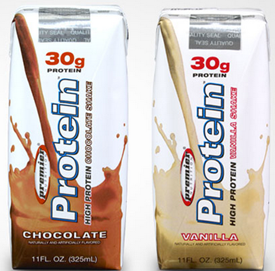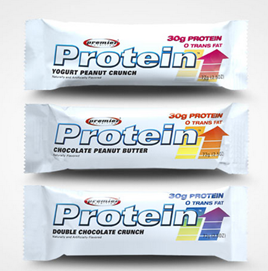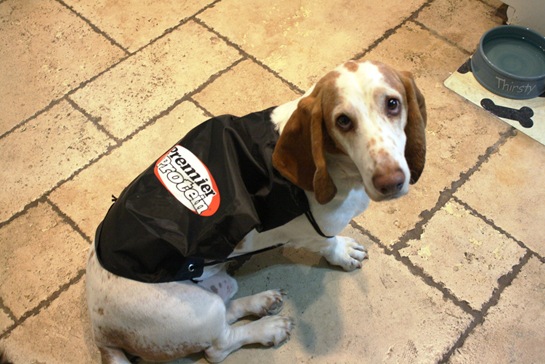 this spectacular nylon bag is modeled by the fabulous randy pants. he's got a few openings in his schedule if you want to hire him for a modeling gig. he's got the "puppy dog eyes" look DOWN.
to enter:
leave a comment below telling me your favorite on-the-go protein option.
two options for additional entries:
follow me on twitter and tweet the following: @janeeetha is giving away five @premierprotein prize packs http://wp.me/p1B7vY-cph (please leave a comment here stating you tweeted.)
check out premier protein's blog and comment on one of their posts. (please leave a comment here, too, stating you did this.)
you can find premier protein on twitter, facebook, and youtube!
giveaway is open to US residents only. this post is sponsored by premier protein and they will supply the prizes to the five winners. winners will be selected on tuesday, september 11.
hope you all have a fun weekend! get outside, it's still so nice out and it's only a matter of time before it cools off and we all get to wear scarves, sweaters, slouchy boots, and leggings. (unless you are a dude.. then maybe you aren't planning to wear slouchy boots and leggings. or maybe you are… i guess ya never know.)
xo. janetha g.