hello! happy saturday to you all. 
my day started bright and early at 7 AM this morning for the finale of Rx+ week. we did four (yes, FOUR) workouts over the span of two hours. it was intense! and it was also super fun. i love working out with all the GPPeeps. here are just a handful of the participants after the final workout of the week.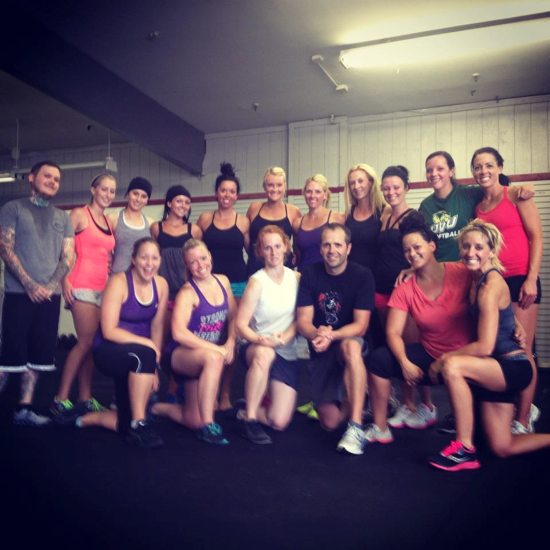 photo source: lauren parks
while the workout this morning was fun, i am real glad Rx+ week is over and it will be back to my regular routine on monday–workouts once a day that last around 30 minutes. yes, please.
i will be writing more about Rx+ week, the workouts, the nutrition plan i followed, and my reflections in an upcoming post. that will take some time and thought… and saturdays are made for mindless fun. so, with that said, i bring you….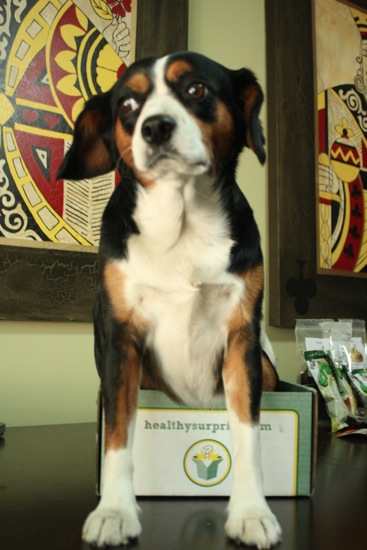 PENNY IN A BOX! (i know, she looks unamused. but i promise, she got loads of carrots afterward for being such a good sport.) 
you may remember awhile back when i first told you guys about healthy surprise snack boxes. well, they have come out with a NEW box–it's better than ever, inside and out!
as far as the outside goes, the box is made from recycled cardboard and is 100% recyclable. it is also convertible: the is a perforated edge so you can easily rip the top off the box and use it as a box to hold your snacks OR repurpose it and use it for other things–like holding your dog. or something else….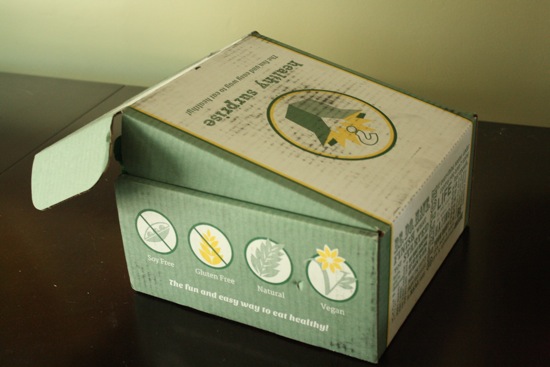 the inside of the box is packed with even more healthy snacks than the previous box.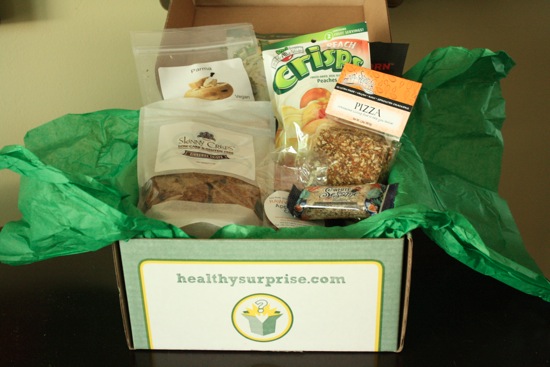 this healthy surprise box is jam-packed with two full layers of goodies. the box includes both sweet and savory snacks, so you can be sure to healthfully satisfy any snack craving that hits.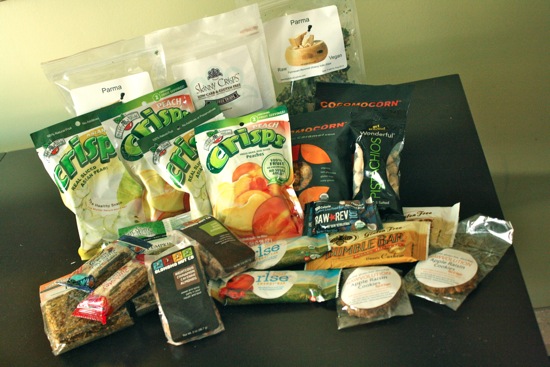 in the box:
raw, vegan kale chips (2 bags)
dried fruit crisps (4 bags, 2 of which are peaches which makes me a happy girl!)
caramel corn (2 bags)
sprouted crackers (2 packages)
low carb cinnamon crisps (these were in the first box i received and i fell in love! think of cinnamon toast crunch in cracker form)
pistachios
chai and cinnamon almonds (2 bags)
sesame strips (2 packages)
bumble bars (two)
apple raisin cookies (two)
rise energy bars (two)
chocolate coconut live food bar
everything in the box is vegan, all natural, gluten free, and soy free. sweet! um, and savory! ha.
healthy surprise has a blog where you can find clever ideas and recipes to use your snacks creatively–or you can always just eat them straight up! 
healthy surprise wants to give one of their new boxes away to one of you!
to enter:
take a photo of one of your favorite healthy snacks. ANYTHING goes! it does not have to be a packaged snack.
upload the photo to healthy surprise's facebook wall.
the photo that gets the most "likes" by sunday, august 26th will win!
to order your own box of healthy snacks, head over to the healthy surprise website. there are several options available so you can pick a box that suits your snacking needs.
bonus: enter the code MEALSANDMOVES at checkout and receive $5 off your order! 
and after you receive the new healthy surprise box, you can enter a second contest for creatively repurposing the box! check it out: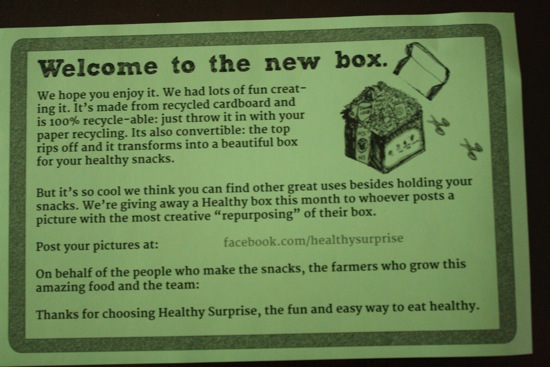 you can go ahead and enter the contest for repurposing the box if you want.. but i think my use of the box is going to win over all other submissions.. just saying…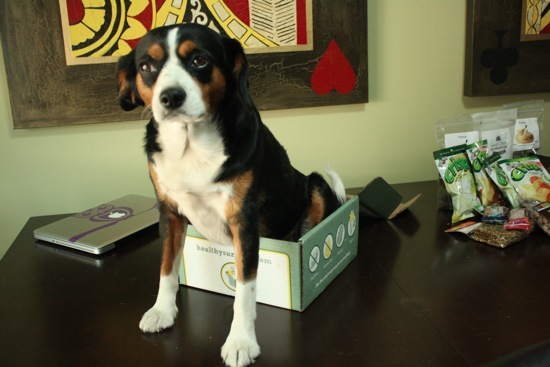 ha! why do i get such a kick out of seeing my dog in a box? and on her birthday, no less. she's my favorite.
that's enough dog in a box talk for now! can't wait to see what healthy snack photos you guys submit for the giveaway. remember, you need to upload your photo to healthy surprise's facebook page and get your friends to like your photo by sunday, august 26th! good luck!
xo. janetha g.
*this post is sponsored by healthy surprise.