real quick.. GPP is on living social for $35 right now! snag it while you can!
awhile back, i created a form where you could ask me anything… anonymously. you can find this form to the right, in my sidebar. the questions have been rolling in, so i decided i better answer a few before they pile up! i am answering them in the order i receive them, so if you don't see the answer to your question.. you will.. eventually. here we go!
Q: Do you know Jef from The Bachelorette?
A: ummm. no. should i?? this question is random and i have no idea why someone asked it, but that's my answer! i don't watch much TV and i have never seen the bachelorette. reality TV drives me bonkers.
Q: What is your degree in? Where did you go to college?
A: oh, college.. i never got into that whole college thing. well, the whole university thing, i suppose. i did go to community college—salt lake community college, to be exact—for seven years on and off. yes, SEVEN. i even did a study abroad in london. guess what i earned in those seven years? an associates degree. in general education. and in those seven years, i also earned a whole lot of life experience. i had many jobs. i lived in many places (all in utah—but i moved almost every 6 months to a year depending on the length of my lease.) i got in too much trouble (don't break the law.) i met lots of faces. i went through a few boyfriends. i did not really concern myself with college—i was too concerned with life.
while i was a great student and a quick learner (i maintained near-perfect grades throughout high school with minimal studying and without much effort) i wasn't focused on any specific path. i had NO idea what i wanted to do with my life, and i decided to just go to community college for the sake of continuing my education since "that's what people do"—NOT because i was driven to do a single thing with my life. and i let my amazing GPA from high school go to waste slip by the wayside since i never was motivated enough to apply for scholarships. (sorry, parents…)
but here i am today, running a company where i have worked for seven years. i wear several hats at my job. the company owners don't mind that i don't have a college degree in business management. or in marketing. or in accounting. they care that i am smart, hard-working, reliable, honest, and efficient. i developed these skills through life experiences, not through sitting in a classroom. fortunately i have found a job that i love and that loves me back for the person i am and the abilities i have—not for how many college classes i passed. i realize i am lucky and that is not the way things usually pan out when trying to find a career.
i also realize the importance of a good education. i have friends who have excelled in the educational department. they have worked hard, studied hard, and earned bachelors or masters degrees in various fields.  they amaze me.  they are so dedicated and driven! yes, i sometimes wish i hadn't skipped the whole college "thing". but i also know the importance of not living a life in regret. what's done is done and i am happy that i've ended up in such a great place despite my educational path.
even though i never did the college "thing", i do still crave to learn new things. and as i have gotten older, my interests have developed and i have found things i am truly passionate about—namely nutrition and fitness. i have toyed with the idea of going back to school and earning a degree in a field that interests me—just for the sake of learning about something i am passionate about. maybe one of these days i will actually take the plunge (and hang out with students who are over a decade younger than me…)
Q: Why did you start a blog?
A: oh! i actually wrote a whole post on this one! i wrote it almost a year ago exactly. you can read it here: discovering blog land.
Q: Who does the everyday chores in your house? (Dishes, laundry, trash, feeding the dogs, etc.) Or do you split them up?
A: marshall and i actually have a really great balance with the everyday chores. we both pitch in and it (usually) all gets done. our house is usually a little bit messy (and sometimes a lot—i like to call it organized chaos) but we are both the type of people that are OK with a little mess! luckily we don't let it get too out of hand before cleaning up after ourselves. we will both throw a load of clothes into the laundry and then we usually fold our own items (or marshall will be amazing and fold mine for me since it's my most-hated chore.) marshall empties the dishwasher, i fill it. marshall sweeps and vacuums the floors, i mop them. i clean the bathrooms, marshall cleans the yard. whoever has more extra time in the morning feeds the pups. i dust the furniture, marshall takes out the trash. marshall makes me fruit and vegetable juice every morning, i make him dinner every night.
speaking of dinner… here's tonight's! it's national filet mignon day, so we had to celebrate.
i picked up some buffalo filets at whole foods after work today. i was stoked because marshall reminded me of our cool gadget used to cook steak!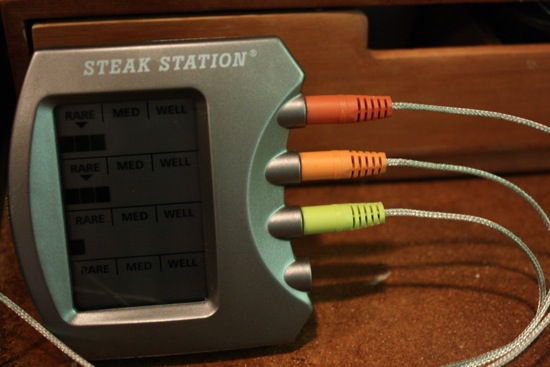 we picked up this digital steak station at sur la table last month but hadn't had a chance to use it until tonight. there are four separate thermometers so you can cook four separate steaks to order. it allowed us to easily cook all three steaks perfectly! we snagged it for around $10, well worth the price tag.
as i mentioned in my last post, i am participating in GPP's Rx+ week, and the nutrition plan calls for 4-6 oz of protein plus a cup of vegetables for dinner. since i had a double workout scheduled after work, i decided i better make it 6 oz rather than 4. i also doubled the amount of veggies ( a cup of spaghetti squash and a cup of asparagus.)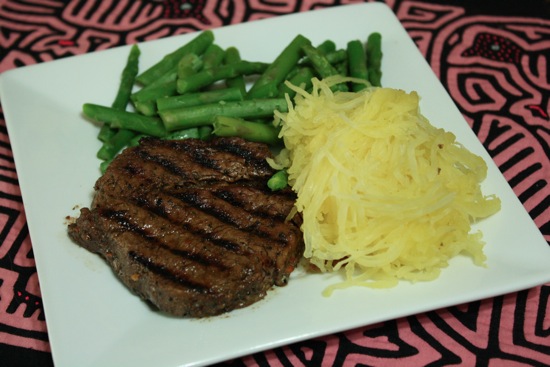 side note: like the placemat? it's handmade and from costa rica :) love it!
i asked (on my facebook page and on twitter) how you like your steak done, and most votes were for medium or medium rare. i agree with you all! i was a well-done girl back in the day, but i have since changed my tune. a medium cooked steak has so much more flavor than when cooked well-done. i know my well-done-loving momma b won't agree, but that's my story and i'm sticking to it.
hope your monday was fabulous and you all have a great week!
Qs~
1. what's your college (or non-college) story?
2. what's your most favorite chore? and your least?
xo. janetha g.