hey, guys! i'm back.
we just made the 315 mile drive from st. george home with only one bathroom break. my right bum cheek is still numb from driving for 4.5 straight hours, i am hoping to regain feeling in it soon. it didn't help that we were running on less than four hours of sleep.. we pulled into st. george from vegas at 5 AM last night–er, this morning. rough stuff, but totally worth the fun.
i thought about going straight to bed when i walked in the door at 6:30, but then i realized i'd wake up in the middle of the night and not know what to do with myself. instead of my sleep patterns being all outta whack from the vacation, i am just going to make myself stay awake for a few more hours and go to bed at a normal time. the reason i'm explaining all of this is because this blog post might make no sense at all–sleep deprivation makes my brain mushy.
this will probably be long. i wanna recap all of it before the fabulousness slips my mind. just a warning.
SO! friday morning i took off to st. george with kerryne and amanda. for those of you who don't know where st. george is, let me show you a map: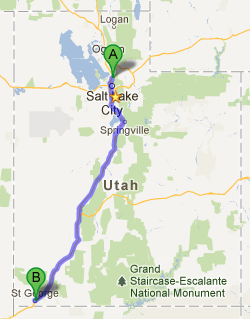 our boss was gracious enough to let us use his house in st. george for the weekend. the three of us girls work together and so getting away on a girls' trip was a little tricky. sure, we can each take days off here and there, but all three of us taking a day off at the same time was not something we had ever done. i'm grateful we were able to take friday off for this trip. road trips are a blast–especially on the way TO your destination!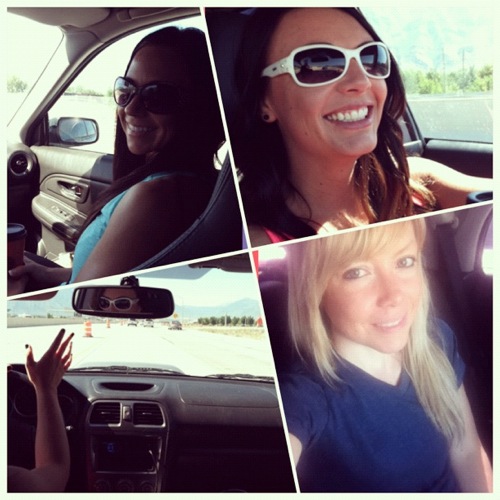 we rolled into st. george around 2 PM (we got a little bit later of a start than planned–go figure!) and immediately found something to eat. if you think i always think about food, you should see me in action with amanda and kerryne. it's all we think about and talk about! we yelped restaurants for at least two hours on the way to st. george. we decided to go to the painted pony because of the 4.5 star reviews on yelp. 
we started off with the brie & berry plate.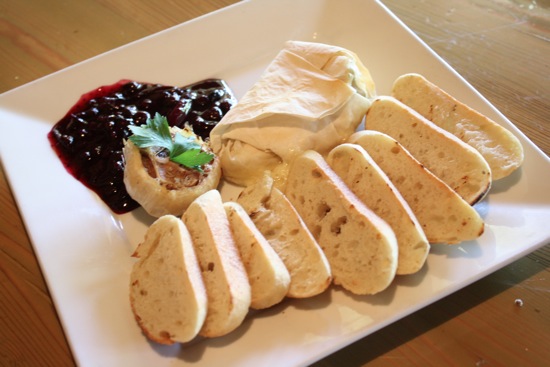 baked brie in puffed pastry is so simple but seems so fancy! the roasted bulb of garlic was a nice savory touch with the warm, sweet berries.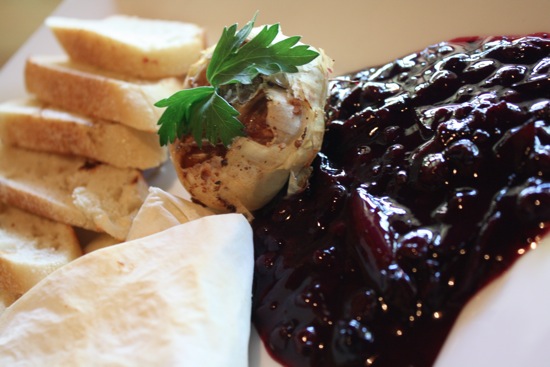 the three of us are big sharers, so we ordered three entrees and split them all amongst ourselves. sharing is caring.
we went with the coconut shrimp: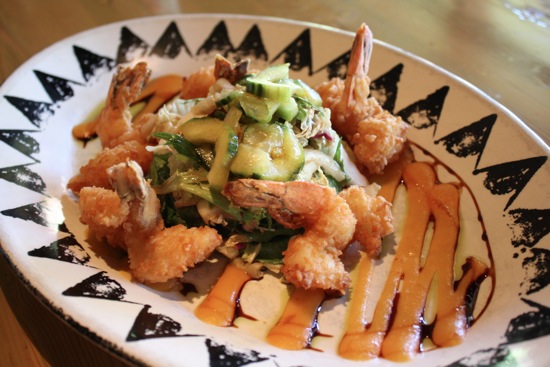 the southwest chicken salad wrap: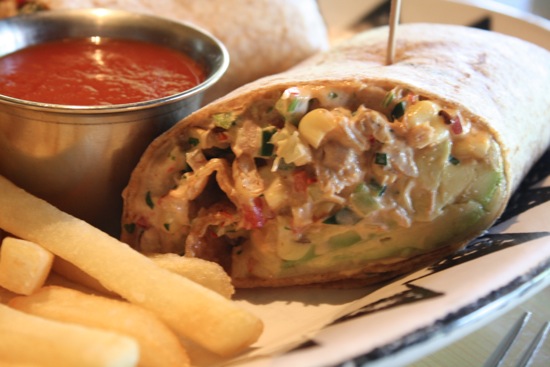 and the tuna wrap with avocado and caper aioli.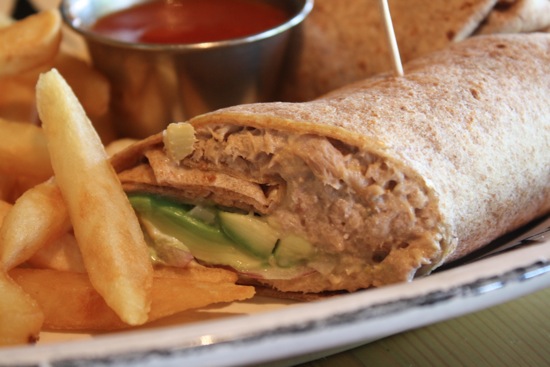 while we definitely enjoyed the food and speedy service at the painted pony, i don't think i'd give it 4.5 stars. i'd say it was more like a 3.5–a 4 would be pushing it–but it was still a success. 
we headed to the house and immediately changed into our suits for the pool. it was a steamy 105* outside at 4 o'clock! yikes. basking in the sun and splashing in the pool was just what we needed.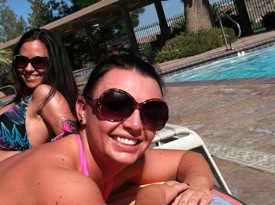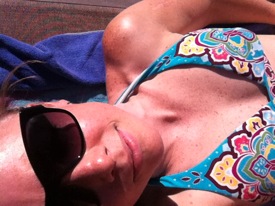 after a couple hours at the pool, we decided to hit the outlet malls for some shopping. sometimes you just want to leave the camera at home, so that's what i did. after shopping, we headed to nielsen's frozen custard (aka the best dessert on the planet) and we ordered concretes. a concrete is basically a super thick shake made with frozen custard. it's hard to explain how amazing they are–you just have to have one to know why they are the best! how about you come to utah and i will buy you one.. deal? deal. 
we were going to take our concretes home and eat them after dinner, but we somehow managed to eat them on the way home. whoops! dessert before dinner was never a bad thing, though. we had plans to make pizza for dinner so we got started on that when we got home. it was already 11:00 PM.. latest dinner ever.. even for me!
we couldn't decide between buffalo chicken pizza and balsamic mediterranean pizza, so we went halfsies. one side had the buffalo chicken yogurt sauce (you can find my recipe here) and the other had marinara.
toppings on the left followed the recipe, toppings on the right were shredded chicken soaked in balsamic vinegar, marinated artichoke hearts, tomatoes, sautéed onions, fresh basil, and a big pile of feta.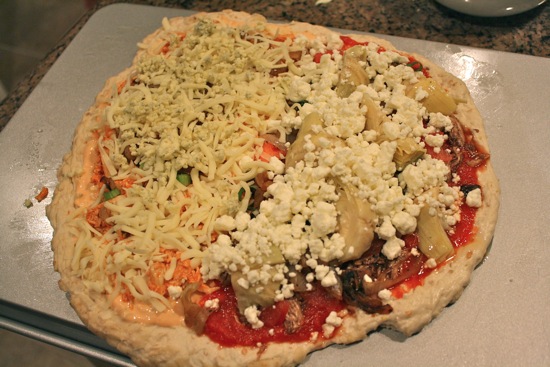 tada!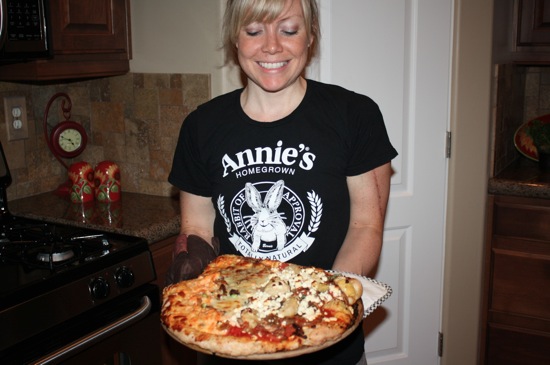 the pizza was fantastic. the entertainment was better. kerryne and amanda are dancing machines! i just watch. i don't dance.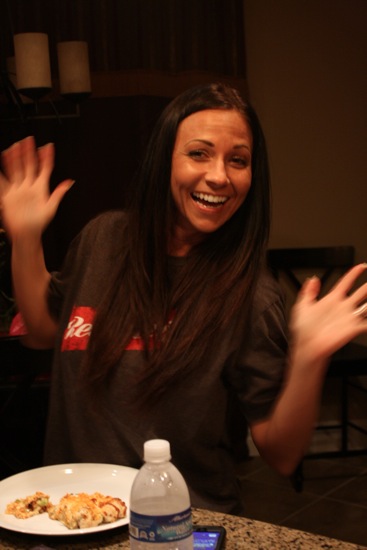 the next morning we had good intentions to work out, but somehow that didn't happen. actually, truth be told, we had plans to workout both saturday AND sunday, and we ended up not working out once. we all like to work out and thought it would be fun to do together over the weekend, but then sleep prevailed. 
we got ready on saturday morning and had a quick breakfast at the house before heading out to vegas. we snagged coffee on the way. laughed at this sign in the coffee shop–mainly because i'd seen the same one just a couple weeks ago when i was in oregon!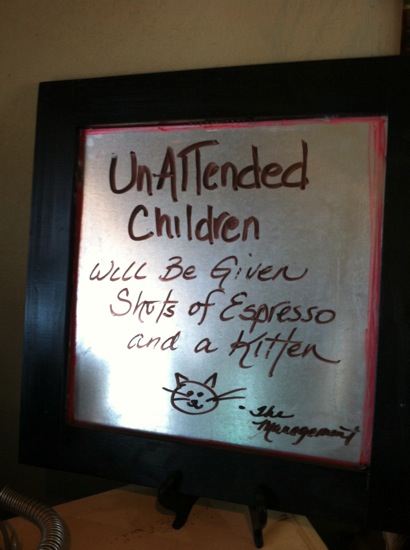 the drive to vegas from st. george is not bad at all. the views are pretty and it only takes about an hour and a half. plus, there's a time change, so we gained an hour! we were there by 11 AM!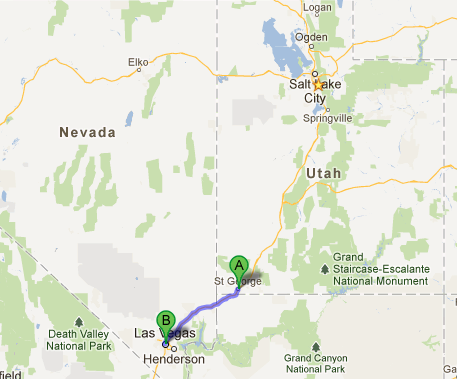 we all had the same thing in mind for our first stop in vegas: trader joe's! yep, we are grocery store geeks.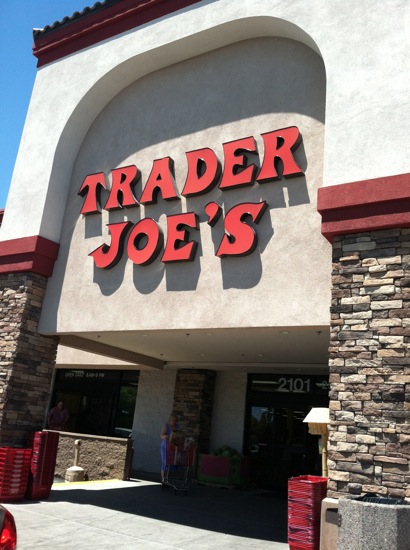 and the fact that we drove to vegas meant we could fill our car with as much loot as possible–included perishable goods stashed in the two coolers we brought along for the ride. 
several of you asked what i ended up getting. i was too lazy to photograph the goods when i got home tonight, but i did save my receipt!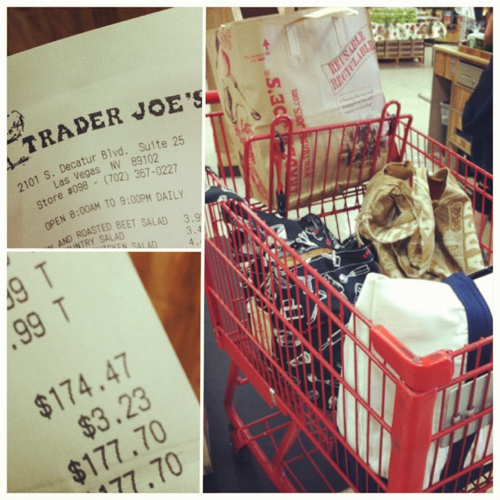 i decided i'd list it all out for those who care:
chicken & roasted beet salad
italian country salad
fresh chopped chicken salad
egg white salad with chives x 2
triple layer hummus
tomato basil hummus
ready-to-eat peeled and steamed baby beets (hello, convenience!) x 2
ready-to-eat steamed lentils (so convenient, again)
a bunch of the vegan "meat" items for my friend nick who i designed a meal plan for
salsa verde
hamanero lime salsa
cranapple mini muffins
cracked wheat sourdough bread
popcorn with herbs & spices
white balsamic vinegar
regular balsamic vinegar (the huge bottle)
almond meal x 2
spinach & chive linguine
brown rice medley
21 seasoning salute x 2
taco seasoning x 3
champagne vinaigrette salad dressing x 2
quick cooking steel cut oats
dark chocolate with sea salt and caramel bar x 2
dark chocolate bar filled with speculoos 
gummy multivitamins
gummy vitamin C
chocolate calcium chews
glucosamine for the dogs
chicken & rice dog treats
NINE bags of tempting trail mix.. that should last us a month. maybe less…
a few of the cute reusable trader joe's totes
whew! long list, but you asked for it. and considering how much stuff i got, $175 is not bad at all. i love how affordable trader joe's is! cannot wait for them to be in salt lake city. 
after our grocery haul, we headed to the strip. we couldn't help but tear into this goodness on the way…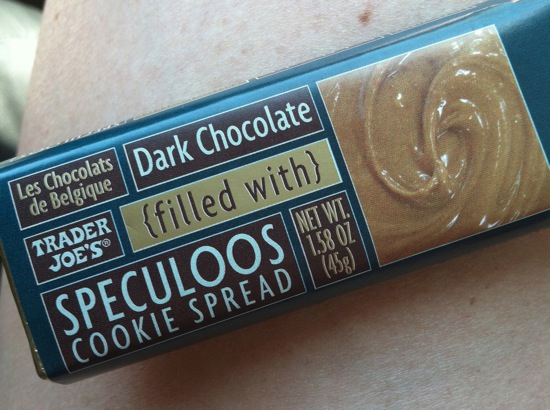 umm… amazing.
we went straight to MGM because we were planning to see a show there that night.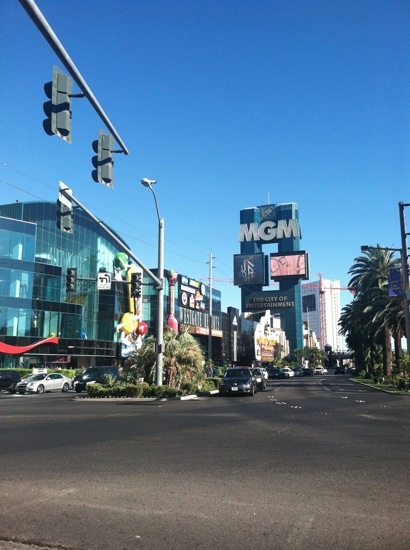 we snagged our tickets for KA at will call and then found a restaurant there in the hotel. we were pretty freaking hungry by this time so we picked the first spot we saw, which happened to be a cute sandwich shop with an even cuter name!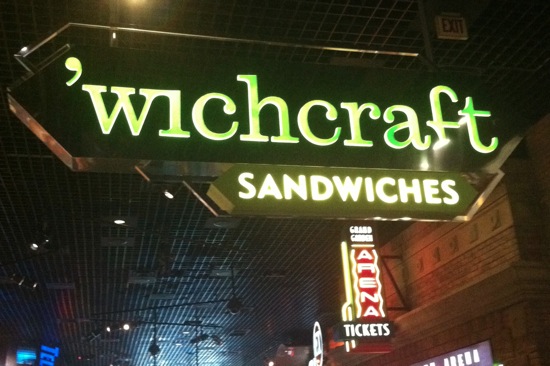 as i mentioned above, we are big sharers. we ended up splitting a couple of the sandwiches: toasted turkey avocado club on ciabatta and roasted chicken panini on pumpernickel.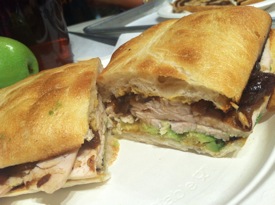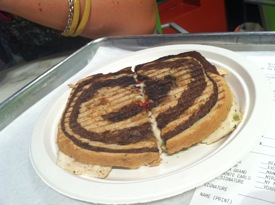 we also had salt and vinegar kettle chips which ended up hurting my geographic tongue.. and i ended up telling the girls about my geographic tongue. i can't believe i'd never mentioned it to them! it's something i have to deal with almost every day of my life.. hate it. does anyone else have this?
anyway, after lunch we headed out to the strip for some sight seeing and shopping. i hadn't been to vegas in years! it was fun to be there again.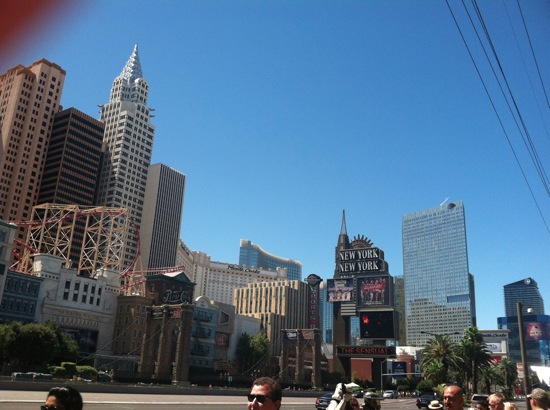 and yes, all i had with me was my iPhone, so what you see is what you get in terms of photography.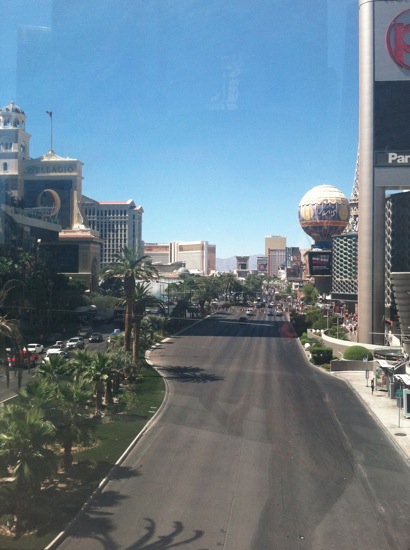 our first stop was the bellagio conservatory.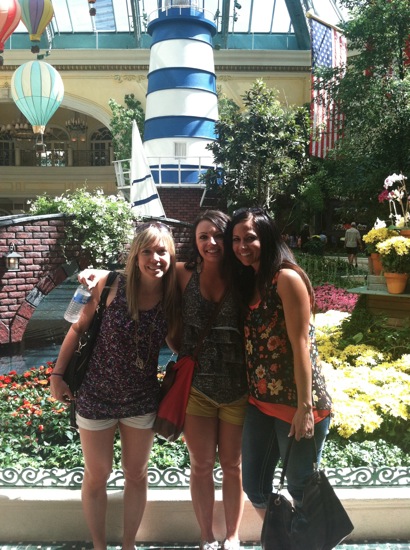 the amazing flower display took my breath away. check out all these amazing things made with flowers and other plants!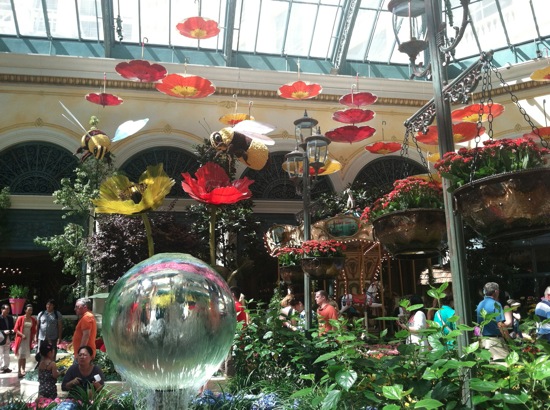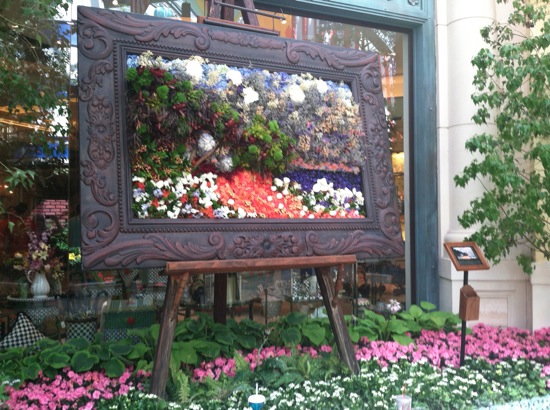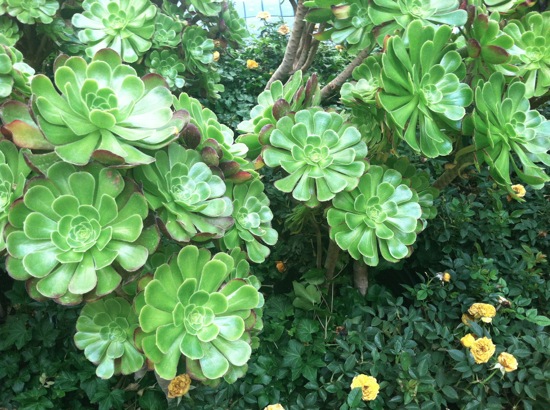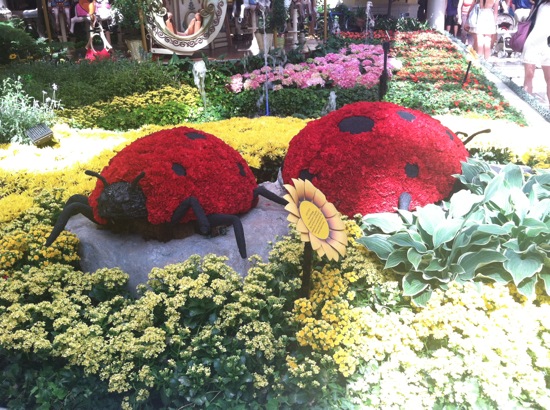 there were foo dogs out front of the bellagio and marshall LOVES them. i had to send him a photo of me and this guy.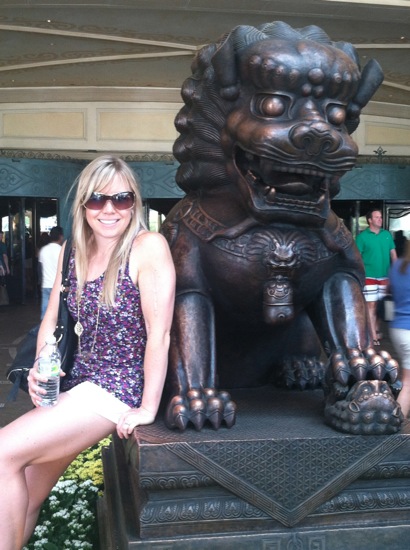 he was a little too big to take home…
we kept walking along the strip and did some shopping at the shops inside planet hollywood.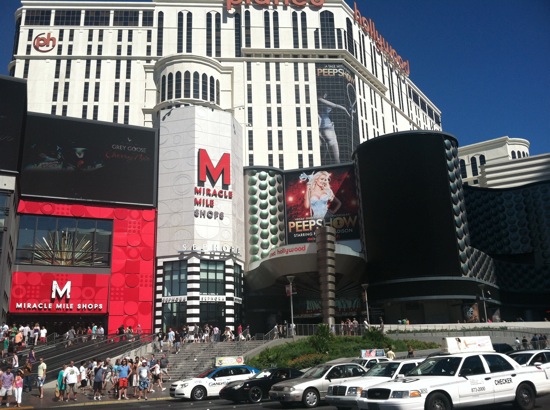 before we knew it, it was 5 PM and we needed to snag some dinner before the show. several of you had given me suggestions on my facebook page (thank you, by the way!) and so we picked the suggestion that was closest to the show location.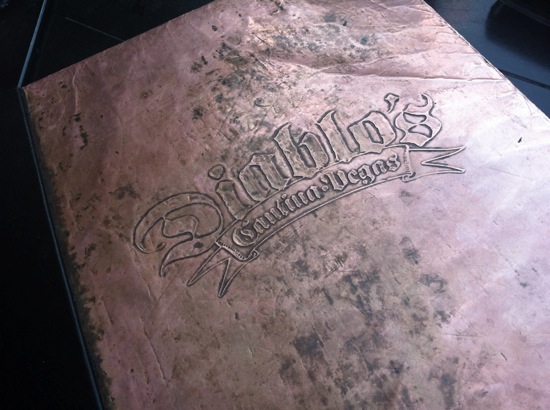 diablo's cantina was the perfect pick because we all felt like mexican food. there was a bit of a wait, so we sat outside and contemplated the menu for a half hour.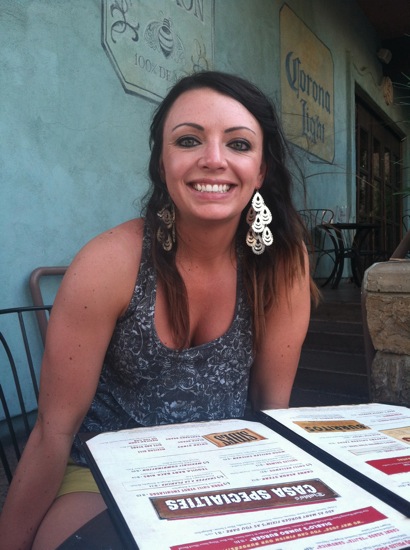 this is something the three of us could do until the end of time.. we are all SO indecisive! we managed to whittle our selections down and decided to share our meals once again. i wanted fish tacos and a quesadilla, so i was happy to get the best of both worlds.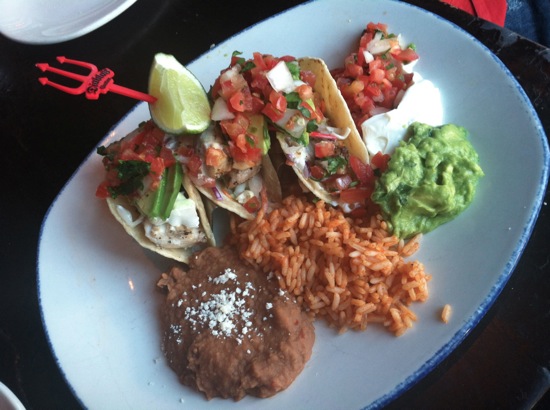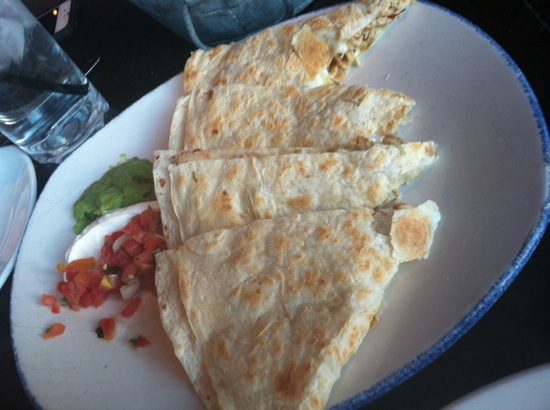 we also ate copious amounts of chips and fresh salsa–the salsa was chunky, flavorful, and fantastic.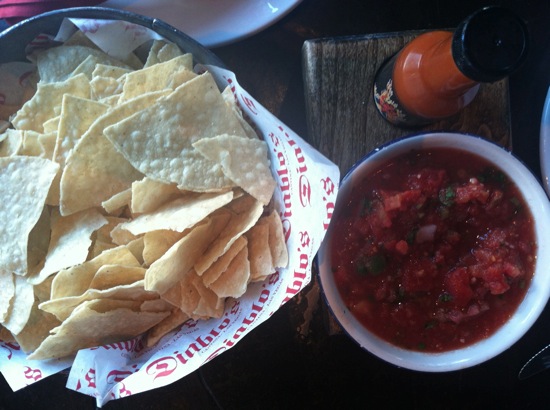 i have to say that our experience at diablo's was the BEST. we told our waitress that we were in a hurry. she had our entrees out in less than ten minutes and brought us the bill before we were done eating without us even asking. multiple people checked on us to make sure we had everything we needed and they all ensured we'd get out of there in time for the show. not only was the service above and beyond amazing, but the food was delicious.  seriously–the mahi in the tacos was perfectly cooked and the chicken quesadilla was seasoned just right. we were all going on and on about how tasty the food was in addition to the remarkable service. two thumbs up and five big stars, diablo's!
we rushed across the street to the MGM where KA was showing. i'd never been to a cirque du soliel show but had always wanted to go to one so i was super excited.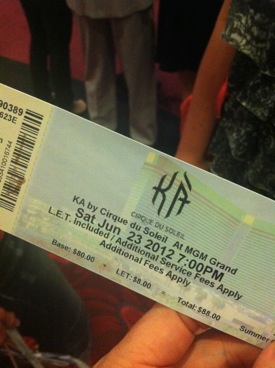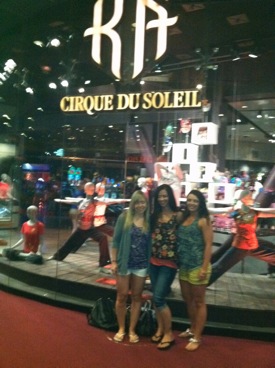 the show was 90 minutes long but seemed to flash by in the blink of an eye! i was oooo-ing and ahhhh-ing the whole time. it was so entertaining! i cannot believe the strength and talent of the performers in the show. incredible.
after the show we did some gambling, lost some money, and decided to head to the stratosphere to ride some of the rides. it was SO windy up top!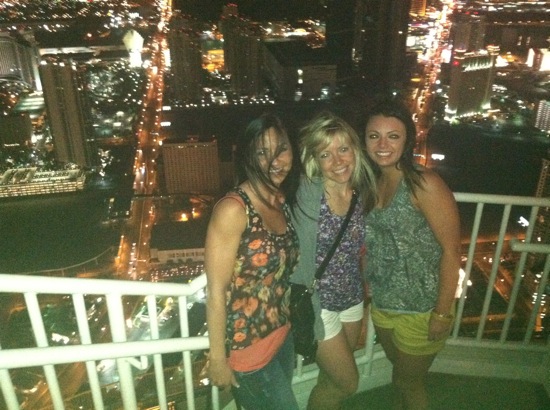 we did X scream (not so cool) and big shot. big shot was SO FLIPPING FUN. we loved it.. can you tell from our faces?!?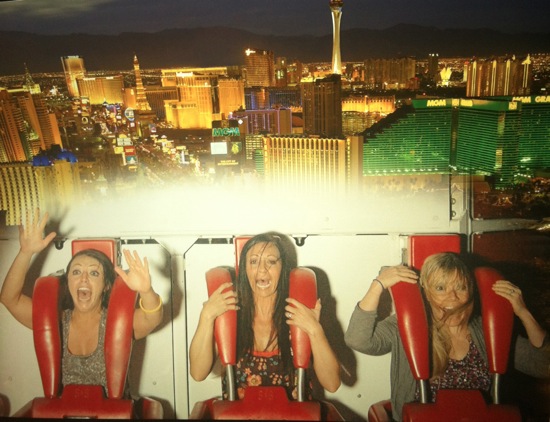 hahahah.. i cannot stop laughing at this photo. especially kerryne's face. terrified. freaking awesome!
after the rides we spent a solid hour driving to the venetian in search of dessert. we were determined! it was the only place that was open for self serve fro yo at 1 AM and we had no agenda, so we made it happen. after eating huge cups of fro yo, we were freezing and had a long drive ahead of us.. so we did the only logical thing and got hot coffee.
the drive home was actually quite entertaining thanks to a practical joke the girls played on me. kerryne is super ladylike and i heard her ripping farts in the back seat on the way home. i was SO confused because this girl doesn't even fart in front of her husband. and these weren't just toots.. we are talking the loudest farts ever to be heard by the human ear.  i was cracking UP but was also so confused. for one, i didn't know such noises could come out of a person. and for two, it was kerryne. 
and then.. the cat was let out of the bag:
THEY HAD A WHOOPIE CUSHION. amanda was in on the practical joke, too. i don't think i've ever had such a hilarious prank played on me. it was a riot. you may be shaking your head thinking we are all big dorks, and you're right.. we are.. but at least we are happily entertained dorks. plus, it made the drive back to st. george lots better.  except for the fact that we didn't get back until 5 AM. ugh. that was rough! thanks for being the driver, amanda! we all crashed immediately upon walking in the door.
like i said at the beginning of this post (which now seems like eons ago) we woke up this morning after just four hours of sleep. of course the first thing on our minds was breakfast, so we headed to the bear paw cafe which is located in the historic district in st. george. it had been recommended by my co-worker, corey, and also had great reviews on yelp. i am such a yelper these days.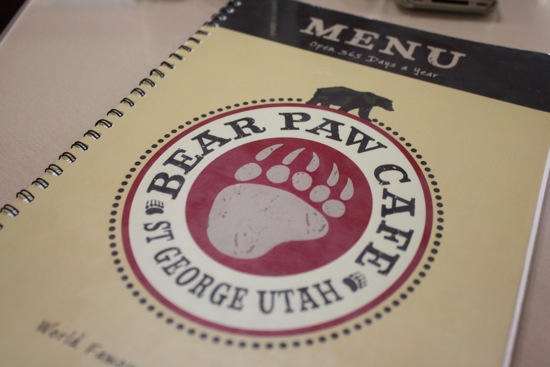 we ordered our meals and chatted about the hilarity of vegas. we were all definitely haggard, but had smiles on our faces.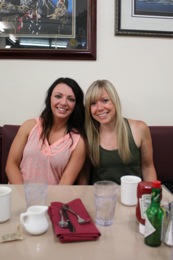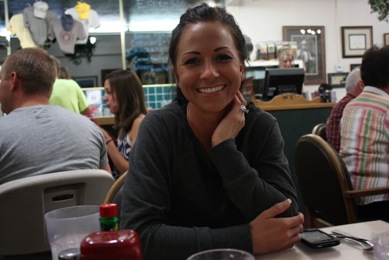 we all ordered omelets. mine was filled with ham, olives, cheddar, mushrooms, zucchini, squash, tomatoes, and onions. it came with hash browns and an english muffin.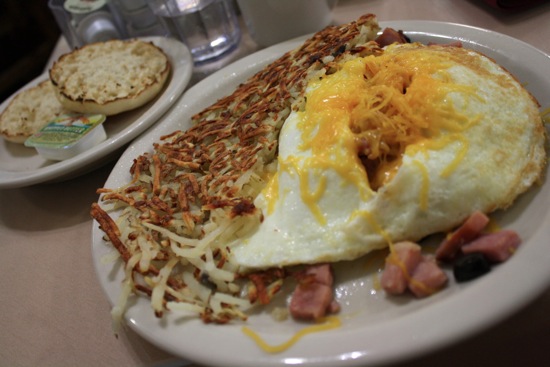 we all wanted something sweet to go along with our savory omelets, so we shared an order of the vanilla creme brûlée stuffed french toast. umm.. yum. it was nearly 3″ thick!
so good.  unfortunately the service at the bear paw cafe was the worst ever… i guess you can't win them all.
after breakfast we headed back to the house, cleaned up, packed up, and headed home. 
whew.
the end.
hope your weekend was fun, and if you made it this far.. wow! thanks for reading. lots of love. 
Qs~
1. ever been to vegas? if so–favorite part about sin city?
2. when dining out–if the food is good but the service sucks, would you still go back? or is crappy service a deal-breaker?
xo. janetha g.
(p.s. i will announce the healthy surprise giveaway winner tomorrow. i am too sleepy now.)