friday! love it.
so, sad news (but nothing tragic), marshall got home last night and was absolutely BEAT from a long day on the job. that meant one thing—he didn't want to go to the tastemakers event. LUCKILY it is a two day event, but i was hoping to spread the event over both nights (and get two dinners out of it—ha!) while i was disappointed, it wasn't that big of a deal. he said we will just have to really pig out when we go tonight. no complaints! i have my pigging out shoes on and am ready to enjoy the event tonight.
because i didn't go out last night, i was able to tune into my fitmixer bootcamp conference call—the first one! every thursday night we will have a conference call where ALL fifty participants and three leaders call in and talk about things. as you can imagine, it has the potential to get pretty wild. luckily last night's call went really smoothly with no technical glitches or people talking over each other. it was actually pretty cool to call in and listen to our bootcamp leaders talk to us. since we all live in different states, this is the next best option to being in a room together.
anyway, enough about all that, onto today's topic: fashion. i don't think of myself as super fashionable. yes, i can dress myself, but that's about it. i am not hip with all the latest trends and i definitely couldn't be your personal shopper, but i do try to look put together on a daily basis. i am (not in a creepy way) obsessed with jess, and she ALWAYS posts the cutest outfit photos on instagram. awhile back, i decided to totally bite her style and started posting outfit shots of my own. yes, i admit to being a complete copy cat—i don't even care. it's a fun way to share different looks AND it motivated me to make an effort to actually get ready (most days…)
i posted several fashion shots on my own instagram feed and had people telling me i needed to do fashion posts here on the blog. i laughed at the comments, because honestly—like i said before—i am not mrs. fashionable. with that said, i do like fashion.. and chances are, some of you do, too. on top of the requests for me to do fashion posts, other people asked me to blog about where i got certain clothing items. so, in true truly jess fashion (double meaning there!), here is a little fashion friday action for you all.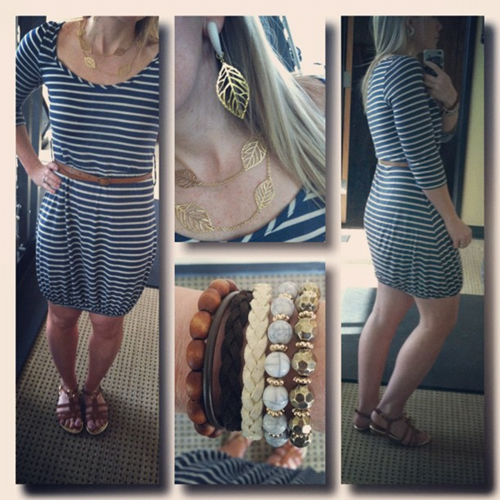 a day at the office.
dress: bohme boutique
belt: old navy
shoes: st john's bay via jcpenney
6-in-1 bracelet / necklace: jcpenney / jcpenney
earrings: the creator's creations via etsy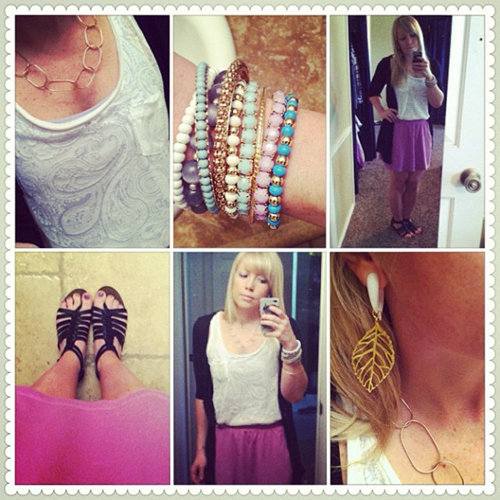 sunday baby shower.
top: h&m
camisole: victoria's secret
skirt: RVCA via dogfunk (old)
shoes: steve madden (old, similar)
bracelets: aldo & kohl's
necklace: target
earrings: the creator's creations via etsy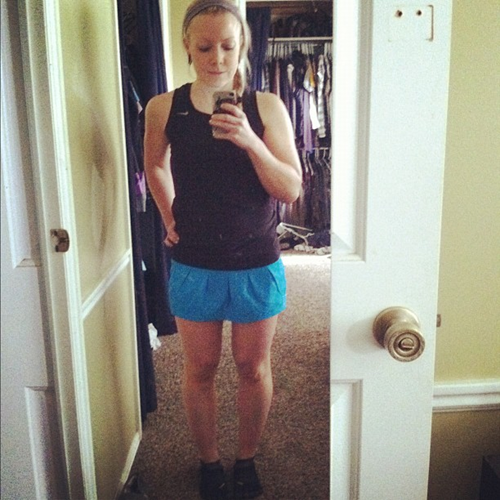 workout wear.
tank: nike via ross ($7!)
fitness skort: calvin klein via marshall's–sorry couldn't find it online
shoes: vibram via REI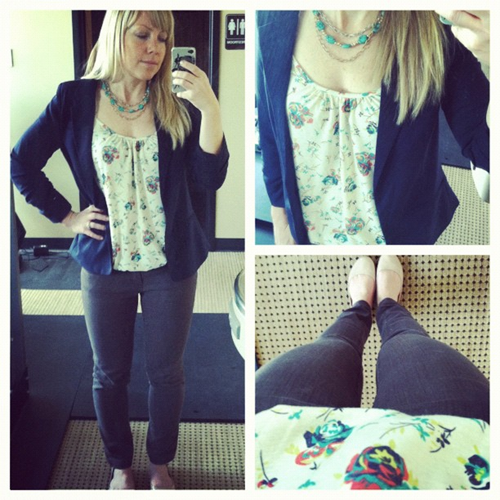 another day at the office.
top: love on a hanger via nordstrom rack
blazer: free hug via nordstrom rack
gray pants: element via dogfunk (old)
nude flats: target
necklace: urban blues (local utah boutique)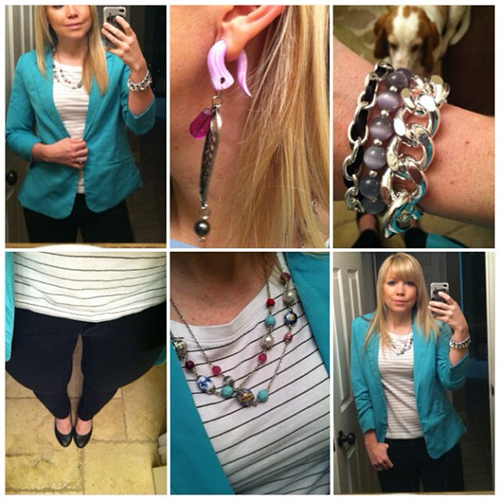 oh, look, more office attire.
blazer: free hug via nordstrom rack
shirt: h&m (old)
black skinnies: forever 21 
earrings: peach treats via etsy
necklace: old/don't remember!
bracelets: kohl's and the chunky one was a gift from jess (from see jewelry online via etsy)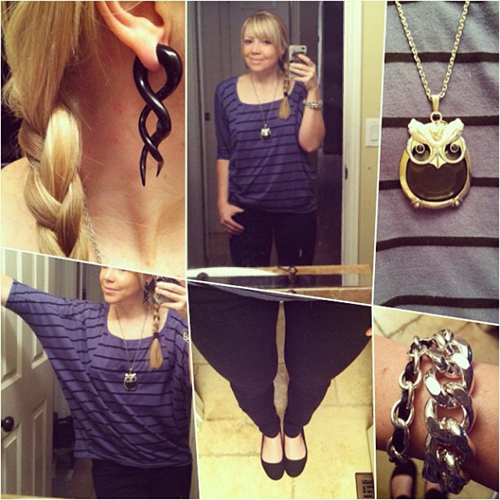 lazy day at the office.
top: love by design via nordstrom rack
black skinnies: forever 21
owl necklace: forever 21 (old)
black flats: soda (got them in palm springs!)
bracelets: kohl's & gift from jess (see above for links)
earrings: loyalty tattoos (old)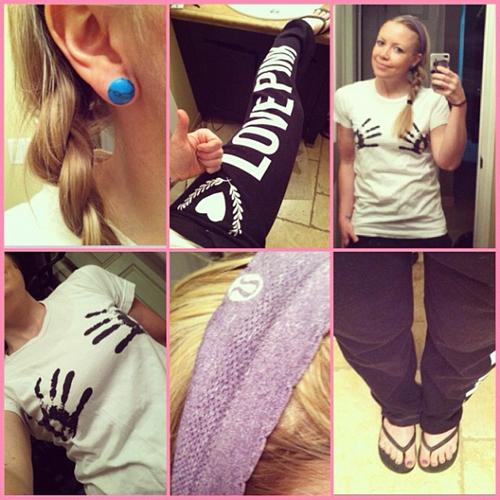 weekend wear.
top: urban outfitters (old)
sweats: victoria's secret (campus pant)
headband: lululemon
flip flops: old navy (they are now in the trash, they got eaten by a pup!)
plugs: iris body piercing 
wow. that actually took a lot more time and effort than i'd expected. props to you ladies who list and link your outfits on a daily basis! i also noticed all the brands of clothing i bought from nordstrom rack have to do with loving or hugging. weird.
i might do another one of these outfit roundup posts in the future.. let me know if you'd be into that.
random thought of the day—sometimes the "spilling over" staged photos really drive me bonkers.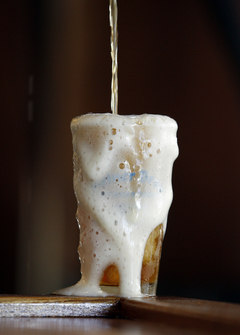 (source nola.com)
okay—most of the time. do you know the ones i am talking about? the ones with a protein shake or salad dressing or peanut butter spilling casually over the container said item is in?  i have to say, jessica and ashley are REALLY good at making it work, but most photographers are just… not. it's an artsy task, and not everyone can pull it off. and i don't know why they would try to. for one, why do you want your liquid spilling over the side of your glass to begin with? does that make it look more appetizing? and for two, most of the time it just looks unnatural.. like it was a bad accident and you decided to grab the camera. because in real life, you probably don't fill your smoothie glass so full that it ends up in a puddle on your table. there are exceptions. i think this photo did a great job of the spilling over thing. but then there are photos where it just looks like a bad accident and the liquid is in a puddley (made that word up) mess like this make me shake my head and wonder, "why?" (note: i love the blogs of both those photos just linked. i am not bashing the bloggers or blogs that do this! i love 99.99% of their photos. just the particular type of photo makes me crazy, and it's 100% just my opinion! peace and love.)  i am pretty sure i tried to do this once or twice when i first saw it everywhere in blog land (i tried to find one i posted awhile back but that proved to be too time consuming), and then i realized that it was the messiest, most ridiculous food styling trial and error ever. (most of my food styling attempts end up in error, i am no pro.) and now it's just waaay overdone. anyway, i had that random thought because i saw both of those linked photos in my google reader today.
and on that note, i guess i will go ahead and publish this! have a wonderful weekend!!
Qs~
1. what is your favorite clothing store?
2. how do you feel about the "spilling over" food photographs?
xo. janetha g.