marshall had to work today.
lame.
but that means i got up with him, because i just did, i should have kept sleeping.. but i woke up and was up and that was the end of it.
i took advantage of my morning and cleaned the whole kitchen, folded all the laundry, and straightened up all rooms of the house. all before 10:00 AM. hmm.
i ate two bowls of cereal and a slice of sourdough toast with raspberry jam and caught up on my google reader.
i looked at pinterest. i looked at facebook. i looked at twitter. i looked bored. so i looked at the dogs.
marshall had asked me to take them on a jaunt while he was at work, so i decided to throw on my vibrams, grab their leashes, and head out on a jaunt.
we walked and walked and walked. well, randy stopped and stopped and stopped. he did NOT want to take a walk. he's usually a tad stubborn on walks, but he will usually get a skip in his step after a few minutes. today's walk? no skippin' whatsoever.
i coaxed him along as much as i could. i told him there would be treats when we got home. and his favorite chair! i begged and pleaded for him to just walk. but he kept stopping dead in his tracks. i'm just sorry i didn't have my camera. he would stop, freeze, and stare at the ground. i would tug on his leash a bit, which i am sure led all the cars passing to believe i am an asshole dog owner who drags her dog by the leash, but he still wouldn't budge.
so we stopped a lot. and penny wondered why. i told her randy is old. i told her randy is tired. she just looked at me like, "what the heck, ma, let's do the damn thing!"
we FINALLY made it home.. after what seemed like a century.. and randy headed STRAIGHT to the water bowl.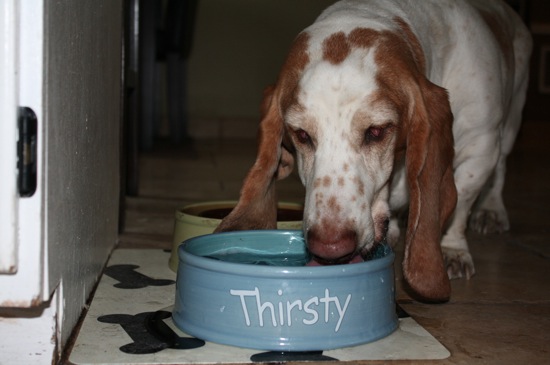 the bowl doesn't lie. he sure was thirsty.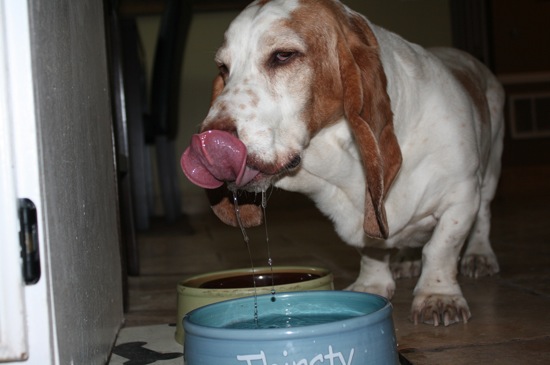 he wouldn't even let penny get a sip in edgewise.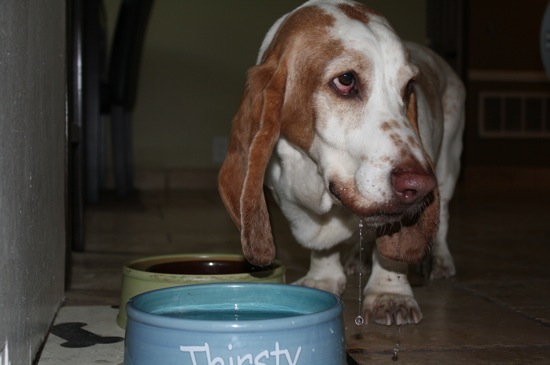 and then guess what happened? no, he didn't go to his favorite chair to pass out. he didn't make it that far.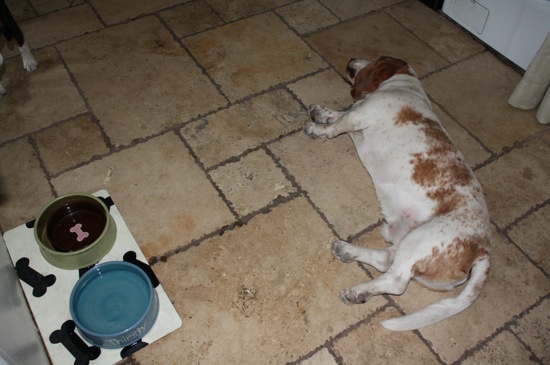 he flopped down right here.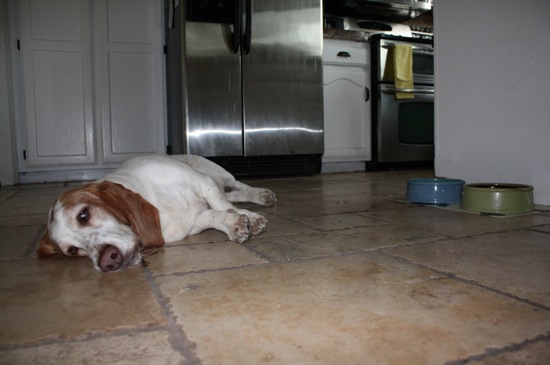 less than a yard from his water bowl.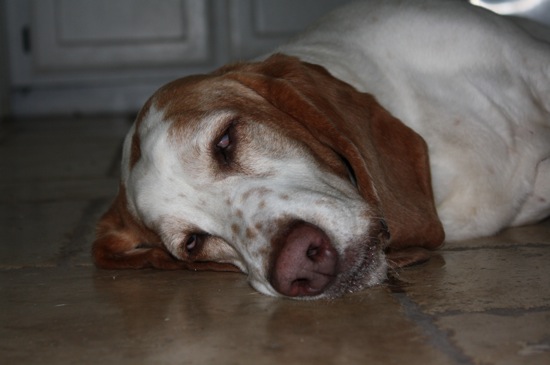 and he's still there. snoring.
i used mapmyrun.com (let's face it, it should be called mapmyveryslowwalk.com) to see how far i dragged randy. er–i mean–how far we walked.
3.5 miles. that's actually a lot farther than i thought!
i want you to take a guess how long it took penny, randy, and me to walk 3.5 miles today.
here are a few things to take into consideration when estimating:
it was nice and cool with a slight breeze
it was all on flat, level ground
the terrain was a mix of grass and sidewalk depending on our location
the pups have not been to daycare since last wednesday, so they were VERY well rested
randy's legs are roughly 8 inches long
penny did not get tired at all, ever
i did not get tired at all, ever
so.. how long do you think our walk took?
enjoy your day! i am off to complete a shoulder workout at the gym. i think i will leave randy home.
xo. janetha g.