hey guys!
oh man, it was so fabulous reading all the comments on my cereal post. i didn't realize that so many of you were as passionate about the stuff as i am! can you all please come to blend retreat so we can hang out together and eat cereal all day long? please?
today happened to be a long, dragging day for some reason. my co-workers agreed, so it must have been something in the air. or maybe just because it happens to be thursday and the work week usually starts dragging by then. either way, i was super pumped when it was quitting time!
i skipped the gym yesterday because i am a lazy slug, but i made up for it today with a heart-pumping, muscle building sweat session. behold:
[pinit]
i rested about a minute between sets and this routine took me just over an hour (including a little bit of chatting since i saw my sister, suni, at the gym!)
i had to run to target after the gym, so by the time i got home and didn't want to go to a lot of effort for dinner.  i took the easy way out and picked up a couple things at target for a sandra lee-esque semi-homemade meal.
all it took was some packaged ravioli…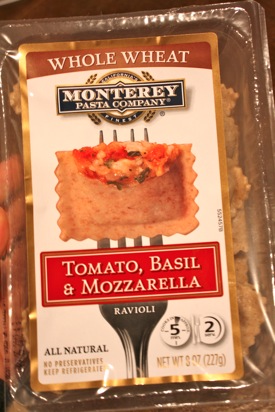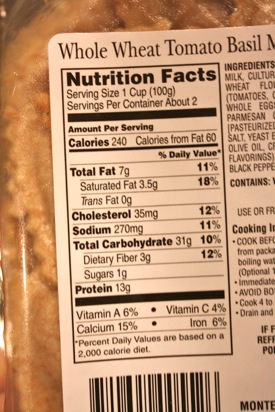 some shredded asiago…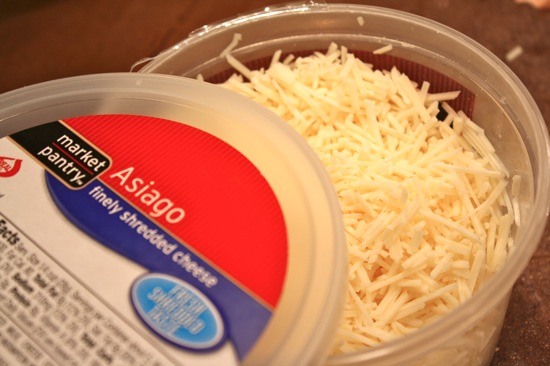 and a husband!
note: husband was not purchased at target.
marshall whipped up a small batch of his signature marinara sauce and added some chicken breast strips (that i cooked in the cast iron skillet pre-sauce makin') for a protein punch. after a quick boil of the ravioli and steaming of some asparagus, dinner was served!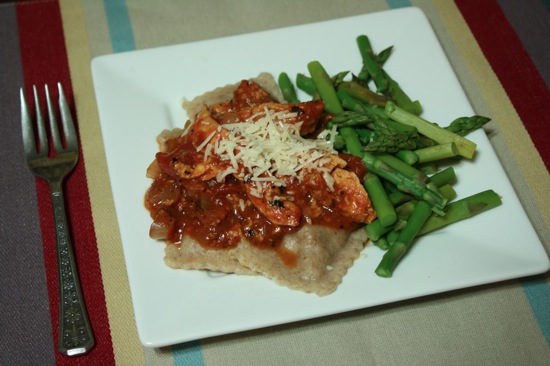 oh and yes, the clock up there said 8:56. i told you guys we eat dinner WAY late.
we both LOVED this ravioli! it was a new-to-us product.  it has amazing stats, lots of protein, all natural ingredients, and is made with whole wheat. what's not to love? plus the taste is delightful. this ravioli will definitely be making an appearance in the kitchen again and again. it is quick and easy, and an added bonus is that a package is just two servings and we are just two people. perfect.
so.. i have been getting some fun mail lately! here are some of the things that have shown up at my door.
first up.. just what i need: more granola. but this isn't just any granola, it's nuts about granola's college staple PB & jelly granola! i love nuts about granola—they are such a fantastic company (remember when they donated a huge chunk of change to the great fundraising act?!) and so when they contacted me* to try their flavor of the month, i was super excited. more on that later.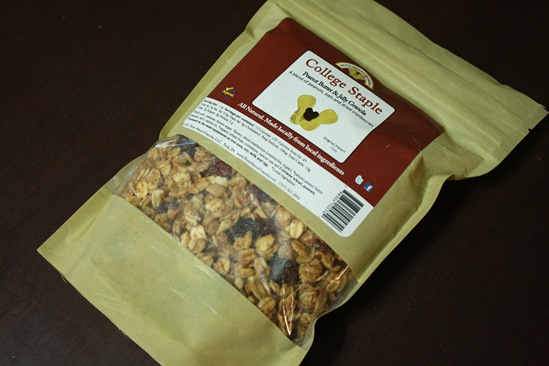 i saw this squid mug on etsy and had to buy it. we are a mug-only family (meaning we don't use glasses.. we threw them all out and only use mugs!) so i am always on the lookout for unique mugs. that aren't made in china. this was handmade and fabulous and i purchased it in a heartbeat. etsy and paypal makes purchases WAY too easy.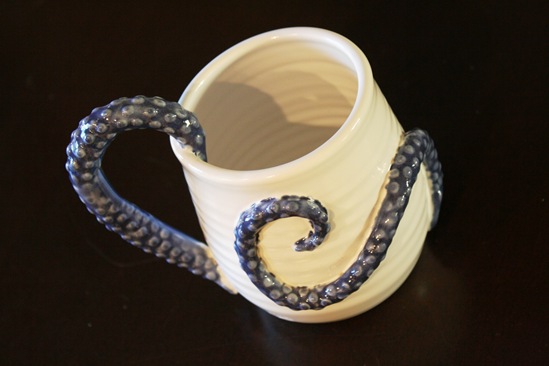 belvita contacted me* and sent me their new breakfast biscuits. i agreed because i had actually eyeballed these at the store but didn't actually purchase them.. although i came dangerously close. i think it was fate when the company contacted me only a couple days later. someone is reading my mind!  so.. can we just be honest and say they sent me three boxes of cookies? because that's what i feel like they are.. and eating them for breakfast would probably not be advisable. however, they are way more delicious than i ever could have imagined and now i can't stop eating them. especially the blueberry ones. ohmansogood.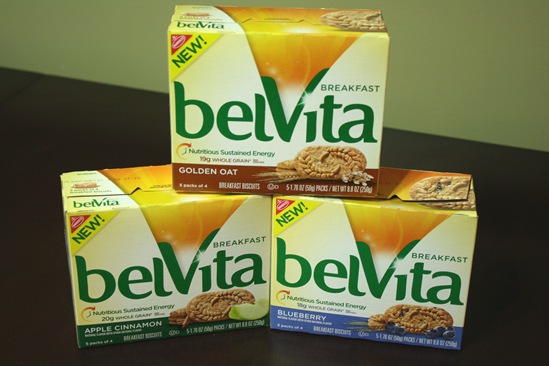 the lovely ashley notified me that lightroom software was on sale for a ridiculously awesome price awhile back. i have no idea how to use the software, but it was like 75% off or something crazy like that.. so i impulse-bought. it was $70 instead of $240. what a steal! and now i have some learning to do.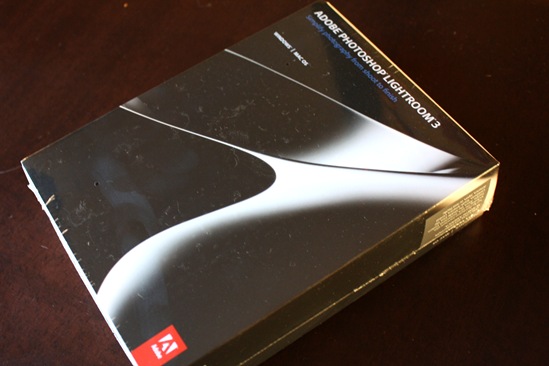 i had a mystery package from tiff, and was thrilled to open it and find this adorable tea towel with a buy local calendar printed on it! thanks, tiff!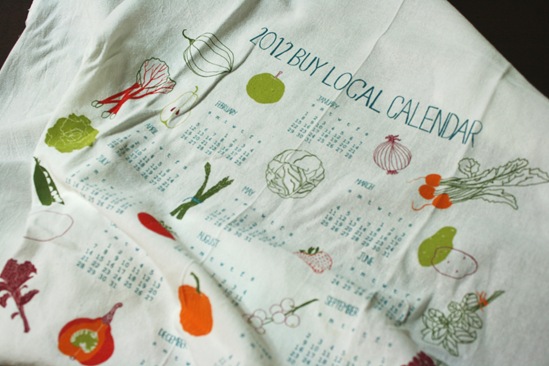 popchips is a new blend retreat sponsor, so we have been chatting with them a bit. they are awesome folks and offered to send me* an month supply of chips. um, yes.. please and thanks! don't worry, i will be spreading some popchip love to you guys soon. oh, and if you come to blend, you'll get free popchips galore! along with a ton of other swag.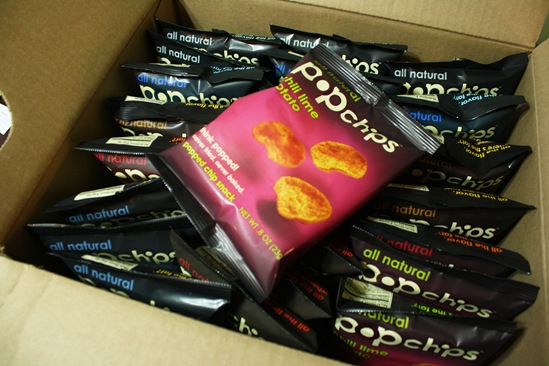 and last, but certainly not least, a new pair of kicks! i have been wanting a pair of black toms for a long time, but haven't been able to find my miniature size in stores. i prefer their canvas line of shoes, but i wanted an all black pair and the black canvas ones have a white sole. sooo, it was between the all black burlap and all black corduroy. i got the cords and was pleasantly surprised to see the houndstooth inside lining. sure, it doesn't show, but just knowing it's there makes me smile.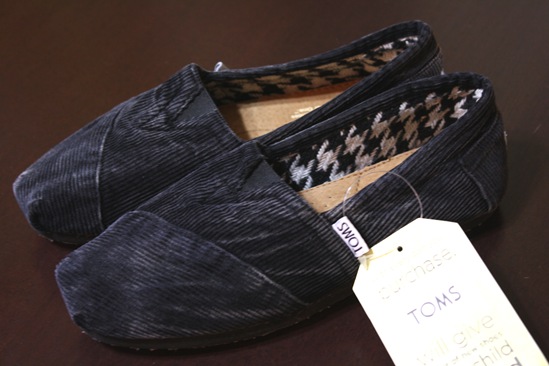 whew. told you i had a bunch of stuff in the mail lately. and now slightly less stuff in my bank account.. but it's worth it. sometimes you just need to buy a few fun things!
now i have a pile of boxes.. anyone want them?
Q~
what was the last fun piece of mail you received?
xo. janetha g.
*these companies sent me free samples to try out, but i was not compensated nor required to post about them.