what does march 7th mean to you? anything special? is it your birthday? if so.. happy birthday!
march 7th means two things to me.
for one, today marks FIVE years since the worst injury of my life. wow, i can't believe it's been five whole years.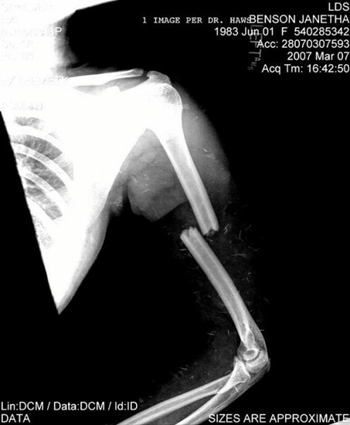 on march 7, 2007, i was snowboarding my life away. i went nearly every day back then.. before i got old and boring. i had really built my skills (and confidence) that season and was flying off 65' jumps like it was totally normal. later in the day, the snow had become icy and sketchy, so when i went off the 65' foot jump for the final, fateful time.. i overshot the landing. by a lot. i was going too fast and went sailing through the air. i missed the landing completely, and instead fell onto flat, hard ground. my arm broke my fall.. thank god it wasn't my neck or my back or my skull, right?
i was in the hospital for a week and i went from the broken photo above to being part robot, which i still am today. jealous?
i also have a gnarly scar on my left arm. i usually tell people i got bit by a shark. i am surprised with how many people actually believe that lie.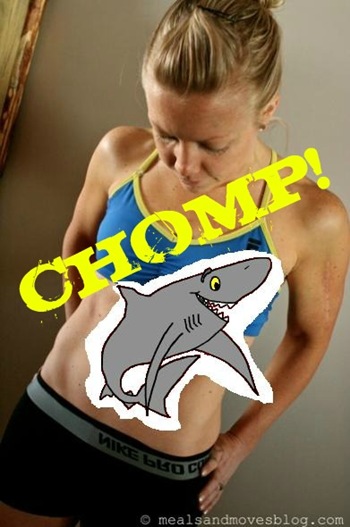 but as you can see, it has faded a lot over the years.. like this photo, from 2008: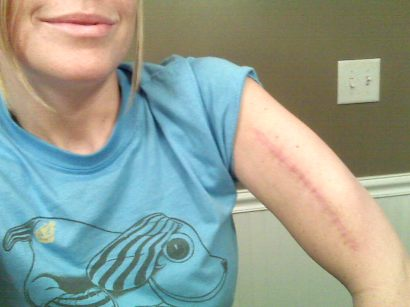 as far as the inside goes, i still have a little bit of pain if i work my upper body really hard. my left arm always gives me a little grief and it still isn't quite as strong as ol' righty, despite all the strength training i do. i am just glad i have an arm, though. look on the bright side, right?
i haven't thrown myself off any big jumps since. and i don't plan to. i am embracing that whole "better safe than sorry" motto. you can read a more detailed flashback in this post.
and the second reason i march 7th is significant?
well, it's national cereal day! i know, i just can't quit with the national food holidays. i am a sucker for celebrations. and for cereal.
don't believe me? i did a quick search that says i posted about cereal 230 times.

addicted. i also found several photos of cereal.. and me eating cereal.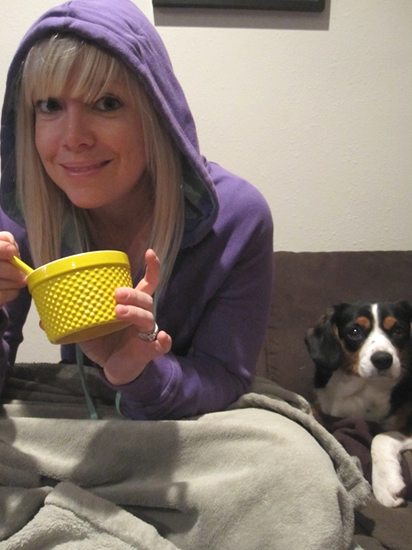 typical.
warning: long & random cereal rambles ahead.
next to ice cream, cereal is my favorite food in the entire world. and if i had to choose to eat only one thing for the rest of my life, i wouldn't pick ice cream, i'd pick cereal. there's just more of a variety and who knows how long the rest of my life might be, you know??
growing up, my favorite after school snack was a big bowl of fruity pebbles. to this day, i crave a bowl of cereal right when i walk in the door from work. i don't always give into this craving, but i would say i do about 31% of the time. sure, that's a good percentage. my very favorite cereals as a kid were fruity pebbles, cinnamon toast crunch, honey nut cheerios, and frosted flakes. they're grrrrreat!
in junior high, i was super stoked on the a la carte lunch line. i was able to purchase an individual-size container of cinnamon toast crunch and a carton of 1% milk for a cool $1.25… which left me with a little extra change from my daily lunch money allowance. cereal and extra cash? don't mind if i do. speaking of cinnamon toast crunch.. i made my own last year. it was delicious. dangerously delicious. i ate the whole batch in less than 24 hours. i blame mama pea for that one.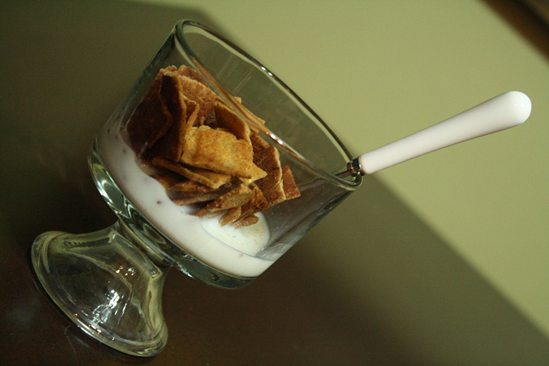 my love affair with cereal continued into my late teenage years, when i lived in london. the hostel i lived at offered a free breakfast that consisted of coffee, tea, white toast with jam, and two kinds of cereal: rice krispies and corn flakes. sometimes my mom would mail me honey bunches of oats (yes, all the way from america, she also mailed me ranch seasoning!) and i would gobble that up in a few days and then it was back to the free breakfast. it was during this time that i became a cereal mixer. i used to only eat one cereal at a time, but when you only have two cereals to choose from day in and day out, you get an itch for variation.. so i started combining my cereals. and i never looked back. i always combine my cereals now!
exhibit A: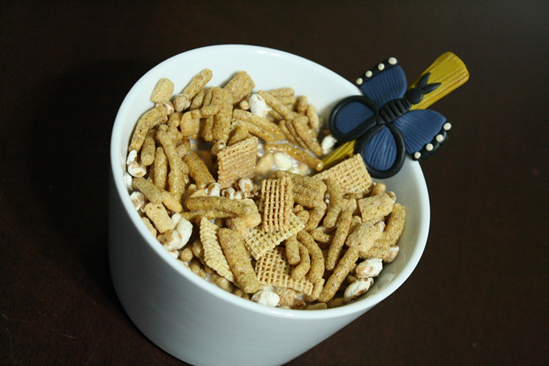 exhibit B:
and, for good measure, how about exhibit C: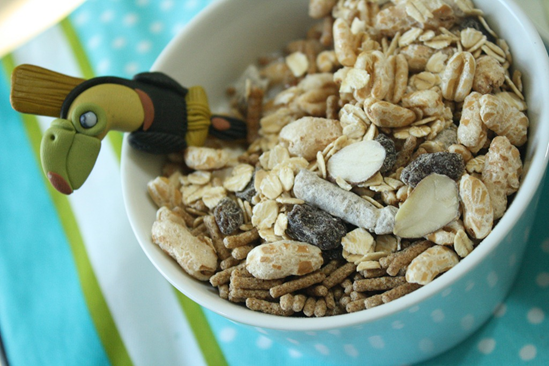 and by the way, all three of those cute spoons were gifts from momma b! she got them in costa rica.
my current favorite way to eat cereal is to blend up a vanilla protein shake using almond milk, a scoop of protein powder, and ice.. then using it as the "milk" for my cereal. this definitely helps me stay full for longer than using straight up milk.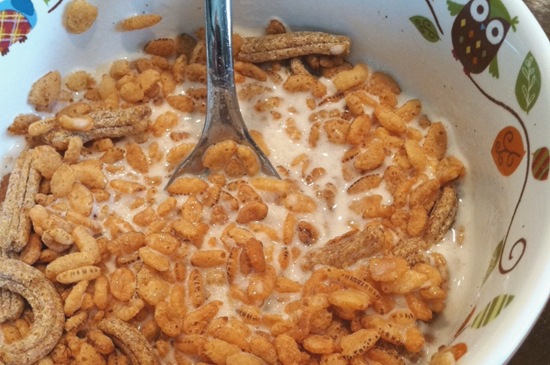 i like the protein punch this method delivers.
another way to get protein with your cereal is to eat it with greek yogurt. i love topping chobani with cereal.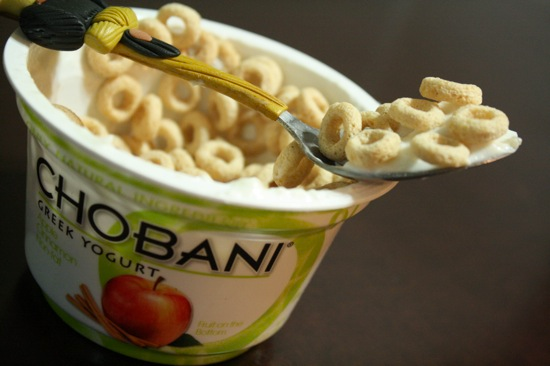 and then when the yogurt is gone, i fill the container up with more cereal and some milk. usually more than once. okay, usually more than twice.. hey, in my defense, those chobani containers are small!
i have made my own peanut butter chocolate protein cereal before.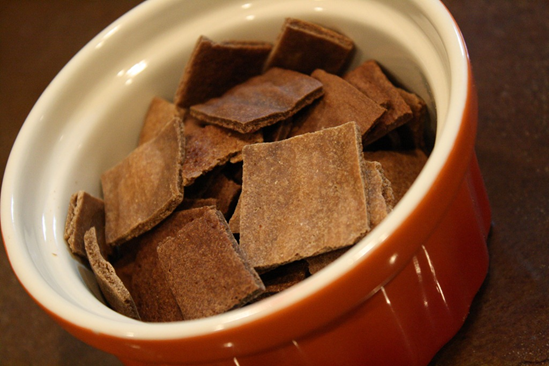 each serving had 15 grams of protein, but sometimes it's easier to just grab a box of kashi golean, yaknow?
in honor of today's holiday, i asked my fellow fitfluential ambassadors for some unique, out of the (cereal) box ways to use cereal! here is what they came up with.
maria used uncle sam cereal to make gooey, three layer chocolate peanut butter brownies.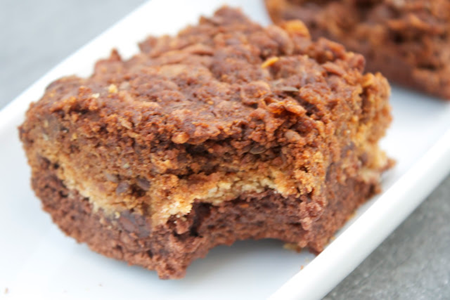 courtney (aka the cookie MASTER) made cookies using the latest and greatest cheerio variety: peanut butter.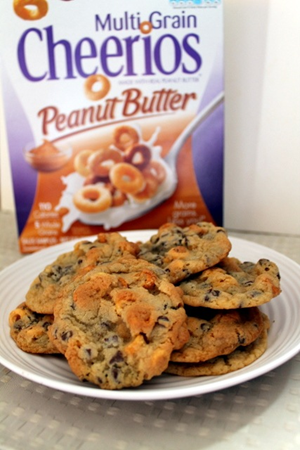 brittany used brown crispy rice cereal to make a way more razzle dazzle treat than the plain old rice crispy treats.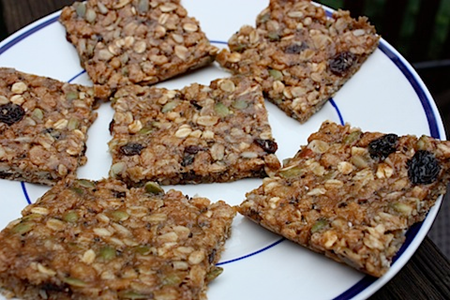 julie used bran flakes (i love those!) to make a pumped up protein bar. how funny that this recipe was posted only two days after last year's national cereal day! oh well, close enough.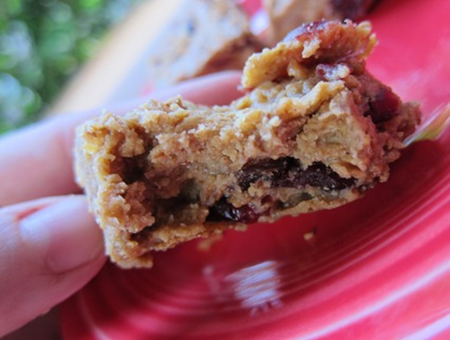 i think the most unique submission i received was jana's use of one of my FAVORITE cereals, shredded spoonfuls. she threw it into her food processor and made cereal protein pancakes! clever girl.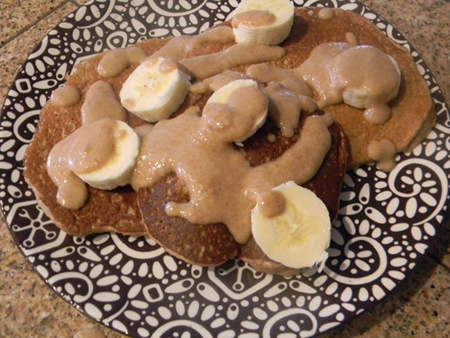 and if boxed cereal isn't you thing, you can always make your own! check out a few fun versions:
OH MY GOSH YOU GUYS. i just can't shut up about cereal! this post has become waaaay longer than i anticipated.
i need to stop talking and go find a spoon.
Qs~
1. have you ever broken a bone? tell me the story behind it!
2. what was your favorite childhood cereal? and your favorite one now?
xo. janetha g.