hey guys! how was your monday? mine was pretty productive.  i worked for 8 hours, completed a livefit lower body workout, and grocery shopped my heart out for two hours.  i didn't get to grocery shop yesterday (sunday is my usual shopping day) because i was busy living life, so i did that after my workout today.
it was so nice to restock the kitchen! we were running low on everything.. even the staples like eggs, dishwasher detergent, dog bones, mustard, applesauce, and cocoa powder. yes, cocoa powder is a staple around here! speaking of cocoa.. today is national cocoa day! how appropriate.
i used my replenished grocery stash to make a tasty dinner of mexican manicotti.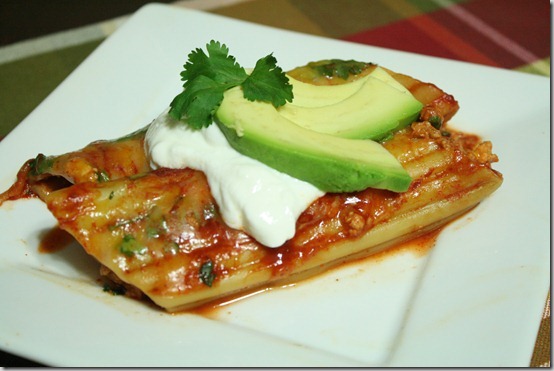 oh man. photos can't do this recipe justice. it was SO good. marshall went back for seconds and told me he gets the leftovers. surely a good sign.
mexican manicotti
makes 4 two noodle servings, adapted from this recipe
ingredients:
8 whole wheat manicotti noodles
2 oz (1/4 cup) medium red onion, diced
8 oz lean ground meat (turkey, chicken, or beef)
2-3 tsp taco seasoning
4 oz can diced green chiles
4 oz (1/2 cup) nonfat plain greek yogurt (i used chobani)
4 oz (1/2 cup) fresh cilantro, chopped
4 oz oz colby jack cheese, grated and divided in two
2 oz (1/8 cup) + 8 oz (1 cup) enchilada sauce (red or green)
optional garnish: greek yogurt, avocado, cilantro
directions:
cook noodles according to package directions. set aside.
sauté onion in a skillet sprayed with cooking spray until tender, about 5 minutes.
add meat and taco seasoning, sauté until meat is cooked through.
remove from heat and stir in 2 oz of enchilada sauce, chiles, yogurt, and 2 oz of cheese.
pour 1/4 cup of the enchilada sauce in an 8 x 8 or 9 x 9 baking dish.
fill manicotti noodles with mixture and place in the baking dish.
sprinkle manicotti with cilantro, top with remaining enchilada sauce and remaining 2 oz of cheese.
cover with foil and bake at 350 degrees until warmed through—about 20 minutes.
remove cover and set oven to broil for 3-4 minutes until cheese is nice and bubbly.
remove from oven, let cool for 5 minutes, then serve with greek yogurt (or sour cream), avocado, and cilantro.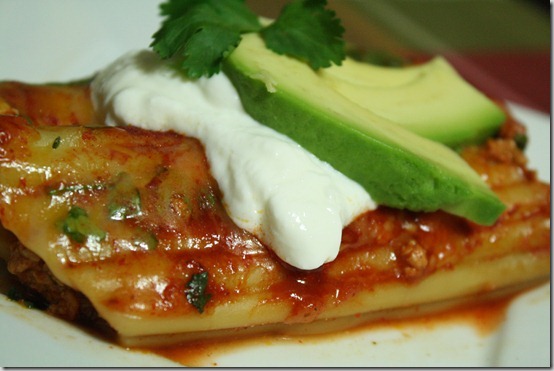 one serving is two stuffed noodles. nutrition info per serving, using chicken breast and red enchilada sauce, pre-garnish: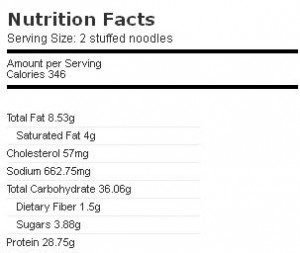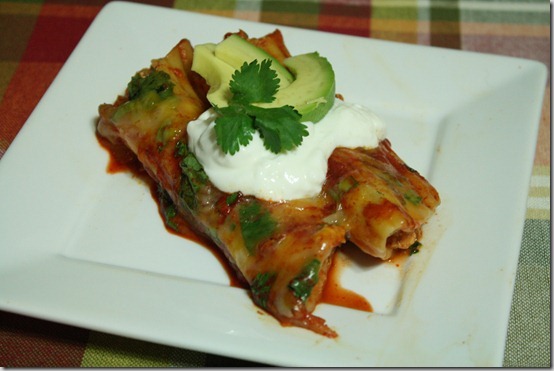 pretty stellar stats! and, like i said, the photos don't do the recipe justice. it was REALLY good.. try it and see for yourself!
balancing food, fitness, and fun this holiday season!
as you may know, i am a fitfluential ambassador. fitfluential is a network of fitness enthusiasts who share a passion for living a healthy life. one of my assignments as an ambassador is to share some tips with you for juggling a healthy habits and holiday fun—all at the same time.
there's no denying it: the holiday season is in full swing. i went to a christmas party last weekend and am hosting my own party this saturday. there are hors d'oeuvres, cookies and booze EVERYWHERE, people. let's talk about how to have fun AND stay accountable during this festive, fun time of year.
tip 1: don't go to an event on an empty stomach!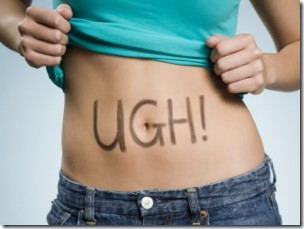 this is assuming it's not a dinner party, of course. but then again, even if it IS a dinner party, you never know what the options will be! i like to make sure i get a sufficient amount of protein in my meals, so if i am going to be heading to a holiday party, i will typically have a protein shake beforehand.  most things served at holiday parties consist of carbs and fat.. hey, it's true. if you head to a party with an empty stomach, you're more likely to overeat. having a 250 calorie protein shake beforehand will fill you up and balance out all the carbs and fat consumed at the party.
tip 2: plan your exercise schedule around the event!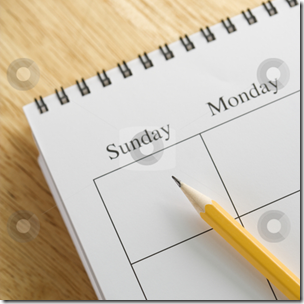 if you plan on drinking at a holiday event, chances are you might be nursing a hangover the next day. if that's the case, plan your exercise rest day for the day after the event! make sure you get a heart-pumping workout in earlier in the day, before the event, and then you can take the next day off without exercise guilt.
tip 3: survey all the food options and pick one of a few, not a few of each one!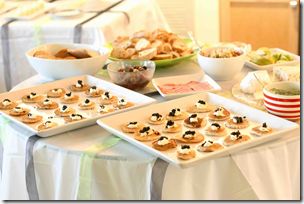 the downfall of overeating comes when there are lots of choices. people like choices! and people like sampling all of the choices. at 100-250 calories per item, those samples can add up quick.  instead of trying the "i'll just have one of each" approach, commit to only consuming the foods that look best.  check out your options before filling your plate. for example, i love stuffed mushrooms and bacon wrapped dates.. so i would rather have two of those (each) instead of a stuffed mushroom, a bacon wrapped date, a fried mozzarella stick, a pig in a blanket, a potsticker, a teriyaki chicken skewer, a meatball, and a crab cake. the same goes for desserts. you don't have to have a gingerbread man, a cake pop, a mini cheesecake, a slice of pie, and a cup of chocolate mousse. i promise, there will be dessert tomorrow. and the next day. just select one sweet ending.. not seven.
tip 4: alternate caloric beverage with water!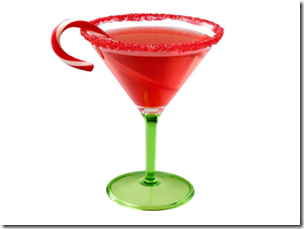 going to a party where everyone is drinking and saying "don't drink!" is sabotage. instead, alternate your caloric beverages (wine, cocktails, beer, egg nog) with water. this will really reduce your initial calorie intake. furthermore, the less intoxicated you are, the less chance you will have of developing the drunchies (drunk munchies) which will prevent even more calorie intake. i know you always want to have a beverage in hand at a party, and it feels strange to be empty handed.. but that glass doesn't always have to be full of a calorie-laden beverage.
tip 5: don't forget to have a good time!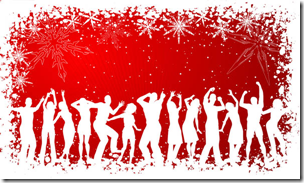 the holiday season comes once a year. restricting to no end may make you look back and resent the holiday season. now is the time to enjoy yourself, let loose, and have a great time with family and friends. you don't have to go wild and crazy with the indulgences, but you also don't have to be a stick in the mud. enjoy yourself and don't be afraid to give in to a few of those holiday treats. after all, it's like voltaire said: "i have decided to be happy because it's good for my health."
those are my tips for balancing food, fitness, and fun this season.. but if all else fails and you get totally hammered, eat an entire sheet of brownies, and wake up with a hangover from hell.. just sleep it off and get back on the wagon as soon as you can walk straight. and don't beat yourself up over it.. life WILL go on.
before i go, a couple things:
dedicated december is still going strong! this week's prize (for all entries logged december 11-17) is a box of the simply bar protein bars, flavor is winner's choice. make sure you log those workouts!
chobani is hosting a twitter chat this thursday! join #ChobaniKitchen on 12/15 @ 8PM EST for the chance to win the ultimate holiday gift: membership to the Chobani of the Month Club!
Q~
do you have any tips for balancing health & the holidays?
xo. janetha g.
*images for the healthy tips were taken from google.com