GUYS! remember last week's random thursday post? time for another.
it has been a day! randy ate (drank?) nine protein shakes. they were in the same spot they have always been.. in the garage.. but for some reason, he decided today he would get them.
it was for sure randy. not penny. he got put in the doghouse (crate) for awhile.. but now he is happily snoring on his dog bed. we can't stay mad long..but we are for sure mad. the weirdest thing is that NOTHING has changed. same routine day in and day out for him.. but now he's a jerk.
maybe he just has been bored with the colder weather and doesn't go outside to play as much as he used to. or maybe he just wants to get huge muscles and needs protein shakes.
anyway.
remember how i promised i would finish this thing?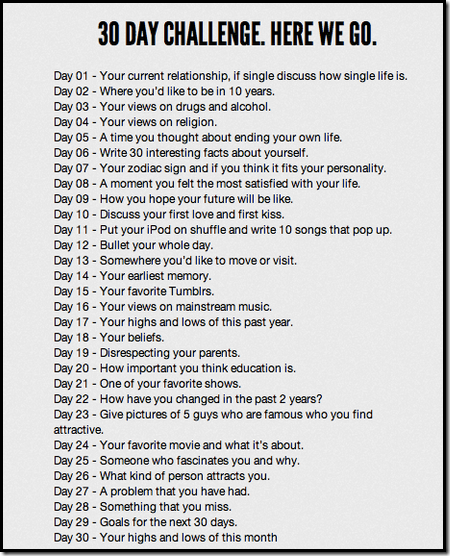 i am going to knock out days 15 and 16 today. mmkay?
your favorite tumblrs.
uh, i don't really do the whole tumblr thang. to be honest, i don't really get the whole tumblr thang.
i do have two tumblrs in my google reader, though.. so i guess those would be my favorites!
one is simply bee—the blogger formerly known as homegirl can eat!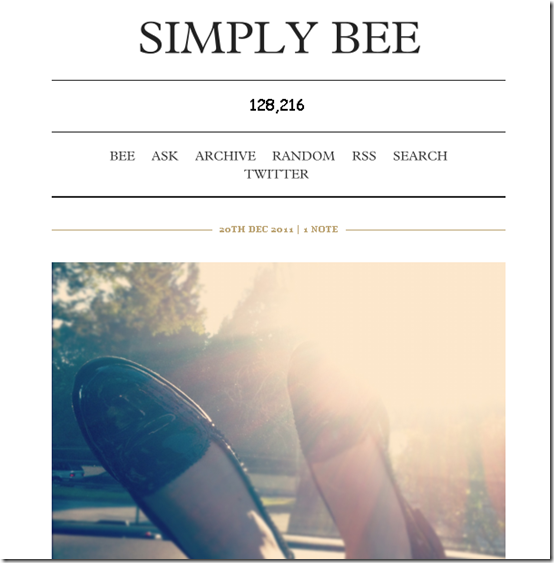 and the other is melissa's (from melissa nibbles) tumblr.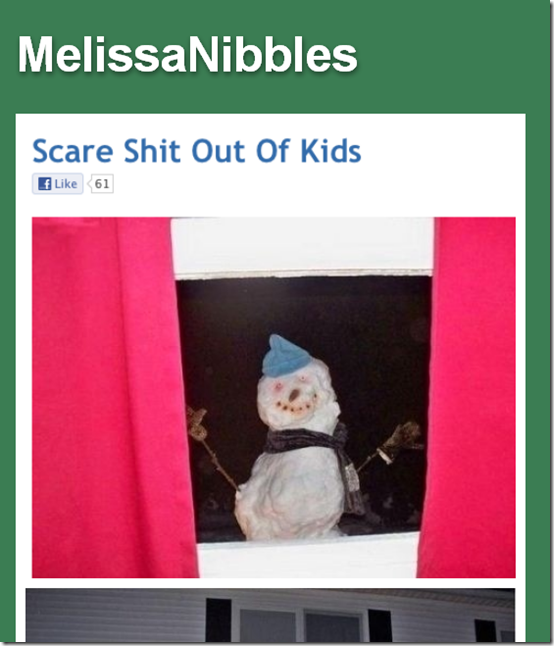 yep. that answer was easy!
and next up: my views on mainstream music.
hmm.. to be honest, i really don't listen to anything considered "mainstream."
my favorite bands include: metric, face to face, lagwagon, the sounds, minus the bear, nofx, the get up kids, reggie and the full effect, the faint, the format, and the descendents. just to name a few.
so.. i guess my views on mainstream music are:
it isn't for me
turn off the radio
yep.
wow, if i knew those two answers would be so easy, i would have done them ages ago! now i am over halfway done with that silly little survey.. and damnit, i WILL finish it eventually!
today was a super mellow day at the office. not a lot is going on in the window biz since everyone is getting ready for christmas. i left early and delivered fudge to some family and friends.

not a lot is going on at the gym, either! it's been so dead lately which is really, really nice for me. i love not having to wait for equipment. this week (week 11 of livefit trainer) has been all about high rep, low weight circuit training.
monday was legs where i did 150 reps of 5 different moves (30 reps each) before resting.. then did the circuit 3 more times.
tuesday was back & abs where i did 140 reps of 7 different moves (20 reps each) before resting.. then did the circuit 2 more times, followed by 42 minutes of treadmill intervals.
wednesday was chest & calves where i did 140 reps of 7 different moves (20 reps each) before resting.. then did the circuit 2 more times, followed by 35 minutes of the stairmill and a whole lot of foam rolling on my hamstrings.
thursday (today) was bis, tris & abs where i did 140 reps of 7 different moves (20 reps each) before resting.. then did the circuit 2 more times, followed by 30 minutes of cardio on the stairmill.
tomorrow is shoulders, and saturday is cardio only. these workouts are a LOT different than the heavy lifting workouts that the training program has had me doing for the past couple of months. it's a nice change, i am super sore, and i am seeing results.
it is kind of a pain to tack 30-40 minutes of cardio onto the end of the weight circuits, but i know it is important for fat loss. here is the 42-minute treadmill interval routine i made up and completed on tuesday:
| | | | |
| --- | --- | --- | --- |
| minute # | speed (MPH) | pace | intensity (RPE) |
| 0-1 | 6.0 | jog | 6 |
| 1-2 | 6.0 | jog | 6 |
| 2-3 | 6.5 | jog | 7 |
| 3-4 | 7.0 | run | 7 |
| 4-5 | 7.5 | run | 8 |
| 5-6 | 8.0 | run | 8 |
| 6-7 | 4.0 | walk | 2 |
*repeat above 7 minutes 5 times for a total of 42 minutes.
obviously you would adjust the speed to your own level to achieve the intensity levels for you, but this is what i did. it was actually entertaining and better than 40 minutes of single-speed cardio.
(also, i am not a trained professional and any workout i posted here is what worked for me but may not work for you. ask a professional before attempting any workout program.)

i haven't been carb cycling like the program suggests, but i have been eating relatively clean AND have been staying away from the cookies! i feel like i am in a good spot with my balanced eating, so carb cycling is not something i HAVE to do if i don't want to. with so much exciting stuff going on around the holidays, i really don't want to carb cycle.  instead, i will be doing a carb cycling stint before my trip at the end of january. wooo, mexico.
SO! dinner tonight was tasty, healthy, and a nice balance of protein, carbs, and vegetables.
crock pot chicken tikka masala, vegetables, brown rice, and naan.
to make the chicken, i sautéed an onion in about 2 T of butter then added a pound of diced chicken breast. i seasoned the chicken with a shake of tumeric, a shake of garam masala, and a shake of curry powder.  i cooked the chicken until the outsides were browned just a bit, then transferred the onion and chicken to the crock pot.
to the crock pot i added:
29 oz can crushed tomatoes
6 oz can tomato paste
1/2 c (4 oz) chicken broth
1 T garam masala
1 t tumeric
1 t curry powder
1 t ground coriander
sprinkling of sea salt + black pepper
i mixed everything up and cooked on high for three hours. when it was time to eat, i stirred in a cup of fat free half & half.
i steamed some rice and vegetables and toasted the naan.. and dinner was served!
this was so good and SO easy. never using a jarred masala sauce again.
well, i have presents to wrap! check ya later!
xo. janetha g.