one thing i am not: worried about a number.
i had a really weird dream last night.
okay, i have weird dreams nearly every night, but this one i am going to talk about. do you usually have dreams that have something to do with your day or week or things that have happened in your life? i do. always. it makes sense, right? what doesn't make sense is the way your brain decides to take random bits of your day and turn them into a crazy chain of events. i have always said i wish i had a dream recorder. someone, please, invent one! playing back my dreams would be so freaking rad.
anyway, my dream.
a little background first:
on monday, i went to the gastroenterologist (story for another day.. promise) and they wanted to weigh me.
well, i don't weigh myself.
if you weigh yourself, great. i don't think there is a single thing wrong with using the scale.. i know it is a valuable tool for many people. but for me? it isn't. i haven't weighed myself for a very long time—i didn't think i had weighed myself since spring of 2009, but i recently found an old notebook that had my weight written down in march of 2010 when i was attempting some "pre-wedding challenge".. so i am guessing that is the last time i hopped on the scale. (i know, for a fact, that nothing ever came of that challenge and i didn't weigh myself after the initial weigh in and my wedding day was perfectly fabulous and i looked banging and have no idea how much i weighed.)
weighing myself makes me crazy.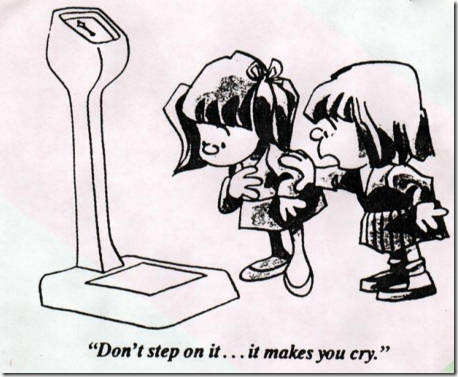 source.
i know i am healthy, i know i am not under or overweight, so nitpicking a number really isn't in my best interest. i have learned that my weight can fluctuate as much TEN pounds from morning to night. (i drink a gallon of water a day and eat a lot of food—no wonder!) i have learned that caring about that number isn't healthy for my brain. i have learned that i like the way i feel and the way i look—focusing on food and fitness is what works best for me. 
so—back to the doc's office on monday. i told them no when they wanted to weigh me, and that was that. it was not the end of the world. they went on and documented all my other info. i had my appointment and went on my way.
fast forward to last night. i had a dream last night that i was having a dream. aren't those so weird? in my dream (the dream that was in my dream, mind you—straight up inception here, folks), i dreamt that i weighed myself at the gym and i was 115. no idea where that number came from or why i was weighing myself at the gym—something i have never done even in my weighing days, but that's what went down in the ol' dream within a dream.
when i woke up from my dream (still in my dream) i went to the bathroom and said to myself, "wow, what a strange dream. i must have dreamt that because of my doc appointment the other day." i looked down and there was a scale on my bathroom floor. i decided to hop on to see if my dream was right, and the scale read 150.  again, no idea where that came from.. i have never been 150. after i saw the 150, i remember thinking (still in my dream) "weird. 35 pounds heavier than in my dream. no big deal, i look the same and feel the same as i did in my dream at 115.. that's what matters."
dang. i am one smart dreamer! and how weird that i said that to myself in my dream. i remember it so vividly! i woke up this morning and recounted the dream. i smiled, because my dreaming self was right. whether i weigh 115 or 150, i look and feel great.. so who cares? not me.
i just thought that dream was so random and rad, i had to share it.
another thing i am not: baby hungry.
first of all, let's get one thing straight: i hate the term "baby hungry". it always makes me think about physically eating babies and cannibalism just isn't my thing. while we are at it, let it be known that i also hate the term "food baby."
my bosses and co-workers had a baby shower today for my cute co-worker crystal. this is baby #3 for her!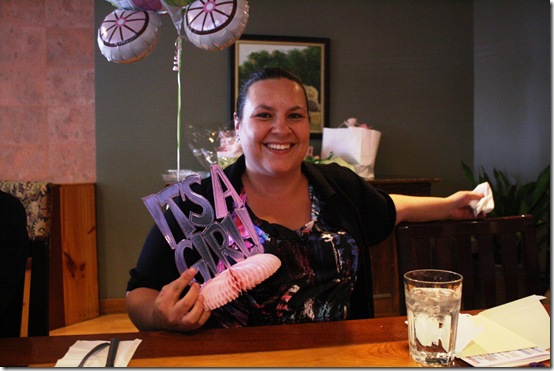 this is also GIRL #3 for her! what are the odds? (apparently, pretty good, since there are 4 girls and zero boys among her siblings.)
we went to red butte cafe (on foothill drive in salt lake city) for the shower.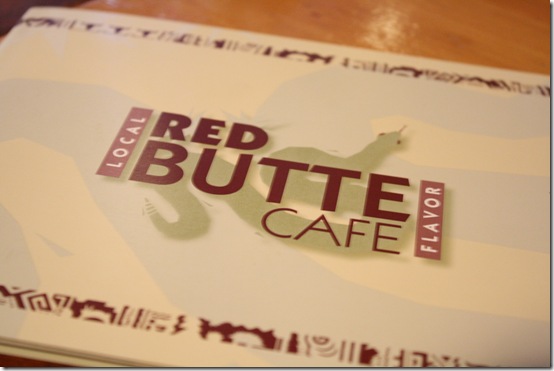 i dolled up the table a bit with some baby girl decor.
as crystal opened her gifts, i realized more and more that i just DON'T have the desire to have babies any time soon. i mean, i have always felt this way, but whenever i am at a baby shower or around people who are talking about babies, the feeling is even more present. i try to imagine myself with a baby and i just don't see it. i actually feel really out of place when i am holding a baby.. i don't like it.  i always talk to people who CANNOT WAIT to be a mom. i am perfectly happy being a dog-mom.
so.. is it just supposed to click one day? i am positive that i won't wake up on a sunny thursday in 2013 and suddenly want to get pregnant… but i am wondering if that maternal desire is ever going to strike me.
it is really common for people in utah to have children early in life (and getting married in your early 20's is totally the norm), so i do catch a lot of slack from certain people. they tell me i am getting too old to have kids and i am an "old maid".. um, i am 28. i'm good.
i know that i DO want to have a family. my family is a huge part of my life and i know the relationship i have with my mom is one i would like to share with a child of my own. but that whole baby thing just scares me. i am definitely not "there"—wherever that exactly may be. 
anyway, those are my thoughts on baby making. back to the shower!
i was torn between the red trout salad and one of the specials, but the waiter pointed out that the trout would always be there and to get the special. good call, waiter.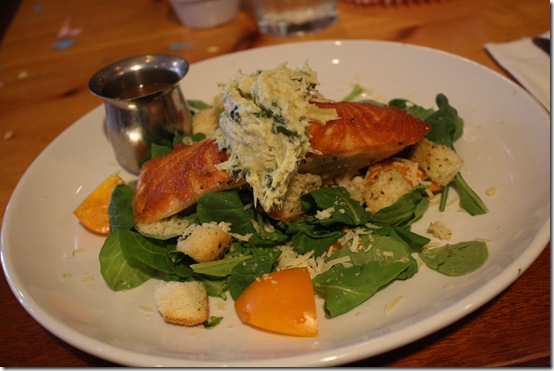 this was a grilled salmon with artichoke tapenade served over an heirloom tomato panzanella salad with a balsamic vinaigrette. (i know. long title). um, if you live near salt lake city, get your mouth into red butte right away and order this salad special. it was incredible.
the shower was fun and although the baby talk was minimal and i was only asked if i was baby hungry once, it still reinforced the fact that i am in no way ready to have a child. BUT i am so happy for crystal and all the other baby-makin' mommas to be out there! i love my nieces, nephews and other little nuggets that i am not responsible for… and it will probably stay that way for awhile.
there ya go. two things i am not. now you know.
in other news, i am LOVING all the better breakfast submissions that are rolling in! if you missed the challenge, check it out here. you have until october 1st to email me a submission. to up the ante, i am adding two free breakfast food coupons to the prize pack: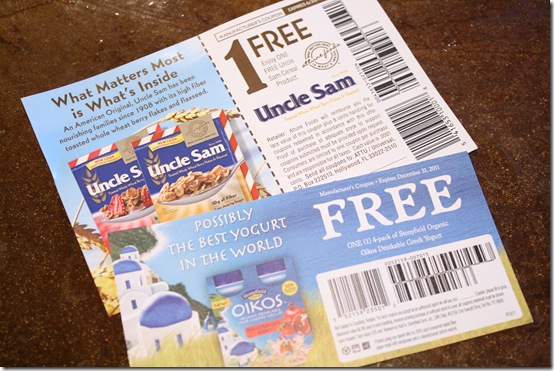 wooo. to see the rest of the prize pack, head to the original post. i am not big on reposting things over and over.
Qs~
1. what is one thing you are not?
2. feel free to discuss your opinion on my two topics: scales and babies. totally optional but encouraged if you want to share your piece.
xo. janetha g.