yesterday morning i woke up bright and early at 6 AM. so early for a saturday. well, so early for any day, but especially a saturday.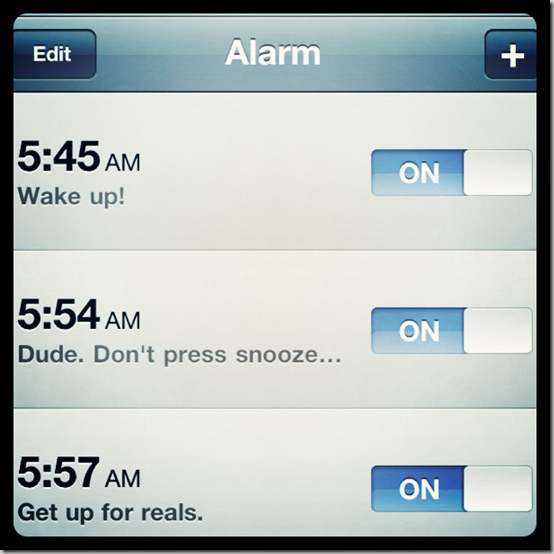 i ate a mishmash of greek yogurt, sliced banana, protein powder, mighty maple peanut butter, uncooked oats, rolled dates, slivered almonds and almond milk (yeah, so random) and then hit the road.
i met up with kristen & lindsay and we headed up to soldier hollow—the location for our dirty dash 10k mud run!
we had some time to kill before our race time (the teams started in waves) so we hung out and watched them fill the MASSIVE mud pits with water. gulp.
momma b came up before we started to wish us luck. she's the best!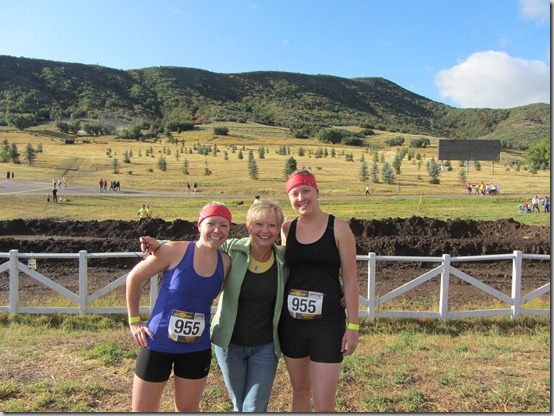 we gathered with our team for a couple pre-race (CLEAN) photos.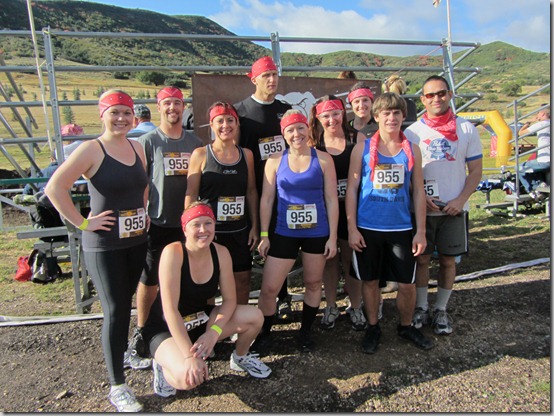 game faces? sure, ok.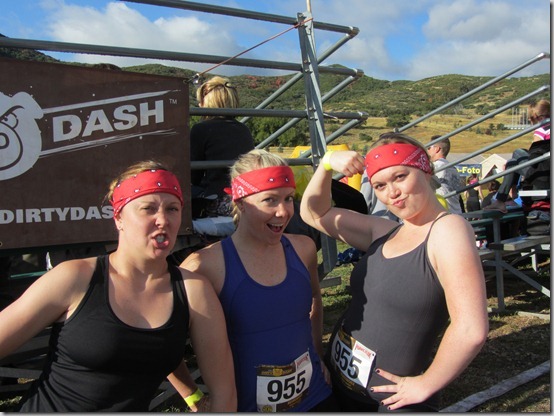 ready to run!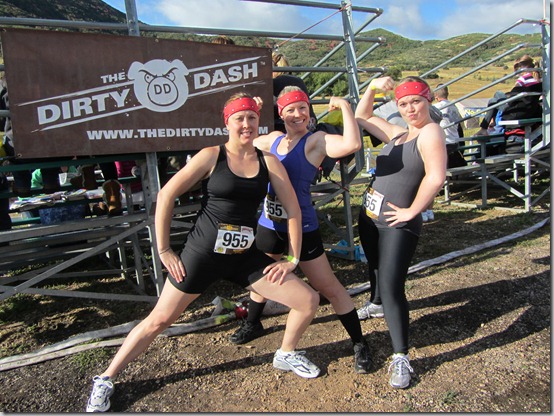 now, you may recall my initial complaints about the dirty dash. i talked about how kristen had roped me into doing the race. i originally thought it was a 5k, and later found out that it was in fact a 10k, and basically flipped my lid. i was SO nervous for this race.. i had no idea how i would complete it. i honestly was dreading it right up until the very start.
what do i wear? what if i slow everyone down? what if i can't get over the obstacles? what if i die? okay, that last one is a little dramatic. but i was seriously obsessing over this race way more than i should have.
and then, we started. and it was SO fun. we ran for a bit and then came to the first obstacle: crossing a mud-covered balance beam that had a trench of muddy water below.
i waited my turn, crossed the beam and then served myself a huge slice of humble pie. i was having an absolute blast and couldn't fathom ever being nervous because it was such a good time.
there was quite a bit of ground to cover between each obstacle—mainly hills. some were steeper than others, but the steep uphills made for a fun jaunt downhill.
the obstacles were the parts where we'd get dirty. there after the balance beams, there were several bails of hay to hop over, followed by muddy tunnels we had to crawl through, then some tall walls to scale. the walls were probably the hardest of all the obstacles, but we had some awesome guys on our team that helped the ladies hop over the walls that were extra tall.
the longest obstacle was a winding stretch of waist-high swamp water. it was cold and smelly, but soon enough it was over. the tail-end of the race contained more hills to conquer, but it's like kristen said: by the time we were tired from running, it was time for another obstacle so we were able to catch our breath while waiting our turn for the obstacle. the remaining obstacles were a tall net wall, a bunch of pipes to hop over (or go under if you chose), another small balance beam, a rope swing, a loooong inflated slide and the final mud pools right before the finish line.
marshall had come to watch us finish the race, and he spotted us before we hopped into the mud pools. my mom snapped a few photos of us as we finished up that last obstacle.
climbing over..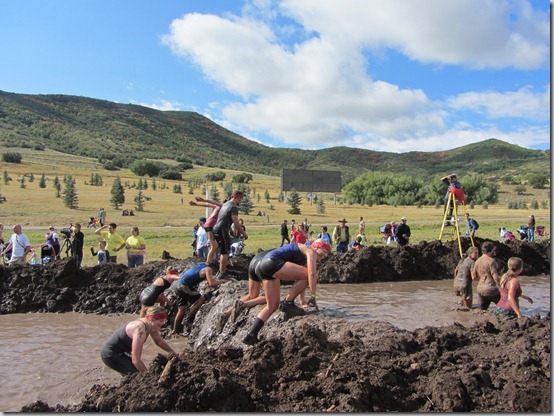 about to jump into the next one..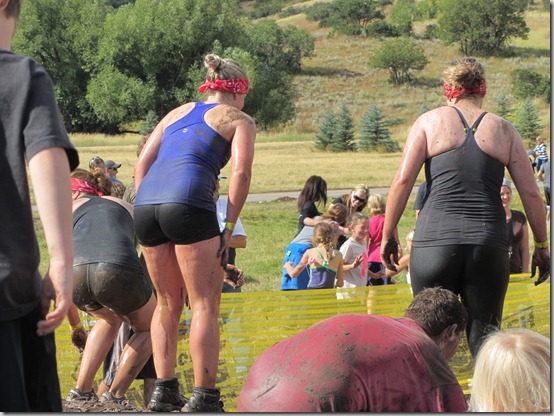 woohoo!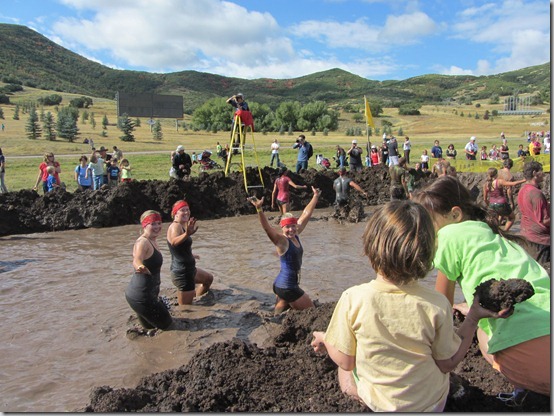 jumping into the mud pools was for sure my favorite part.
finished!
i really wanted to hug him and get him extra muddy, but i held back.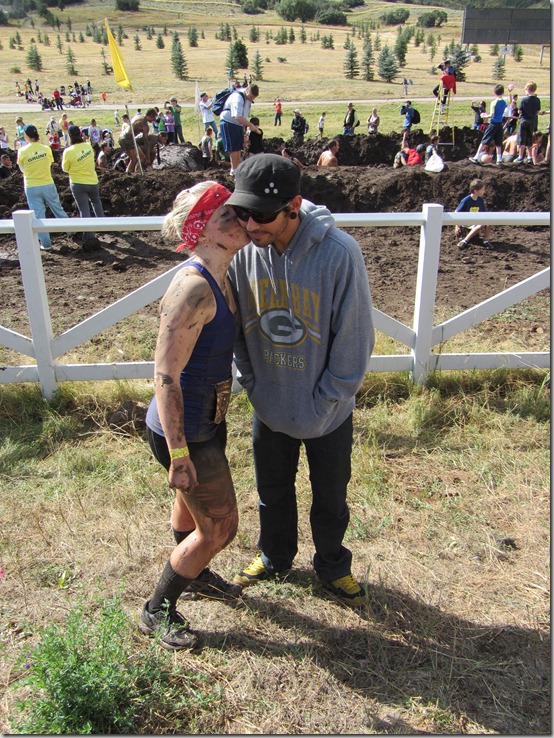 fierce?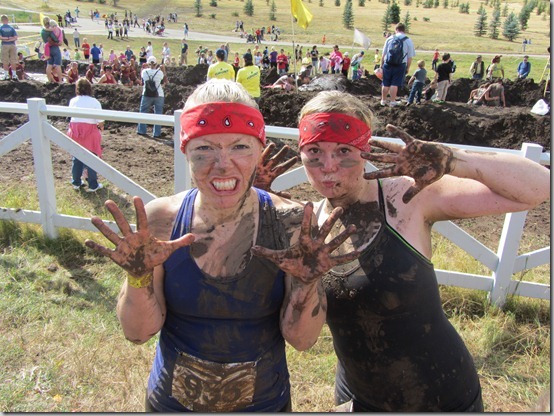 a new kind of mud mask.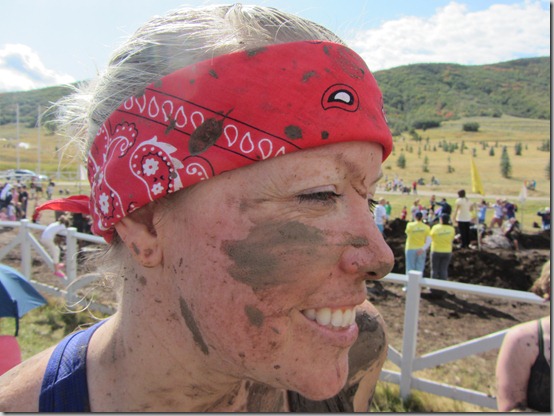 our team! everyone was so fun to run with!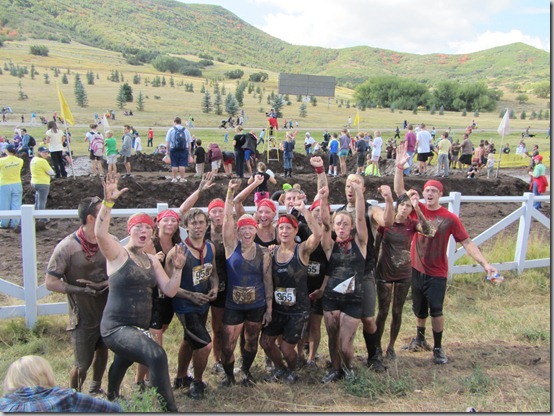 we waited in a REAL long line for a warm, high pressure shower which was totally worth the wait.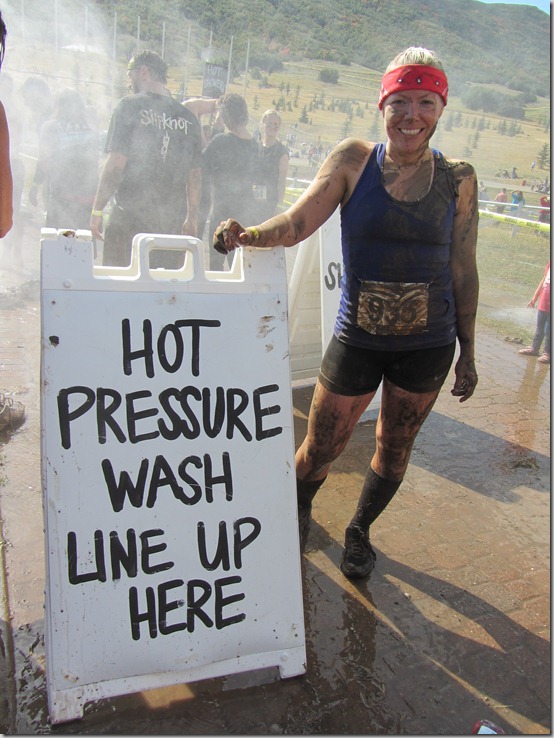 after cleaning off, i went back to see my mom snapping photos of my sister and brother in law, who had just finished the race.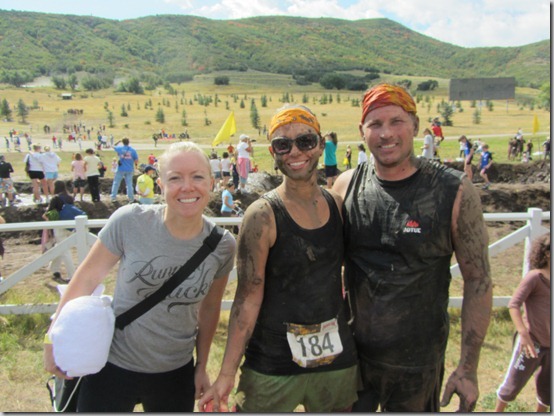 i said it would be fun to get the whole fam to do the run next year—marshall was QUICK to shut down that idea. hey, you can't win them all.
by the time all was said and done, it was almost 1 o'clock and i was STARVING! marshall and i headed to a new-to-us café in park city: the eating establishment.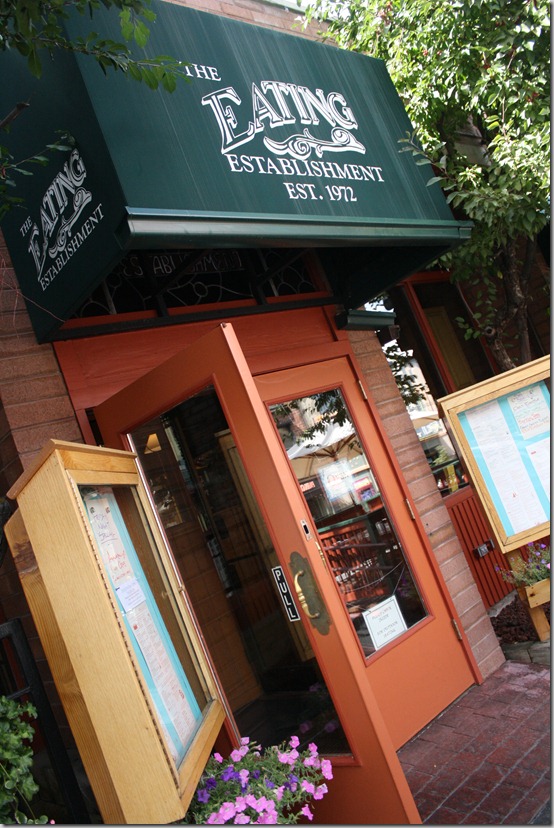 i ordered the park city omelette (subbed egg whites only).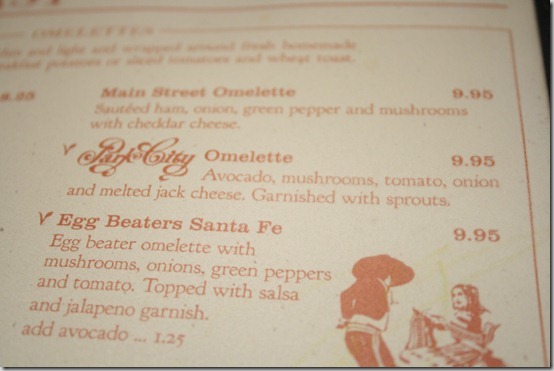 it was amazing! the avocado was perfectly ripe and the seasoning on the potatoes packed just the right amount of heat.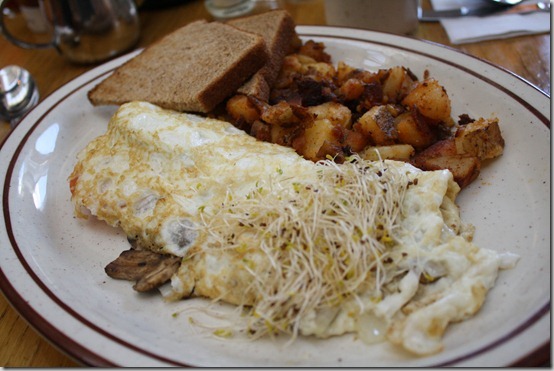 marshall ordered the huevos rancheros and he said they were the best he's tried in a long time! you could call him a huevos rancheros connoisseur, I suppose.
i cleaned my plate, headed home and took a nice long nap.
the dirty dash was way better than i had ever imagined. i feel silly for making such a fuss about it now, but hey.. live and learn, right? i think going out there and doing something you'd never usually do is a good thing. i need to go outside my comfort zone more often because there are probably a lot of things i have never tried that i would love.
big, huge thank you to my best friend kristen for asking me to participate in the dirty dash with her. she never lets me down and is my best friend for a reason! love you, kris.
well, this post is lengthy, so i will have to recap jessica's bachelorette party next time.
enjoy your monday!
Qs~
1. what is the last thing you did that was outside of your comfort zone?
2. are there any food items/dishes that you consider yourself a connoisseur of?
xo. janetha g.